Would you like some coffee with your coffee? This buzz-worthy coffee cake features a crunchy espresso crumb and a flavorful espresso glaze drizzled on top.
I'll take any excuse to eat cake for breakfast, and this espresso crumb coffee cake is a sure thing: with a moist sour-cream cake base and delightfully crunchy topping, plus a sweet espresso glaze to finish it off.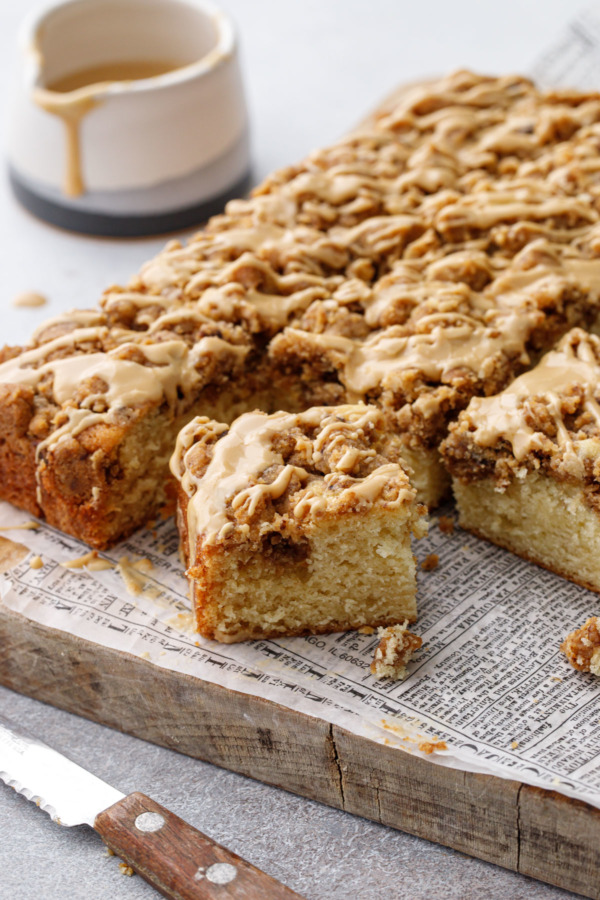 Nearly half of the comments on my Greek Yogurt Coffee Cake are from readers confused and wondering, "Where's the coffee?!" Like they are convinced I mistyped my own recipe (hey, it happens) and simply forgot the coffee in the ingredient list.
But no, I've explained over and over, the recipe is correct, there is no actual coffee in the coffee cake.
If you live outside the US, you may be wondering, "What the heck?!"
In the US, coffee cake refers to a muffin-like breakfast cake meant to be served with coffee.
But as I've discovered, in the UK and other countries, coffee cake is a cake with coffee flavoring, which I guess makes sense and explains the confusion with my recipes. Although over there you also have tea cakes which are, you guessed it, made to be served with tea and do not contain any tea themselves, so who's being confusing now, eh?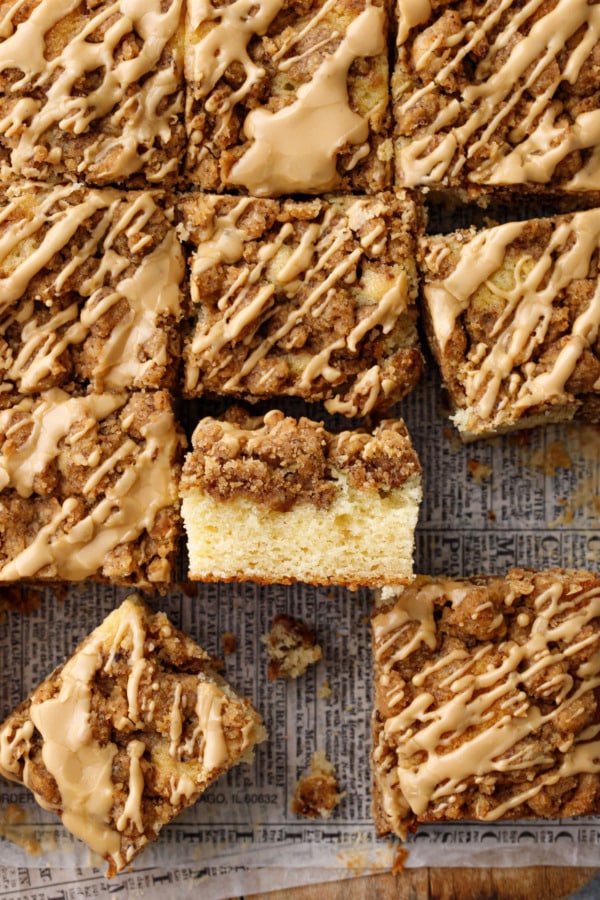 Anyway. After the 1,257th "Where's the coffee?!" comment I received, I figured why not make a coffee coffee cake, a breakfast cake flavored with coffee, to appease everyone? (I also need to edit my other coffee cake recipes at some point to clarify that they are American-style coffee cakes and no, I didn't actually forget to include coffee in the ingredient list).
Perhaps next I'll make a matcha coffee cake or an espresso tea cake, just to mess with everyone a bit more (but honestly those ideas sound quite delicious so I might just actually do it).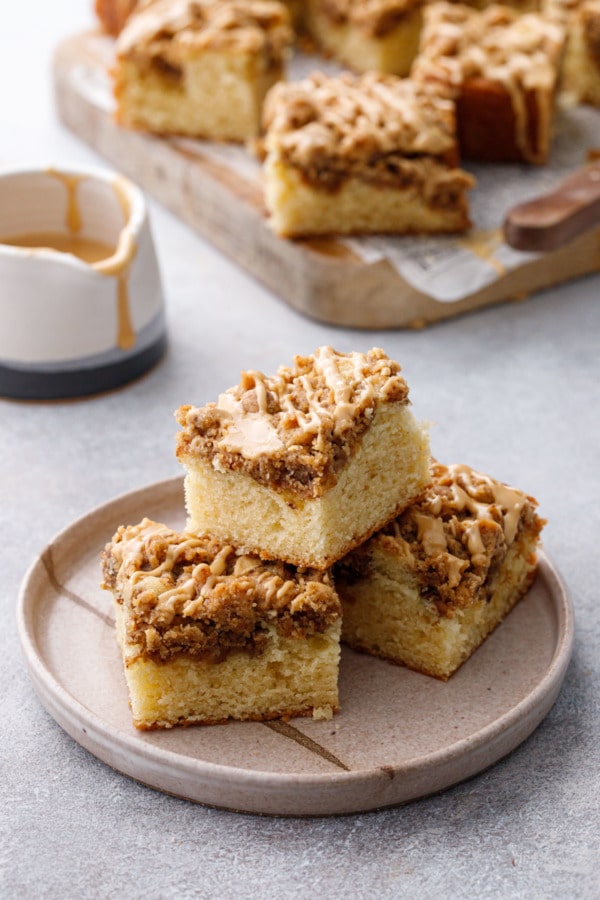 The cake base is moist and buttery with a hint of vanilla. I opted not to add any coffee to the base, one because grandma's recipe is perfect and I didn't want to mess with perfection by adding extra liquid, but also because I wanted a nice color contrast between the pale, butter yellow cake and the darker, coffee-colored crumbs on top.
Instead, I packed all the coffee flavor into the crumb and the glaze, infusing both with bold espresso, in the form of instant espresso powder (in the crumb), and a straight shot in the glaze (though you can use powder here too).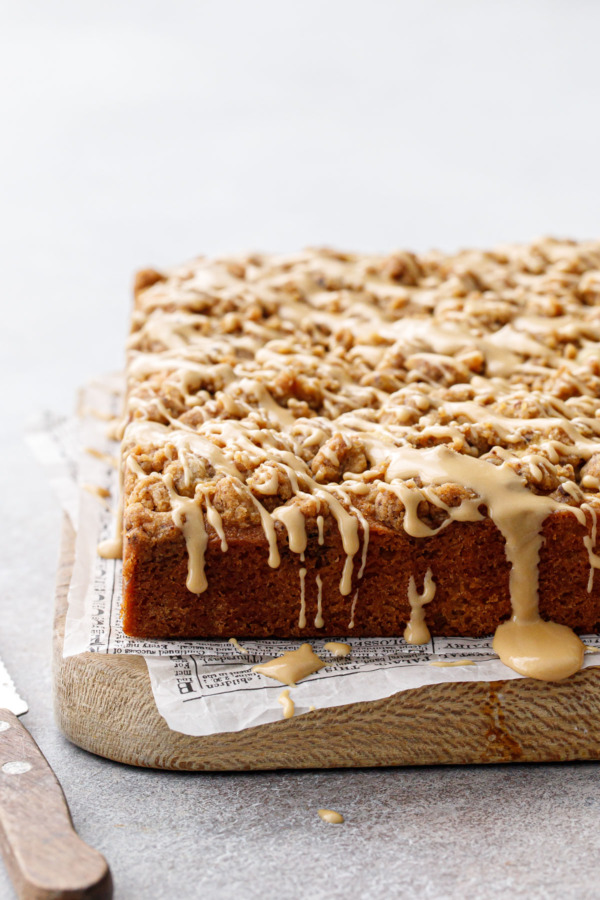 The cake base is adapted from my grandma's sour cream coffee cake recipe, which is entirely perfect in its original form and yet I continue to adapt it to my whims, adding in different mix-ins (hello, honeycrisp apples and mini chocolate chips), muffin-izing it, and even swapping the sour cream for full fat Greek yogurt. It really is the only coffee cake recipe you ever need.
For this version, I scaled it down for a thinner layer to make room for a crunchy espresso crumb, and added an artful drizzle of bold espresso glaze for an extra kick of coffee flavor.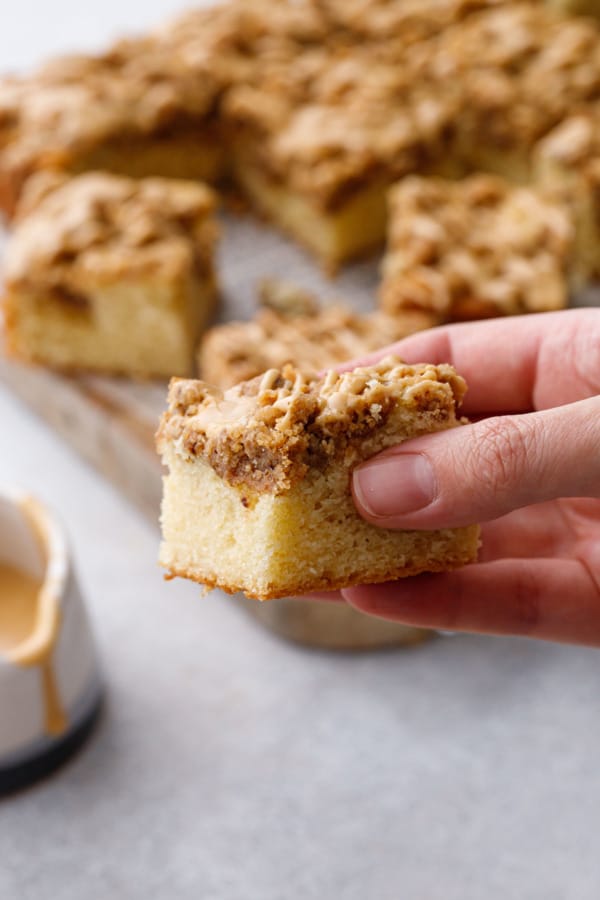 This recipe calls for instant espresso powder, which isn't quite the same thing as instant coffee.
While both are processed powders designed to completely dissolve in hot water, instant espresso has a stronger, darker flavor, more concentrated than instant coffee (since it's designed to make shots of espresso in smaller quantities of liquid). Instant espresso is also typically made with higher quality beans, so the overall flavor will be smoother and more pronounced.
If you can't find instant espresso locally, there are lots of options online: Medaglia D'Oro and DeLallo are my favorite brands. Store it in your freezer and it'll keep for years. Adding 1/4 teaspoon of the stuff to your favorite brownies or chocolate cake will only serve to intensify the chocolate flavor.
That said, this recipe will work with instant coffee powder, you just won't have quite as strong a coffee flavor. You can also use fresh brewed coffee in the glaze instead of espresso, but again, the flavor won't be quite as bold.
Just don't use ground coffee or espresso for this recipe, you'll end up with something gritty and hardly appetizing.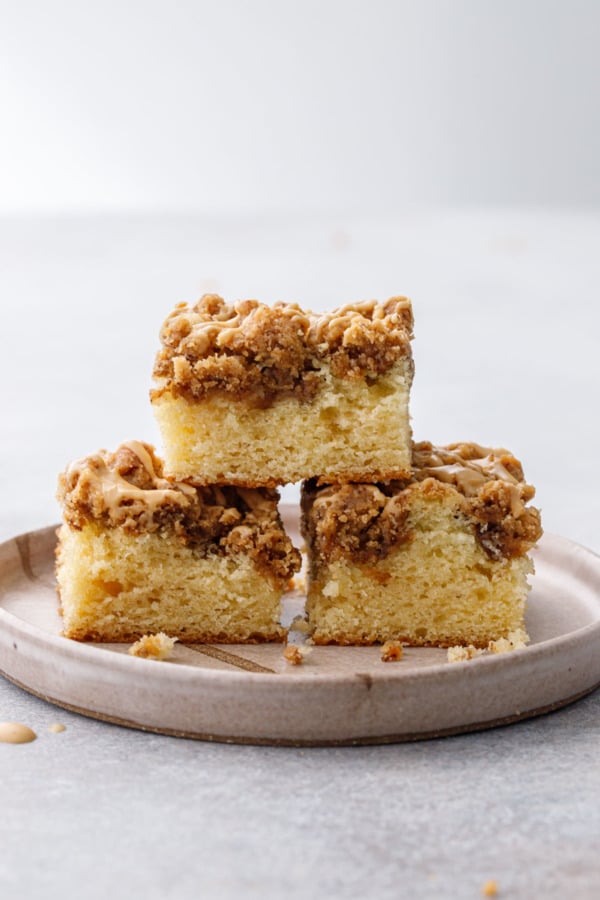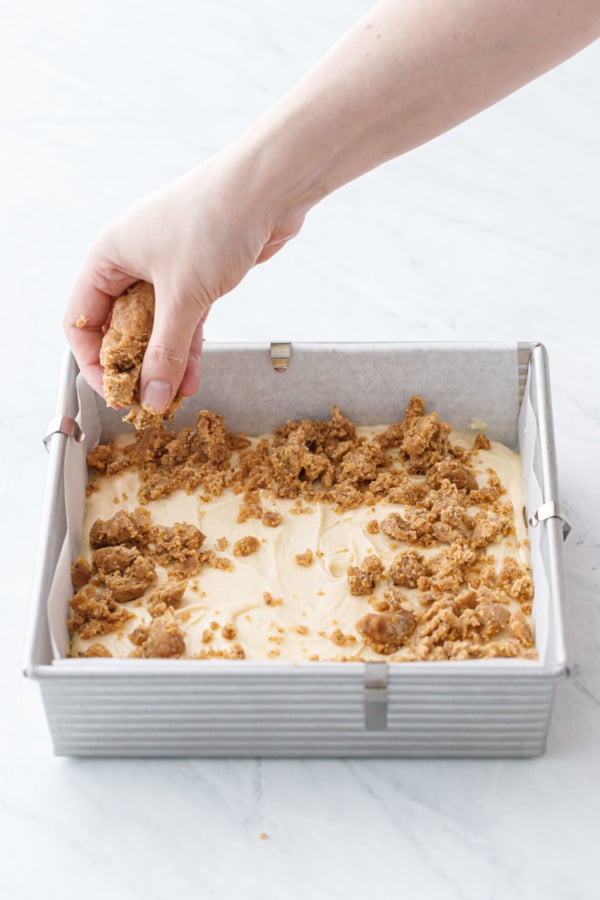 The biggest issue with crumb cakes like this are what I call "Titanic Crumbs" — that is, the heavy crumbs sink to the bottom when baked. Luckily, the batter for this cake is on the thick side, so it does quite well in supporting the heavier crumb.
I also recommend sprinkling your crumbs on top from the outside in, so start with a ring of crumbs around the edges, and then the center. This gives the batter a stronger foundation to support the crumbs. You'll still proably lose a few to the depths of the molten batter, but the majority of the crumb should stay afloat.
The glaze is super simple, just powdered sugar and freshly brewed espresso (you can also dissolve some espresso powder it hot water and use this instead).
I do recommend using organic powdered sugar for this recipe, as the tapioca starches used in organic sugars (as opposed to corn starch in the conventional kind), dissolve better at room temperature and will result in a smoother, less grainy consistency. I also find organic powdered sugar less cloying, so the glaze is much better balanced and not as overwhelmingly sweet.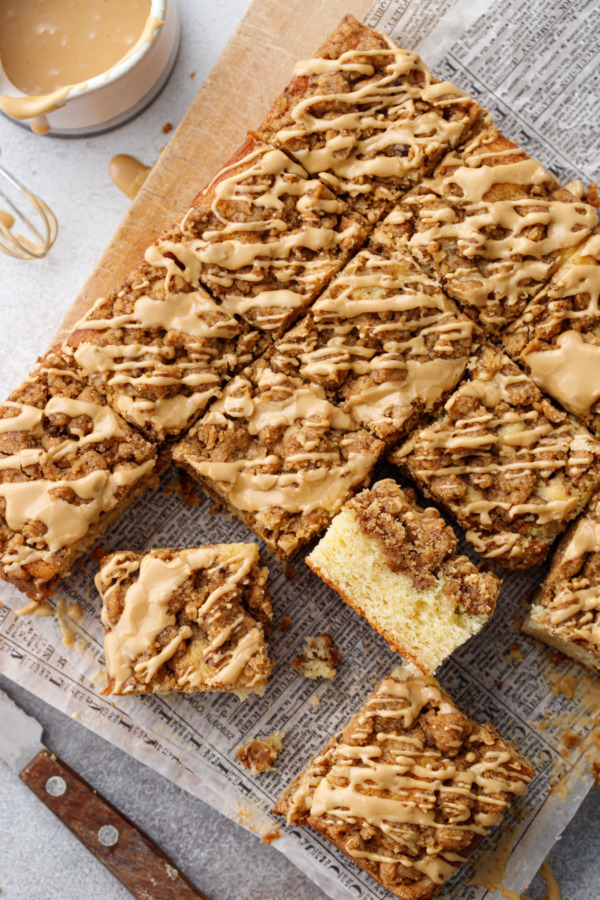 Thanks to the sour cream this coffee cake stays soft and moist for days, though you will lose some of the delightful crunch in the crumb topping after a day or two in an airtight container (especially if you live in a humid climate).
While Greek yogurt can be used in place of the sour cream, the resulting cake will be slightly drier and won't stay moist for as long (that fat really does make a difference). Please do not use low/nonfat sour cream or yogurt here, you won't be pleased with the outcome, I promise.
Espresso Crumb Coffee Cake
This moist and tender sour-cream coffee cake features a crunchy espresso crumb and a flavorful espresso glaze drizzled on top.
Ingredients:
For Crumb Topping:
6 tablespoons (85g) unsalted butter, melted
¼ cup (50g) granulated sugar
¼ cup (55g) packed light brown sugar
1 cup (125g) all-purpose flour
4 teaspoons instant espresso powder
¼ teaspoon ground cinnamon
pinch fine sea salt
For Cake:
¼ cup (½ stick, 56g) unsalted butter, room temperature
½ cup (100g) granulated sugar
1 large egg, at room temperature
2 teaspoons vanilla extract
½ cup (130g) full fat sour cream, at room temperature
½ teaspoon baking soda
1 cup (125g) all-purpose flour
¾ teaspoons baking powder
½ teaspoon fine sea salt
For Glaze:
1 cup (120g) organic confectioner's sugar, sifted
2 tablespoons freshly brewed espresso (or 1 tablespoon instant espresso powder dissolved in 2 tablespoons hot water)
pinch fine sea salt
Directions:
Preheat oven to 350 degrees F. Butter an 8-by-8-inch square baking pan; line with parchment paper and lightly butter parchment.
To make topping, melt butter in a microwave safe bowl. Mix in sugar until evenly moistened. Add flour, espresso powder, cinnamon and salt and mix until dough comes together (it will be on the crumbly side, but should hold together when squished). Set aside and let cool.
In a mixing bowl or the bowl of a stand mixer fitted with the paddle attachment, cream butter and sugar together until fluffy, 2 to 3 minutes. Add egg and mix until incorporated. Mix in vanilla extract.
Mix baking soda in with sour cream; whisk baking powder and salt in with flour.
Add half of dry ingredients to batter, followed by half of sour cream, mixing well after each addition. Scrape down the sides of the bowl, then repeat with remaining flour and sour cream until just incorporated.
Spread batter into prepared pan. Crumble topping on top, starting around the outside edges and working your way towards the center until the entire top is covered.
Bake for about 30 to 35 minutes or until a toothpick inserted near the center comes out with a few moist crumbs attached.
Place pan on a wire rack to cool completely while you prepare the glaze.
For glaze, sift powdered sugar into a bowl. Add espresso and whisk until glaze is smooth. It should be thick but still drizzle-able, if necessary, add more powdered sugar to thicken it up or if it's too thick, and more espresso, 1/2 teaspoon at a time, until desired consistency is acheived.
Use a whisk or a fork to drizzle glaze over top of cooled cake. Let glaze set for 15 minutes before cutting into squares and serving.
Cake will keep, covered in an airtight container, for up to 3 days.
Did you make this recipe?
Let us know what you think!
Leave a Comment below or share a photo and tag me on Instagram with the hashtag #loveandoliveoil.