Ultra soft matcha infused sugar cookies with an unexpected surprise inside: a pocket of sweetened black sesame paste for a savory richness that you'll absolutely adore.
The black sesame proves to be a perfect foil to the saccharine sweetness of the sugar cookie: it's nutty and sweet, but also slightly savory at the same time (and the result is downright amazing.)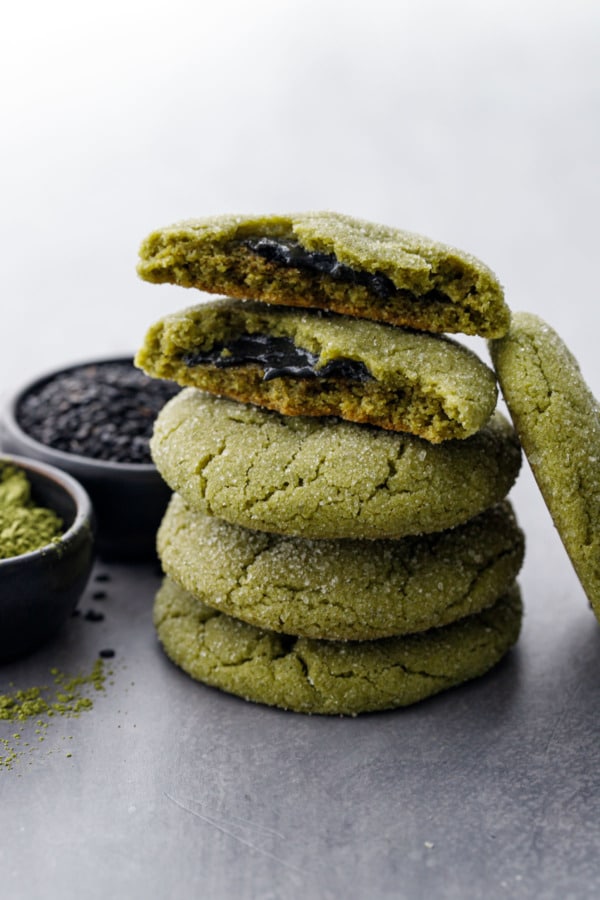 This isn't the first time I've combined matcha and black sesame.
And it most certainly won't be the last. 😉
I mean, these two ingredients were made for each other, united with a bit of sugar into a practically perfect union. The subtle grassiness of the matcha and the roasted nuttiness of the black sesame is a unique flavor combination that is sure to raise some eyebrows, but trust me on this one: it works.
I played around with a few different filling options before settling on black sesame, including raspberry jam and a raspberry cream cheese filling, plain white chocolate, as well as 3 different black sesame mixtures.
While the raspberry jam filling was quite tasty (I didn't care for the cream cheese), I ultimately felt the raspberry was too strong a flavor that overpowered the matcha.
The black sesame, on the other hand, complemented the matcha perfectly without overpowering it. Perfection!
(The white chocolate was probably my second favorite but considering I already did that in a stuffed chocolate cookie I decided I needed some variety).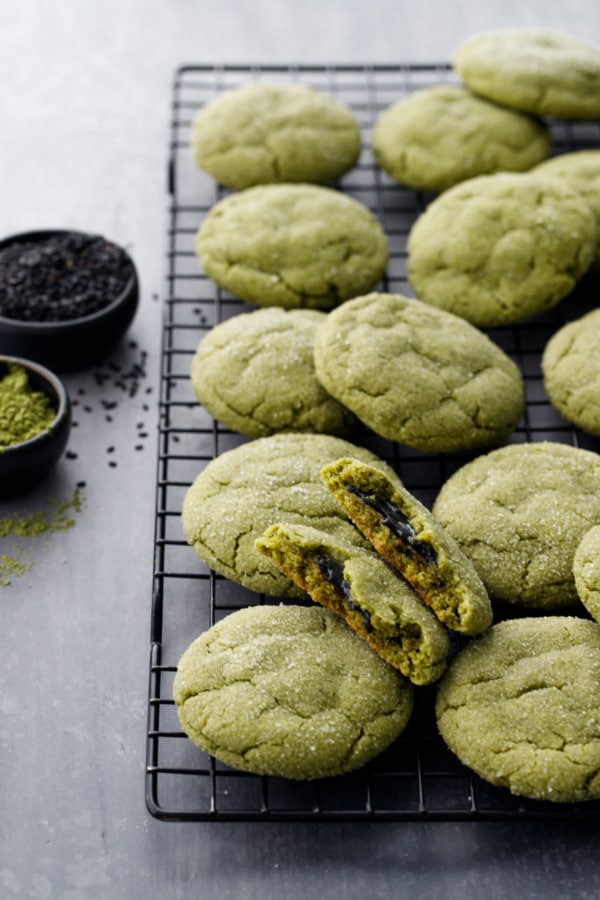 The black sesame filling is quite simple, made from Japanese roasted black sesame paste mixed with melted white chocolate.
I tested mixing the paste with powdered sugar too, which works, but it doesn't set up very firmly in the freezer which makes it hard to stuff, and it stays a bit thicker and pastier in the final baked cookie.
The white chocolate, on the other hand, sweetens the sesame more elegantly, while setting up more firmly in the freezer (meaning it's easier to wrap the soft dough around it) and results in a creamier center in the final baked cookies. I call that a win win!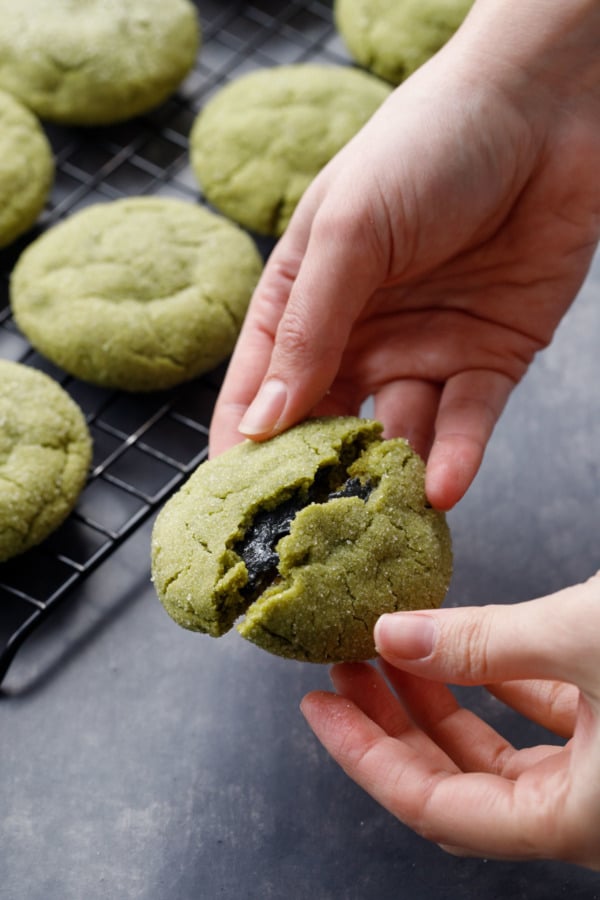 Japanese roasted black sesame paste is not the same as black tahini. The Japanese stuff uses roasted sesame seeds, which have a more robust, richer and nuttier flavor, without the telltale bitterness you often find in tahini (and especially black sesame tahini). Of all the different forms of black sesame I've played with (whole, powder, tahini and paste), it's by far the best in terms of overall flavor and lack of bitterness. Definitely worth the price in my opinion.
While the jarred stuff is really the best, I acknowledge that it's not cheap or easy to find. In which case you can make your own sesame paste by grinding roasted black sesame seeds in a food processor or blender until smooth and paste-like. If you start with raw black sesame seeds, you can roast them yourself in a 300 degree oven for 6-8 minutes until you can hear them crackling—don't roast them too long or they'll get unpleasantly bitter.
About 1 cup of sesame seeds will make 1/3 cup or so of sesame paste.
If you do opt to get a jar of the good stuff, know that I'm definitely planning to use the rest of mine in some truly delicious ways so it most definitely won't go to waste (if you want to make black sesame ice cream that rivals what you can find in Japan, this is the stuff you need).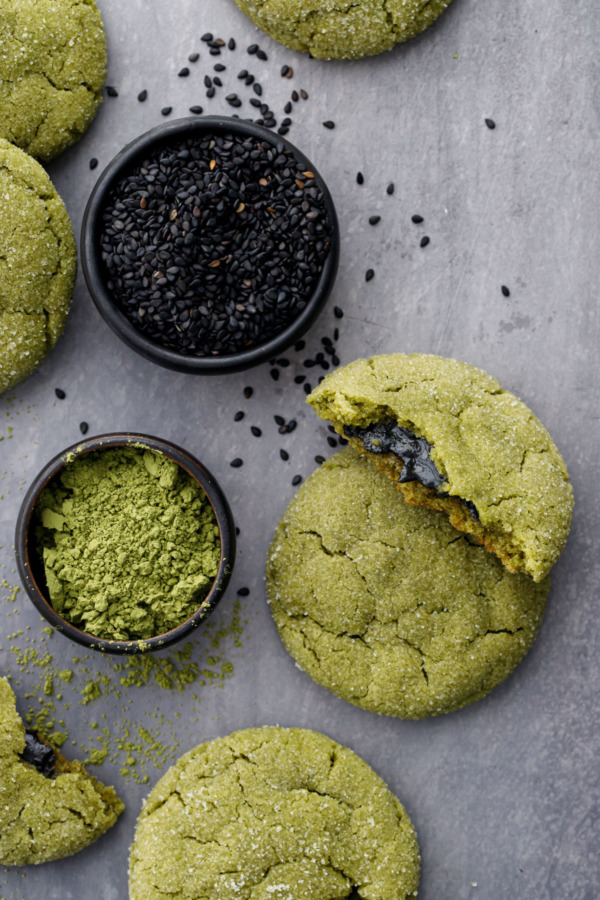 As for the matcha, a decent culinary grade matcha is fine here, you don't need to go wasting your expensive ceremonial grade match on a recipe like this, since the sugar and butter really mellows out the bitterness that often characterize lower grade matchas.
That said, even copious amounts of sugar and butter can't make bad matcha taste good, so be wary of matchas that are too cheap (I tried one once and the flavor was muddy and faintly fishy even—not good).
I personally like Matcha Moon Culinary Zen and Daily Zen (the later is great for lattes too) and Encha Culinary Grade Matcha: either would be a great option for these cookies.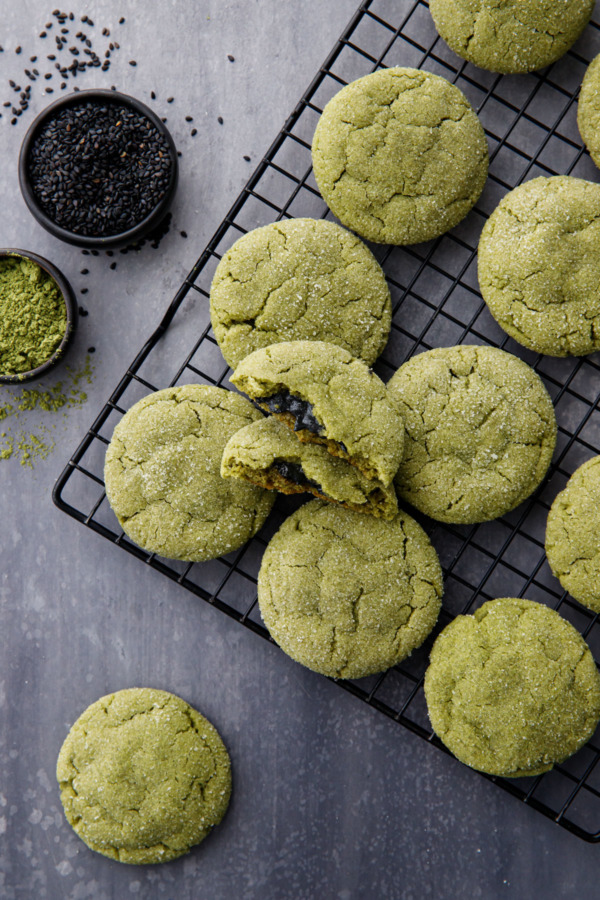 The filling is little more than melted white chocolate and black sesame paste (with a pinch of salt). It's got the texture of ganache, and will need to cool enough so it holds its shape (think cold peanut butter). Once it reaches this point, scoop it out by the 1/2 teaspoonful and drop it on a parchment lined baking sheet (you can also use a piping bag if you find that easier). Ideally you're looking for soft mounds of sesame rather than balls (this will result in a more even spread throughout the cookie).
Then freeze the whole sheet until the mounds are solid, which will make the soft dough much easier to stuff.
Once the filling is set, scoop out portions of your dough. I used a medium cookie scoop, which gives me about 34g of dough per ball.
Split each dough ball in half, and roll each one into a smooth ball, then flatten them into a disk. With one flattened disk in your palm, place a piece of frozen filling in the center. Top with the other disk, then press around the edges to seal in the filling. From there, shape it back into a ball(ish) shape (mine usually end up more like thick pucks rather than perfectly round balls).
Roll the balls in granulated sugar to give them a nice sparkly finish, then place on a parchment lined baking sheet with about 2-inches of space between cookies.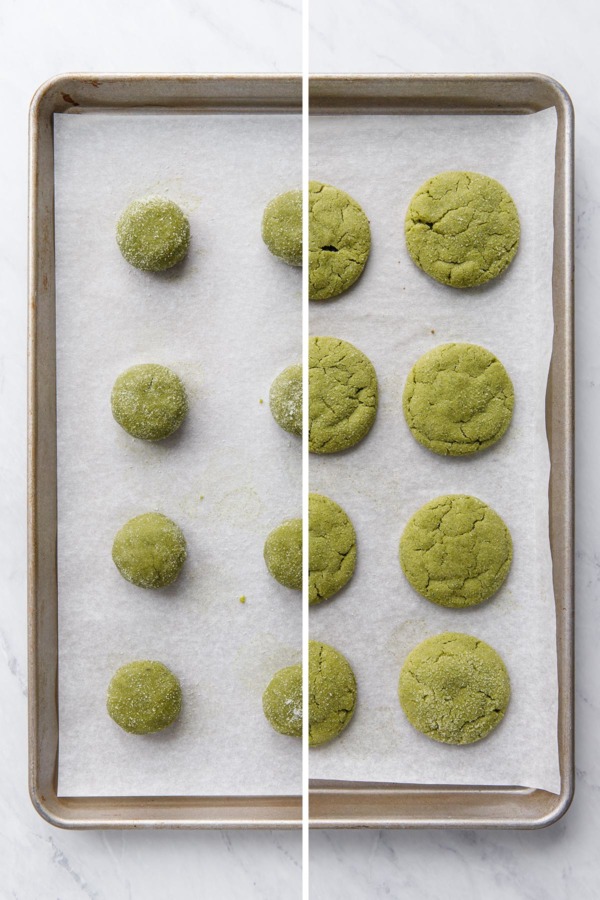 What is the difference between black sesame and white sesame?
The main difference between black and white sesame seeds are that white sesame seeds are hulled, their coarse outer layer removed, and black sesame seeds are sold whole, hence their striking black appearance.
That said, you can't simply take the hull off a black sesame seed and get a white one, there are a great many different varieties of sesame seeds (including red and brown ones too). It's less like comparing brown rice to white rice than, say, wild rice to white rice.
In terms of flavor, black sesame seeds have a nuttier, stronger, and often more bitter flavor than their white equivalent. I find that, especially when toasted, black sesame seeds often give off notes of black coffee and bittersweet chocolate. But toast them too much and you'll amplify the bitterness even more (to an unpleasant level in some cases) so stay diligent while toasting.
Could you use white sesame here? Technically, yes, the physical result would be the same, but the flavor is going to be quite different.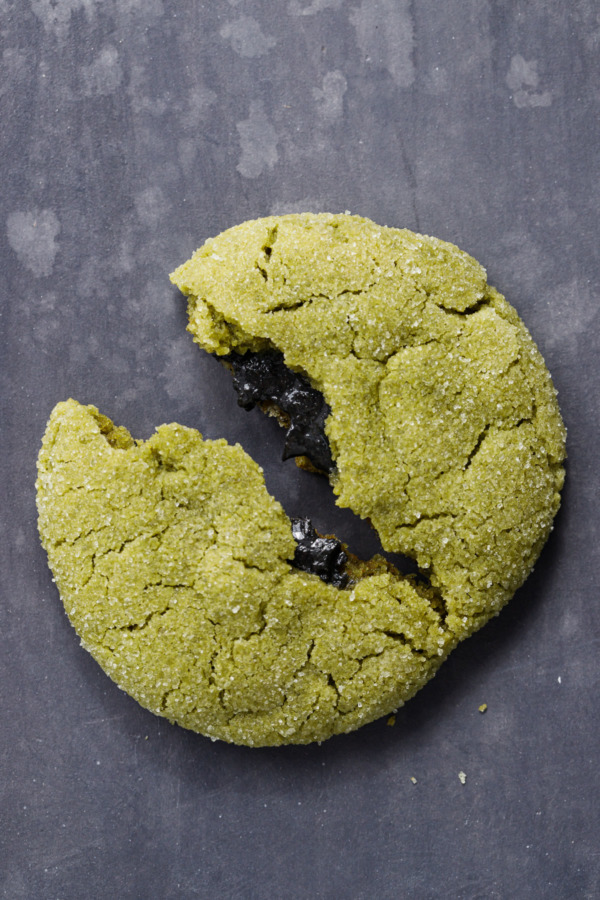 Black sesame is something I discovered during our travels. While here in the US we typically think of sesame as a savory ingredient, in Japan, black sesame desserts are everywhere.
I'd argue black sesame is perfect in desserts because its nutty, slightly savory nature pairs so well with sweet things.
If you're not a fan of super sweet desserts, you'll probably love black sesame desserts because they somehow manage to be both sweet and savory at the same time, and these cookies certainly prove that principle.
If you like the idea of the matcha cookies but are wary of the black sesame, you could opt to fill these will raspberry jam or with plain white chocolate much like I did with these stuffed chocolate cookies.
You can also bake the matcha sugar cookies as is without filling: they're quite tasty even without filling!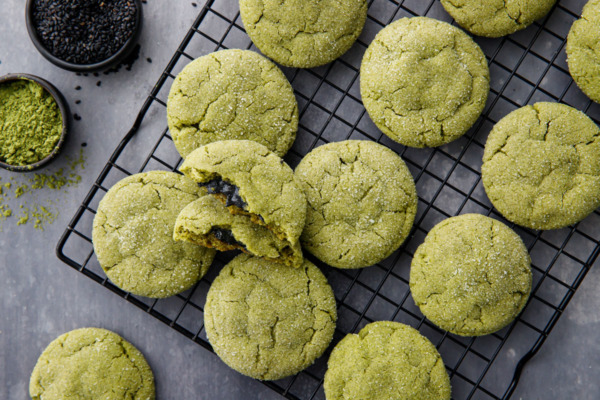 Black Sesame-Stuffed Matcha Sugar Cookies
Ultra soft matcha infused sugar cookies with an unexpected surprise inside: a pocket of sweetened black sesame paste for a savory richness that you'll absolutely adore.
Ingredients:
For Black Sesame Filling:
For Matcha Cookies:
2 1/2 cups (310g) all-purpose flour
2 tablespoons (12g) matcha green tea powder, sifted
1 teaspoon baking powder
1/2 teaspoon baking soda
1/2 teaspoon kosher salt
1/4 cup (56g) cream cheese, softened
1 1/2 cups (300g) granulated sugar, plus more for coating
6 tablespoons (85g) unsalted butter, melted
1/3 cup (70g) light olive oil or vegetable oil
1 large egg, at room temperature
1 teaspoon vanilla extract
Directions:
Combine white chocolate and black sesame paste in a microwave safe bowl. Heat in 30 second bursts on 50% power, stirring between each interval, until white chocolate is melted and mixture is smooth. Let cool for about 30 minutes or chill for 50 to 20 minutes until just thick enough to scoop (it should ideally hold a nice soft mound shape; if it's firmer than that you can use the heat of your hands to roll scoops into balls).
Line a baking sheet with parchment paper. Drop sesame mixture by the 1/2 teaspoonful onto parchment paper. Freeze at least 5 hours or overnight until firm.
Preheat oven to 350 degrees F. Line two baking sheets with parchment paper.
In a bowl, whisk together flour, matcha, baking powder, baking soda and salt and set aside.
In a another bowl, combine softened cream cheese, sugar, and melted butter. Stir with a spatula until it forms a smooth paste.
Add egg, oil, and vanilla and stir until smooth and completely incorporated.
Add dry ingredients and fold until just incorporated and no streaks of flour remain. The dough will be soft and slightly oily feeling (it shouldn't stick to your hands).
Use a medium cookie scoop to scoop dough into 1 1/4-inch balls (approximately 34g of dough each). Split dough in half, press each piece into a flat round.
Place one frozen black sesame piece in the center of one piece of dough; top with the second piece and press edges together to seal. Roll and squeeze into a puck shape. Coat in granulated sugar and place on prepared cookie sheet. Repeat with remaining dough, leaving about 2 inches of space between cookies on the cookie sheet.
Bake for 11-13 minutes or until tops are cracked and no longer shiny and bottoms are just barely starting to brown. Let cool on baking sheet for 10 minutes then transfer to a wire rack to cool completely. Cookies are best enjoyed within a day or two, but will keep in an airtight container for up to 5 days.
Did you make this recipe?
Let us know what you think!
Leave a Comment below or share a photo and tag me on Instagram with the hashtag #loveandoliveoil.