Tart and sweet, fruity and floral, these blackberry lavender lemon bars are the perfect summery treat for lemon lovers everywhere!
The classic lemon bar gets leveled up with ripe summer blackberries and a hint of lavender for a uniquely floral twist and gorgeous pink color.
I've gotten into the habit of offloading my leftover sweets on my fellow students at my weekly Wednesday night ceramic class. Contrary to what you may think, excess sweets are a constant problem I have to deal with. The two of us can hardly consume everything I bake (recipes often requiring multiple tests before the final iteration), and ​it's not like I have an office to bring them to. Usually it's my neighbors who get saddled with the bulk of my leftovers (not that they're complaining or anything).
But now that I'm back at my ceramics class after a year-long break, it's proven the perfect opportunity for me to both offload my recipe tests and gather useful feedback, while at the same time spreading sweet happiness around the studio.
When I heard that our teacher was a huge fan of lemon desserts, I decided to revisit my classic Meyer lemon bars and give them a fruity and floral new twist. And even I, the lackluster lemon lover that I am (I'll choose chocolate over lemon any day), had to admit the result is pretty darn fabulous.
I first added a subtle hint of lavender, keyword subtle (because no one wants a lemon bar that tastes like grandma's perfume). I worried I erred on the side of too subtle, but they were met with rave reviews.
Weeks later, I made another batch, using up some fresh local blackberries I'd purchased the week before and that really needed to be used. While the result was delicious, it was a little light on the blackberry and came out a strange mauve color, as opposed to the vivid violet I envisioned. But I knew that with a bit more blackberry, these definitely had potential.
While I had drafts of both of these recipes saved separately, I ultimately thought… why not combine the two? Because blackberry AND lavender together seemed like a very good idea.
Spoiler alert: it most certainly was.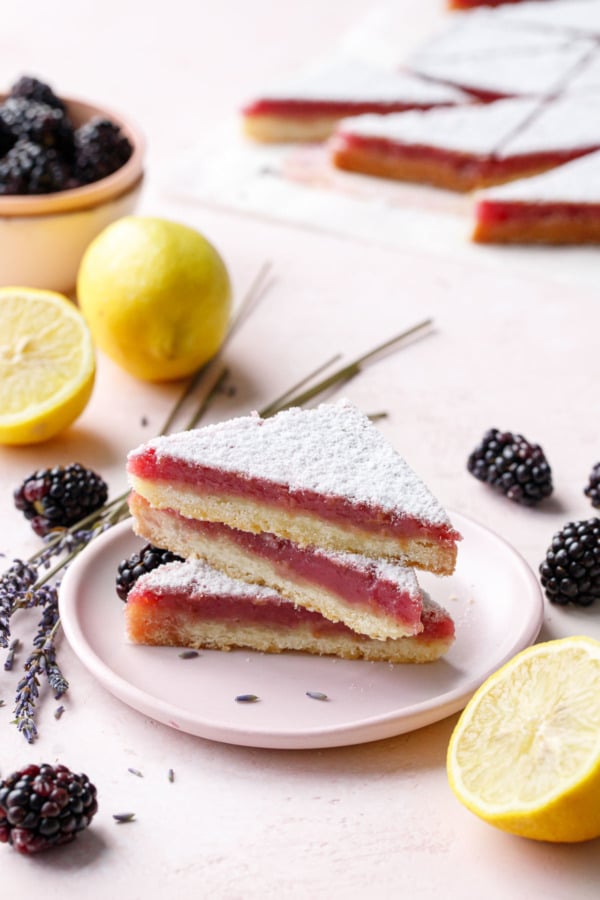 The blackberries are roasted in the oven until their juices are released. While the roasting step doesn't quite intensify the color and flavor like it does blueberries (it's my favorite trick for making blueberry taste even more like blueberry), the extra heat does help create a more pronounced blackberry flavor and saturated color.
Would this recipe work with other fruit? Why yes, I think it would. Blueberries in particular I think would produce a gorgeous fuchsia color, and I think raspberries would actually work quite well here too.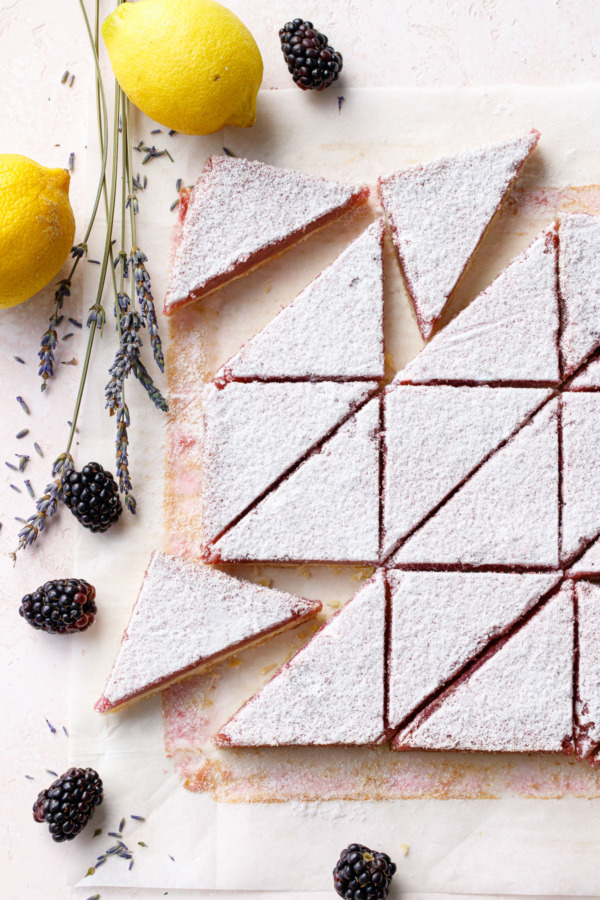 The lavender flavor is very subtle. I'm talking subtle enough that only the most discerning palates would be able to identify its presence. But the essence is just enough to add a note of the unexpected. You'll taste something special in there, even if you can't quite pinpoint what it is.
That said, if you want a slightly more pronounced lavender flavor, you can infuse your dusting sugar with a bit of lavender as well, simply crush some up with your fingers, let it sit for a few hours (while the bars cool), then sift with a sieve or sugar duster over the top of the baked bars.
Likewise, the lavender can also be left out completely here if you prefer.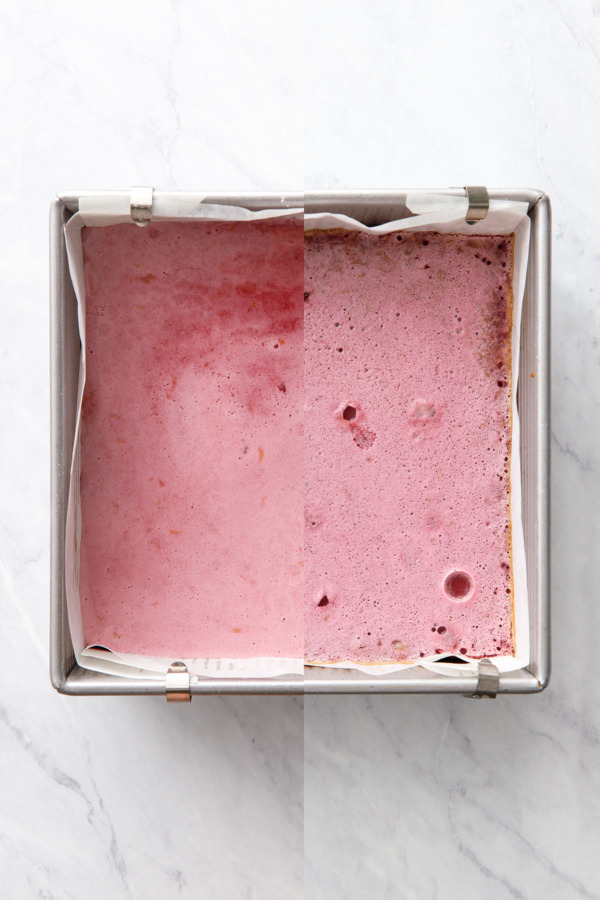 Lemon bars always come out of the oven looking like the surface of the moon, with a layer of foamy froth and bubble craters, an effect amplified in this particular recipe by the pinch of baking powder. You can skim off a layer of foam after mixing and before pouring it into the pan, but that will only do so much. And really, that's what the powdered sugar is for, isn't it?
I used a specialty product called non-melting sugar, which is a lot like powdered sugar in taste and appearance but formulated so it doesn't dissolve into nothingness the second it touches moisture. Regular powdered sugar works here too (avoid organic though since it doesn't hold up nearly as well as conventional). Either way, I recommend waiting to dust your bars until just before serving to keep the sugar looking as crisp and white as possible.
For some reason lemon bars just feel fancier when they are cut into triangles. No idea why, but they're just not nearly as fun in boring squares or rectangles.
The lemon bars need at least a few hours to cool and fully set before you cut into them (patience, grasshopper). Use the parchment paper to lift the entire slab out of the pan and transfer to a cutting board. Use a large chef's knife to make your slices, and run it under hot water between each cut (clean knife = clean cuts).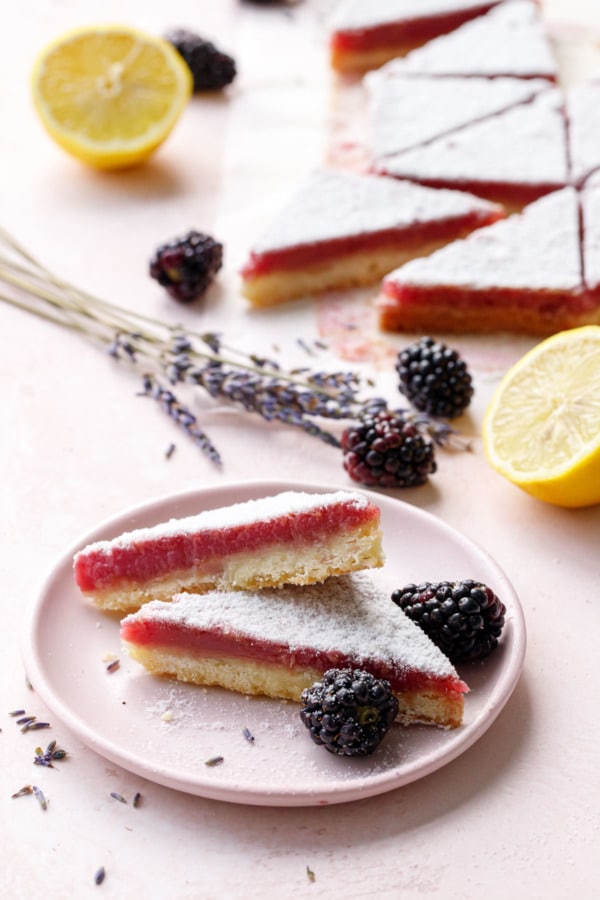 When baking lemon bars, do not use an uncoated aluminum pan. Some say to avoid baking in metal altogether lest your bars take on a metallic flavor, but I find using a coated metal baking pan with a good parchment lining (method 2 is my go-to) works fine for this recipe. And really, you just can't beat the aesthetics of those perfectly square corners.
Tip: Keep your parchment from flopping into your baked goods by using the metal clips from Weck jars on the edges of the pan to keep the parchment in place.
If you do opt to bake in glass, I still recommend the parchment lining so the bars can be lifted out of the pan once cooled (which makes for easier cutting). The bake time will also vary, since glass holds heat more than metal, you may want to reduce the oven temperature by 25ºF to compensate.
Blackberry Lavender Lemon Bars
The classic lemon bar gets leveled up with ripe summer blackberries and a hint of lavender for a uniquely floral twist and gorgeous pink color.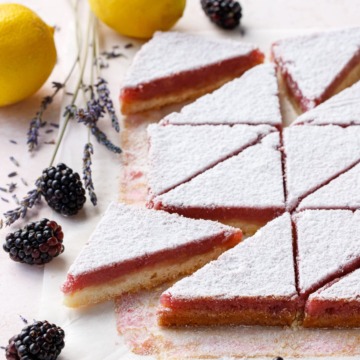 Ingredients:
For Crust:
½ cup (113g, 1 stick) unsalted butter, at room temperature
¼ cup (50g) granulated sugar
1 cup (125g) all-purpose flour
1 tablespoon (10g) cornstarch
pinch fine sea salt
For Filling:
8oz (227g) blackberries
2 tablespoons (25g) granulated sugar
2 teaspoons dried culinary lavender
3/4 cup (150g) granulated sugar
2 tablespoons (16g) all-purpose flour
2 teaspoons finely grated lemon zest (from 1 large or 2 small lemons)
⅛ teaspoon baking powder
¼ cup fresh lemon juice (from 2 juicy lemons)
½ teaspoon vanilla bean paste or extract
2 large eggs, at room temperature
1 large egg yolk, at room temperature
non-melting or powdered sugar, for topping
Directions:
Preheat oven to 400 degrees F. Line a small baking dish with foil. Toss blackberries with sugar and lavender in baking dish. Bake for about 20 minutes, stirring once half way through, until berries are falling apart and their juices are bubbling. Let cool slightly, then pour through a fine mesh sieve to strain out the solids and seeds. You should have about 1/3 cup of juice. Set aside to cool completely.
Reduce oven to 350 degrees F. Lightly butter an 8-inch-square baking pan (do not use uncoated aluminum for this recipe); line bottom and sides with parchment paper and lightly butter parchment.
In a mixing bowl or the bowl of a stand mixer fitted with the paddle attachment, cream together butter and sugar until fluffy. Add flour, cornstarch, and salt and mix until incorporated. Dough will be crumbly, but should come together if you squeeze it between your fingers. Dump into prepared baking pan and press evenly into the bottom, lightly flouring your hands as needed if it starts sticking. If desired, brush a thin layer of egg white over the top of the crust (use the leftover egg white from the yolk called for in the filling). Baking it with a light egg white wash will help keep the crust from getting soggy.
Bake for 20 minutes or until top is matte and puffed and edges are just starting to brown. Remove from oven.
While shortbread is baking, in a mixing bowl, whisk together sugar, flour, baking powder, and lemon zest until evenly mixed. Add eggs and egg yolk and whisk until incorporated. Whisk in lemon juice, vanilla, and 1/3 cup of blackberry juice. If desired, skim off the top layer of foam.
Pour lemon mixture over hot shortbread, then return to the oven and bake for an additional 20 to 22 minutes or until edges are set and center is just barely jiggly. Remove from oven and set pan on a wire rack to cool completely. For easier slicing, refrigerate at least 2 hours or overnight, then lift bars out of pan using parchment paper as handles, and cut into 9 even squares, then diagonally in half to form triangles.
Dust liberally with powdered or non-melting sugar just prior to serving. For slightly more lavender flavor, mix the powdered sugar with more dried lavender, crushing it a bit between your fingers to infuse the sugar with flavor, then sift through a fine mesh sieve over top of bars.
Did you make this recipe?
Let us know what you think!
Leave a Comment below or share a photo and tag me on Instagram with the hashtag #loveandoliveoil.