Indulge in a square of lightly spiced and deeply chocolate cheesecake, with distinct layers of chocolate cookie crust, silky smooth chocolate cheesecake infused with chai spices, and a decadent chocolate ganache to finish it all off.
Sugar and spice and everything nice… that's definitely what these cheesecake bars are made of. Simple to prepare and even easier to eat (no fork required), you'll love everything about this decadent treat.
If you haven't already noticed, I love bar-ifying recipes that aren't typically served as squares. From cookies to coffee cake and even pumpkin pie, squares are quickly becoming my favorite serving shape. Needless to say I've definitely been getting my money's worth out of my trusty 8-by-8 pan.
These chocolate chai cheesecake bars (or, as they're known colloquially, Ch³ Bars) are adapted from my triple chocolate cheesecake recipe, scaled down and infused with sultry chai spices and transformed into easy-to-eat bars.
What is Chai?
Originating from India, chai literally means tea (derived from 'cha', the Chinese word for tea, so when you go around saying 'chai tea' you're actually saying 'tea tea' FYI). Chai has become a word that is used on its own to describe what is more technically known as masala chai, a fragrant blend of spices infused into a tea-like beverage (often with black tea, but that's not always the case).
The actual spices that you'll find in masala chai varies greatly depending on the maker. Most include cardamom, cinnamon, ginger and cloves, with some blends containing coriander, star anise, and even black pepper.
In this recipe, the fragrant chai spices meet with dark, bittersweet chocolate in multiple forms for a unique, multi-faceted flavor. Cardamom isn't a spice you usually see paired with chocolate, which is a shame, as it proves to be a truly transcendent pairing (and considering I'm not usually a huge fan of cardamom, that's saying something).
You can use the spices as listed, you can also use whole spices, toasted and then ground, for an even more vibrant chai flavor. If you happen to have a pre-made chai spice mix on hand, feel free to use that as well (about 1 to 2 teaspoons depending on how strong you want the spices to be).
Conversely, feel free to leave the spices out entirely for a simple and decadent chocolate cheesecake bar that'll knock your socks off.


Smooth Operator
I always like to make my cheesecakes using a food processor, which lets me achieve a perfectly smooth texture without beating any extra air into the batter (which can cause cracks).
The other key to getting a silky smooth cheesecake with no lumps? Room temperature ingredients. In the cooler months, that means getting your cream cheese, eggs, and sour cream out at least an hour beforehand, ideally more like 2. If I know I'm baking cheesecake I'll get my ingredients out first thing in the morning so they're ready to go when I am.
While you can bring eggs to room temperature quickly by submerging them in warm water for 20 minutes, you really cannot force cream cheese. Using the microwave will often soften the outside of the block too much, while the center is still chilly (and chilly cream cheese will result in lumps). trust me. Plan ahead, let your ingredients come to room temperature on their own time, and you'll be rewarded with a perfectly smooth cheesecake.
Scaling This Recipe
If you'd rather make a full-size cheesecake instead of bars, you'll have an easier time following my triple chocolate cheesecake recipe, just add your chai spices (2x what's listed in the recipe below) into the batter along with the flour.
That's easier than trying to scale this one back up, since the crust and ganache parts are nearly the same, just the filling is scaled down from the original. Cook and cool times should be more accurate as well, accounting for the additional thickness.
If you happen to be cooking for a big crowd, you can also double this recipe as written and bake it in a 13-by-9-inch pan. Cook time will be slightly higher, though not nearly as much as a full-size cheesecake, as it's still pretty thin overall.
You'll know your cheesecake is done when it's set on the edges and just barely jiggly in the middle. The center should jiggle like firm jello; if it still looks like liquid, it needs more time.
Serve it in style!
While the recipe yields 16 serving-size bars, if you plan to serve these to a crowd, might I suggest going hors d'oeuvre-style and cutting your squares even smaller, and serving them with toothpicks?
Lately I've been bringing many of my leftover bakes to my weekly ceramics class. And because of the nature of the environment, namely that everyone has clay all over their hands (and, in my case, clothes and hair and shoes), I wanted to be able to serve these in a way that would allow my classmates to just grab a bite without needing to wash their hands, pop it in their mouths and get back to the messy work of throwing pots. Hence, the bite-sized squares and toothpicks.
It didn't take even ten minutes before I started hearing shouts of "LINDSAY BROUGHT CHOCOLATE!" from across the room. Let's just say, they didn't last very long.
Feeding people is most definitely my love language. It makes me so happy seeing others enjoying something I've baked… especially when you see them going back for thirds and fourths (I won't name names, but you know who you are).
Chilling & Storing
Both the filling and the ganache do need to set before slicing and serving. The cheesecake needs at least a few hours in the fridge, and the ganache needs at least 30 minutes at cool room temperature to set, or a quick chill in the fridge (especially if you want clean slices). You can add the ganache as soon as the cheesecake is cooled to room temperature, or you can chill the cheesecake overnight and then add the ganache the next morning.
This is one of those recipes that keeps beautifully for days and even upwards of a week or more (though doubtful it'll last that long), making it a great make-ahead recipe for any occasion. Just keep it refrigerated in an airtight container until 20-30 minutes before serving.
You can also freeze the cut cheesecake bars, thawing in the fridge overnight prior to serving. Your ganache will likely have a bit of condensation on it after thawing, but the bars should be just as tasty as if they were freshly baked.
Chocolate Chai Cheesecake Bars
Chocolate chai cheesecake bars feature distinct layers of chocolate cookie crust, silky smooth chocolate cheesecake infused with sultry chai spices, and a decadent chocolate ganache to finish it all off.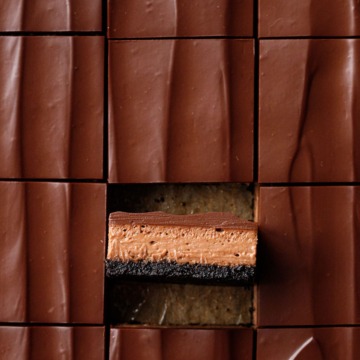 Ingredients:
For Crust:
4oz (114g) chocolate wafer cookies (about 25 cookies)
3 tablespoons unsalted butter, melted
pinch fine sea salt
For Cheesecake:
8oz (228g) cream cheese, at room temperature
1/2 cup (130g) full fat sour cream, at room temperature
1/2 cup (100g) granulated sugar
2 large eggs, at room temperature
1 teaspoon vanilla extract
1 tablespoon (8g) all-purpose flour
1/2 teaspoon ground cardamom
1/2 teaspoon ground cinnamon
1/4 teaspoon ground ginger
1/4 teaspoon fine sea salt
scant 1/8 teaspoon ground cloves
pinch freshly ground black pepper
2 oz (57g) bittersweet chocolate, melted and slightly cooled
For Ganache Topping:
4 oz (114g) bittersweet chocolate, finely chopped
1/2 cup (120mL) heavy cream
2 teaspoons corn syrup
Directions:
Preheat oven to 300 degrees F. Butter an 8-inch square pan; line with parchment paper, leaving an overhang over two of the edges.
Combine cookies and salt in a food processor and pulse until very finely ground. Drizzle over melted butter and pulse until evenly moistened. Press into bottom of prepared pan. Place in freezer to set while you prepare the filling.
In a food processor or the bowl of a stand mixer, pulse room temperature cream cheese, sour cream, and sugar until smooth. Add eggs, one at a time, mixing well after each addition and scraping down the sides of the bowl as necessary to be sure all ingredients are evenly incorporated. Mix in vanilla.
Whisk spices together with salt and flour, then sprinkle over cream cheese mixture and pulse once or twice to blend. Drizzle in melted and cooled chocolate and pulse until just incorporated.
Pour batter into cooled crust, spreading into an even layer. Tap on the countertop once or twice to level it out and get rid of any large air bubbles. Bake for 26 to 28 minutes or until the center of cheesecake is set but still barely jiggly. Let cool on a wire rack to room temperature before topping with ganache (you can also refrigerate it overnight before topping).
For ganache, place chopped chocolate in a heat-proof bowl. Heat cream in a small saucepan until it just starts to bubble around the edges (do not let it boil). Pour cream over chopped chocolate and let sit for 30 seconds, then slowly whisk, working in concentric circles starting in the middle, until chocolate is fully melted and smooth. Add corn syrup, slowly whisking until incorporated and smooth.
Pour glaze over top of cheesecake, spreading to edges with an offset spatula. Let set at room temperature for about 1 hour, or refrigerate for at least 20 minutes until glaze is set. Refrigerate until ready to serve.
To slice and serve, use the parchment overhang to lift the entire slab out of the pan. Place on a cutting board and slice into squares (use a large chef's knife, run it under hot water to warm it up and wipe it clean between each slice). Serve chilled or at room temperature. Bars will keep in an airtight container in the refrigerator for up to 5 days.
Did you make this recipe?
Let us know what you think!
Leave a Comment below or share a photo and tag me on Instagram with the hashtag #loveandoliveoil.