With a satisfyingly fudgy texture, these white chocolate blueberry blondies are studded with chunks of white chocolate and pockets of soft, jammy blueberries and finished off with an artistic drizzle of blueberry maple glaze.
Blueberry and white chocolate lovers, this one's for you! These summery blueberry blondies somehow manage to taste like a blueberry muffin disguised itself as dessert, with a bright and fruity blueberry flavor with just a hint of buttermilk and lemon.
When I first tested these bars, I thought they tasted a bit like blueberry muffins or blueberry pancakes, just slightly sweeter and baked into a bar… which was not what I expected at all, but also kind of… awesome?
So I decided to lean into the pancake idea, adding buttermilk powder and a hint of maple to the glaze. Both are optional, but I personally loved the extra acidity from the buttermilk powder, and felt it helped offset the sweetness of the white chocolate (one of my main complaints with many blondie recipes).
The result is an ultra-fudgy blondie, studded with chunks of white chocolate and jammy pockets of bright blueberry flavor and just a hint of tang from the lemon zest and buttermilk.
Blondies are a hard nut to crack sometimes, at least when it comes to texture.
These blondies are on the fudgier side, dense and almost gooey in the middle with lighter, cakier edges and a paper thin, crackly crust. This kind of blondie is really best after chilling overnight, when the fats solidify and become even more fudge-like.
The base recipe is actually very similar to my Strawberry Blondies from years ago, which had a little extra baking powder that gives it more of a coffee cake-like texture.
For this recipe, however, I wanted a denser, fudgier texture, so I omitted the baking powder and spent a bit of extra time beating the eggs with the sugar (which gives the blondies a bit of lift without chemical leavening).
That said, if you want a cakey blondie, simply add 1/4 teaspoon baking powder. Do be careful not to overbake them, as cakey blondies do tend to get unpleasantly dry if the least bit overbaked (maybe take them out around 28-30 minutes instead of 35).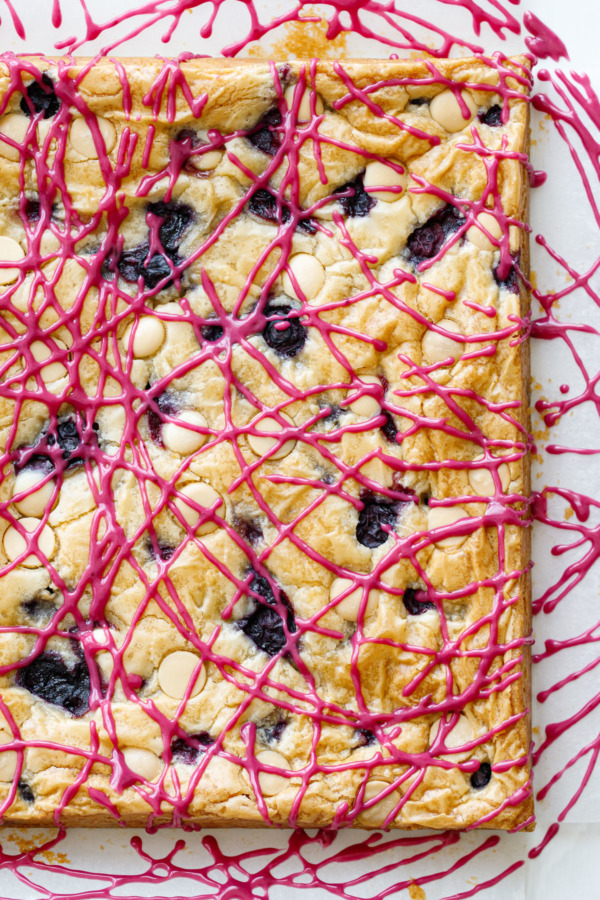 While this recipe is, at its most basic, an adaptation of my old strawberry blondie recipe, I've decided that I much prefer baked goods with blueberries over those with strawberries, which I find tend to make baked goods unpleasantly soggy. Blueberries don't have quite the same high water content, and their thicker skins help to keep the juices more contained. You'll still have a little pocket of moisture around the blueberries, where the juices have burst during baking and bleed into the surrounding pastry, but it's not enough to be noticeably soggy.
So while I recommend against swapping strawberries in this recipe for that reason, I think raspberries would work quite well.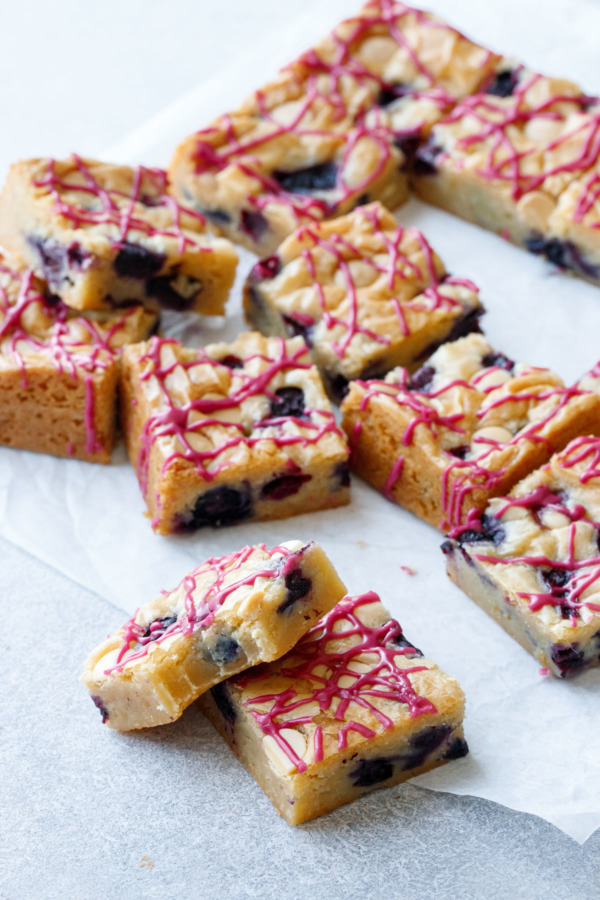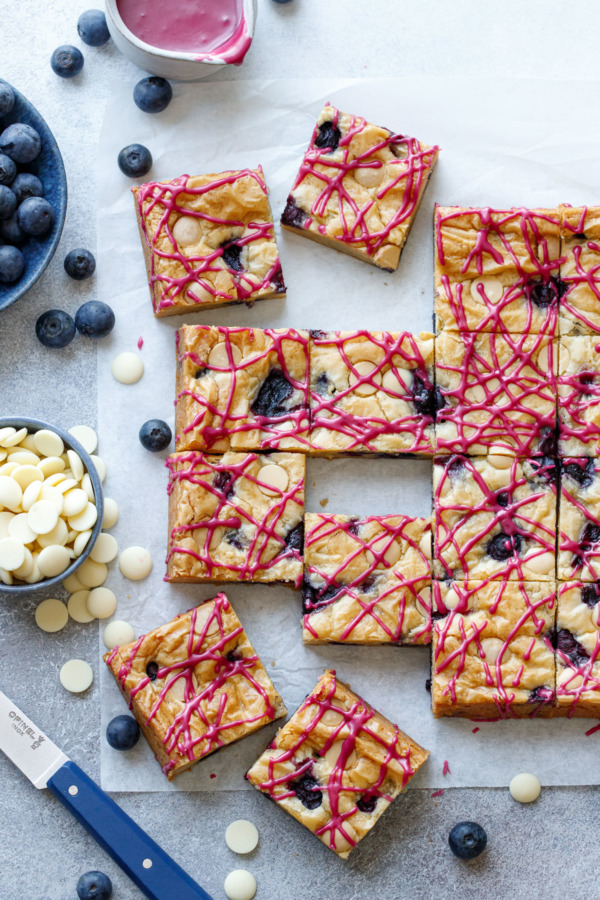 The first step in making these white chocolate-based blondies is to melt the white chocolate and the butter. When you first whisk in the sugar, the mixture will look separated, with a slick of bright yellow butterfat on top of the melted white chocolate and sugar. (Note the photo shows white sugar in this step, though I ended up swapping the brown sugar in the final recipe. But you get the idea.)
After whisking it over heat for a few minutes, it should emulsify and turn almost creamy looking, like butterscotch. It will still be greasy, but not obviously separated. This melted sugar is what helps give the blondies that paper thin, crackly top.


I topped these with a gorgeous blueberry and maple glaze, though this step is certainly optional and can be skipped entirely.
You'll notice I call for organic powdered sugar in the glaze, and that's because of the nature of powdered sugars, organic (which is made with tapioca starch instead of cornstarch) is better suited for recipes where there isn't any heat involved. Cornstarch only activates when heated, which can lead to a grittier texture in glazes like this one where it is not subjected to heat.
I also find organic powdered sugar to be less cloying, whereas conventional for whatever reason has a tooth-breaking sweetness that's not exactly pleasant.
Do note, however, that organic powdered sugar tends to be much clumpier than conventional, and it absolutely needs to be sifted first. Do not skip this step or you'll end up with a very chunky glaze. You can either use an actual sifter or press the sugar through a fine mesh sieve.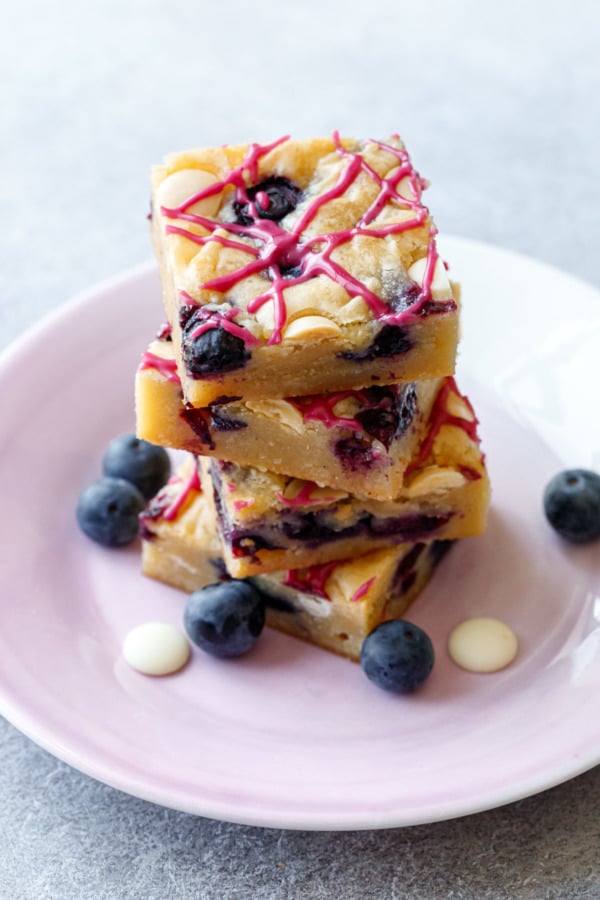 Fresh vs Frozen Blueberries
I personally use and prefer fresh blueberries in baking recipes such as these.
That said, if it's not blueberry season and you still want to make these blondies, you can use frozen here instead. You'll want to run the frozen berries under lukewarm water until the water runs clean, then spread the berries out on paper towels until they are completely dry.
Alternatively, if you have bit more time, place the frozen berries in a fine mesh sieve set over a bowl; as they thaw they will release any excess juice into the bowl below (bonus perk of this method: you can use that flavorful purple juice to make the glaze).
Frozen blueberries can carry extra moisture, so the pockets around the berries may be a bit soggier than if you used fresh. That said, they'll still work just fine in this recipe.
Buying White Chocolate
When it comes to white chocolate, you want to use actual white chocolate here and not white baking chips. It's easy to tell the difference if you look at the ingredients: white chocolate will show cocoa butter as the first or second ingredient; white baking chips use partially hydrogenated oil. Trader Joe's white chocolate chips are actually surprisingly good quality, made with actual cocoa butter. Most other grocery store brands of white chips are not real white chocolate (hence the label 'white baking chips'), and I'd suggest buying a bar of white chocolate instead.
I keep a bag of Callebaut white chocolate callets on hand just for recipes like this one. It's a versatile, high quality white chocolate in perfect small pieces that require no additional chopping.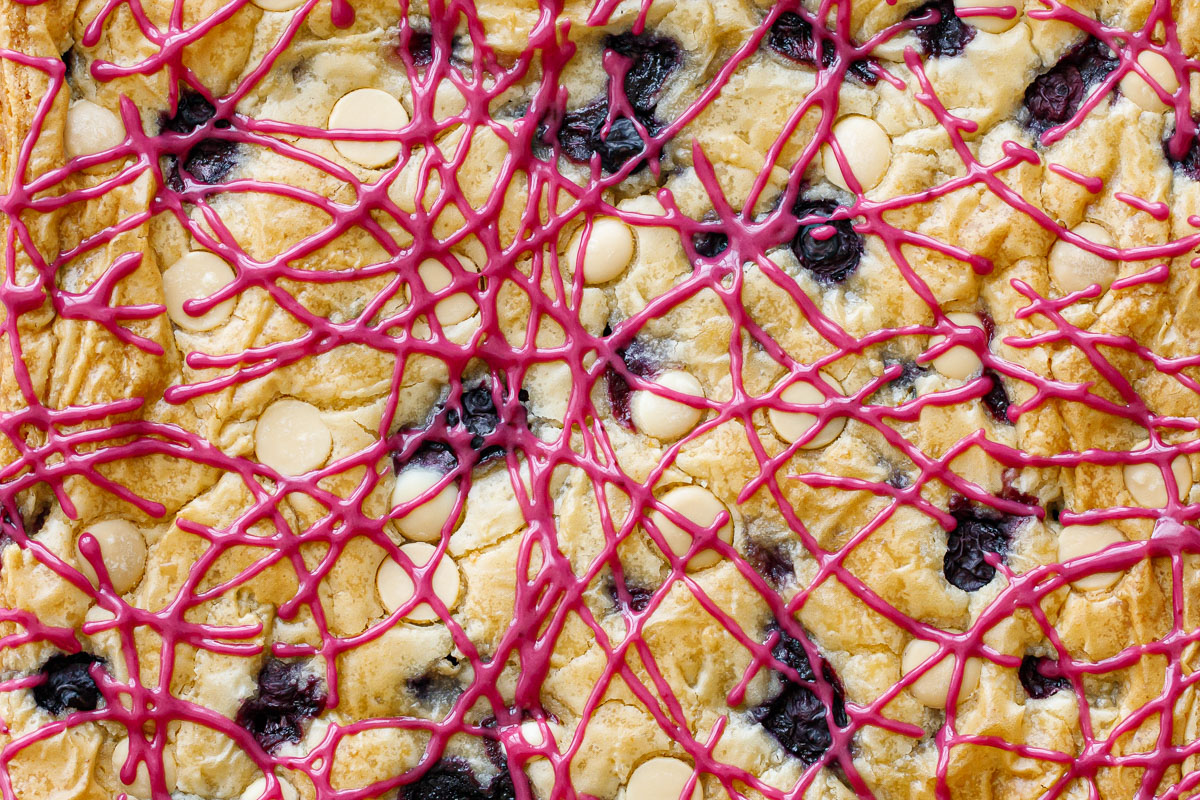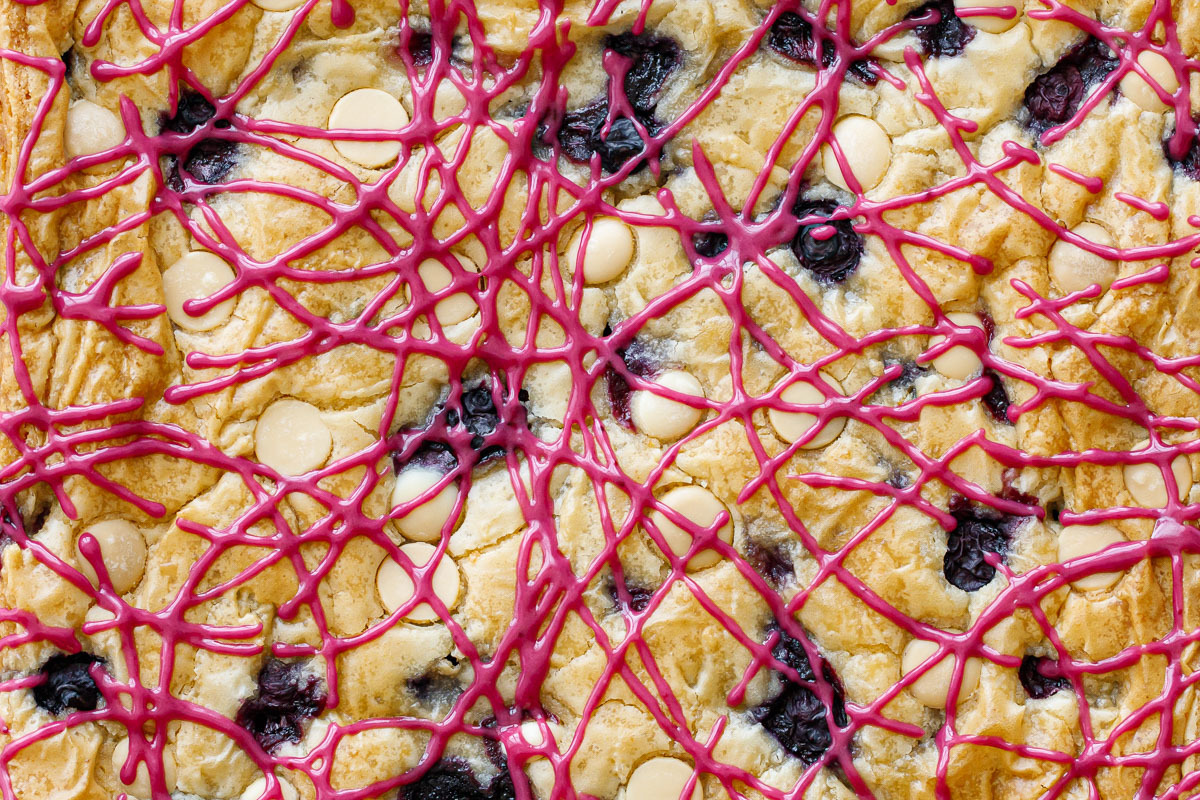 Blueberry White Chocolate Blondies
These white chocolate blueberry blondies are studded with chunks of white chocolate and pockets of soft, jammy blueberries and finished off with an artistic drizzle of blueberry maple glaze.
Ingredients
¾

cup

/

100

g

fresh blueberries

1¼

cup

/

156

g

all-purpose flour

,

divided

2

tablespoons

/

18

g

buttermilk powder,

optional

½

teaspoon

fine sea salt

3.5

oz

/

100

g

white chocolate*

½

cup

/

113

g

unsalted butter

,

cut into pieces

¼

cup

/

56

g

packed light brown sugar

½

cup

/

100

g

granulated sugar

1

large egg

,

at room temperature

1

large egg yolk

,

at room temperature

1

teaspoon

vanilla extract

1

teaspoon

lemon zest

¼

cup

/

30

g

white chocolate callets or chips

,

plus more for topping
For Glaze:
¼

cup

/

35

g

fresh or frozen blueberries

1

tablespoon

freshly squeezed lemon juice

1

tablespoon

filtered water

½

cup

/

60

g

powdered sugar (preferably organic)

,

sifted

1

teaspoon

maple syrup
Instructions
Preheat oven to 350 degrees F. Lightly butter the bottom and sides of an 8×8 baking pan; line with parchment paper, leaving a slight overhang (this will help lift the blondies out of the pan later).

Toss blueberries with 1 tablespoon of flour. Place remaining flour in another bowl and whisk in buttermilk powder and salt until evenly incorporated; set aside.

In a saucepan, melt white chocolate and butter over medium heat. Once melted, add brown sugar and whisk to combine. At first the butter will form a yellow slick on top of the melted sugar. Keep whisking for 2 to 3 minutes until it comes together. It will still be fairly greasy, but should appear creamy and emulsified. Remove from heat and let cool slightly.

In a mixing bowl or the bowl of a stand mixer fitted with the whisk attachment, beat granulated sugar with egg and egg yolk until lightened in color, 2 to 3 minutes. With the mixer on low speed, slowly pour in the white chocolate mixture, mixing until completely incorporated. Scrape down the sides of the bowl as needed .Mix in vanilla extract and lemon zest.

Add dry ingredients and stir until almost incorporated; add blueberries and 1/4 cup white chocolate pieces and gently fold until evenly distributed and no dry flour remains. Pour into prepared pan. If desired, top with a few more blueberries and white chocolate pieces.

Bake for 30 to 35 minutes or until top is golden and crackly and a toothpick inserted near the center comes out clean. Let cool completely. Once fully cool, lightly cover and refrigerate overnight or until ready to serve (at least a few hours, but I recommend chilling overnight for the best texture).

For the glaze, combine blueberries, lemon juice and water in a small saucepan. Bring to a simmer and cook for about 5 minutes until the blueberries soften, mashing them with the back of a spoon. Remove from heat and strain juice through a fine mesh sieve. You should have about 2 tablespoons of juice.

Sift powdered sugar into a small bowl. Add 1 tablespoon blueberry juice and 1 teaspoon maple syrup. Stir until smooth. If the glaze seems a bit thick, add more blueberry juice, ½ teaspoon at a time, until the glaze reaches a drizzleable consistency. Use a fork or whisk to drizzle abstract swirls on top of blondies, or a small squeeze bottle fitted with a small round piping tip for a more uniform design. You might not need all the glaze. Chill briefly to set.

Use the parchment paper to lift the bars out of the pan, then cut into squares. Blondies will keep, refrigerated in a single layer in an airtight container for up to three days.
Notes
Use a good quality white chocolate here, not white baking chips or candy coating. Cocoa butter should be the first or second ingredient. You can use either a bar of white chocolate (finely chopped) or white chocolate callets/coverture, which don't need to be chopped. For the white chocolate pieces that are mixed in, you can use the same chopped/callets, or you can use baking chips for this part if you want.
All images and text ©
for Love & Olive Oil.
Did you make this recipe?
Let us know what you think! Leave a Review below or share a photo and tag me on Instagram with the hashtag #loveandoliveoil.