This hearty kale salad is anything but boring: tossed with tangy lemon and flavorful pecorino cheese and topped with nutty farro, crunchy sourdough breadcrumbs, and tart dried barberries.
The addition of nutritious farro makes this salad suitable as a meal unto itself, perfect for lunch or a light dinner, though it's also lovely served as a side salad alongside some grilled chicken or seared steak.
As our friend Richard used to say… it's delicious AND nutritious!
The base of this kale salad recipe comes from the Six Seasons cookbook, and it's one we've made many, many times (it's one of the few kale salad recipes I actually like).
While the original recipe is near perfect, we wanted to make it a bit more substantial and filling as a meal in and of itself, hence the addition of farro. We also used homemade sourdough for the breadcrumbs, added barberries, and tweaked the process a little bit (adding the cheese separately versus mixing it all together makes for more even distribution and less clumps). Also, twice as much cheese and garlic (as you do).
This recipe works with any kind of kale; the original calls for lacinato (the darker, dino-skin looking stuff); we used curly kale here since I love the texture and lift: it doesn't collapse under the weight of the farro.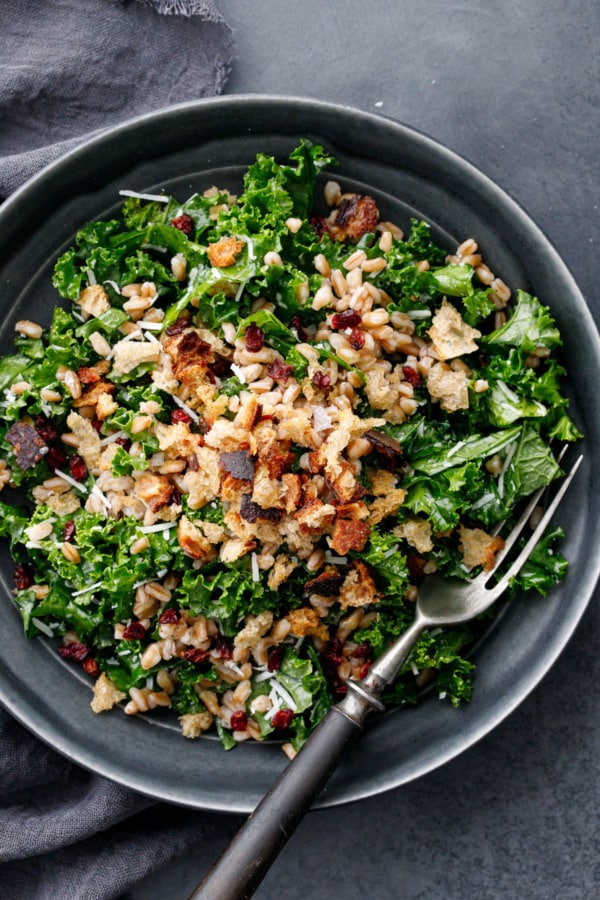 One bonus of kale salads like this one: they almost get better the longer they sit, making this a perfect make-ahead recipe. The bitterness of the kale gets mellower the longer it mingles with the dressing.
You can toss the kale and farro with the dressing and cheese up to a day ahead of time; then just add the barberries and breadcrumbs before serving.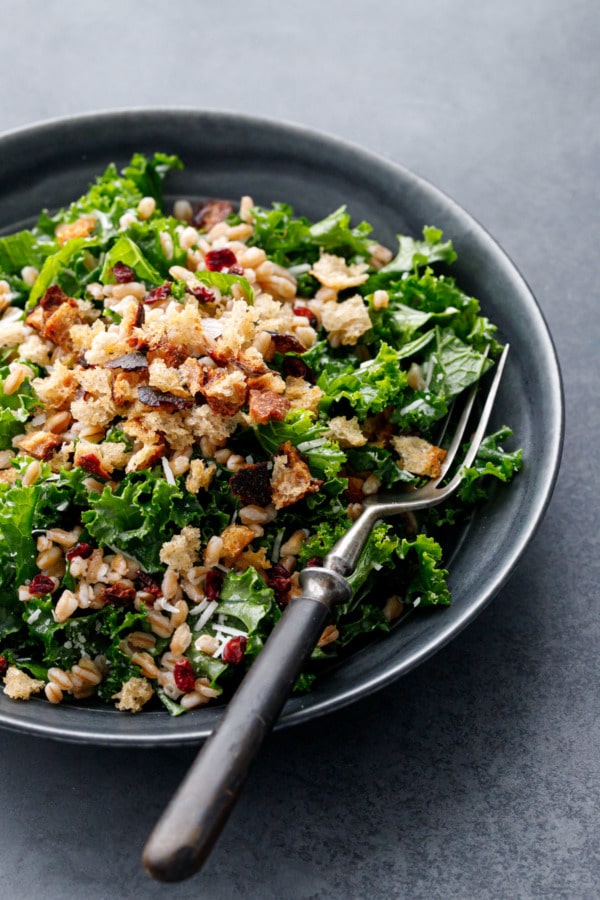 Farro is a protein-rich grain in the wheat family, which takes on a chewy texture and nutty flavor when cooked. It's an excellent source of protein, fiber, and other beneficial nutrients.
Whole farro will take about 30 to 45 minutes to cook, less if you soak it beforehand. However, if you can get your hands on pearled or quick-cooking farro (Trader Joe's has a version that we love), you'll be in and out of the kitchen even faster.
If you're not sure which kind of farro you have, just refer to the cooking instructions on the package.
Honestly though the breadcrumbs may be the best part of this whole salad, adding a delightful crunch and a punch of salt and fat that cuts the bitterness of the kale.
Sourdough bread makes for lovely, rustic crumbs with a super satisfying crunch, but will work with any crusty, more rustic-style breads. Something like a baguette or ciabatta, for example.
The best bread for breadcrumbs is slightly stale, that old heel you have in the back of you fridge would be perfect. If your bread is fresh, cut off a few slices and let them sit out overnight to dry. I tear my bread by hand, but you can also pulse it briefly in a food processor.
Pre-made panko breadcrumbs will also work in a pinch.
Swaps and Substitutions
Barberries: These tart dried fruits are more common in the UK, but not as easy to find in the US. I've purchased them from Nuts.com as well as World Spice (though the later no longer seems to have it on their site), but you can find them on Amazon as well.
In place of barberries you can use dried cherries, dried currants, or dried cranberries.
Pecorino: I wholeheartedly believe that pecorino is far superior to parmesan, but you can use the later here instead if you prefer.
Farro: We used quick cooking farro here, but you could replace it with just about any grain. Quinoa, bulgar, barley, israeli couscous, or even brown or wild rice would be great here!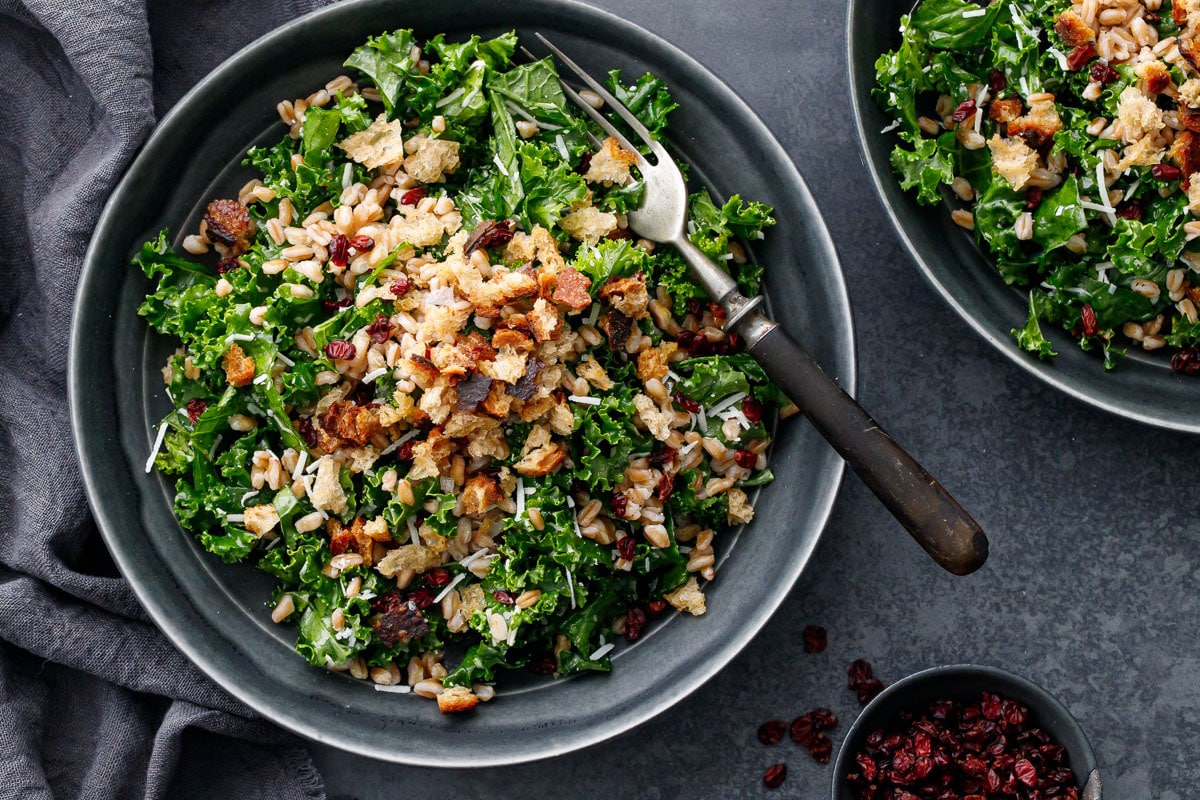 Kale & Farro Salad with Sourdough Breadcrumbs
This hearty kale salad is anything but boring: tossed with tangy lemon and flavorful pecorino cheese and topped with nutty farro, crunchy sourdough breadcrumbs, and tart dried barberries.
Ingredients
6

oz

/

170

g

(

1

bunch) kale,

thick ribs removed

2

garlic cloves

,

finely chopped

½

cup

/

42

g

finely grated Pecorino Romano cheese

,

plus more to finish

¼

cup

/

50

g

extra-virgin olive oil

2

tablespoons

lemon juice

,

from 1 lemon

⅛

teaspoon

dried chile flakes

salt and freshly ground black pepper

,

to taste

¼

cup

barberries

1

cup

/

114

g

farro

,

cooked according to package instructions
For Breadcrumbs:
2

slices

day-old sourdough or other crusty bread

, torn into coarse crumbs (about

2 cups

worth)

1

tablespoon

olive oil

salt and freshly ground black pepper

,

to taste
Instructions
Remove large ribs from kale. For curly kale, coarsely chop or tear into bite-sized pieces. For lacinato kale, stack leaves on top of one another and then roll up into a log; slice crosswise into 3/8-inch ribbons. Put the kale in a salad spinner, rinse in cool water and spin until completely dry. Transfer to a large bowl.

Place the chopped garlic on a cutting board and mince very finely, smashing and scrape the garlic with the side of the knife until it forms a paste-like consistency. You can also use a mortar and pestle to crush the garlic into a paste. Transfer the garlic to a small bowl (or keep it in the mortar if you're using one) and add olive oil, lemon juice, chile flakes, ¼ teaspoon salt and black pepper; whisk to combine.

Pour the dressing over the kale and toss well to thoroughly combine (your hands are really the best tool here). Add pecorino cheese and toss to coat. Let the salad sit for at least 5 minutes so the kale softens slightly.

Cook farro according to package instructions. Drain well, then toss with a glug of olive oil and a pinch of salt. Let cool completely.

To make breadcrumbs, preheat oven to 350 degrees F. Dump sourdough crumbs onto a half sheet pan. Drizzle with olive oil, then use your hands to toss crumbs until evenly coated. Sprinkle with salt and pepper. Spread crumbs out in an even layer on the pan, and bake for about 10 minutes, stirring once or twice to ensure even cooking, until golden brown and crispy. Remove from oven and let cool.

To serve, pile kale into bowls. Top with farro, breadcrumbs, barberries, and a sprinkle of cheese.
All images and text © for Love & Olive Oil.
Did you make this recipe?
Let us know what you think! Leave a Review below or share a photo and tag me on Instagram with the hashtag #loveandoliveoil.