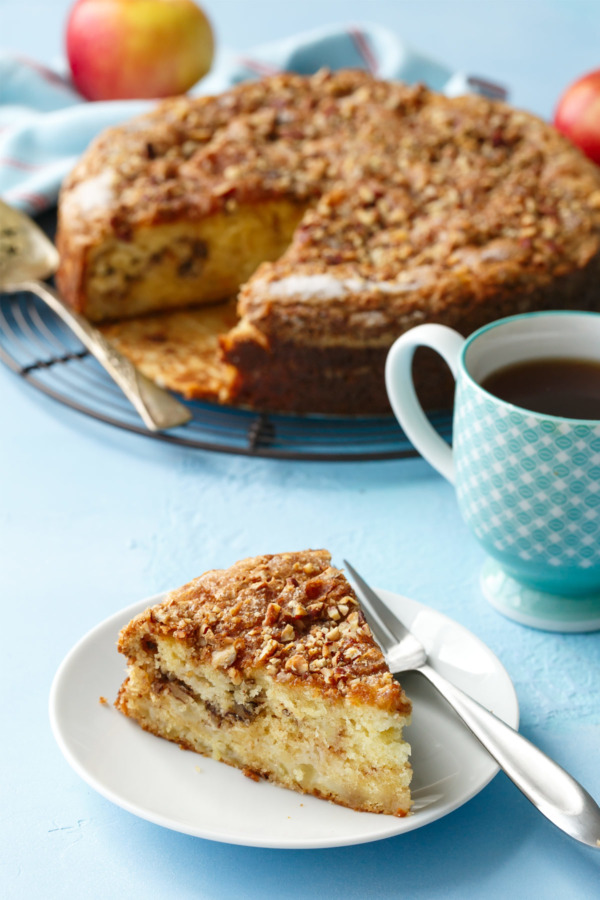 My grandma's nutty sour cream coffee cake recipe is perfection. Or should have been perfection, if I had just made it the way that she said to.
When I pulled this recipe out of her recipe box I still had sweet potato crumb cake on the brain, and decided I wanted to add an equally delightful crumb topping to this recipe (because a coffee cake always has a crumb topping, right?)
Wrong.
It sunk. The crumb topping I mean. Sunk right to the bottom of the cake where it pooled in pockets of molten brown sugar. It was still tasty, actually, but it wasn't what I was going for and certainly wasn't very pretty.
Not one to quit, I made it again, this time following grandma's instructions (other than adding the apples, of course. Call me a rebel if you must).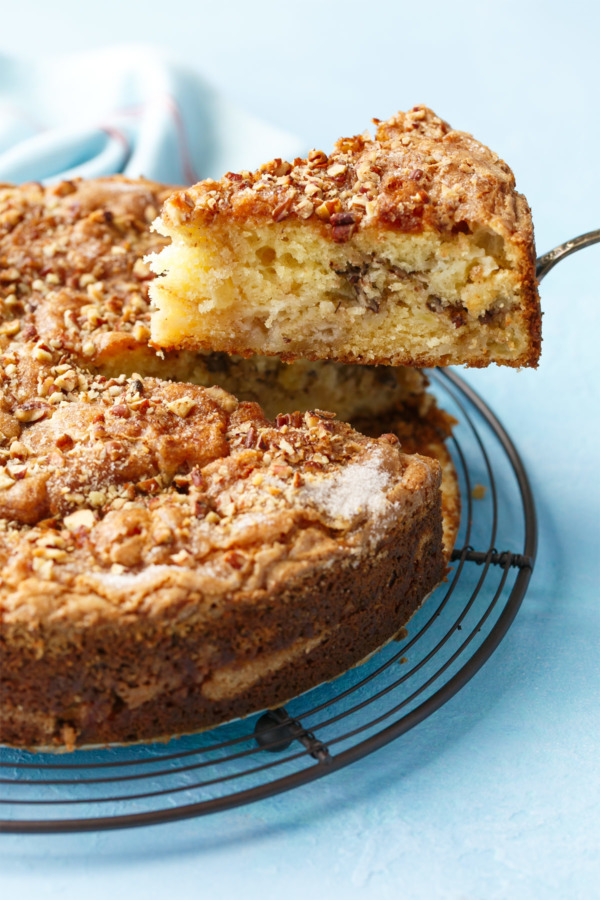 And you know what? If I had just followed the dang recipe the first time, I would have been rewarded with a delightfully crispy top. The simple act of sprinkling a generous amount of sugar on top of the batter transforms into a thin layer of papery crispness that, dare I say it, is even better than a crumb topping.
Lesson learned: don't f*** with grandma's recipes.
But, Lindsay! You said you added apples, so clearly you still messed with the recipe.
I know, I know. I never learn, do I?
Still, I feel that my addition of apples is one change grandma would approve of (for years she had an apple tree in her front yard, so I'm betting she probably made a variation like this herself at one point).
What kind of apples should you use? That's a loaded question. I used honeycrisp apples, which are my favorite eating apples and translate beautifully into baking recipes. You definitely want a crisp apple that holds up well to heat, but it's up to you whether you like sweeter apples like honeycrisp or more tart ones like Granny Smith. Either would work beautifully here.


When it comes to cake pans, I used a 9-inch round by 3-inch deep pan with a removable bottom for easy removal. Same concept as a springform pan but with better quality metal and no leakage whatsoever. Whatever you do, DO NOT use a standard 2-inch deep pan or you will likely spilleth over. Or, if you do, don't fill it all the way. Don't say I didn't warn you.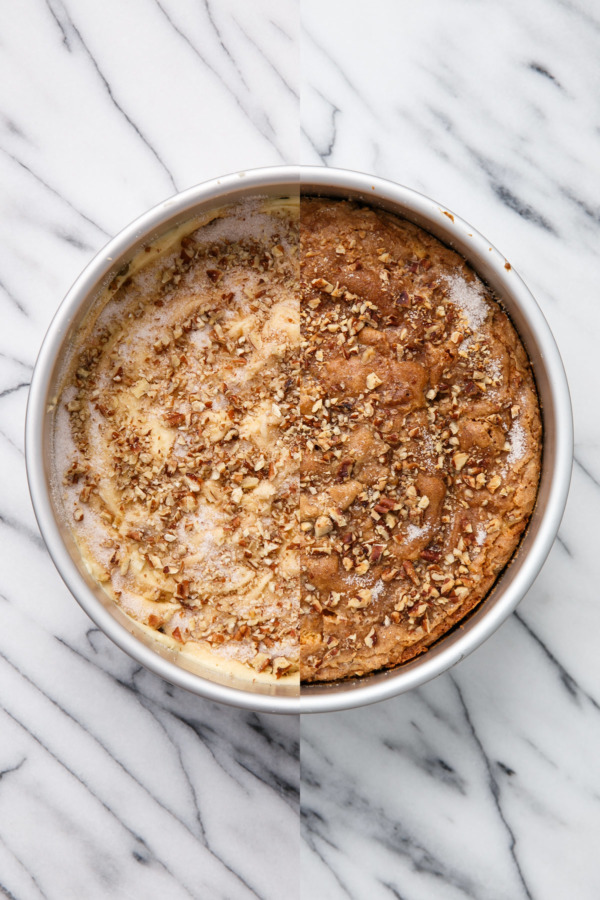 If you don't have a deep 9-inch round pan, a standard 9-inch square pan will also work, as the same size square holds more batter, volume-wise, than a 9-inch round pan (yay geometry!) Just don't fill your pan more than 2/3 way full to avoid overflow (the apples add a good amount of volume, almost too much for this size pan, so you may want to leave a little out just in case). Your bake time will also be slightly less to account for the thinner depth.
Not sure if it was my switch to a round vs square pan, but I did have to adjust my baking time, 15 minutes more than the original. Use your judgement: at 35 minutes my cake was still jiggly in the middle, clearly not done. You'll know it's done when the top is golden and crispy and a toothpick inserted near the center comes out clean or with just a few moist crumbs attached.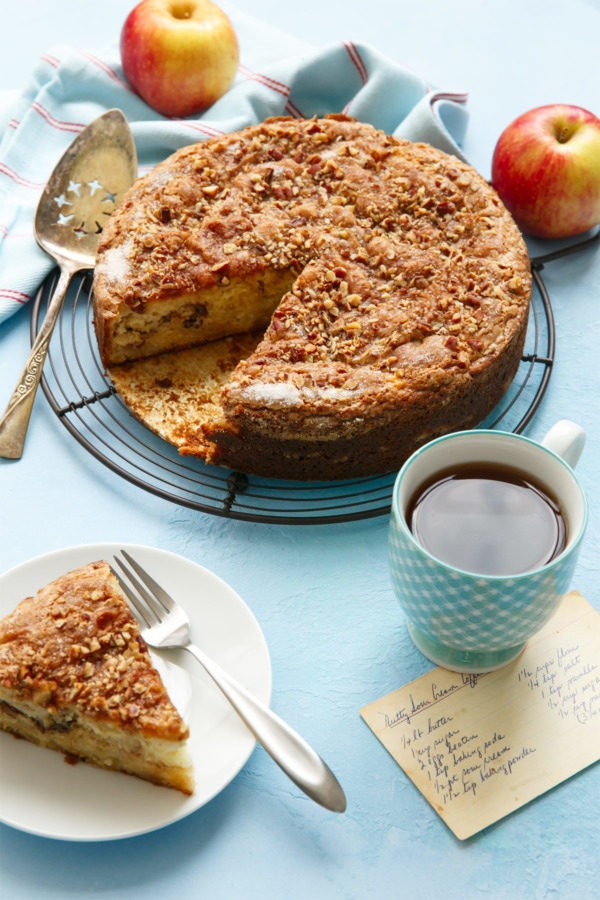 Of course, I added apples, but you can certainly remove them and go for a straight up sour cream coffee cake. It's a keeper!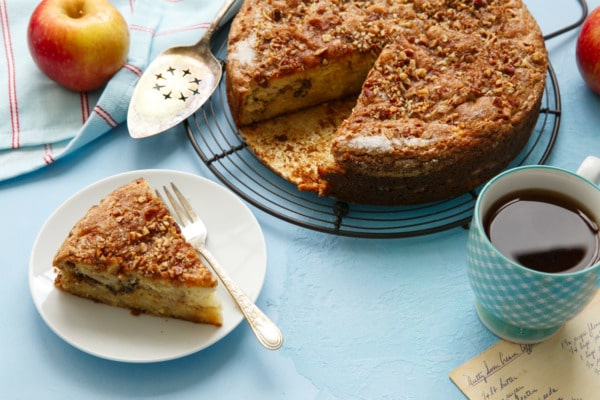 Apple Sour Cream Coffee Cake
Moist and tender sour cream coffee cake with honeycrisp apples, cinnamon sugar, and chopped pecans. From my grandma's recipe box to your kitchen!
Ingredients:
1/2 cup (1 stick) unsalted butter, room temperature
1 cup granulated sugar
2 large eggs, at room temperature
1 cup sour cream
1 teaspoon baking soda
1 3/4 cup (7.5 ounces) all-purpose flour
1 1/2 teaspoons baking powder
1/2 teaspoon fine sea salt
1 teaspoon vanilla extract
2 medium apples, peeled, cored, and finely diced (about 1 1/2 cups diced)
For topping:
1/2 cup granulated sugar
2 teaspoons ground cinnamon
1/2 cup finely chopped pecans, almonds, or walnuts
Directions:
Preheat oven to 350 degrees F. Butter a 9-inch round by 3-inch deep cake pan (preferably with a removable bottom) or 9-inch square cake pan; line bottom with parchment paper.
In a mixing bowl or the bowl of a stand mixer fitted with the paddle attachment, cream butter and sugar together until fluffy, 2 to 3 minutes. Add eggs, one at a time, mixing well after each addition.
Mix baking soda in with sour cream; mix baking powder and salt in with flour until evenly incorporated.
Alternate adding half of sour cream to batter, followed by half of dry ingredients, mixing well after each addition. Scrape down the sides of the bowl, then repeat with remaining sour cream and flour until just incorporated. Mix in vanilla extract, then fold in apples until evenly distributed. In a small bowl, whisk together sugar and cinnamon.
Spread half of the batter into prepared cake pan. Sprinkle with half of sugar mixture and half of chopped nuts; gently swirl a few strokes through the batter with a knife. Top with remaining batter, then sprinkle with remaining sugar and nuts and swirl once again.
Bake for about 50 minutes or until top is golden brown and a toothpick inserted near the center comes out clean. If using a 9-inch square pan or a smaller pan (hopefully you didn't put all the batter in there) your cake will likely be done sooner, so start checking after 30-35 minutes.
Place pan on a wire rack to cool. Run a knife around the edge to release, then remove from pan and cool completely. Cake will keep, covered in an airtight container, for up to 3 days.
Did you make this recipe?
Let us know what you think!
Leave a Comment below or share a photo and tag me on Instagram with the hashtag #loveandoliveoil.