The perfect balance of sweet, spicy, and crunchy all in one bowl, this fennel and arugula salad won't disappoint.
Just in case your salad game is getting a little bit stale, here's another unique salad recipe to spice up your repertoire, complete with raw fennel, baby arugula, and ribbons of candied orange peel.
You might be thinking, two salads in a row? Did Lindsay bump her head or something?
What can I say, I must be in a salad kind of mood lately.
Of course, the fact that the farmers' markets are booming doesn't hurt – all that fresh produce is just too tempting.
This one is obviously completely different (but no less impressive) than the lettuce-less Cumin-spiced Beet Salad I posted two weeks ago (another recipe inspired by my farmers' market finds).
While this one might be more of a conventional salad (seeing that it starts with a pile of greens and all) it's by no means boring. Spicy arugula, crunchy raw fennel, and sweet candied orange peel create a trifecta of awesome (and awesome is not a word I often use in the same sentence as salad, so take note).
(And don't worry, I've got plenty of sweet recipes coming soon to break up all this healthy stuff. I'm not dumb, I know why y'all are really here.)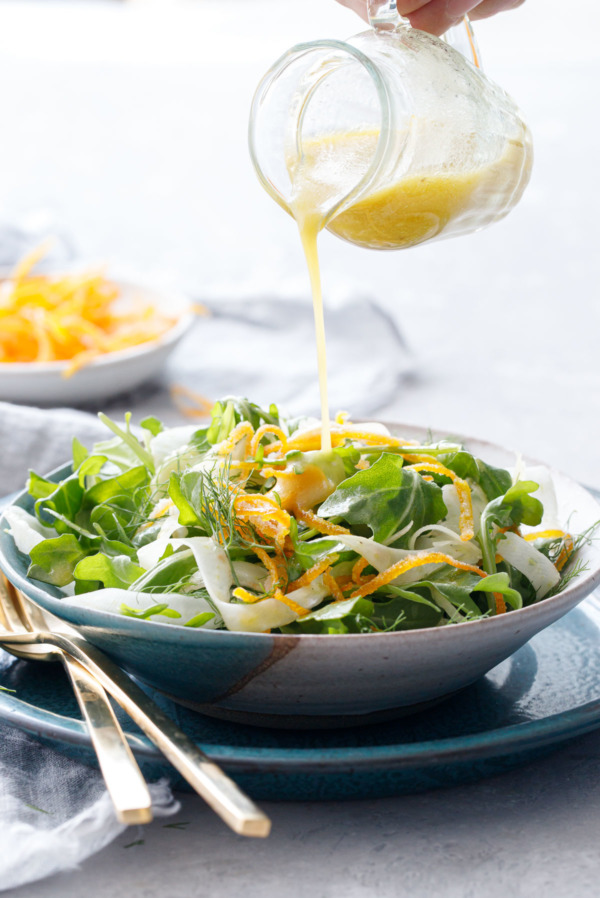 The dressing is fresh and light, made with champagne vinegar, shallot and a bit of honey. After I photographed this I added in some orange zest for a bit of extra orange oomph and to tie the flavors together with the orange peel (I tried using orange juice, but it just doesn't have the same bright tang as the lemon in this case). Totally optional though, the dressing is stellar without it.
This recipe makes enough dressing for a double batch; any left over can be easily refrigerated in a jar or airtight container for up to 2 weeks.
I'd argue that the candied orange peel is non negotiable here, though you can certainly buy some rather than making your own (I, however, find most store bought to be too thick and chewy. When I make it myself I use this little zester to create super thin, delicate ribbons of peel which are much easier on the teeth).
The touch of sweetness and subtle crunch of the sugar granules are the perfect finishing touch. I mean, let's face it, without the candied orange this salad wouldn't be Boring with a capital B.
And if you have leftover, which I doubt you will, this candied orange peel is also great on waffles, homemade yogurt, or custard tarts.
I love raw fennel just as much as I love caramelized, with the hint of licorice and delightful crunch it brings too recipes like these. We used a mandoline to get super thin slices, but if you're skilled with a knife you can use that too.
Don't waste the fennel fronds! Tear it into coarse pieces and toss it in with the arugula. The fronds are a much milder licorice flavor than the fennel bulb itself, but add a nice textural contrast and visual interest (I tend to prefer salads with a mix of greens, it makes things more interesting).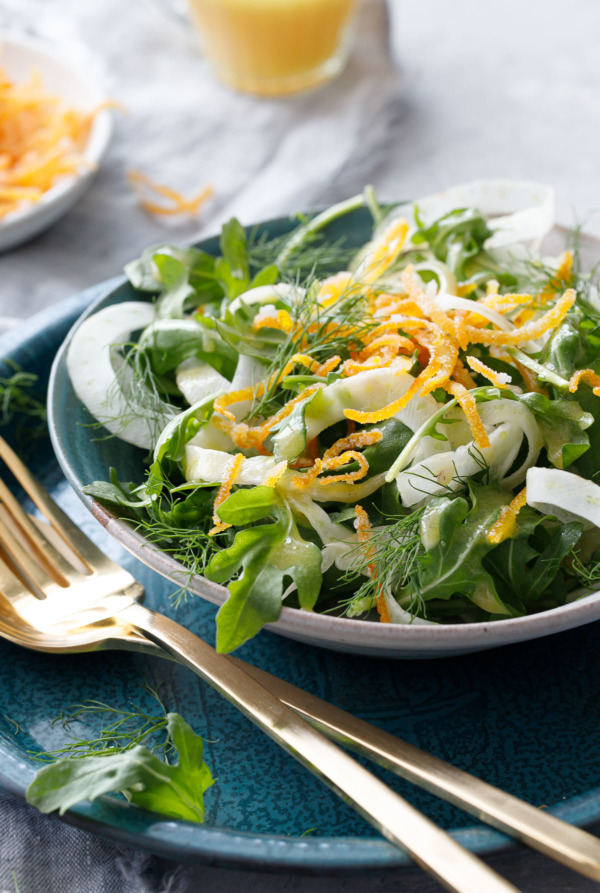 I also think this salad would be great with some toasted pistachios, fresh citrus segments, or even a bit of crumbled feta or goat cheese.
For a more substantial meal, serve this on the side of marmalade-roasted chicken breasts or some tender fish en papillote with fennel and herbs.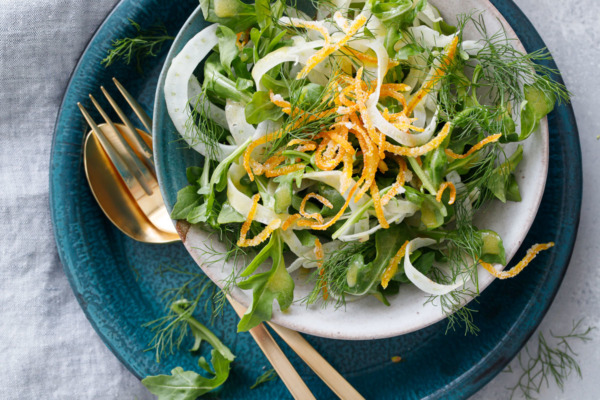 Fennel and Arugula Salad with Candied Orange Peel
The perfect balance of sweet, spicy, and crunchy, this salad recipe features shaved raw fennel, baby arugula, and ribbons of homemade candied orange peel.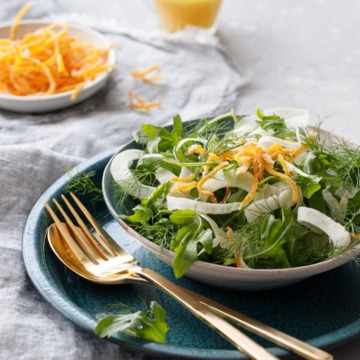 Ingredients:
For Candied Orange Peel:
2 medium organic oranges, washed well
1/2 cup granulated sugar, plus more for coating
1 tablespoon corn syrup
For Vinaigrette:
1/4 cup champagne or white wine vinegar
1 tablespoon honey
2 teaspoons dijon mustard
2 teaspoons lemon juice
2 teaspoons finely minced shallot (from 1 small shallot)
1 teaspoon finely grated orange zest
salt and freshly ground black pepper, to taste
3 tablespoons extra virgin olive oil
3 tablespoons light olive oil or grapeseed oil
For Salad Assembly:
1 medium fennel bulb, cored and very thinly sliced (fronds reserved)
3 ounces baby arugula, washed well
coarse flake salt, for finishing
Directions:
For candied orange peel, wash and scrub oranges in warm water. Use a ribbon zester to scrape off thin ribbons of peel; alternatively, use a vegetable peeler to peel off thin swaths of peel, then slice into thin strips.
Place orange peel in a medium saucepan and cover with filtered water. Bring to a boil, then drain off liquid. Cover peel with fresh water and bring to a boil again. Drain once more.
Set saucepan over medium heat; add 1/2 cup filtered water to blanched orange peels, along with sugar and corn syrup. Bring to a simmer, stirring occasionally just until sugar dissolves. Once the mixture comes to a boil, reduce heat to low and let simmer for 45 minutes to 1 hour (slightly more if your pieces are larger/thicker), until orange peel is tender and starting to turn transparent.
Using a slotted spoon or fork, remove orange peel from syrup and spread onto a wire rack, letting excess syrup drain off. (Orange syrup can be reserved and use for another purpose – it's great for sweetening tea or mixing with club soda for a quick refresher!)
Once orange peel is cooled and dry, toss with granulated sugar until pieces are fully coated (this will prevent them from sticking together). Store orange peel in an airtight container at room temperature for up to 2 weeks.
To prepare vinaigrette, whisk together vinegar, honey, mustard, lemon juice, shallot and orange zest in a bowl or jar. Slowly drizzle in olive oil, whisking vigorously to emulsify the mixture. Once all the olive oil has been incorporated, drizzle in the light oil. Season to taste with salt and pepper. (Dressing can be stored in a jar or airtight container in the refrigerator for up to 2 weeks).
To assemble, toss thinly sliced fennel together with arugula. Divide among serving bowls. Coarsely tear fennel fronds over top. Drizzle with vinaigrette and top with candied orange peel.
Did you make this recipe?
Let us know what you think!
Leave a Comment below or share a photo and tag me on Instagram with the hashtag #loveandoliveoil.