Easy to cook and equally easy to clean up: this fresh and delicious fish en papillote recipe is steamed with sprigs of fresh herbs, lemon juice, white wine and a bit of shallot butter for a light and delicate flavor.
Fish cooked en papillote is an easy, healthy, and flavorful way to cook fish; sealed in its own parchment paper pouch, the fish is essentially steamed and infused with flavor inside a convenient little package. It's also a method that won't leave your house smelling like a fish market, one reason why it's probably our favorite way to cook fish.
The fish comes out of the pouch tender and flaky. Despite the amount of stuff that was cooked with it, the flavor is delicate and perfectly balanced by the richness of the butter and white wine.
The thinly sliced fennel serves as both an edible steamer rack and a built-in side dish, baking up perfectly tender and ready to be enjoyed along with your perfectly cooked fish.
We've made this recipe with butterflied rainbow trout as well as thicker filets of firm white fish such as cod (pictured here) or snapper. Anything works, really. Just keep in mind if you are using much thinner filets of, say, trout or tilapia, adjust the cooking time as necessary (you'll probably need more like 10 minutes instead of 15 to 20).
You can mix up the herbs as well. We particularly enjoyed the licorice notes that the tarragon added, and dill is a natural pairing for fish, but herbs like thyme or oregano would be lovely here as well. It's a great way to use up fresh herbs that might be on their last legs.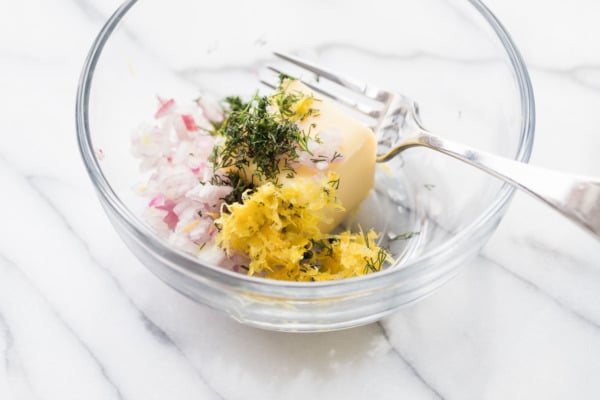 The shallot butter is a mix of finely chopped shallots, lemon zest, and dill. Technically, you could leave this off, but just a few pats of butter add another level of richness and flavor to the steamed fish. And it's still way healthier than pan-frying in oil!
You can easily make the shallot butter ahead of time; roll up the log of butter in a piece of plastic wrap and keep it refrigerated until ready to use.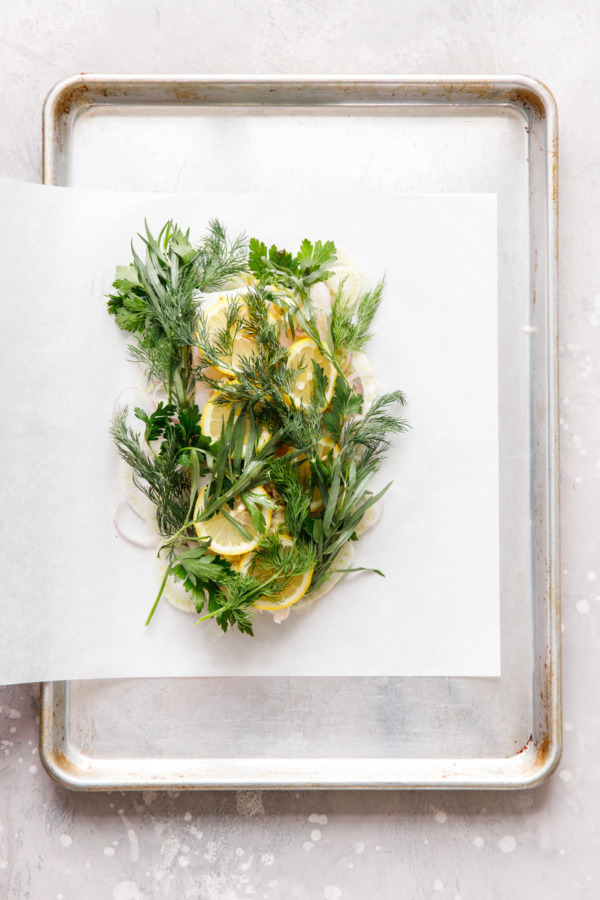 Cut a piece of parchment big enough that gives your fish plenty of room around the edges, then double it to allow for the foldover. It's always better to have too big of a piece than too small.
When folding your fish into its parchment pouch, think of it like a big potsticker: make 1/4 inch folds along the edge, folding at an angle so that the creases overlap each other, thus sealing the fish inside. If you do it correctly your parchment will curve into a half-moon shape.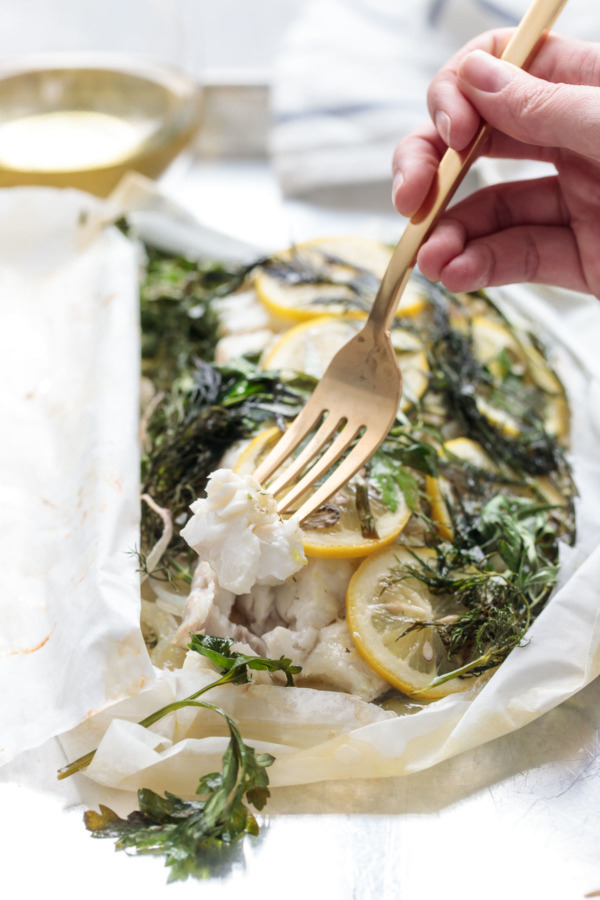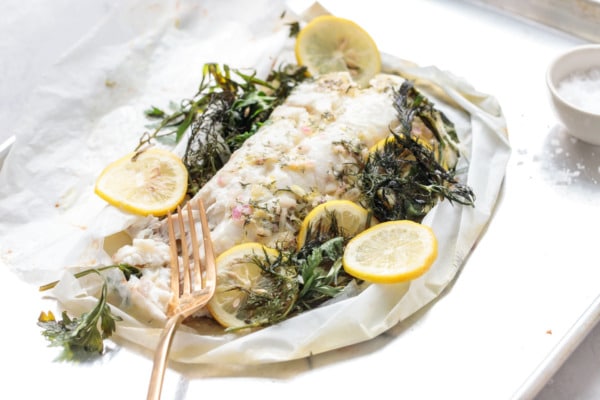 Fish en Papillote with Fresh Herbs and Lemon
Our favorite way to cook fish, this method essentially steams the fish in its parchment paper pouch with fragrant herbs, lemon juice, white wine and shallot butter.
Ingredients:
For shallot butter:
2 tablespoons butter, softened
1 shallot, finely chopped (about 1 tablespoon chopped)
1/2 teaspoon finely ground lemon zest
1 teaspoon finely chopped fresh dill
pinch of salt and black pepper, to taste
For assembly:
1 (approx 3/4 lb) filet of firm white fish such as cod or snapper
1/2 fennel bulb, cored and thinly sliced
1 shallot, thinly sliced
1 lemon, sliced
handful mixed fresh herbs, such as tarragon, dill, and parsley
1 tablespoon olive oil
2 tablespoons white wine
salt and freshly ground black pepper
Directions:
For shallot butter, mash butter together with shallot, lemon, dill, salt and pepper until evenly incorporated. Shallot butter can be made ahead of time and stored in an airtight container or rolled up in plastic wrap for a few days until needed.
Preheat oven to 400 degrees F. Prepare a large piece of parchment paper, it should be large enough to fold over your piece of fish with a generous 3-4 inches around the edges. If cooking multiple pieces of fish, use a separate piece of parchment for each one. Place parchment on a sheet pan and fold in half, then unfold with one side laid flat on the pan.
Arrange fennel and shallot slices in a layer in the center of one side of the parchment. Lay fish on top of vegetables. Season with salt and pepper. Top with a few pats of shallot butter, slices of lemon, and sprigs of fresh herbs. If using a butterflied fish, place herbs inside of fish cavity.
Finally, drizzle with olive oil and a splash of white wine.
Fold over other half of parchment, then fold and pinch along edges to seal. You'll end up with a semi-circle of parchment with crimped edges not unlike a big pot sticker.
Bake for 15 to 20 minutes until cooked through (time noted for a 3/4-inch thick filet, adjust as necessary for thicker/thinner pieces of fish. To check doneness, poke an instant read thermometer into the thickest part of the fish; it should read 145 degrees).
Carefully cut open packet, avoiding escaping steam, and serve.
Did you make this recipe?
Let us know what you think!
Leave a Comment below or share a photo and tag me on Instagram with the hashtag #loveandoliveoil.