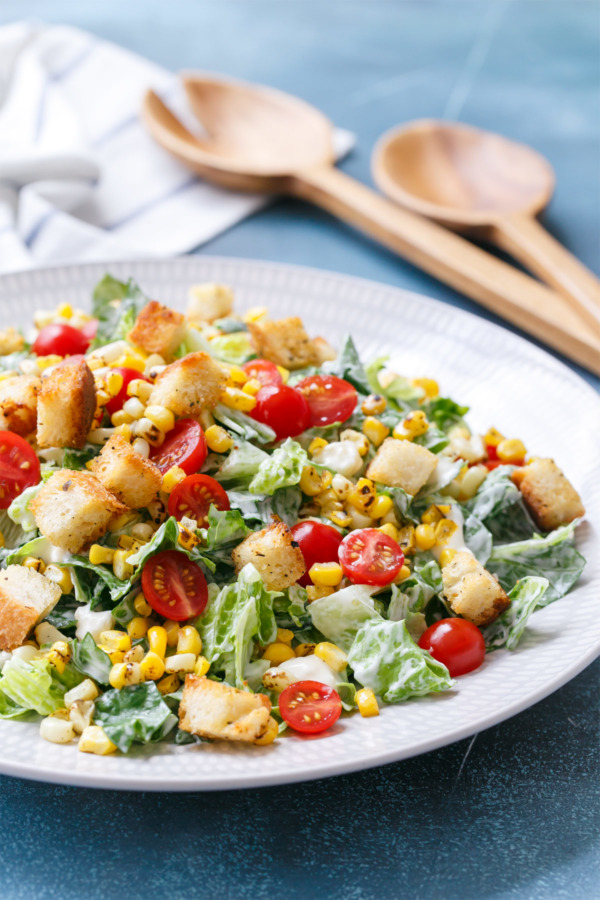 This recipe was created in partnership with Marie's® Dressings—flavorful refrigerated salad dressings that punch up our everyday salads. Thanks for supporting us and the brands we love!
Is it just me, or did this summer go by way too fast? I mean, technically summer lasts for another month, although I know many see Labor Day as the official end to summer. That or back to school (which around here seems to be August 1st… seriously? What is that nonsense?)
Either way, there is still time to enjoy fresh summer produce while you can.
What better way to send off the season than with a big ol' salad full of all its wonderful flavors: juicy cherry tomatoes, sweet late-summer corn, charred to perfection, tossed with chunky blue cheese dressing and topped with delightfully crunchy homemade croutons.
When it comes to toppings, the best salads are an exercise in contrast: tender and crunchy, salty and sweet. The best salads should have all four, and this one does. Sweet, tender corn and ripe cherry tomatoes, crunchy croutons seasoned generously with garlic salt, tangy blue cheese dressing and crisp romaine lettuce. It's simple and unfussy, but oh-so-flavorful.
You may not think that corn belongs on a salad, because frankly, it's not all that common. But surprisingly, the corn gives the salad a fresh pop of summer flavor and a surprising sweetness. Charring the corn brings a robust smokiness that can only be achieved in the great outdoors (or indoors with the aid of a kitchen torch, lol). You definitely want fresh summer corn for this recipe, the sweeter the better; the frozen stuff just doesn't compare.
You can grill your corn, rotating on the cob until there is an even char over the surface of the kernels. If you don't have a grill or don't feel like firing it up, simply cut the kernels off of the cob, toss them with a bit of olive oil, and then broil until tender. You might get some char depending on your broiler, but I like to take a creme brûlée torch to the corn at the end to really give it that speckled, blackened look.
Homemade croutons are Taylor's specialty. It's a great way to use up stale bread, though his are so good we often find ourselves buying bread specifically for the purpose of making them. You'll want a bread that's lighter than a sourdough, but denser than regular sandwich bread. It should have a noticeable crust, but not one that's so tough that you have to really tear into it. Italian or French breads are probably your best bet. Our favorite crouton bread is an Italian-style bread called Pane Bello from Whole Foods. Buy it unsliced and cut it yourself into nice thick pieces.
Not all blue cheese dressings are created equal. Some are thin and watery. Some are just plain funky. Some barely taste like blue cheese at all. But Marie's® Chunky Blue Cheese Dressing is gloriously thick. Thick and chunky. It's got a robust blue cheese flavor, tangy without being sour.
The thickness means this is not a dressing for drizzling; rather, use a big bowl and a pair of tongs to toss the lettuce and a few spoonfuls of dressing together until the lettuce is evenly coated, ensuring that each and every bite you take will be equally flavorful. No pockets of naked lettuce here!


While it's not unusual for us to devour a salad like this as a main course, this recipe would be perfect served alongside a grilled chicken breast or steak, or even as a cookout side dish with hot dogs or burgers.
If making ahead of time, I recommend keeping all the components separate, waiting until the very last minute to chop the lettuce and toss it with the dressing; this will keep the lettuce fresh and crispy.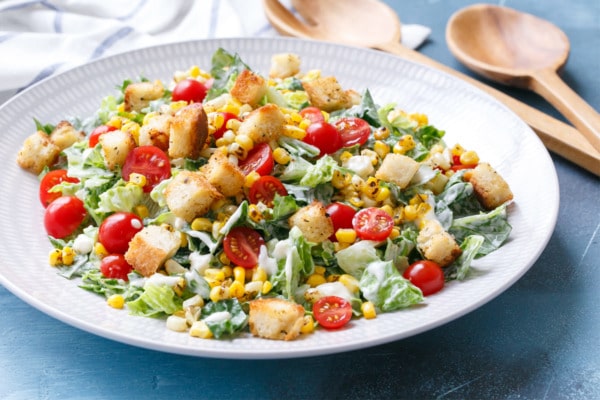 Chopped Romaine Salad with Blue Cheese
This summery chopped salad features crisp romaine lettuce, chunky blue cheese dressing, charred corn, sweet cherry tomatoes, and crunchy homemade croutons.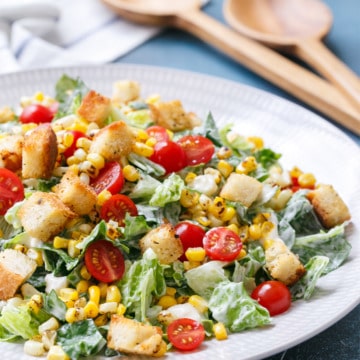 Ingredients:
For Croutons:
2 slices Italian bread, cut into 3/4-inch cubes
2 tablespoons olive oil
Italian herb seasoning
garlic salt
freshly ground black pepper
For Salad:
2 ears fresh corn (about 1 cup of kernels)
2 teaspoons olive oil
salt and freshly ground black pepper, to taste
2 hearts of romaine lettuce, chopped
1/3 cup Marie's® Chunky Blue Cheese Dressing
1 cup cherry tomatoes, halved or quartered if large
Directions:
Preheat oven to 400 degrees F. Line a baking sheet with aluminum foil; lightly oil foil.
Toss bread cubes with olive oil, plus a few dashes of Italian seasoning, garlic salt and pepper to taste. Spread in a single layer on baking sheet. Bake until crisp and golden brown, stirring once half-way through the cooking time, about 10 minutes total. Remove from oven and let cool.
Turn on oven broiler to high or preheat a grill. If you are using a grill, brush corn with olive oil and grill on the cob until charred in spots; let cool slightly, then cut off kernels. If using the broiler, cut kernels off the cob, toss with olive oil and spread in a single layer on a lightly oiled baking sheet. Broil for about 3 minutes or until sizzling. If you want charred spots using this cooking method you can always torch the corn with a creme brûlée torch. Season to taste with salt and pepper.
Wash and spin lettuce and transfer to a large bowl. Toss with chunky blue cheese dressing until evenly coated. Divide among serving bowls. Top with grilled corn, cherry tomatoes, homemade croutons and serve.
Did you make this recipe?
Let us know what you think!
Leave a Comment below or share a photo and tag me on Instagram with the hashtag #loveandoliveoil.
Disclosure: This post was created in partnership with Marie's®. As always, all opinions written are purely our own. We're incredibly grateful for opportunities like these that allow us to continue sharing delicious recipes with you, so thank you for supporting us and the brands we love.