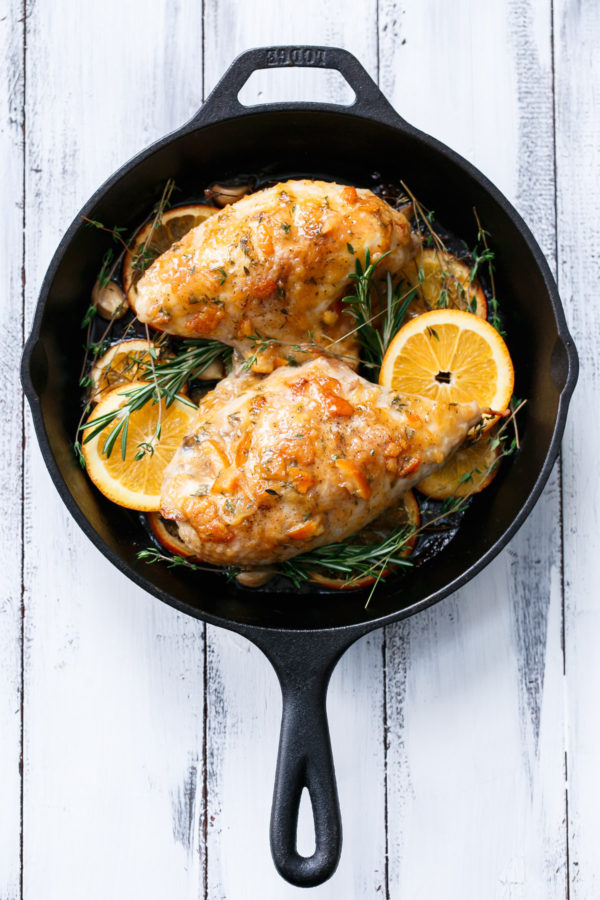 About this time of year, pretty much every year without fail, I usually go a little nuts in the produce section, buying up all the citrus without plan or abandon. A lot goes into marmalade, sure, but then what's one to do with all that marmalade? I mean, you can only eat so much toast.
Turns out marmalade makes a pretty fantastic glaze for meat, chicken especially. This version combines a lovely bitter orange marmalade with a bit of vinegar, thyme, and honey for added sweetness (but feel free to leave it out if your marmalade is already on the sweet side).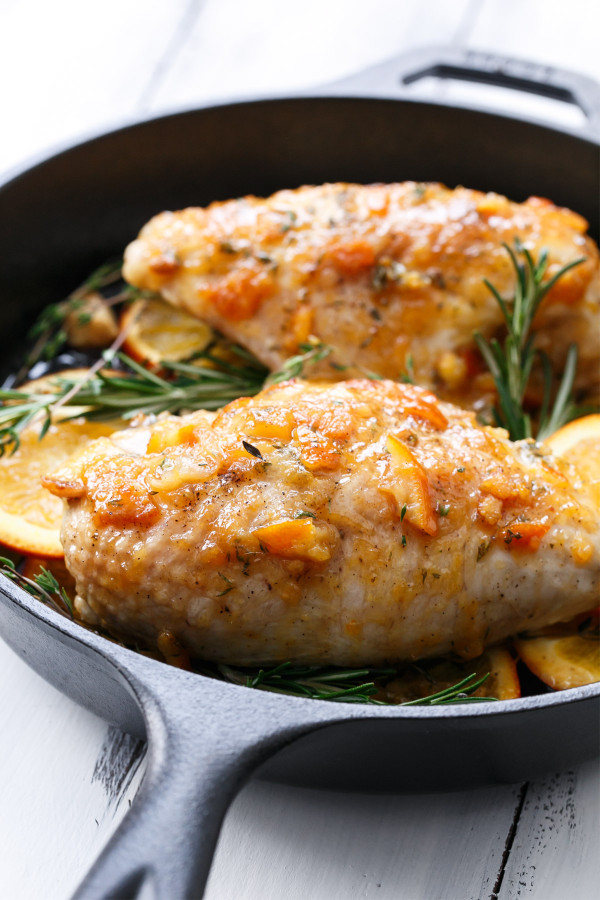 It's a new and flavorful twist on our basic oven-roasted chicken breast recipe, roasted in a cast iron skillet on a bed of oranges, garlic, and herbs (far better than a bed of roses, don't you agree?) If you don't have a skillet you could certainly use a baking sheet or an oven-safe baking dish instead. But truthfully, for $15 there is really no reason NOT to have a cast iron skillet in your kitchen. It's just one of those essentials every cook should have.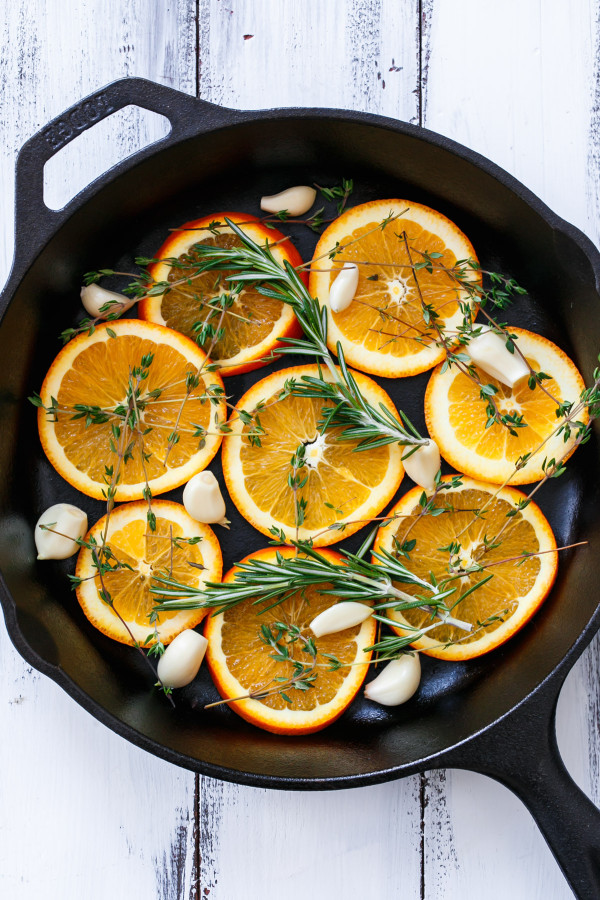 The secret (that's not so secret, really) to moist, juicy chicken breasts is to buy them and bake them bone-in. Yes, they take longer to roast this way and are a bit trickier to slice and eat, but trust me, it is well worth it. Unless you happen to like dry chicken, and then, by all means, go forth and spend the extra dough on boneless skinless. But I won't be joining you for dinner.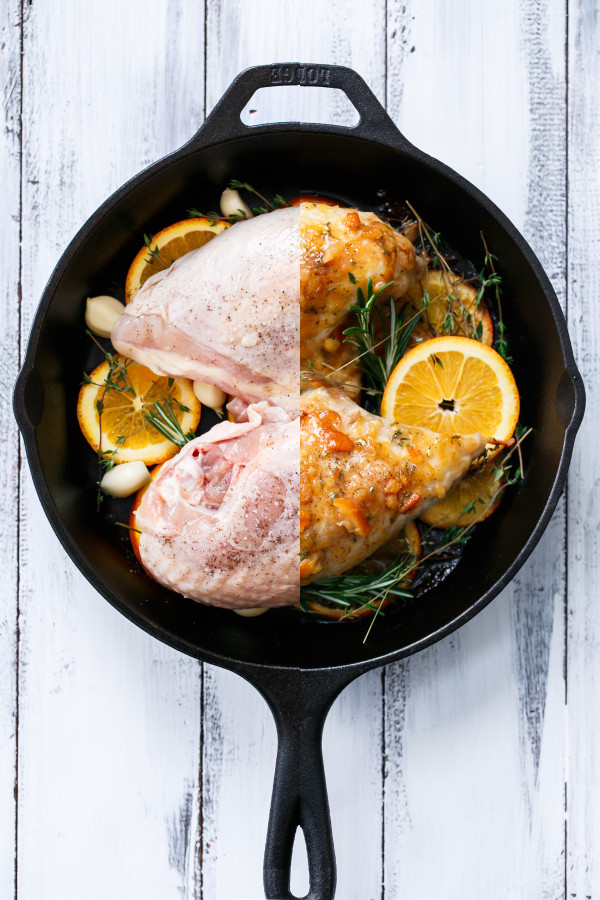 This chicken is infused with flavor from all sides: the marmalade glaze on the top and the bed of aromatics on the bottom (all it's missing is a brine to give it flavor from the inside too, but it's so moist and flavorful that it really doesn't need it).
Don't think the orange slices are just for looks, either: they bake up almost like a savory candied orange, absorbing the excess juices from the chicken, becoming a delicious bonus treat to accompany your roasted chicken.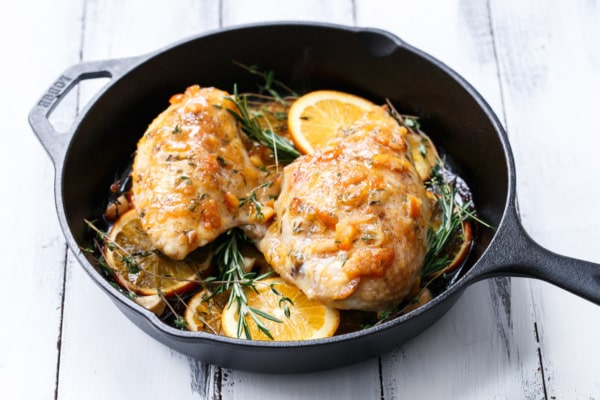 Orange Marmalade Skillet Roasted Chicken Breasts
A perfect flavorful weeknight dinner, with roasted bone-in chicken breasts slathered with a tangy orange marmalade glaze.
Ingredients:
1/4 cup orange marmalade
2 teaspoons apple cider vinegar
2 teaspoons honey
2 teaspoons chopped fresh thyme or 1 teaspoon dried thyme
1/4 teaspoon each salt and freshly ground black pepper
1 large or 2 small oranges, thinly sliced
8 to 10 garlic cloves, peeled
2-3 sprigs fresh rosemary
a few sprigs fresh thyme
2 large (about 1 1/2 pounds) bone-in chicken breasts
2 tablespoons extra virgin olive oil
salt and freshly ground black pepper
Directions:
Preheat oven to 375 degrees F.
To make glaze, whisk together marmalade, vinegar, honey, thyme, salt and pepper in a small bowl and set aside.
Arrange orange slices in a single layer in the bottom of a 10-inch cast iron skillet (alternatively you can use an oven-safe baking dish or casserole if you don't have a skillet). Scatter garlic cloves and thyme and rosemary sprigs over top.
Rub chicken breasts all over with olive oil; season generously on both sides with salt and pepper. Arrange in skillet, skin side up, so the breasts aren't touching each other or the edges of the skillet.
Bake for 30 minutes or until chicken is beginning to brown. Generously brush tops with about half of marmalade mixture (use a clean utensil or spoon out half the marmalade into a separate dish, you don't want to contaminate the glaze with under-cooked chicken).
Return to oven and bake for another 10 to 20 minutes or until skin is browned and internal temperature in the thickest part of the breast registers 165 degrees F. Remove from oven and brush with remaining marmalade glaze.
Did you make this recipe?
Let us know what you think!
Leave a Comment below or share a photo and tag me on Instagram with the hashtag #loveandoliveoil.