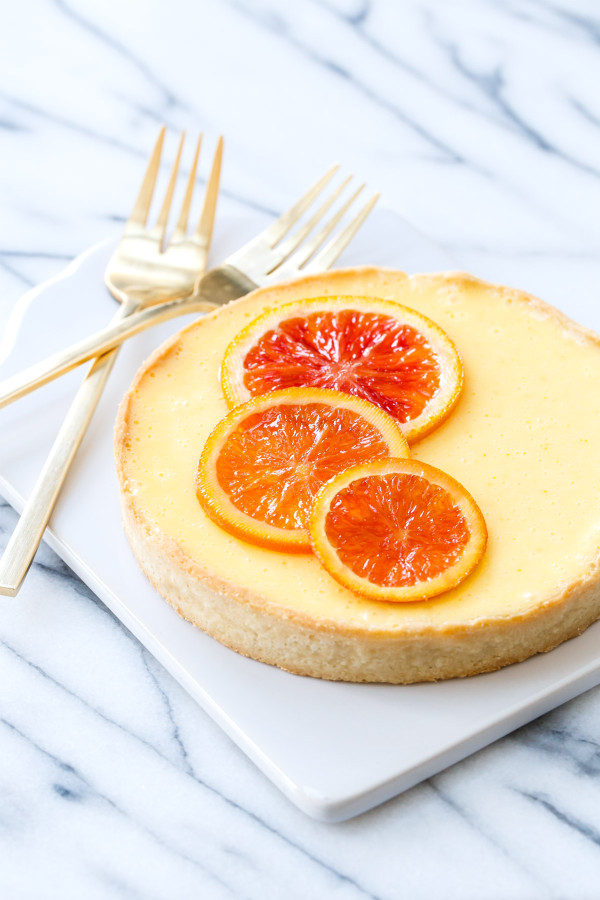 It's funny, really… just a few months ago I was lamenting the lack of chocolate in traditional Thanksgiving desserts, and downright demanding decadent alternatives. And now, in the midst of what may be the most chocolate-filled holiday of them all, I'm doing just the opposite.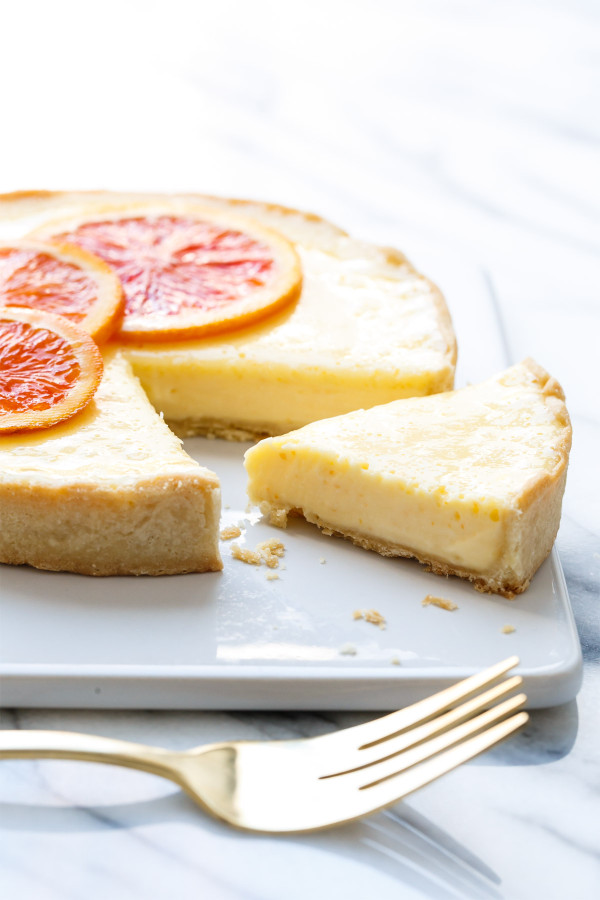 Sure, I've posted my fair share of chocolate desserts for Valentine's Day… from chocolate cherry tarts to chocolate creme brulee to chocolate truffles filled with pop rocks.
But to say that chocolate is the only way to go for Valentine's day would be doing a great disservice.. to this dessert in particular. The creamy texture is simply heavenly, somewhere in between creme brulee and lemon curd, lightly scented with oranges, almond extract, and a splash of orange blossom water, just enough to give it an air of elegance and intrigue but not so much that it tastes like grandma's perfume. Because that's a fine line you don't want to cross.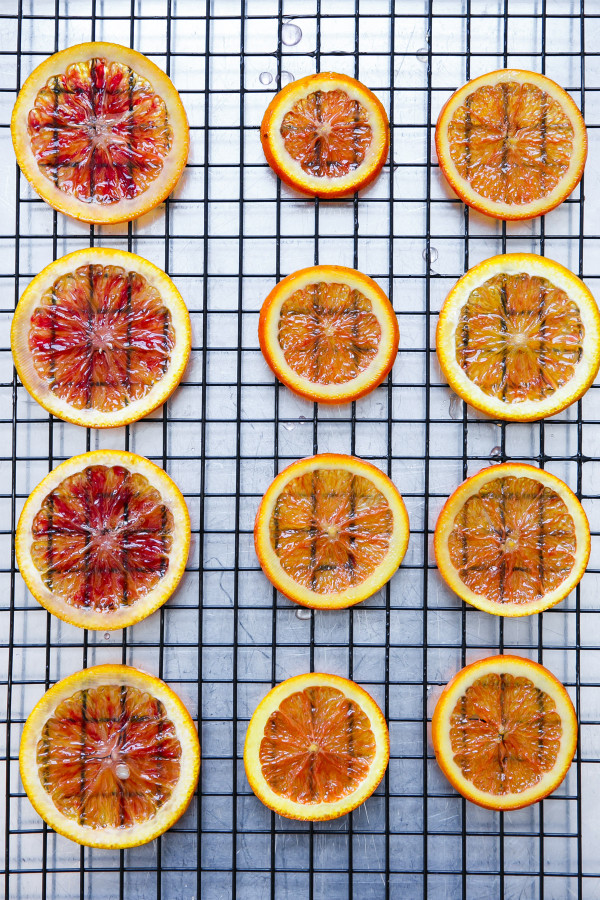 For years now, I regularly mix a bit of almond flour into my crusts, both cookie and pastry versions. It gives it a boost of extra almond flavor and a unique texture that you simply can't get with all-purpose flour alone. It's one of my favorite 'tricks' to better-than-average pie crusts (I won't say perfect because god knows my crusts are never perfect).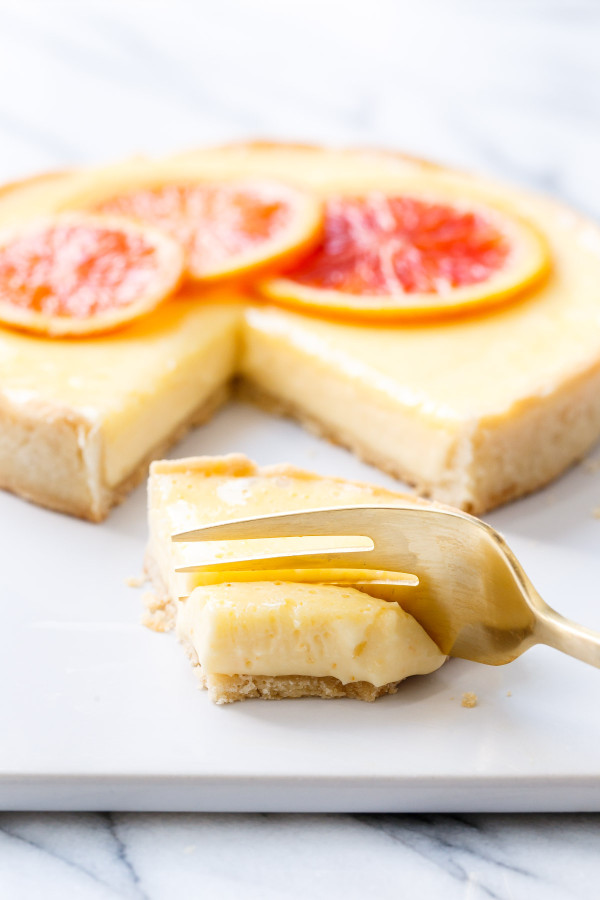 I call it a tart for two, but in reality it's probably more like 3 or 4 servings. But tart for three or four doesn't quite have the same ring to it, nor does it fit with the Valentine's day theme. And if you find yourself single on this of all days, don't deny yourself the pleasure, simply call it a tart for one and know that there's something to be said for not having to share. More power to you.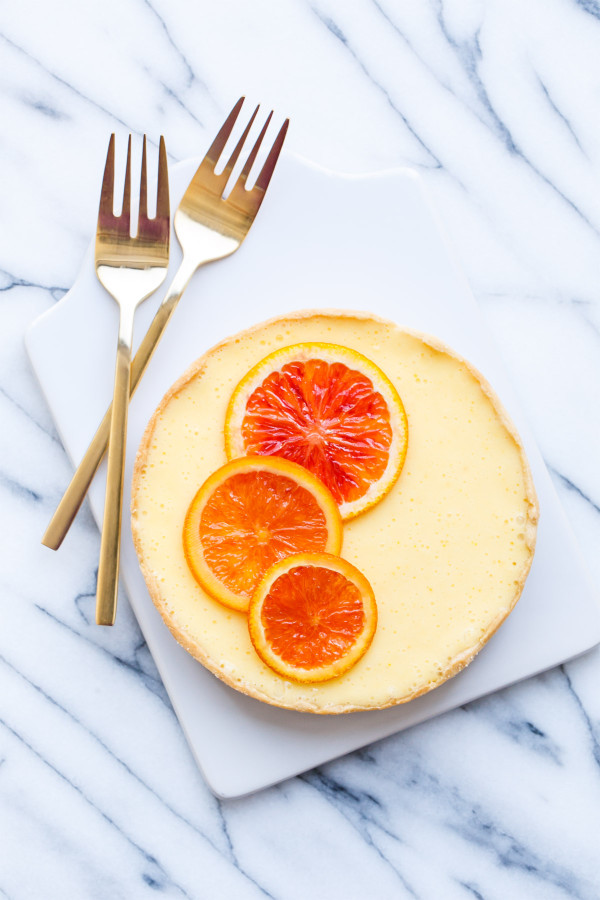 I tried out a tart ring for this recipe, instead of my typical fluted tart pan. A tart ring is basically just a stainless steel ring about 3/4-inch tall. You set it on a parchment-lined baking sheet which serves as the bottom of the tart. After baking you simply slide the ring off and let the tart stand for itself.
I love the modern edges. Flutes are nice and all but sometimes you want something just a bit more clean and minimal.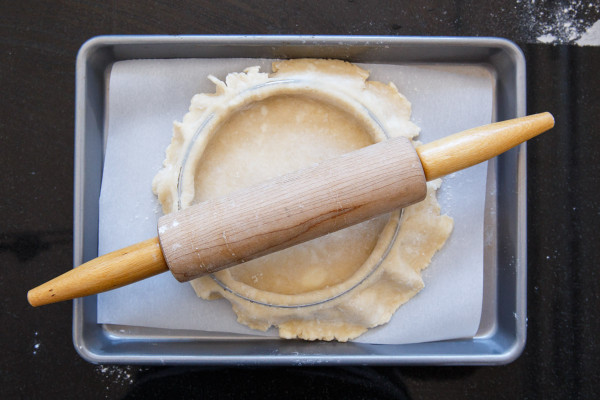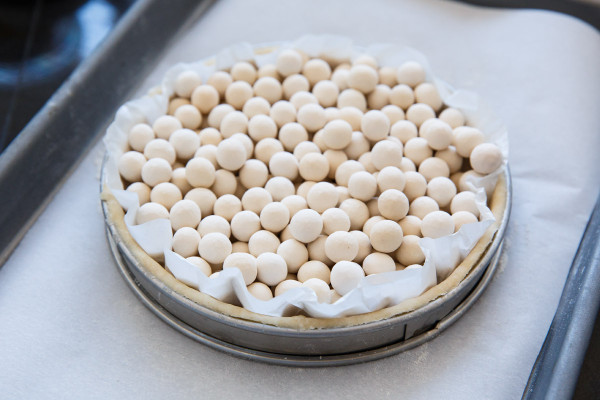 I still battled with a little shrinkage, although my second attempt turned out much better than the first. The key is letting the pastry rest, for at least 30 minutes before rolling it out, then freeze it for another 15 to 20 minutes in the tart ring before baking. Dock the bottom of the crust with a fork (this allows the moisture to evaporate and the pastry to relax a bit), and then bake for about 15 minutes lined (with parchment paper or a coffee filter) and filled with pie weights. Seriously. Don't skip the pie weights. (You can also use dried rice or beans if you don't have ceramic weights). Especially for a tart like this where the filling is unbaked, the crust needs to be fully cooked to a nice golden brown beforehand, and pie weights are simply not something that can be skipped.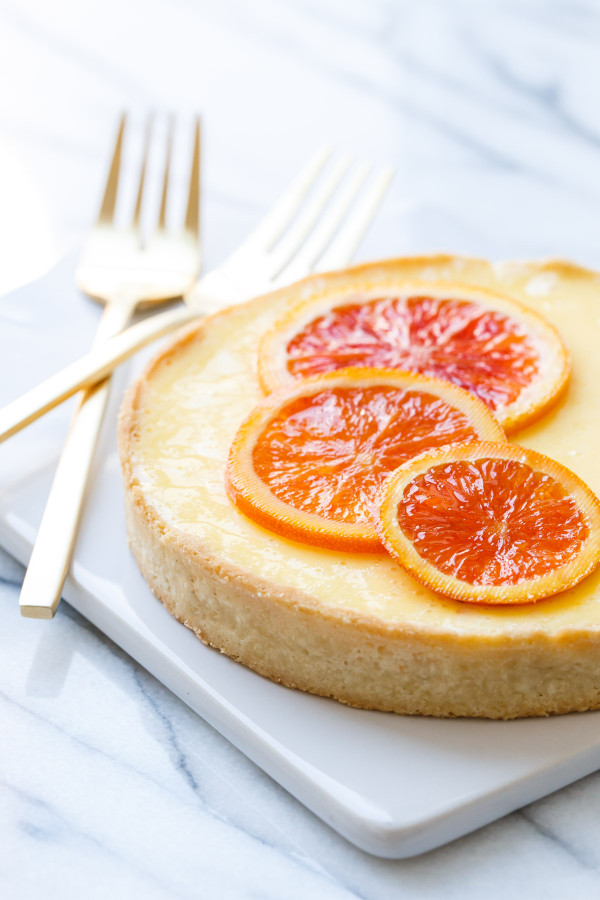 Oh, and pro tip? You might think that blood oranges would make for a perfectly pale pink tart, but alas, what you'll actually end up with is more akin to a band-aid than a valentine-suitable pink. Stick with the orange oranges this time, or, as I used, cara cara oranges, which have a lovely blush color to them and yet don't impart an off hue to the final tart. If you want more color, use a mix of cara cara and blood oranges for the candied orange slices on top of the tart.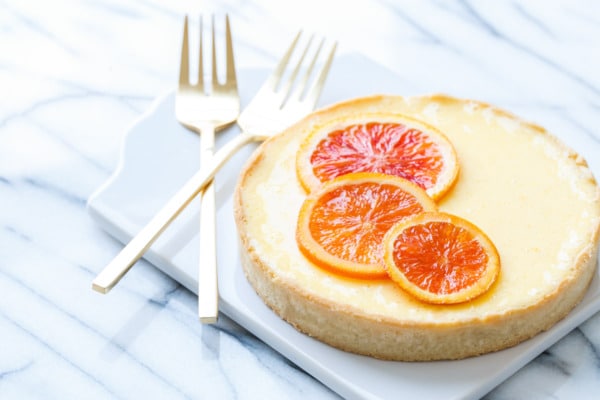 Orange Blossom Almond Cream Tart
A perfectly sized mini tart for two, with a creamy orange-almond filling. Double the recipe for a 9-inch tart.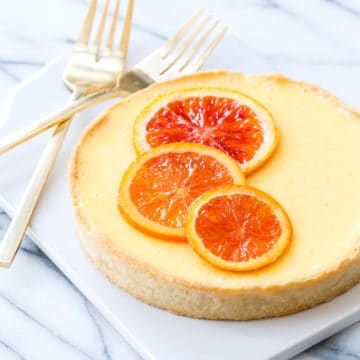 Ingredients:
For Crust:
1/2 cup all-purpose flour
2 tablespoons almond flour
3 tablespoons powdered sugar
1/4 teaspoon kosher salt
1/4 cup cold unsalted butter, cut into cubes
1-2 tablespoons ice water, as needed
For Filling:
2 large eggs
1/3 cup granulated sugar
1/4 cup freshly squeezed orange juice (from 1 orange)
1 teaspoon finely grated orange zest
pinch salt
1/2 teaspoon orange blossom water
1/4 teaspoon almond extract
1/2 cup (1 stick) cold butter, cut into cubes
candied orange slices*, for garnish (optional)
Directions:
For crust, whisk together flour, powdered sugar, and salt in a bowl. Add butter cubes and cut into flour mixture with a pastry cutter until butter is broken up into pea-sized chunks. Alternatively, you can pulse briefly in the bowl of a food processor. Sprinkle over 1 tablespoon of ice water and mix with a fork until just incorporated. Add more water just as needed until dough comes together in a crumbly, shaggy, mass. Turn out onto a piece of plastic wrap and gather into a ball. Wrap tightly and refrigerate for at least 30 minutes.
On a lightly floured surface, roll out crust into a round approximately 8 inches in diameter. Gently ease crust into a 6 or 7-inch tart pan with removable bottom or tart ring positioned on a parchment-lined baking sheet. Trim edges with kitchen shears or by rolling over the edges with a rolling pin. Dock bottom of crust with a fork. Place crust in freezer for 30 minutes.
Preheat oven to 350 degrees F. Line crust with crumpled parchment paper or a paper coffee filter. Fill with pie weights (you can also use dried rice or beans). Bake for 15 minutes or until set, then remove pie weights and parchment and return to oven for 10 to 15 minutes more, or until lightly golden brown in color. Remove from oven and let cool on a wire rack.
For filling, combine eggs, sugar, orange juice, and orange zest in a blender or food processor. Mix until smooth and sugar is dissolved.
Pour mixture into a medium saucepan. Wash out blender or food processor canister (you'll use it again later and don't want any raw eggs in there). Whisk egg and orange mixture over medium-low heat, until thickened and just beginning to bubble, whisking regularly to prevent scalding.
Pour thickened mixture back into clean blender or food processor. Add orange blossom water and almond extract and mix to combine. Add butter cubes and blend until thick, shiny, and completely smooth. Pour into baked and cooled crust. Refrigerate until set, at least 1 hour or overnight. Garnish with candied orange slices, if desired, before slicing and serving.
*For candied orange slices, thinly slice an orange (using a mandoline if you have one). Bring 1/2 cup sugar and 1/2 cup water to a gentle boil in a saucepan. Place a single layer of orange slices in the boiling syrup and cook, flipping once, for 4 to 5 minutes or until slices are softened and translucent. Use tongs to remove the slices and place on a wire rack to cool.
Did you make this recipe?
Let us know what you think!
Leave a Comment below or share a photo and tag me on Instagram with the hashtag #loveandoliveoil.