The best salads combine sweet, salty, creamy and tangy: in this case, ripe summer cantaloupe, cured prosciutto, creamy mozzarella and a flavorful (and easy!) homemade balsamic vinaigrette. Pair that with some mild bitter greens and you've hit every bullet point of taste (ok, so maybe there aren't any creamy tastebuds but I'd argue it's still an important salad component nonetheless).
Fruit and balsamic seems to be a recurring theme around here, from pizza to jam to ice cream, and this salad is no exception. Balsamic just has the power to amp up the intense flavors of ripe fruit. From peaches to berries to cantaloupe, it's probably the most flavorful and versatile vinegar out there. I've even seen people drizzle thick, aged balsamic vinegar over ice cream (which sounds downright delicious to me!)
It's so easy to get into a salad rut.
For us, that's usually a green leaf, tomato and cucumber salad with a drizzle of balsamic vinegar and olive oil. Super quick and easy, but also kind of boring.
In an effort to get ourselves out of this rut we turned to some ingredients you might not normally associate with salads: cantaloupe and prosciutto.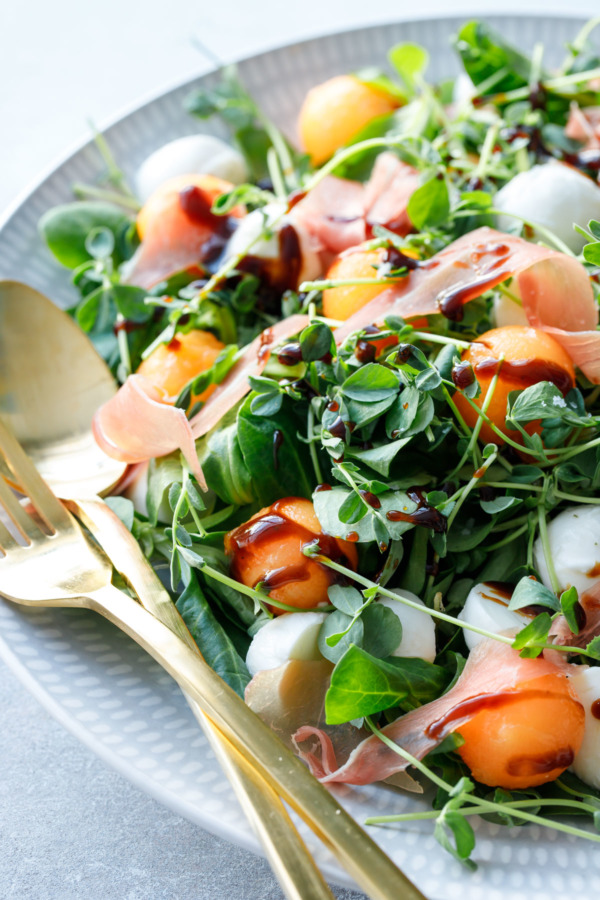 I considered calling this the Spelling Bee Salad because vinaigrette, cantaloupe, and prosciutto are three words that I rarely spell right the first time, and this salad has all three. Mozzarella is a tricky one too (is it one z or two?)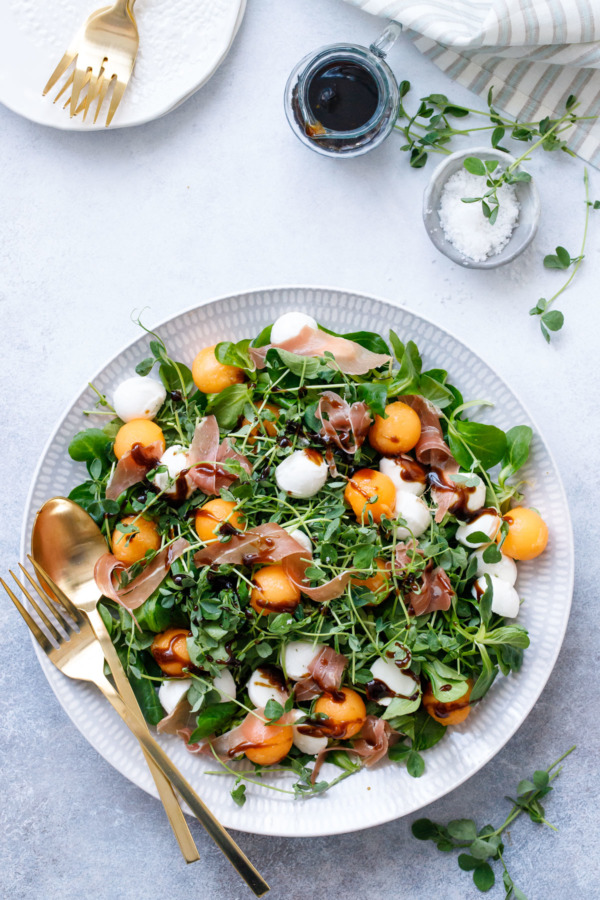 Ok so I have to say it: melon balls are one of the least efficient ways to consume melon. So feel free to chunk it up instead here.
Or, if you like the way the balls look (because they're pretty), don't throw away the scraps of melon. Scrape it out and use it to whip up a refreshing agua fresca or summery sorbet.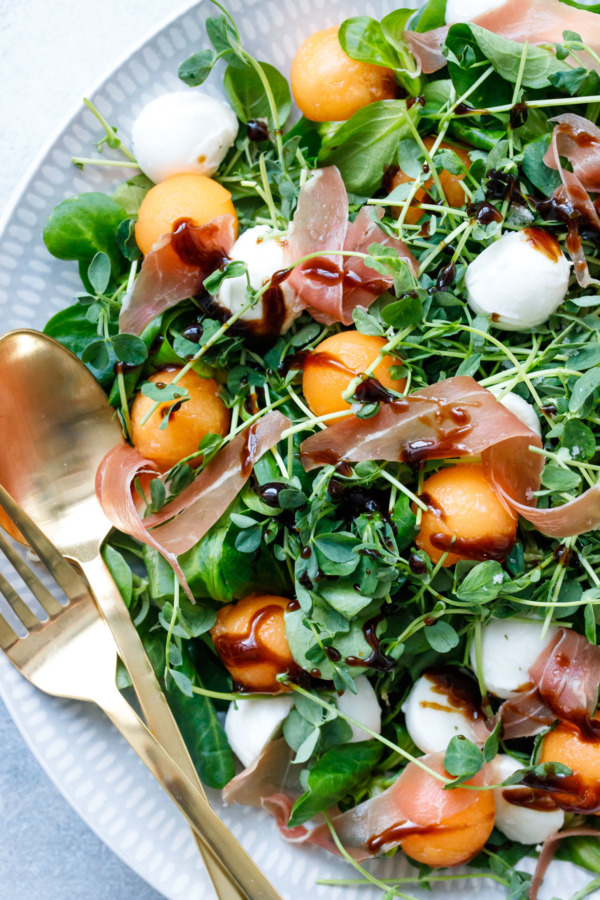 This easy balsamic vinaigrette is so simple and so good. Might I suggest making a double batch to keep in the fridge for improvised salads in a jiffy?
The key to a thick, even consistency is just a tiny bit of mustard: 1/2 teaspoon is all you need to unite oil and vinegar into a perfectly glossy, uniform vinaigrette.
Whisk the mustard and vinegar together first, then drizzle in a tablespoon or so of oil. Whisk vigorously until the oil is completely incorporated, then continue to drizzle in the oil as you whisk (you can also use a food processor if your whisking arm isn't up for a workout).
After about half the oil is added and once you have a nice stable emulsion, you can add the rest of the oil faster, it's just that first part that's crucial for proper emulsification, Homemade mayonnaise or perfectly shiny ganache works on the same principles. Yay, science!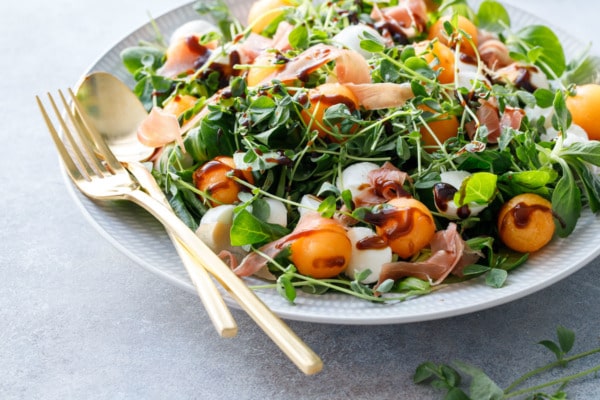 Prosciutto & Melon Salad with Balsamic Vinaigrette
A lovely, summery salad featuring balls of juicy ripe cantaloupe, bits of salty prosciutto, creamy mozzarella and a flavorful (and easy!) homemade balsamic vinaigrette.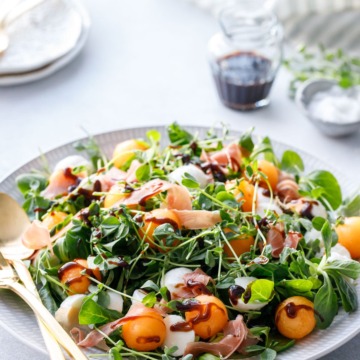 Ingredients:
For Balsamic Vinaigrette:
1/4 cup balsamic vinegar
1/2 teaspoon dijon mustard
1/2 teaspoon finely chopped fresh oregano
1/2 cup olive oil (or a mix of olive and another mild oil like grapeseed)
sea salt and freshly ground black pepper, to taste
To Assemble:
8 ounces mixed tender greens (I used maché and pea shoots)
1 ripe cantaloupe, scooped into balls
8 ounces small mozzarella balls (ciliegine or bocconcini), halved
8-10 slices prosciutto, cut or torn into bite-sized pieces
Directions:
To make vinaigrette, whisk together vinegar, mustard, and oregano in a bowl. Slowly drizzle in oil, a little bit at a time, whisking vigorously until dressing is emulsified. After about half of the oil has been incorporated you can drizzle it in faster, but start out very slow at the beginning to create a nice, stable emulsion. Season to taste with salt and pepper.
To assemble, rinse and dry greens. Toss with a few tablespoons of dressing until evenly coated. Arrange in serving bowl, then top with melon balls, mozzarella balls and prosciutto. Drizzle with more vinaigrette as desired, and sprinkle with a little flake sea salt and freshly ground black pepper, to taste. Serve immediately.
Did you make this recipe?
Let us know what you think!
Leave a Comment below or share a photo and tag me on Instagram with the hashtag #loveandoliveoil.