My favorite soft amaretti cookies with a festive holiday twist! These easy and impressive almond-flavored cookies are a fan-favorite for a reason, and this gingerbread version is sure to be a new holiday favorite.
With a soft and chewy marzipan-like texture, infused with molasses and gingerbread spices, these gingerbread amaretti would make a fabulous addition to your holiday cookie boxes. Even better, they're made with almond flour so they are naturally gluten-free!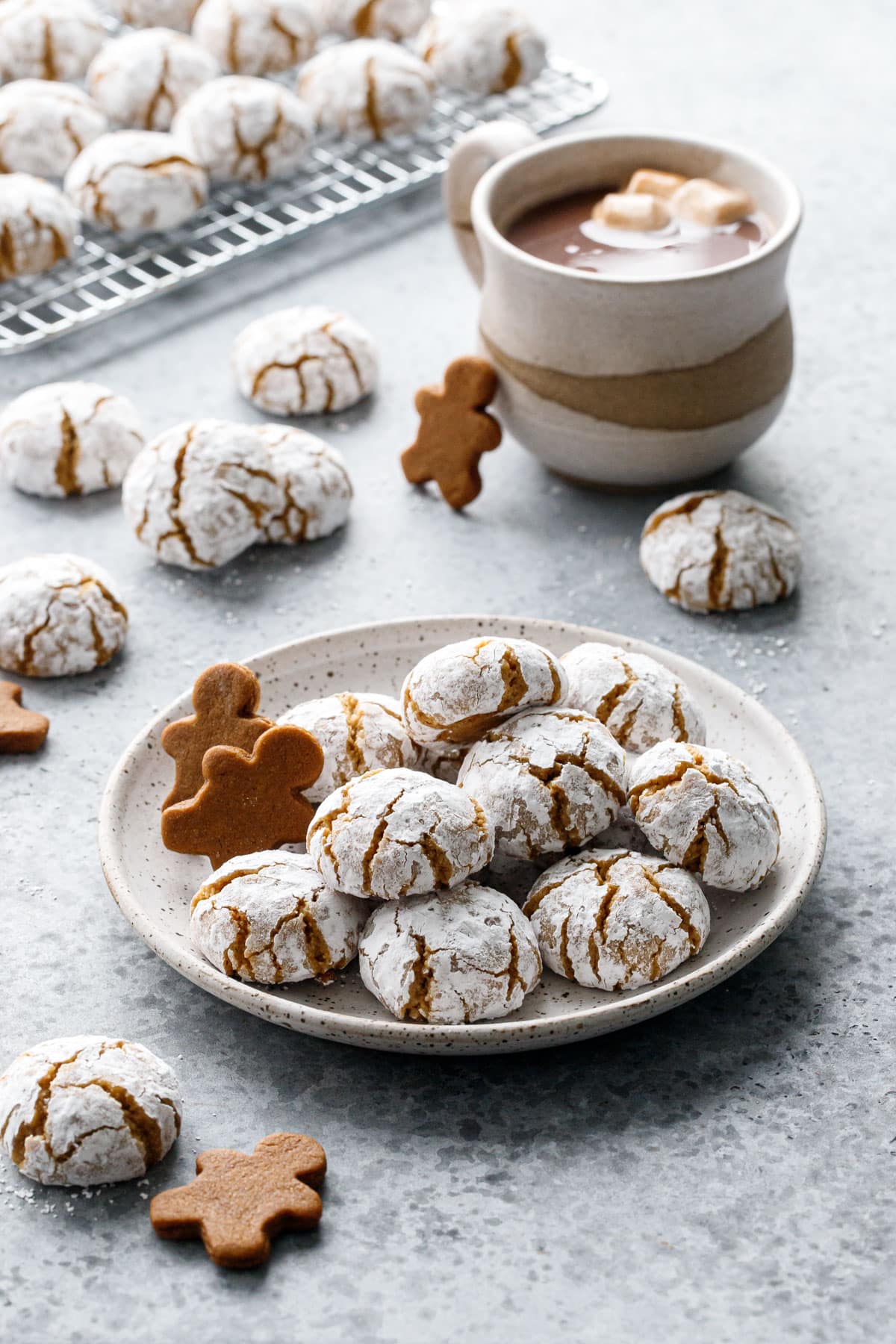 It has been 363 days since I posted my last amaretti cookie recipe (those being the amaretti thumbprints from last December). Considering I posted three different amaretti flavors in 2021 and a four in 2020, that I waited a whole year is really surprising.
Needless to say it seemed to me high time to share a new one, and these gingerbread amaretti seemed like the perfect seasonal flavor!
Tell me though… at what point do I need to re-brand as Love & Amaretti?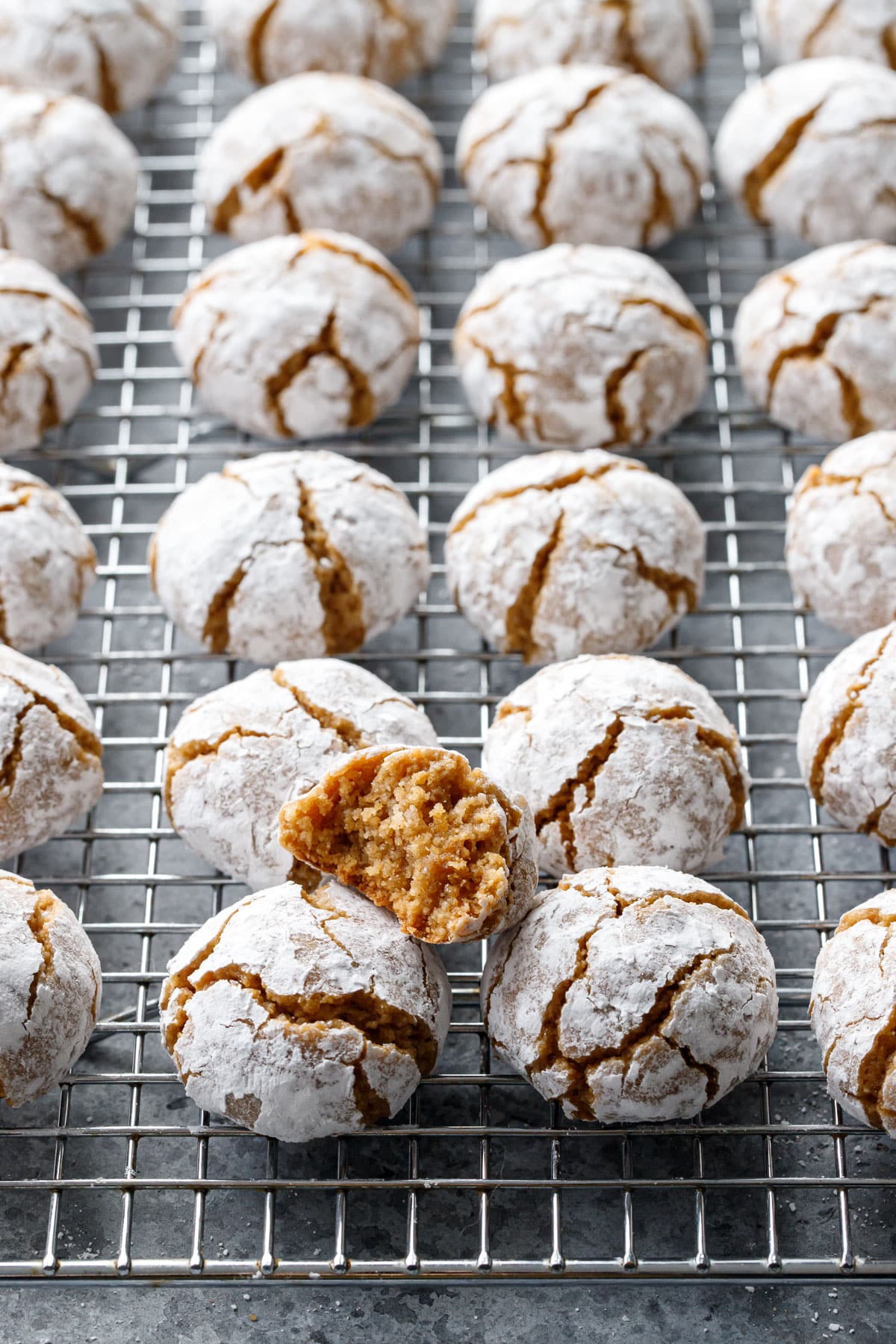 Personally I love gingerbread. Anything with ginger and molasses is a winner in my book.
But the problem with most traditional gingerbread cookies is definitely the texture: they're often dry and crumbly and not at all pleasant to eat.
If you love the flavors of gingerbread but not the texture, these cookies are for you! By simply adding a bit of molasses and spices to my original amaretti cookie recipe, they are transformed into a chewy bite of holiday goodness that even the most devout gingerbread-haters will devour (*cough*Taylor*cough*).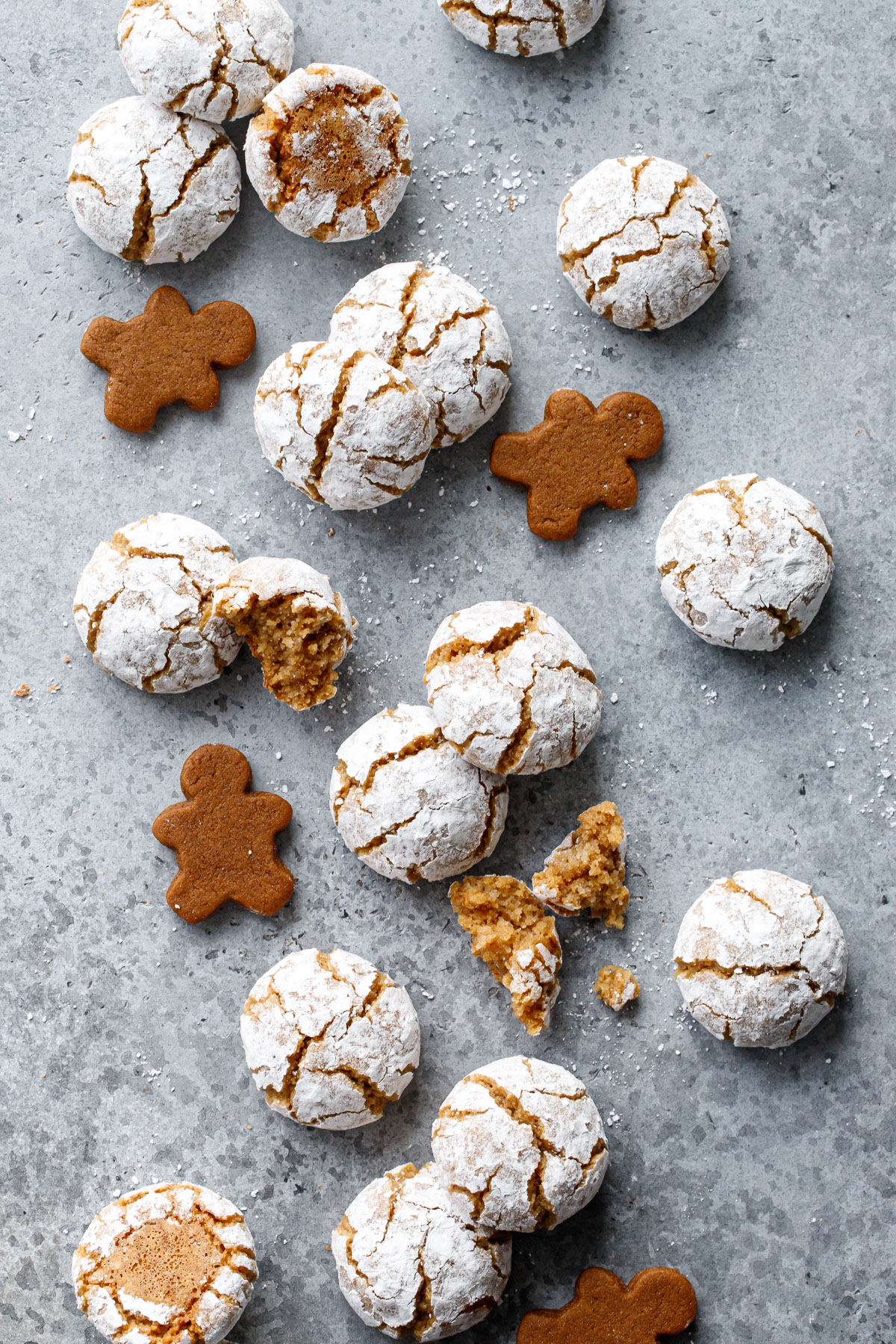 Honestly given my penchant for gingerbread-ing all the things (see: granola, rice krispy treats, caramels, brownies), not to mention make amaretti cookies in every flavor under the rainbow, I'm surprised a gingerbread version of my favorite amaretti cookies took this long.
It's an idea my mom had mentioned to me multiple times, and one that L&OO reader and fellow blogger had adapted and shared as well. All the more reason I should've made and shared this version years ago!
Needless to say, you need these gingerbread amaretti in your life.
Amaretti cookies originate from Italy, where the name amaretti comes from the Italian amaro meaning 'bitter', referencing the bitter almonds from which they are traditionally made. These days most almond flavoring actually comes from peach or apricot seeds, which impart the same bitter almond flavor without the toxic compounds.
This particular variety is known as a soft amaretti, or amaretti morbidi, in contrast with the crispier varieties you can buy (something I've been meaning to try to recreate but it's proving to be a lot trickier than the soft version).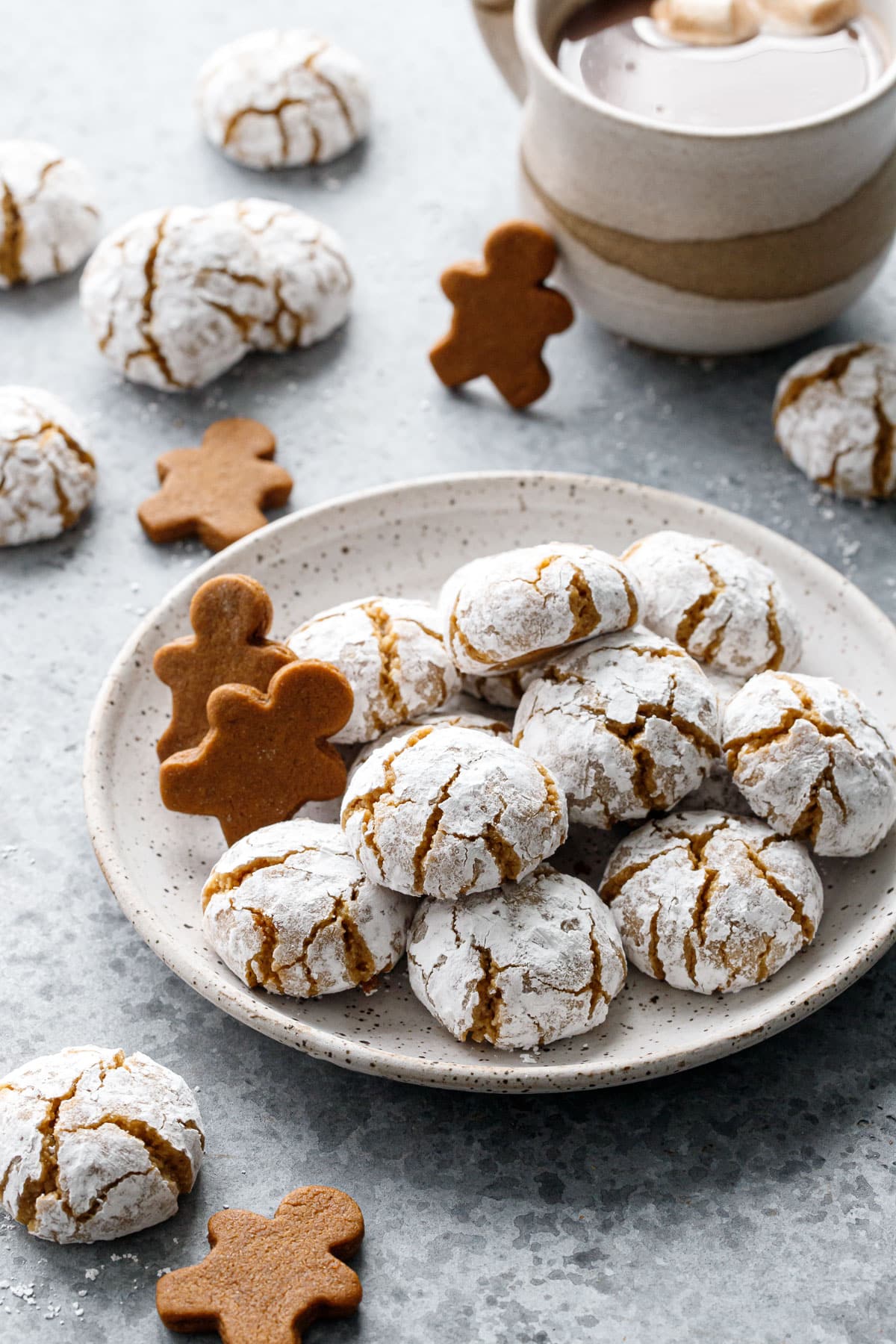 The reason these soft amaretti cookies are so popular is the fact that they are so darn easy. With only three main ingredients (almond flour, sugar, and egg whites), you end up with a cute little cookie with a lovely almond flavor and divine chewy texture that is sure to please. The phrase 'less is more' is definitely the case with these cookies!
In addition to their simplicity, these amaretti cookies are infinitely adaptable, evident by the dozen different flavor variations I've already shared. You can swap the almond flour for different nut flours, add extracts or cocoa powder or ground up dried fruit, as well as stuff them (with cherries or nutella, for example) or even turn them into thumbprints.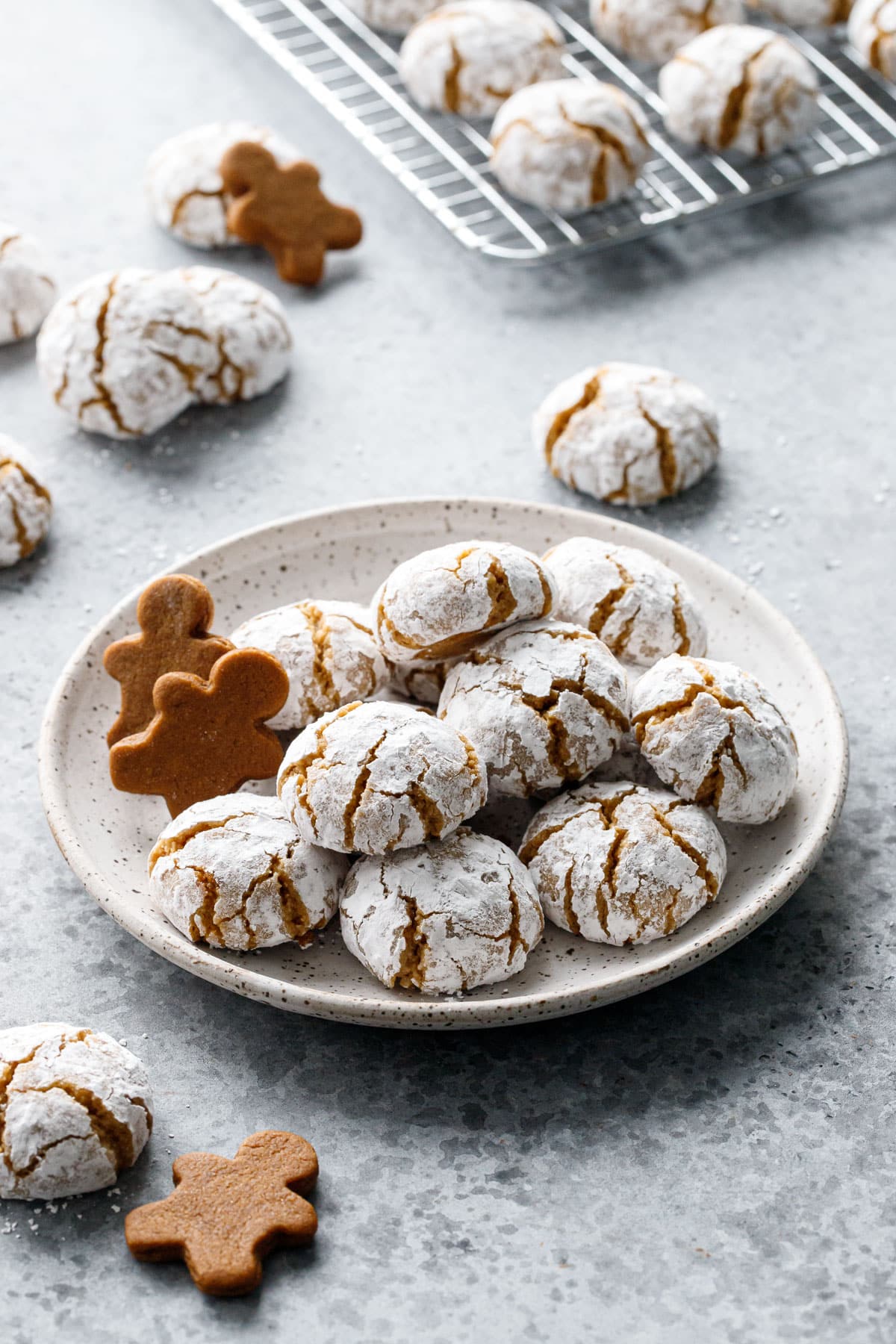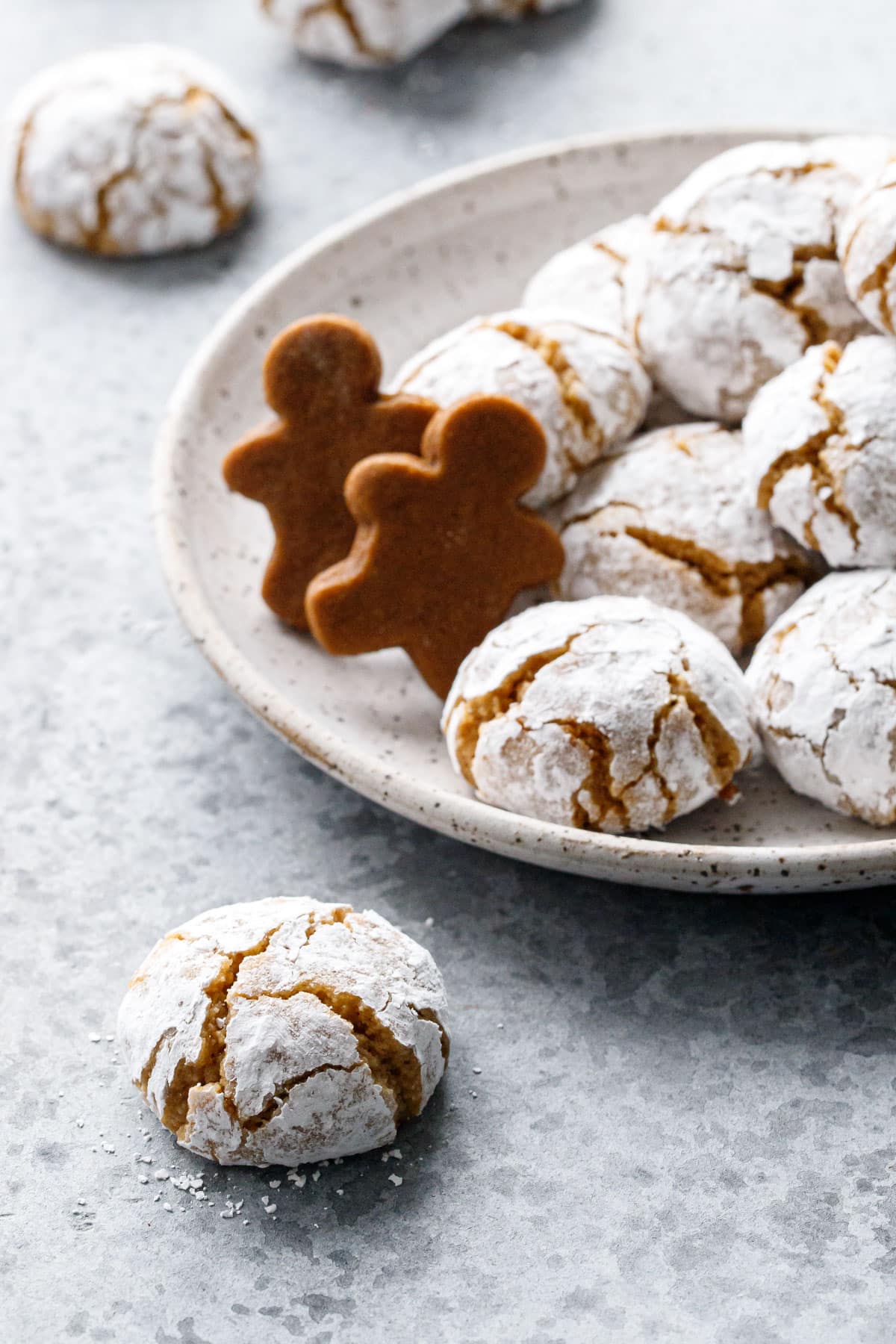 Tips for Success
While these cookies are incredibly easy, I've baked enough of them over the years to have figured out a few tricks to ensure they come out perfectly every time!
Use fresh nut flours. Old or dried out nut flour may result in a denser, harder cookie that doesn't spread crack as much. If you find your cookies aren't cracking enough for your liking, try adding a teaspoon or so of water to get a bit more moisture. You can also add 1/8 to 1/4 teaspoon of baking powder to further encourage spreading and cracking.
Conversely, if you're using homemade nut flour you'll likely see more spread due to the larger particles and higher moisture content. Be sure to dry out the blanched nuts completely before grinding, you may also want to toast the ground nut flour at a 170 degrees F for 30 to 45 minutes to dry it out even further (I did this with my pistachio amaretti, since pistachio flour tends to have higher moisture content than almond).
Sift your flour. Some nut flours are more finely ground than others. I recommend sifting your nut flour beforehand to ensure an even consistency. If you're using homemade nut flour this is especially important!
Reducing the sugar may be tempting, but too little sugar will result in a harder texture and less spread/cracking. You can safely reduce the sugar to 150g, however I do not recommend any less than that. You can also increase the sugar to 200g which will make for an even softer cookie that lasts longer.
Stick with conventional powdered sugar. Organic powdered sugar tends to melt into the dough a bit more and you won't get the pristine white coating on your final cookies. Here in the US at least, conventional powdered sugar contains cornstarch. If yours contains tapioca starch or no starch, I'd recommend sifting in a bit of cornstarch which will help the powdered sugar coating stay bright and white.
While I love the crackled appearance of the powdered sugar-coated cookies, these gingerbread amaretti are also wonderful rolled in turbinado sugar for a delightful crunch.
Bake amaretti on two heavy-weight cookie sheets stacked on top of one another. The extra insulation will prevent the bottoms from browning too quickly, resulting in a perfectly chewy texture throughout.
Store cookies in an airtight container. They'll stay wonderfully soft at room temperature for 3-4 days, or in the fridge for slightly longer.
If you want to freeze your cookies, I recommend freezing the un-baked balls of cookie dough (without the powdered sugar). You can bake the cookies straight from frozen, just give them a quick roll between your palms to soften the outside, then roll in powdered sugar and arrange on baking sheets. Add 3 to 5 minutes to the total bake time to compensate for the frozen dough.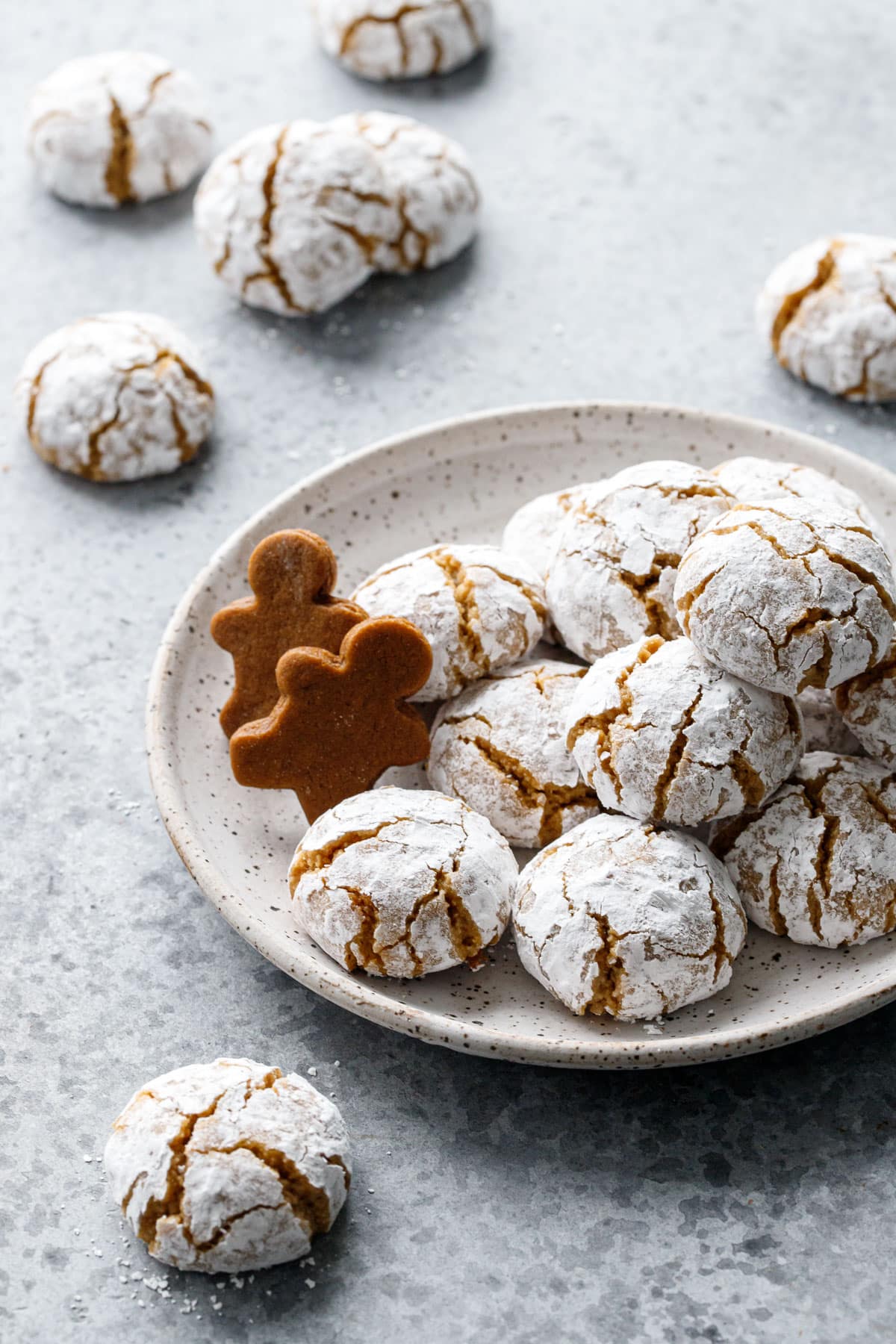 Swaps & Substitutions
For a vegan version of these cookies without the egg whites, I recommend following my vegan amaretti cookie recipe (which uses aquafaba in place of egg whites), and then adding the molasses and spices to that. The aquafaba behaves a little bit differently than egg whites, and that post will walk you through the process. Also be sure to source vegan sugar as not all sugar is considered vegan.
Some or all of the almond flour in this recipe can be swapped for any other nut flour, including hazelnut or pistachio. Unfortunately you cannot use wheat flour in this recipe.
I used a mild or light molasses in this recipe. You can use dark or robust for a more intense flavor, but I do not recommend blackstrap as it can be rather bitter.
The gingerbread spices are also flexible to taste. I used ginger, cinnamon, cloves and nutmeg, but allspice can be used in place of/in addition to the cloves. Basically, whatever spice combo is used in your favorite gingerbread can be used here!
I recommend conventional powdered sugar for this recipe, as organic tends to melt into the dough a bit more so the cookies won't be quite as snowy white in appearance. You can use turbinado sugar in place of the powdered sugar to roll the cookies if you'd like, it makes for a delightful crunch although the cookies look very different.
While you can technically reduce the sugar used in this recipe to 150g, I do not recommend going any lower (or your risk a hard, unpleasant texture with very little cracking). I also do not recommend using sugar substitutes in this recipe as I cannot attest to the results.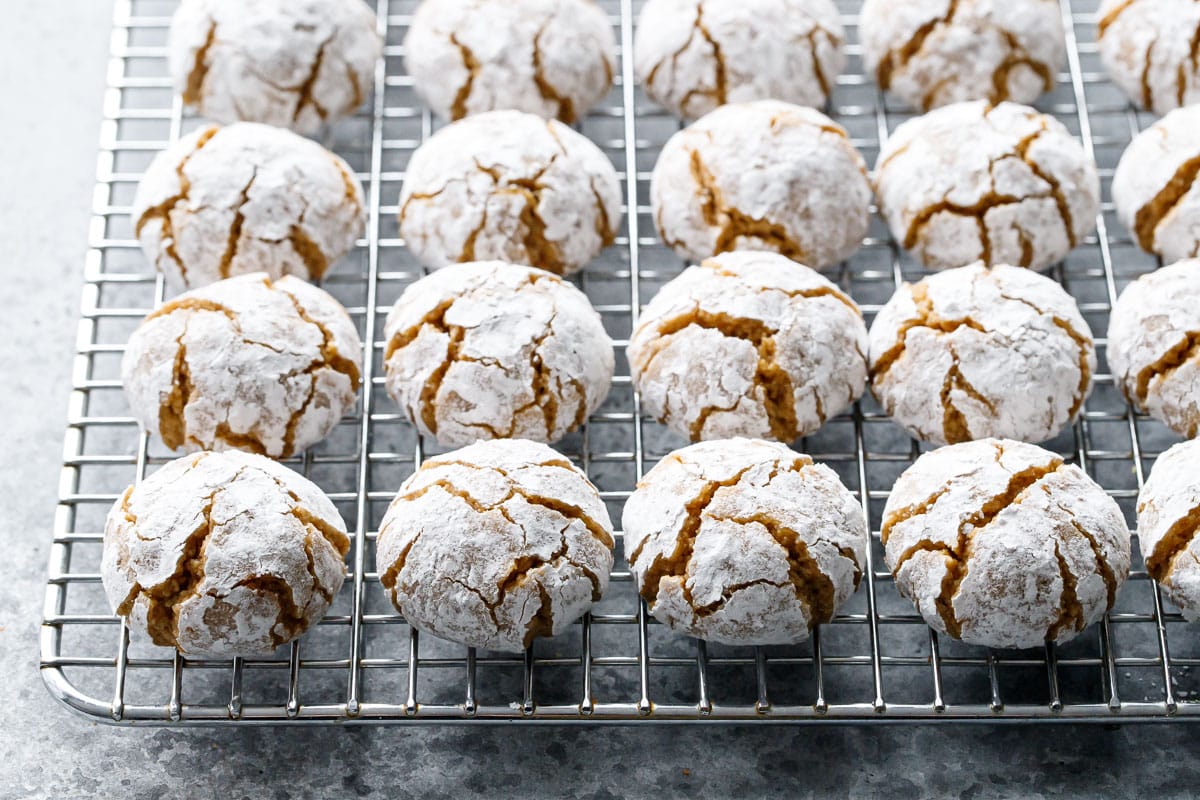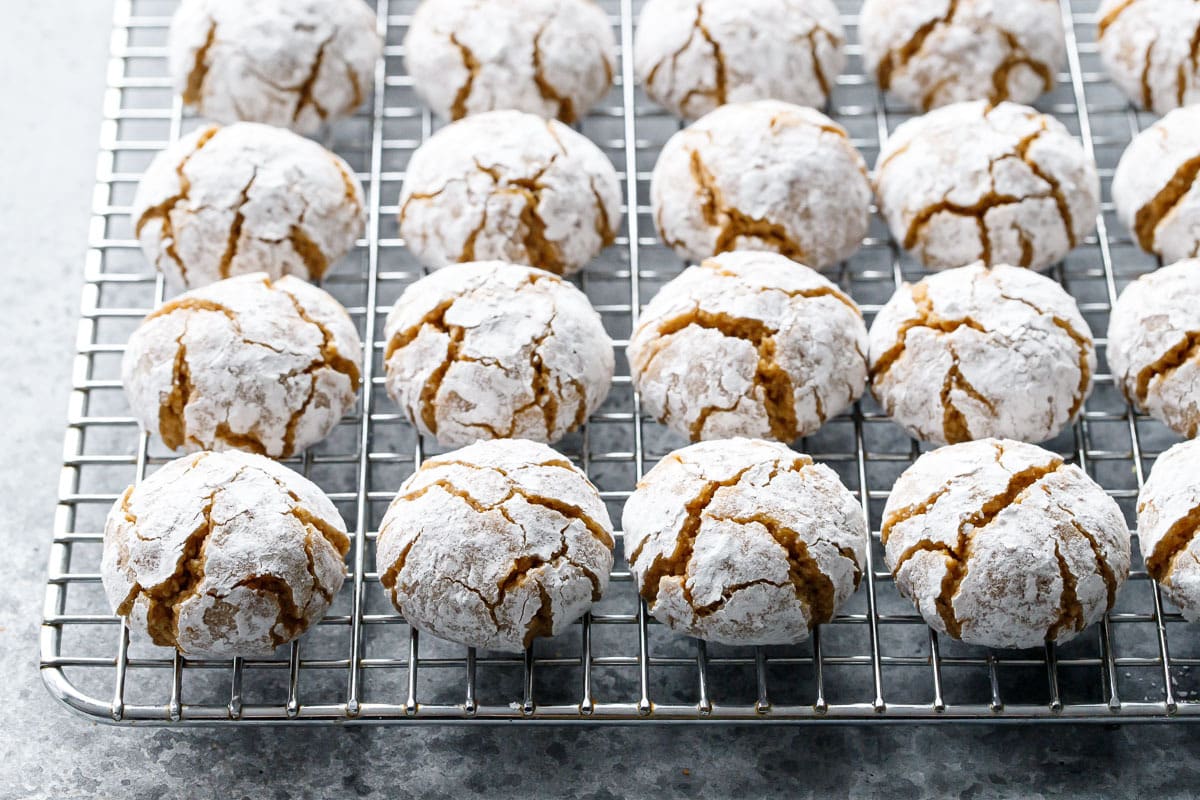 Gingerbread Amaretti
With a soft and chewy marzipan-like texture, infused with molasses and gingerbread spices, these gingerbread amaretti would make a fabulous addition to your holiday cookie boxes. Even better, they're made with almond flour so they are naturally gluten-free!
Ingredients
2¼

cups

/

200

g

almond flour or very finely ground almonds

,

sifted

⅞

cup

/

175

g

granulated sugar

1

teaspoon

ground ginger

½

teaspoon

ground cinnamon

⅛

teaspoon

ground cloves or allspice

pinch

ground nutmeg

pinch

fine sea salt

2

large

/

65

g

egg whites

¼

teaspoon

lemon juice

1

tablespoon

/

15

g

mild/light molasses

confectioners' sugar

,

as needed
Instructions
Preheat oven to 300 degrees F. Stack two matching, heavyweight, light to medium colored cookie sheets one inside the other (stacking two cookie sheets together keeps the bottoms of the cookies from getting too brown). Line with parchment paper or a silicone baking mat.

In a large bowl, whisk together almond flour, sugar, spices and salt until evenly incorporated.

In a mixing bowl or the bowl of a stand mixer fitted with the whisk attachment, whisk egg whites and lemon juice until they hold soft peaks.

Add beaten egg whites and molasses to dry ingredients and stir until mixture forms a soft, sticky dough, kneading with your hands if necessary.

Lightly dust your hands with powdered sugar. Use a small cookie scoop to portion dough into 1-inch balls. Roll into a smooth ball, then roll in powdered sugar. Arrange on parchment or silicon-lined baking sheets, leaving 1 inch of space between cookies.

Bake for about 25 to 30 minutes until tops are cracked and bottoms are just barely starting to brown (if you are not using doubled cookie sheets the bottoms will brown much quicker, so watch them closely). Remove from oven; let cool a few minutes, then transfer to wire racks to cool completely.

Cookies will keep at room temperature in an airtight container for up to 5 days.
All images and text ©
for Love & Olive Oil.
Did you make this recipe?
Let us know what you think! Leave a Review below or share a photo and tag me on Instagram with the hashtag #loveandoliveoil.