Chewy amaretti cookies made with pistachio flour for a buttery, nutty flavor and gorgeous natural hue.
My favorite soft amaretti cookies with a perfect pistachio twist! Dare I say that pistachios are quickly surpassing almonds as my favorite nuts?
The pistachio obsession continues.
Swapping pistachio flour for almond in my soft amaretti cookie recipe brings an incredible rich and buttery depth of flavor that simply can't be beat.
The richness of the pistachio tempers the saccharine sweetness that almond tends to intensify; and so, despite the fact that these cookies use the exact same amount of sugar, they don't taste nearly as sweet as the original.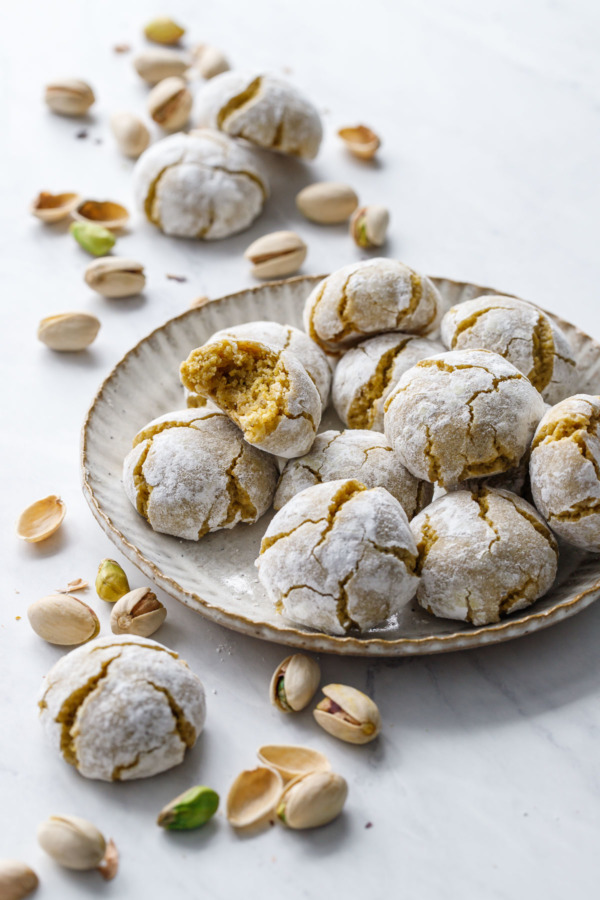 After a few test batches experimenting with various ratios, I ended up settling on a 50/50 ratio of pistachio flour to almond flour.
Why not use all pistachio flour, you ask?
Well, pistachio flour is crazy expensive, for one thing, but I found that it doesn't hold its shape quite as well as the almond flour does. Instead, using half and half created a good balance of pistachio flavor to almond structure, resulting in a noticeably pistachio-flavored cookie but still preserved the same shape and chewy character as the original cookies.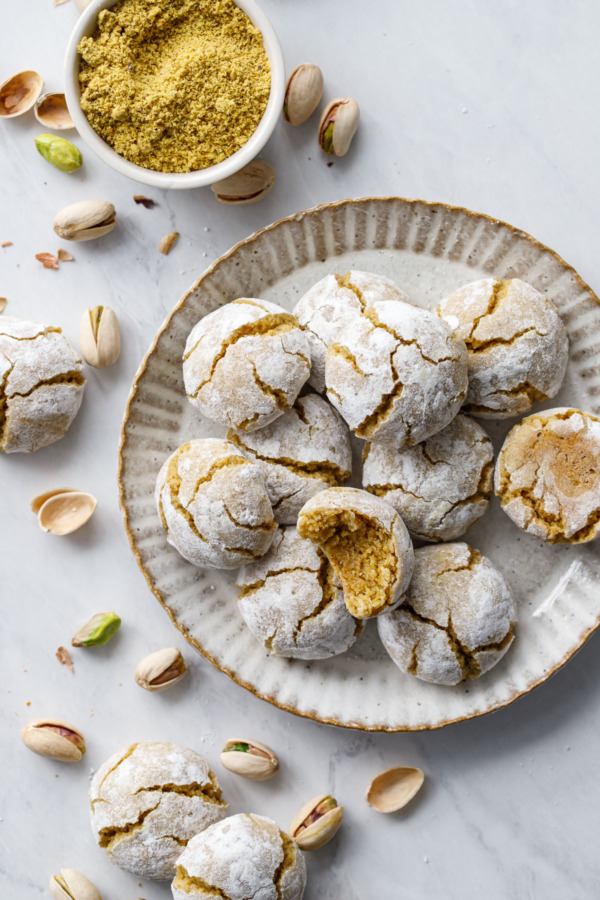 Can you use all pistachio flour? Certainly, and your cookies will be ridiculously chewy, with an ultra rich and buttery pistachio flavor. But just know they will spread out quite a bit more as they bake.
I'm guessing the difference in shape is a result of the added moisture in the pistachio flour. Of course, this could vary wildly from brand to brand (I used the pistachio flour from Nuts.com, other brands might have more/less moisture content).
To offset this added moisture, I dried out the nut flours in a 170º oven for 40 minutes to remove some of that excess moisture. Definitely don't skip this step if you're using more than 50% pistachio flour.
Unless you have a high powered blender or a specialty nut grinder, I wouldn't recommend making your own homemade nut flour for this particular recipe. It's just too hard to get a finely-textured nut flour at home. Also, there's a very fine line between nut flour and nut butter, and you definitely don't want to cross it.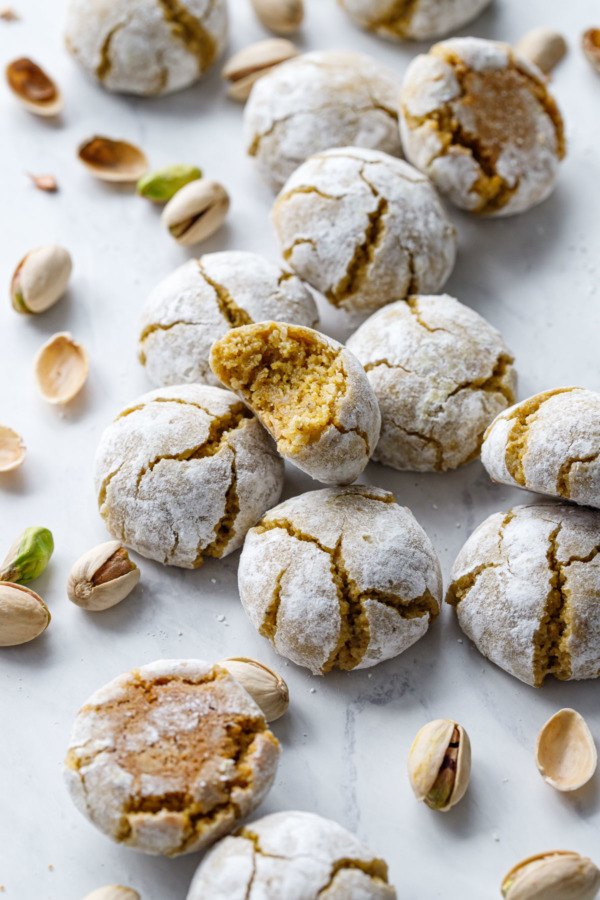 Other than the pistachio flour, and replacing almond extract for pistachio extract, this recipe is virtually identical to the original almond cookies.
Once rolled generously in powdered sugar, the cookies will form beautiful cracks as they bake, the rich ochre hue from the pistachio flour contrasting beautifully with the bright white sugar.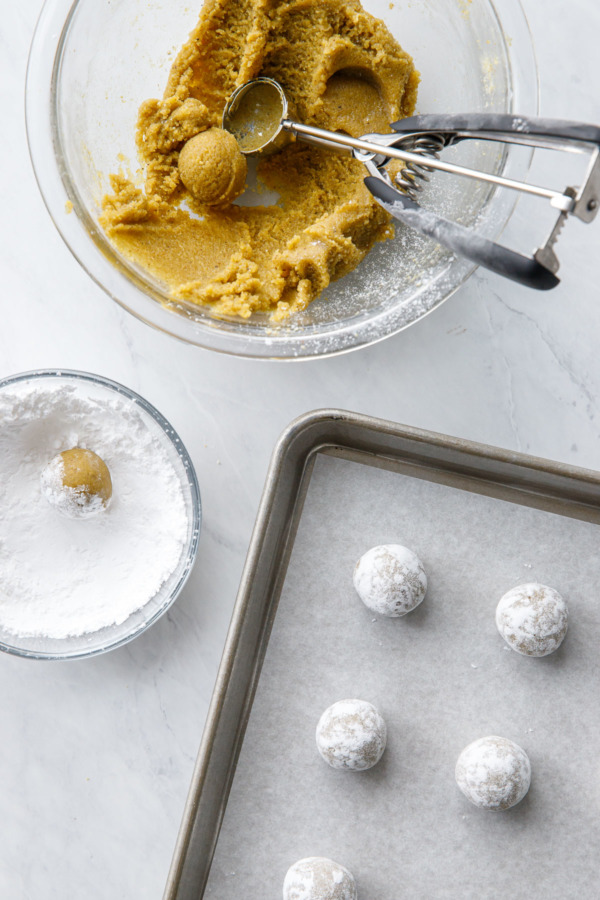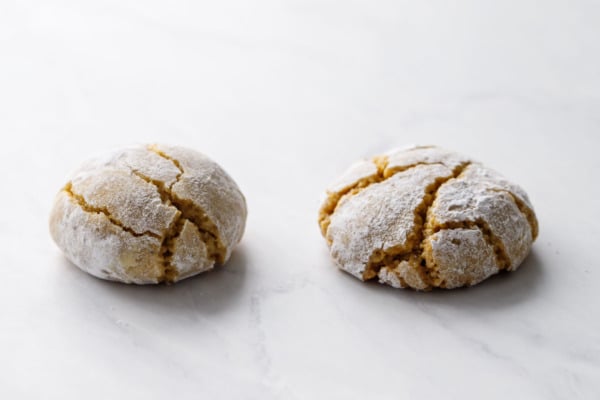 You can see here the distinct difference between the batch using 100% pistachio flour (undried, straight out of the bag) on the right to the oven-dried 50/50 version on the left. The pure pistachio version, despite the spread, was still ridiculously good, so you can feel safe knowing that they definitely did not to to waste!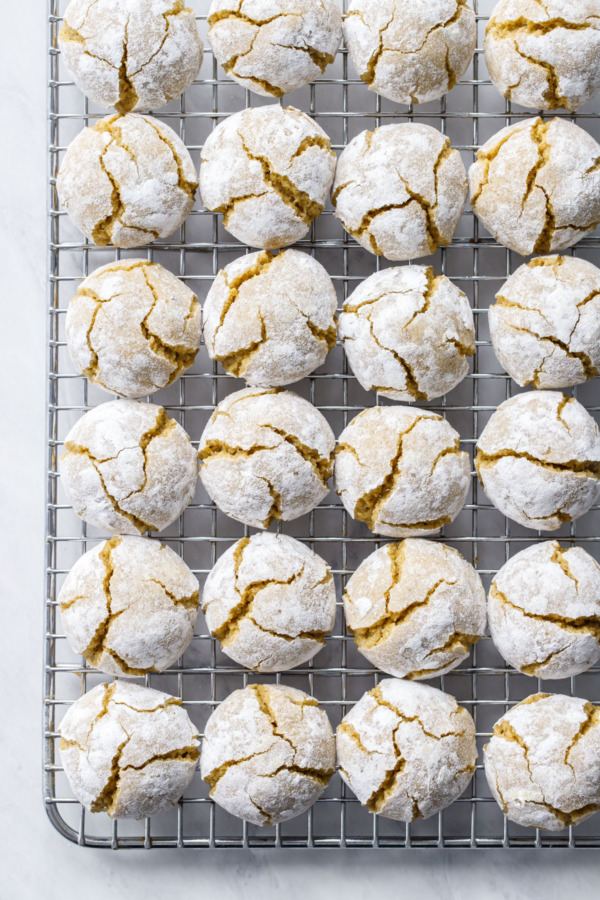 You may have noticed that the color of these cookies isn't the same bright pistachio green you might expect if you've had one too many cones of fake pistachio gelato.
Rather, the cookies come out of the oven sporting a toasty ochre hue, which is beautiful in its own right but doesn't exactly scream 'pistachio' as we've come to expect it.
I suspect different brands of pistachio flour might vary in color from what you see here, so yours might be more/less green based on what specific brand you used.
Needless to say, If you're baking these for St. Patrick's Day, might I suggest my matcha amaretti cookies instead? They're much more vibrantly (and naturally) green.
Of course, you could also use Stella's trick and add a tiny bit of blue food coloring to offset the natural yellow color of the pistachio. I opted not to, but it'd make your cookies more of a familiar pistachio green.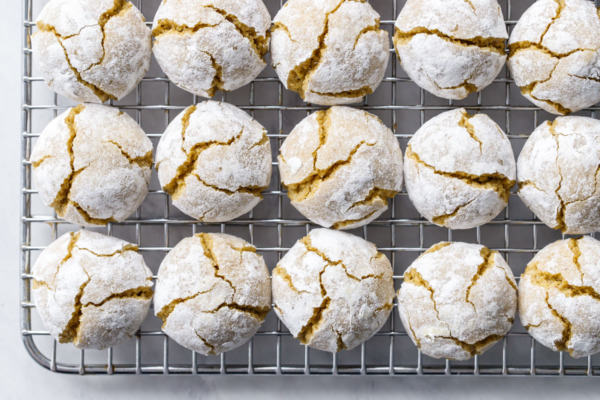 Pistachio Amaretti Cookies
Chewy amaretti cookies made with pistachio flour for a buttery, nutty flavor and gorgeous natural hue.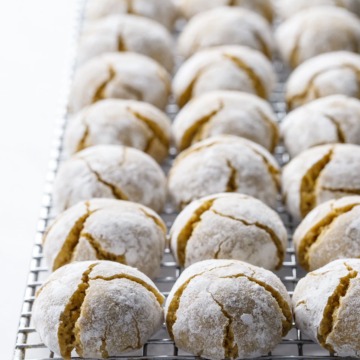 Ingredients:
1 cup (100g) almond flour or very finely ground almonds, sifted
1 cup (100g) pistachio flour or very finely ground pistachios, sifted
1 cup (200g) granulated sugar
1/4 teaspoon salt
2 large egg whites (60g)
1/2 teaspoon lemon juice
1/2 teaspoon pistachio extract
confectioners' sugar, as needed
Directions:
Preheat oven to 170 degrees F. Spread sifted nut flours on a parchment-lined baking sheet and bake for 30 to 45 minutes or until dry and toasty (this step removes the excess moisture from the flours, resulting in cookies that hold their shape better). Let cool completely then transfer to a large bowl.
Increase oven temperature to 300 degrees F.
Stack two matching, heavyweight, light to medium colored cookie sheets one inside the other (stacking two cookie sheets together keeps the bottoms of the cookies from getting too brown). Line with parchment paper or a silicone baking mat.
Add sugar and salt to cooled nut flours and whisk until evenly incorporated.
In a mixing bowl or the bowl of a stand mixer fitted with the whisk attachment, whisk egg whites and lemon juice until they hold soft peaks.
Add beaten egg whites and pistachio extract to dry ingredients and stir until mixture forms a soft, sticky dough, kneading with your hands if necessary. No need to be gentle here, we're not making macarons. ;)
Lightly dust your hands with powdered sugar. Use a small cookie scoop to portion dough into 1-inch balls. Roll into a smooth ball, then roll in powdered sugar. Arrange on prepared baking sheet, leaving 1 inch of space between cookies.
Bake for 30 to 35 minutes until tops are cracked and bottoms are just barely golden (if you are NOT using doubled cookie sheets, your cookies will brown much quicker and will likely only need 25 minutes, so watch them closely). If you prefer crunchier cookies you can give them an extra 5 minutes or so or until the tops begin to brown too. Remove from oven; let cool a few minutes, then transfer to wire racks to cool completely.
Cookies will keep at room temperature in an airtight bag or container, for up to 5 days.
Did you make this recipe?
Let us know what you think!
Leave a Comment below or share a photo and tag me on Instagram with the hashtag #loveandoliveoil.