As part of my annual holiday baking extravaganza I decided to mix it up a bit, and include a candy amidst the dozens of cookies I'm shipping out to friends and family. I figured I had made caramels once before, so why not?
Talk about pressure.
Luckily, they turned out beautifully. Especially considering the two pints of cream, 4 cups of sugar, and entire bottle of corn syrup that went into them – I would have been mighty bummed if I had to throw the whole thing out.
In true holiday spirit, these are gingerbread caramels: with a hearty dose of molasses and spices mixed in. I increased the spices from the original recipe, and added allspice to more closely mimic my grandmothers's gingerbread recipe. And while the gingerbread flavor comes through loud and clear, if I made these again, I'd add even more. Just for good measure. Maybe a smidge more molasses as well.
Well, that's one way to conquer your fear of boiling sugar: with a massive, bubbling vat of it. Seriously, use your biggest pot for this one.
Be warned – this recipe makes A LOT of candy. Which may sound like a good idea until you start wrapping them all. Individually. One. At. A time. Despite the tedium, it's a perfect recipe if you're planning to give out a dozen boxes of treats, there's no crazy math needed to get a whole boatload of candy. However, for just an everyday treat, you may want to start by halving or even quartering this recipe. Half would be just about perfect in a 9-by-13-inch pan, a quarter of the recipe (your middle school math skills will surely come in handy here) would fill an 8-by-8-inch pan.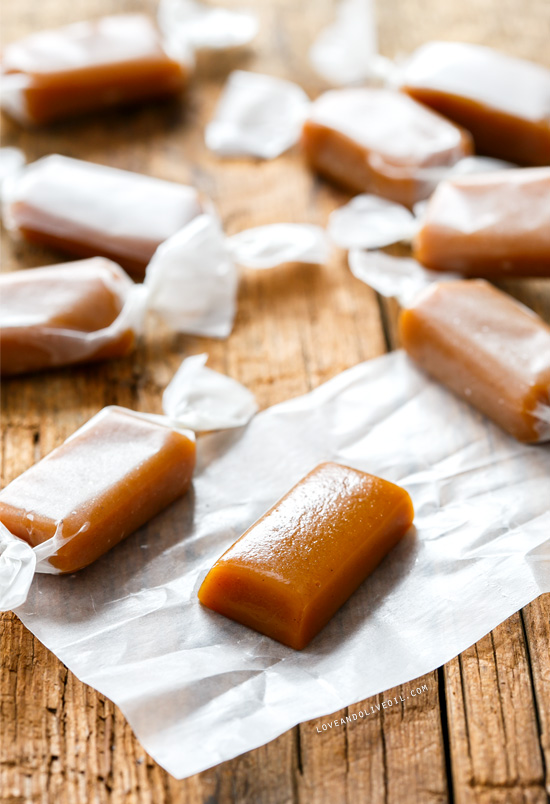 If caramel still makes your heart palpitate, in my (two) attempts thus far I think I've learned a few things. Namely:
Get a good candy thermometer (I like this one), and calibrate it before you start (stick it in boiling water and make sure it reads 212ºF). Also – if you live above 1,000 feet in elevation, you will need to adjust your temperature goal, about 2º lower per 1000 feet.
Temperature matters. The time approximations in candy recipes are just that – approximations. Trust your thermometer above all else. (For example, Martha's original recipe says it'll reach the desired temperature in 20 minutes. Yeah right. With that much liquid in the pot it took me more like 40, and other reviews of the recipe mentioned it taking upwards of an hour).
Respect the sugar. It's hot, so don't be careless, and don't leave it unattended. But be confident, not fearful (sugar can smell fear, apparently). You can do this!
Finally, just go for it. You're never going to get over your fear if you don't try. I know – I let my fear prevent me from making caramel for years, and now? Well, now I'm a caramel-making FIEND. Peach, gingerbread… what's next? We shall see!
Gingerbread Caramels
Ingredients:
4 cups (2 pints) heavy cream
2 cups light corn syrup
4 cups granulated sugar
3/4 cup (1 1/2 sticks) unsalted butter, cut into small pieces
1/2 cup light/unsulfured molasses
2 teaspoons ground ginger
1 1/2 teaspoons ground cinnamon
1 teaspoon ground allspice
3/4 teaspoon salt
1/4 teaspoon ground cloves
1/4 teaspoon finely ground black pepper
1 teaspoon pure vanilla extract
Directions:
Line a 12-by-17-inch rimmed baking sheet with parchment paper. If needed,  use a few dabs of corn syrup to keep the paper firmly in place. In a small bowl, whisk together ginger, cinnamon, allspice, salt, cloves, and pepper until evenly combined; set aside.
In a large pot (emphasis on large here – you want a pot at least twice the volume of the ingredients inside as the mixture will bubble up) combine cream, corn syrup, sugar, butter, and molasses. Bring to a boil over high heat, stirring until sugar has dissolved. Reduce heat to medium-high and continue to boil, stirring frequently, until mixture reaches 246 degrees on a candy thermometer, about 30 to 40 minutes.
Remove from heat; sprinkle spices over top of caramel, stirring until evenly incorporated. Stir in vanilla extract. Immediately pour into prepared pan. Let sit at room temperature, uncovered, for 24 hours without disturbing.
Lifting the caramel out of the pan using the parchment paper as a handle. Using a sharp knife or rotary cutter (lightly buttered or sprayed with cooking spray if needed), cut caramel into 1 1/4-inch strips, and then crosswise into 3/4-inch pieces. Wrap each piece individually in cellophane or waxed paper. Caramels can be stored up to 1 month in airtight containers.
Did you make this recipe?
Let us know what you think!
Leave a Comment below or share a photo and tag me on Instagram with the hashtag #loveandoliveoil.
Bonus! These gingerbread caramels make fantastic holiday gifts; even better when they're sporting fancy packaging.
If you'd like to use these labels I designed for your own sweet favors, simply download the printable file below, then print onto full-sheet sticker paper. The clear pillow boxes I used here are perfect caramel containers and can be purchased from ClearBags.com, but you could also use these on small boxes or as a folded header card on a clear cello bag.
Disclaimer: Copyright Love & Olive Oil. For personal use only. If you post about or share these labels, please credit appropriately and do not link directly to the downloadable file but rather to this post. Please do not distribute these downloadable files. Thank you much!