Looking for a unique new cookie recipe to add to your holiday cookie boxes? Look no further than these glazed matcha sugar cookies! With a gorgeous stamped design and a vibrant (natural!) green color, they're bound to be a new holiday favorite.
There's no denying my love of all things matcha, and these soft glazed sugar cookies are no exception. They are buttery and soft, with a mild matcha flavor and just a hint of salt, and brushed with a thin sugar glaze that is simply perfection.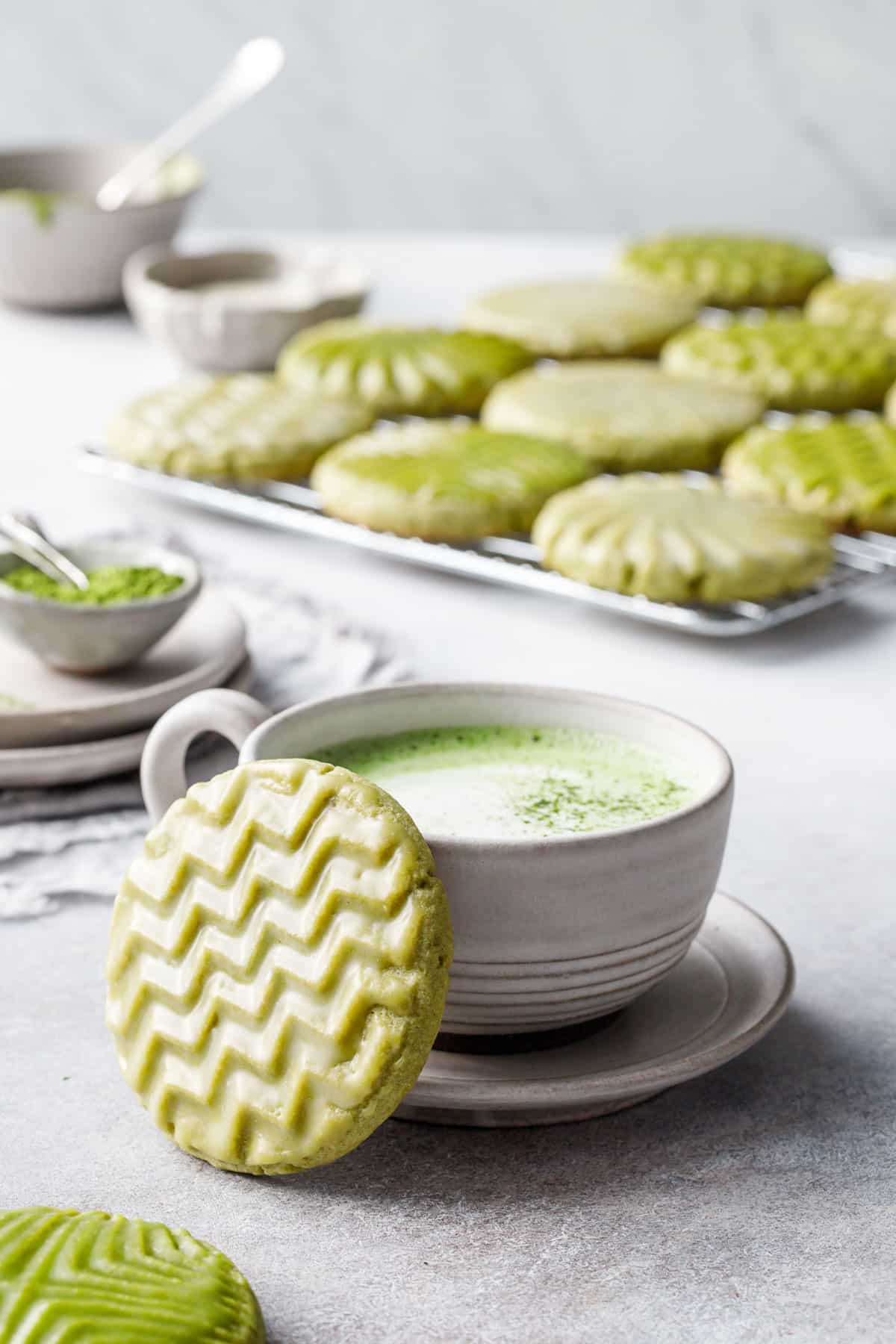 This recipe was created in partnership with Matcha.com, high quality Japanese matcha for drinking, baking and more. All opinions are my own. This post contains affiliate links.
Last year I bought a gorgeous set of cookie stamps, and was just waiting for the perfect opportunity to use them. I've seen plenty of recipes for stamped gingerbread or chocolate cookies, but I figured I'd take them in a bit more colorful direction.
Enter… matcha.
I think we can all agree that matcha was made for the holidays. It's one of my favorite ways to give baked goods a natural green hue (no food coloring here), not to mention a delightful green tea flavor.
I much prefer the flavor of matcha to steeped green tea (which can taste rather grassy). Matcha, which is made from whole tea leaves, has a lovely smooth and earthy flavor that works especially well in sweet, buttery baked goods.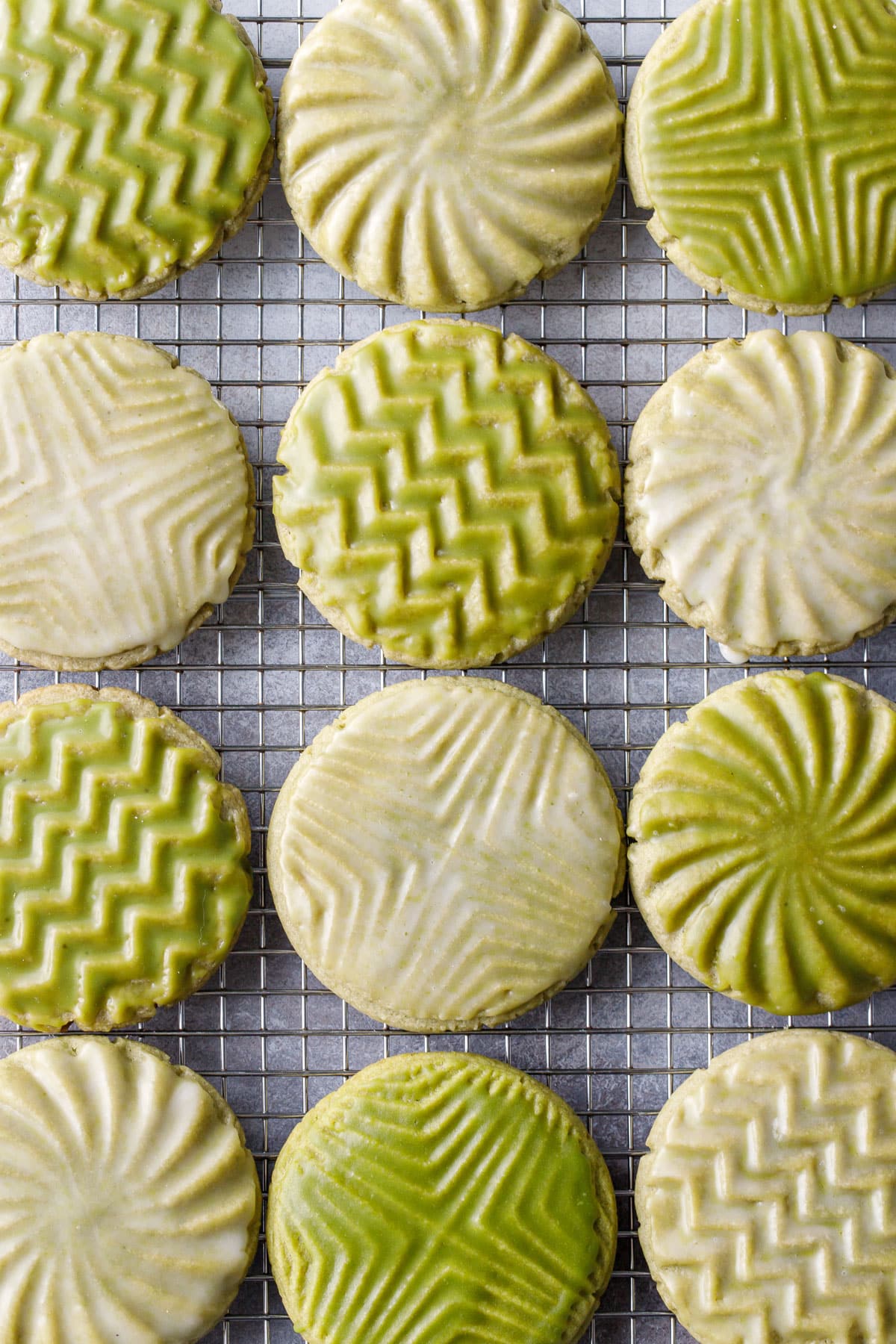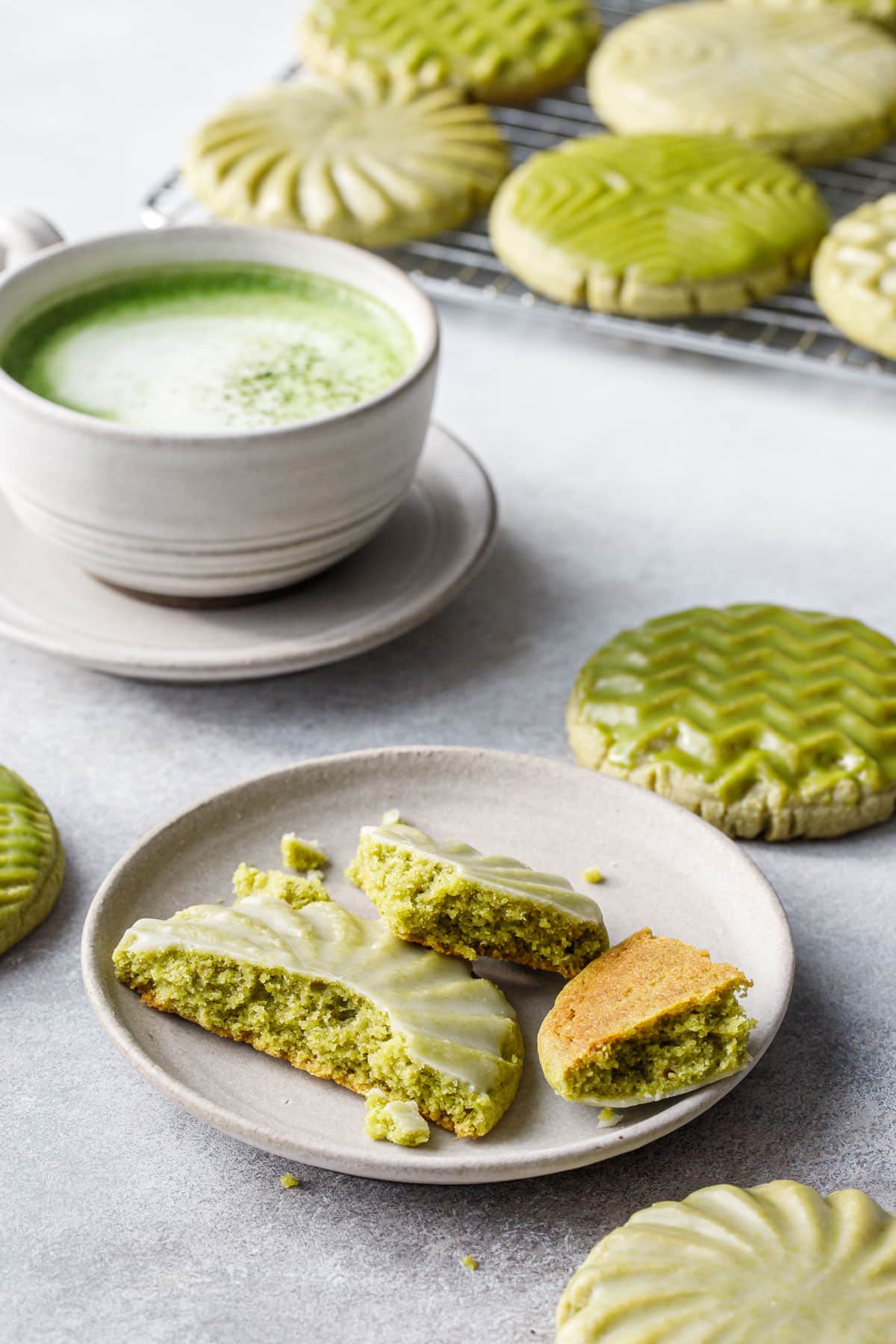 The best sugar cookies are soft and buttery (honestly what kind of monster likes hard sugar cookies?) These cookies in particular are made with a bit of cornstarch to make them even more melt-in-your-mouth tender (almost like a shortbread), and intentionally left extra thick to maximize softness and chew.
The cookies themselves aren't overly sweet, but with the powdered sugar-based glaze it strikes the perfect balance between sweet, salty, and buttery (oh so buttery).
Cookie stamps are a great way to make a holiday cookie that looks fancy, without all the effort of piping intricate designs out of finicky frosting. The thin sugar glaze is simply brushed on with a pastry brush, where it flows into all the nooks and crannies of the stamped design for a gorgeous effect.
I opted to give half my cookies a white sugar glaze, and the other half tinted grinch-green with even more matcha, but you can certainly do all one color as well.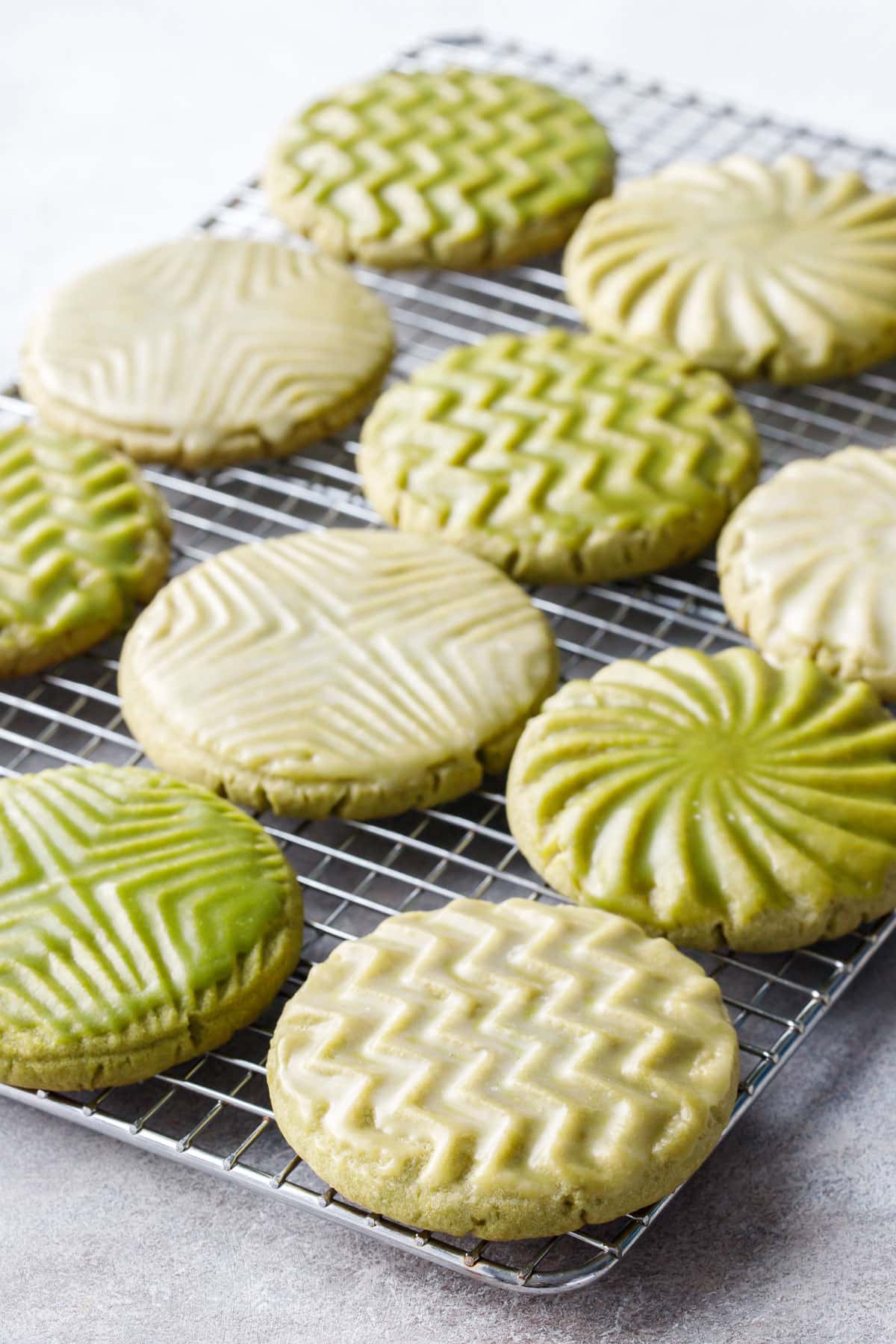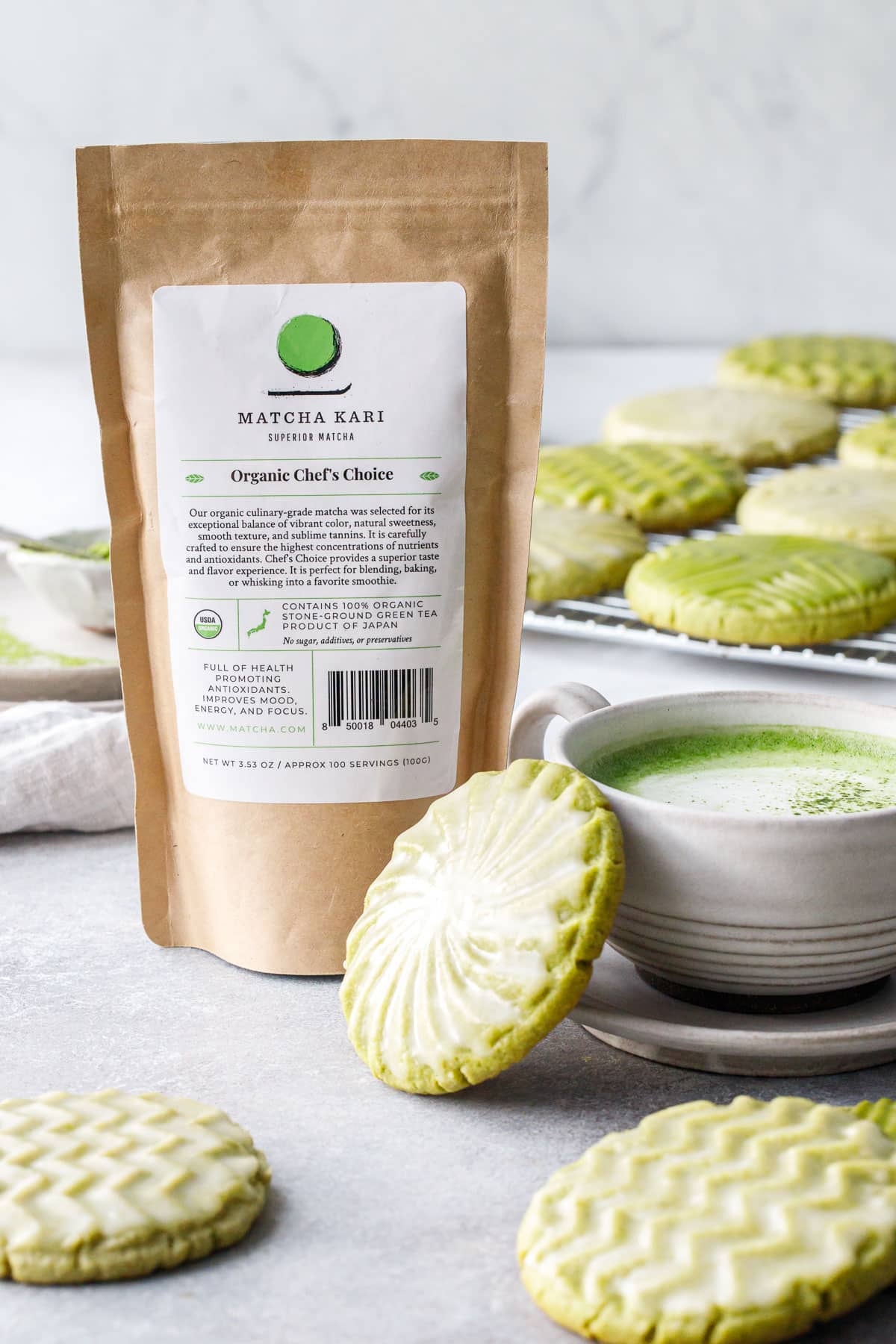 Meet your Matcha
Not all matcha is created equal. Good quality matcha will have a bright green color and a smooth, earthy, and slightly grassy (but not bitter) flavor.
For this recipe I used Chef's Choice Organic Culinary Matcha from Matcha.com, which is a great balance of quality and value (and organic to boot!) that's perfect for baking.
While higher grade (often labeled ceremonial) matcha will give you an even brighter green color, you're really better saving the pricier stuff for drinking straight.
You know how you have a cheaper cooking olive oil, and a more expensive bottle for dipping and drizzling? Well, matcha is the same way. The Chef's Choice is an affordable, yet still high quality matcha sold in a generous 100g bag which makes it perfect for baking recipes. Matcha.com also has a number of other varieties and grades more suitable to making matcha lattes and drinking straight; these are a bit more expensive and sold in smaller 30g tins.
Matcha.com sources the highest quality shade-grown matcha grown on hillsides of Uji, just outside Kyoto, Japan (the birthplace of matcha), quality tested for purity and potency. They have a number of different varieties and grades available to meet every need and budget.
Bonus coupon just for L&OO readers! Use code LOVEANDOLIVE for 20% off your first purchase at Matcha.com.
Because you are consuming the whole ground tea leaf (rather than just steeping and discarding it), matcha is particularly high in antioxidants, vitamins and minerals.
While matcha does contain caffeine, it provides a much more balanced energy and focus than coffee. Which is probably the reason I love it so much (as a person who cannot drink coffee because it makes me incredibly jittery, a creamy, frothy matcha latte is my favorite way to start my day). I can also happily enjoy a matcha cookie (or two) in the evening without worrying about not being able to sleep at night.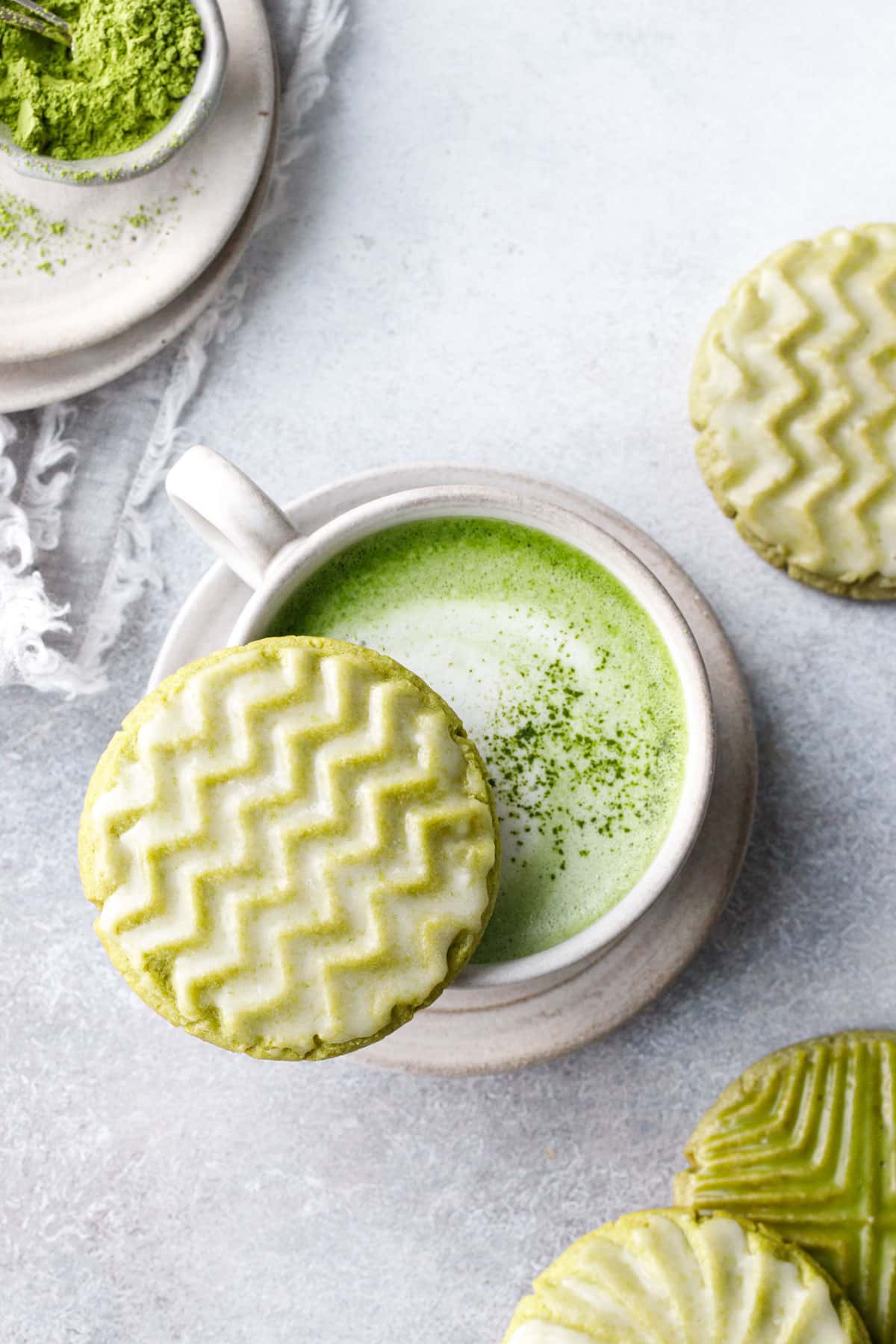 Stamped Cookie Tips & Tricks
It may take a few tries to get the hang of your cookie stamps, and depending on the style and material of your stamps you may find a different method that works best for you. (I used these geo cookie stamps, the same thing comes in a number of different design sets.)
Begin by rolling out 60g balls of dough (I used a #20 cookie scoop to evenly portion out the balls). Roll them smoothly between your palms, then flatten them quite a bit with your hand first before using the stamp (I found this reduced the 'cracked' appearance on the edges).
Dip the stamp in flour first to prevent the cookie from sticking. This particular dough isn't terribly sticky, but you still want a nice coat of flour nonetheless. Tap off any excess though so it doesn't mar the design (that said you can brush off any excess flour from the cookies with a pastry brush before baking).
When you press the stamp, be sure it is perfectly centered so the design is even and not offset. Press it down just until the dough reaches the edge of the stamp, no further. The cookies are on the thick side, about 3/8-inch (just under 1cm)… this is what makes them so soft and satisfying to bite.
I've also seen stamped cookies where the dough is rolled out first and then stamped (then cut out using a round circle cutter). This would work here as well and would result in very clean edges, however just be sure you roll the dough extra thick, about 3/8″ ideally (which is much thicker than you'd typically roll a sugar cut out cookie).
If you don't have cookie stamps, use the flat bottom of a glass to press the cookies down. Or get creative… use a potato masher or a textured placemat to add some texture to the cookies (and more texture will mean the glaze has more nooks and crannies to flow into).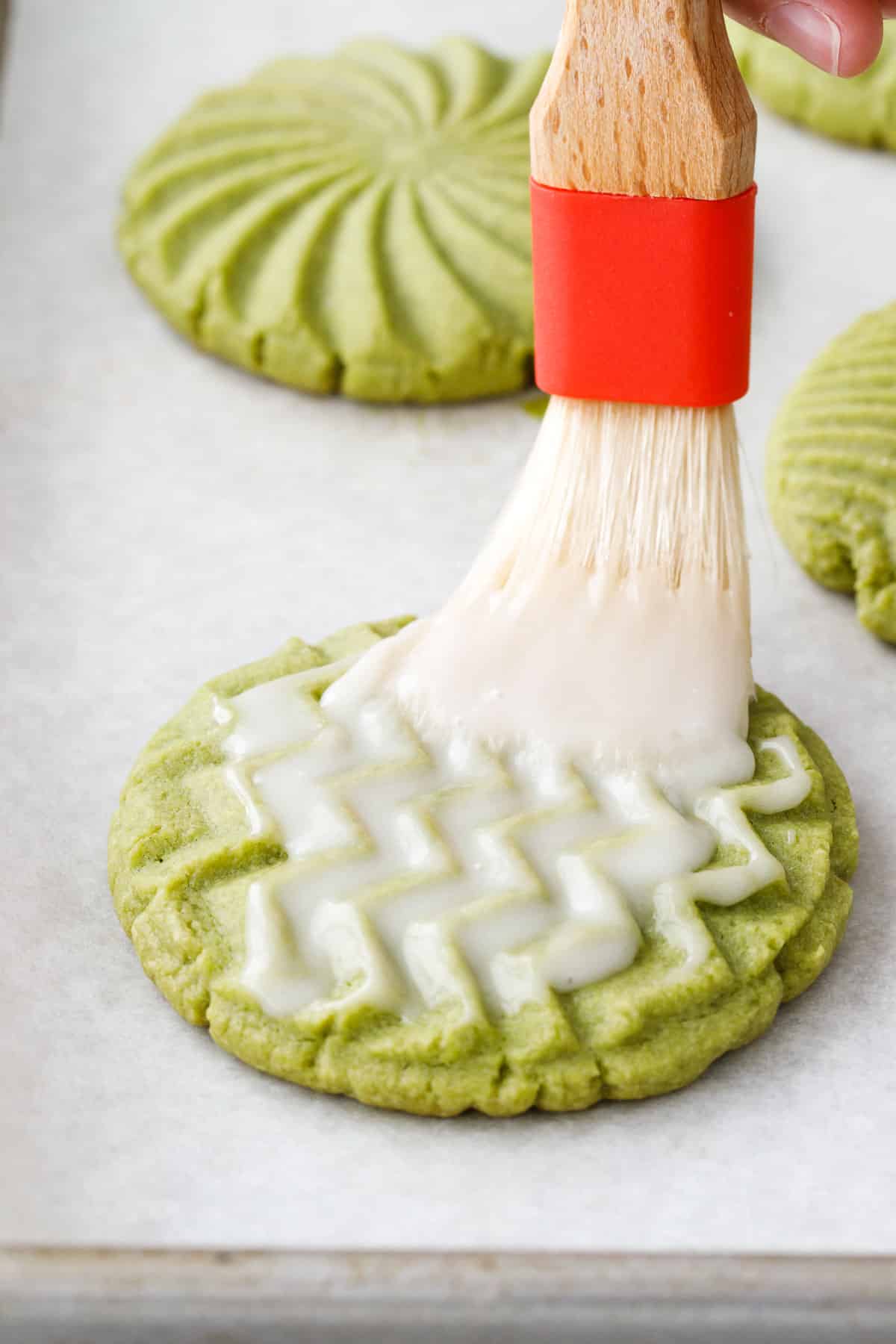 Glazed & Confused
You can choose to glaze these cookies with white or matcha glaze for a double dose of green goodness. I found the matcha glaze added an extra kick of matcha flavor (which isn't quite as prominent in the baked cookies themselves).
Or, better yet, do a mix of both!
If you want to do both glazes you do not need to make two batches. Rather, glaze the first batch when they come out of the oven with the white glaze, then add 1/2 teaspoon or so of matcha to the glaze to make it green for the second batch.
The glaze goes on the smoothest when it is smooth and warm. Between batches, you can micorwave it for 10 to 15 seconds to rewarm it (then stir until smooth), or if you're using a small saucepan just pop it back on the heat until it's smooth again.
As far as consistency, the glaze should be thin enough to be brushable, but not watery. Thicker than heavy cream, but thinner than melted chocolate shall we say? Start with 1 tablespoon milk and then add additional milk, 1/2 teaspoon at a time, until you've achieved the desired thickness. You may also find the glaze needs a bit more milk as it cools.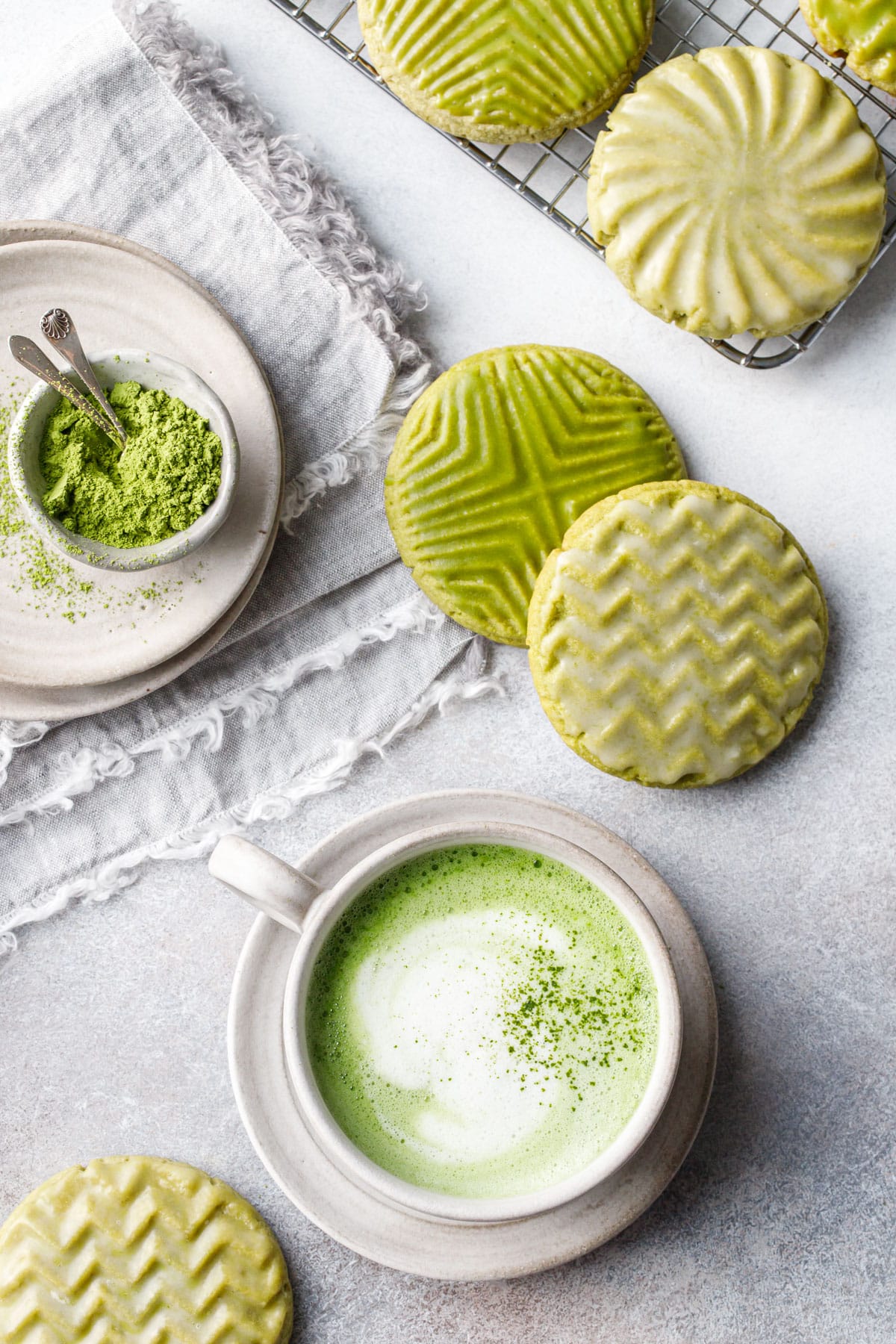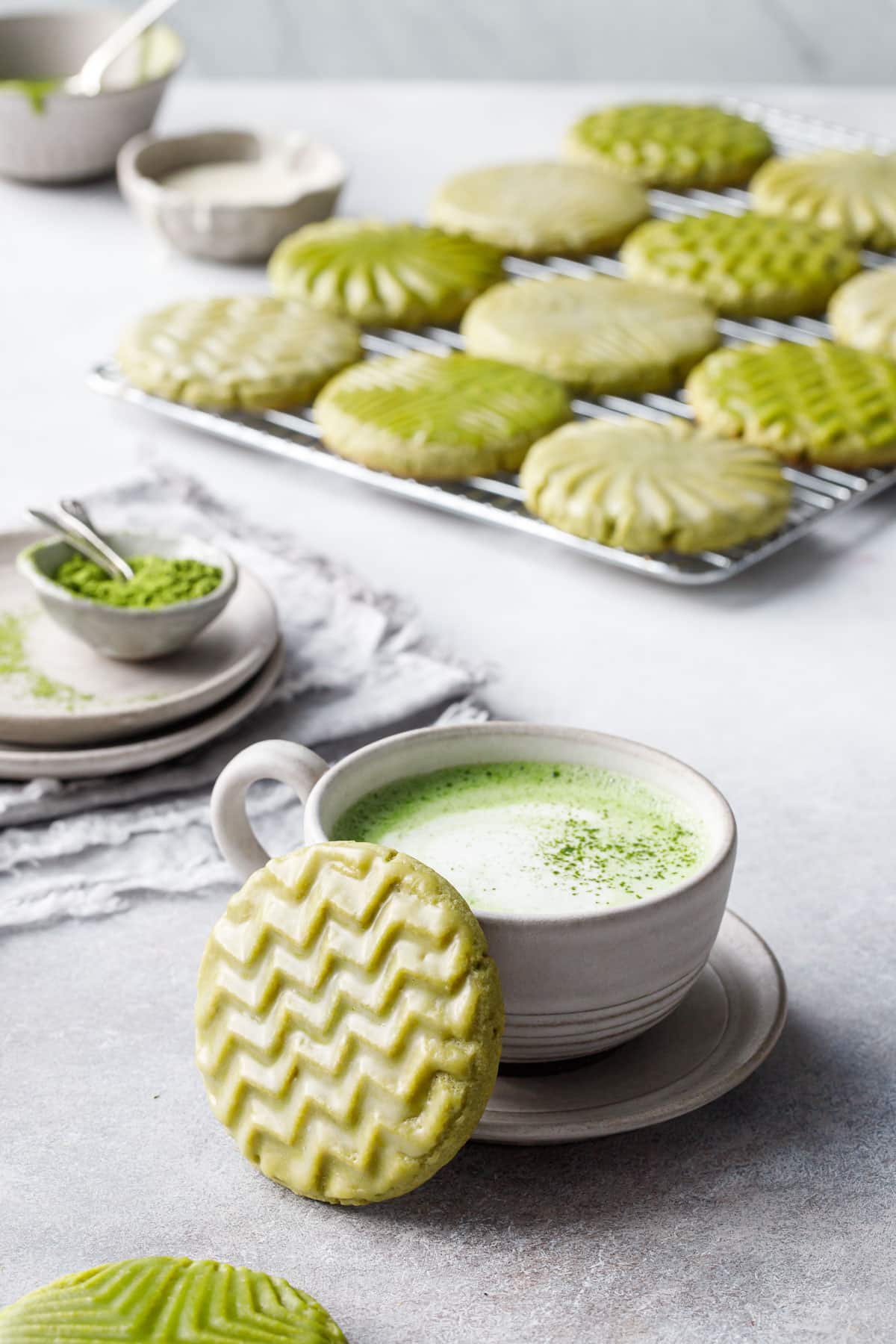 Storage & Freezing
While the cookies themselves stay reasonably soft for a few days, the glaze tends to crystalize or bloom a bit over time, especially if the cookies are refrigerated or frozen. Since the glaze is best when it's brushed on the warm cookie, that does make baking these ahead of time slightly tricky.
Instead, if you want to make the cookies ahead of time, I'd recommend rolling and stamping your cookies. Lay them out on a cookie sheet side by side (no need to space out), and place the whole sheet in the freezer. After a few hours, once they are solid, then transfer to a zip top bag or airtight container and store up to 1 month.
You can bake the cookies straight from frozen, just add 3-5 minutes to the overall bake time. Glaze them immediately when they come out of the oven and then let sit at room temperature until ready to serve.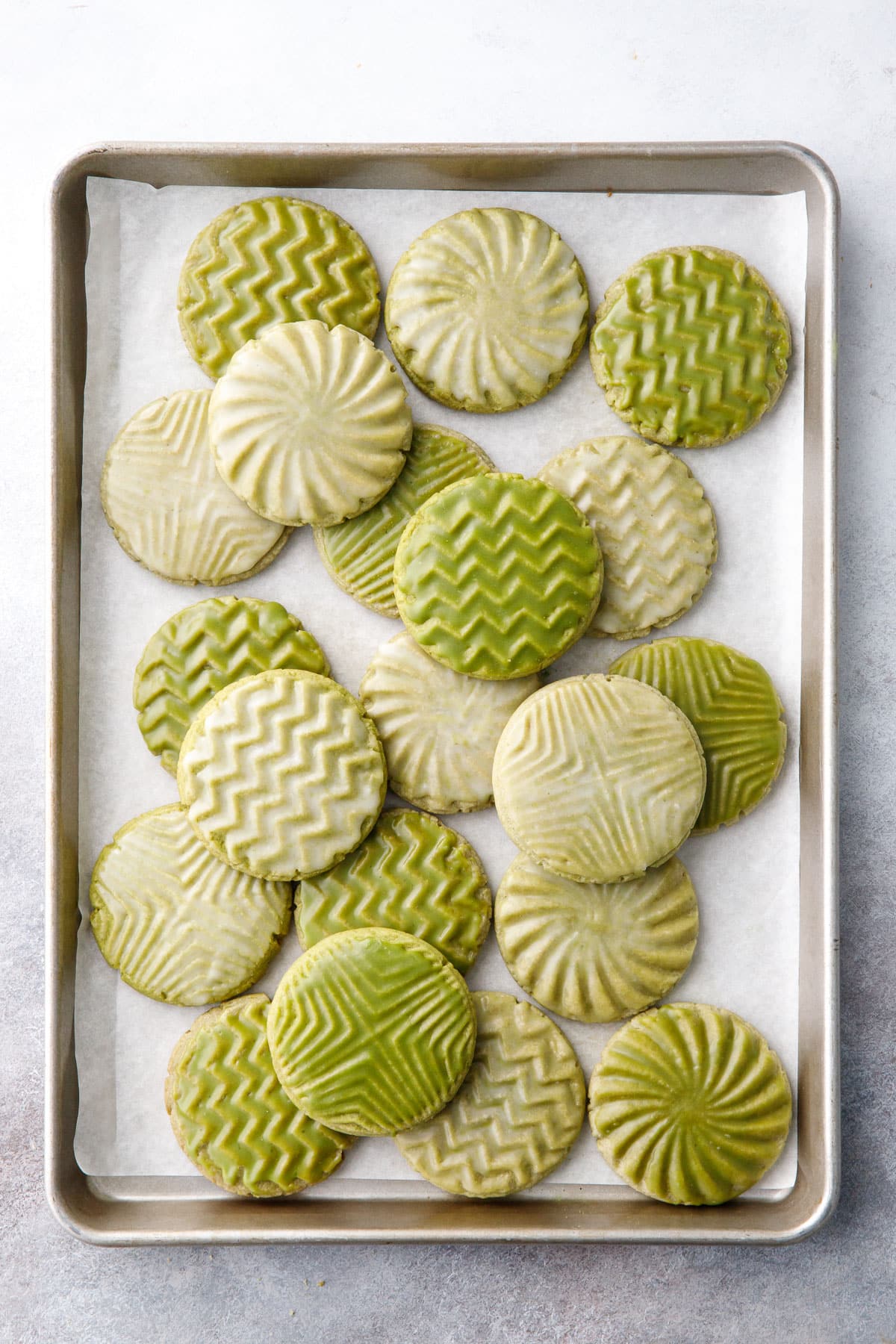 If you really really love matcha, you can add an extra teaspoon or two of matcha to the dough for a more intense flavor; I'd also recommend using the green matcha glaze for all of them since the matcha flavor comes through much more strongly in the glaze. Conversely, leaving out the matcha here is totally fine if you're not a fan (hi, Mom!), you'll just end up with gorgeous stamped sugar cookies instead (add some extra vanilla or even a bit of almond instead?)
*Don't forget, use code LOVEANDOLIVE for 20% off your first purchase at matcha.com. Be sure to follow Matcha.com on Instagram, TikTok, and YouTube as well!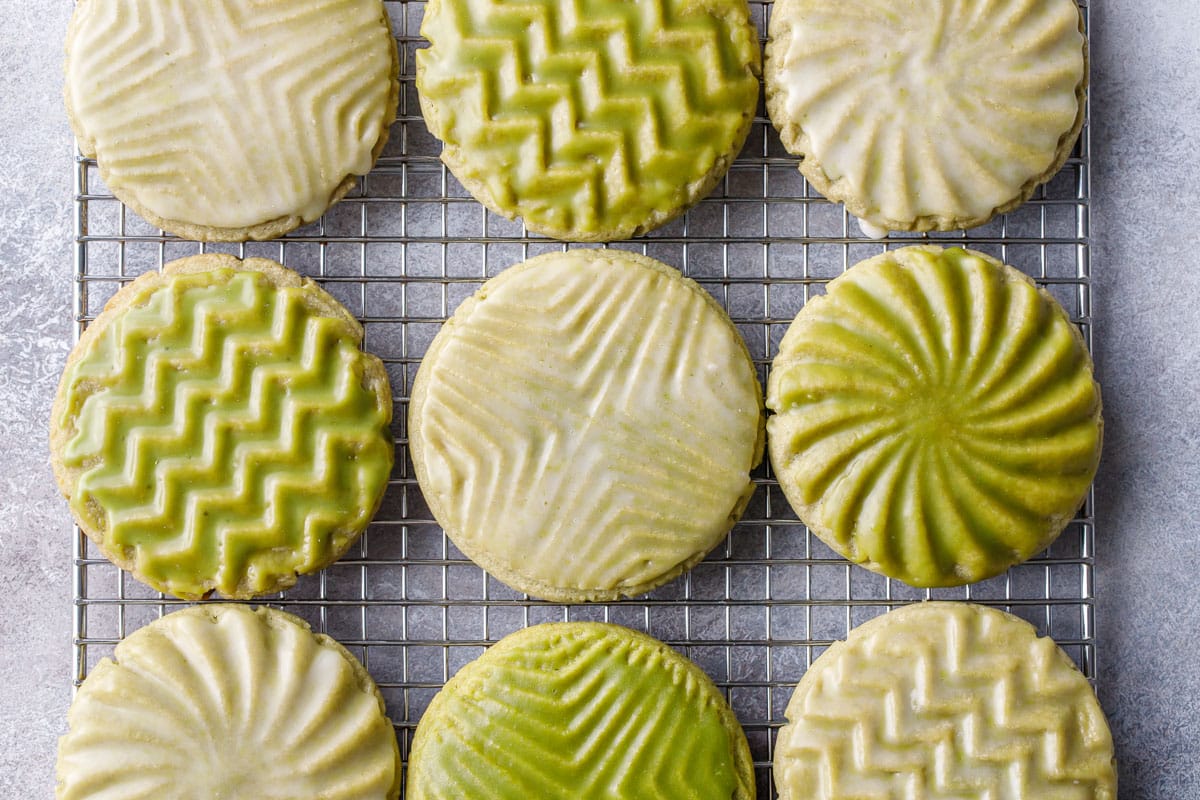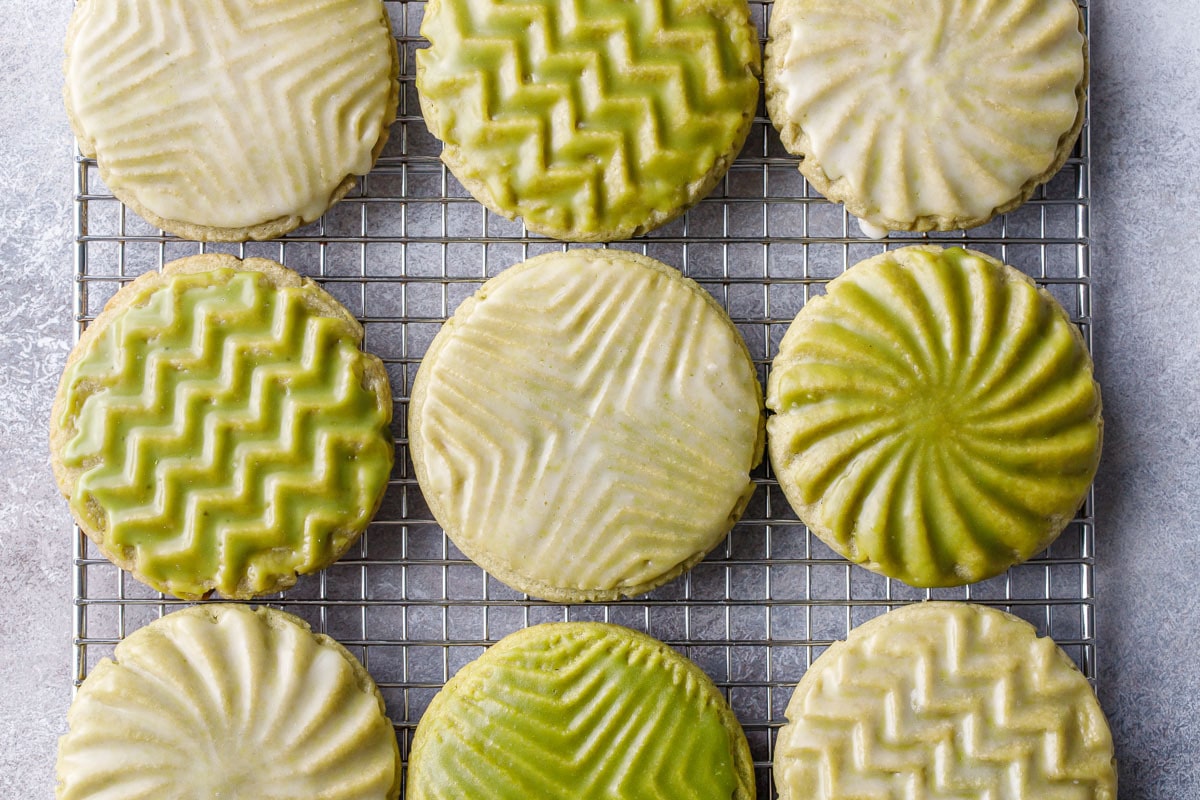 Glazed Matcha Sugar Cookies
These soft glazed sugar cookies are buttery and soft, with a mild matcha flavor and just a hint of salt, and brushed with the thin sugar glaze that is simply perfection.
Ingredients
2¾

cups

/

340

g

all-purpose flour

1

tablespoon

Chef's Choice Organic Culinary Matcha

1

tablespoon

/

8

g

cornstarch

1

teaspoon

baking powder

½

teaspoon

fine sea salt

1

cup

/

226

g

(2 sticks) unsalted butter

,

at cool room temperature

½

cup

/

100

g

granulated sugar

½

cup

/

105

g

packed light brown sugar

1

large egg

,

at room temperature

1

teaspoon

vanilla extract
For Glaze:
1

cup

/

120

g

powdered sugar

,

sifted

1

tablespoon

unsalted butter

1

tablespoon

milk or cream

,

plus 1-3 teaspoons more as needed

½

teaspoon

vanilla extract

½

teaspoon

matcha

,

optional if you want a green glaze

pinch

fine sea salt
Instructions
In a bowl, whisk together flour, matcha, cornstarch, baking powder, and salt until evenly incorporated.

In a large mixing bowl or the bowl of a stand mixer, beat butter and sugar until light and fluffy, about 2-3 minutes on medium-high speed. Add egg and mix until incorporated, then mix in vanilla.

Add dry ingredients, mixing on low speed until incorporated and dough comes together, scraping up any crumbly bits on the bottom. The dough should be fairly stiff, but not crumbly. If you need to knead the dough to bring it together you can do so (if you find it is still crumbly, you likely over-measured your flour, in which case add a teaspoon or two of milk to bring it together). Cover bowl or wrap ball of dough in plastic wrap and refrigerate at least 30 minutes or until firm enough to handle.

Preheat oven to 350 degrees F. Line a sheet pan (two if you have them) with parchment paper and set aside.

Use a large #20 cookie scoop to make balls of dough approximately 60g (about 3 tablespoons worth). Roll to a smooth ball between your palms, then place on parchment-lined cookie sheet, and press with your palm down to form a puck shape. Dunk your cookie stamp into flour and tap off excess. Place stamp on top of dough puck, then press firmly and evenly until the cookie spreads just to the edges of the stamp. Carefully peel stamped cookie dough off of stamp; if there is excess flour on the cookie you can use a pastry brush to brush it off. Repeat with more dough, leaving 2-3 inches of space between each cookie (I baked 8 cookies at a time on my half-sheet pans).

Bake for 15 to 20 minutes or until tops are no longer shiny and bottoms are just barely beginning to brown.

To make the glaze, melt butter with milk in a small saucepan over medium heat. Add sifted powdered sugar and whisk until smooth, then mix in vanilla. The glaze should be moderately thin, but not watery. You're looking for a smooth, brushable consistency.

Use a pastry brush to brush a thin layer of glaze onto tops of cookies while they are still warm. If you find your glaze is too thick or starts to crust over, just pop it back on the stovetop or in the microwave for 10 to 15 seconds, then stir until smooth once again. You can also add more milk if necessary to thin it out, but do it slowly, no more than 1/2 teaspoon at a time.

If you want two colors of glaze, I suggest making the white glaze, brushing the first pan of cookies, then add a bit of matcha to brush on the second pan when it comes out of the oven.

Transfer glazed cookies to a wire rack and let cool completely. Cookies will keep in an airtight container at room temperature for up to 3 days; refrigerating/freezing the cookies will keep them softer longer however the glaze will start to bloom and won't look as pretty.
All images and text ©
for Love & Olive Oil.
Did you make this recipe?
Let us know what you think! Leave a Review below or share a photo and tag me on Instagram with the hashtag #loveandoliveoil.
Disclosure: This post was created in partnership with Matcha.com. As always, all opinions written are purely our own. We're incredibly grateful for opportunities like these that allow us to continue sharing delicious recipes with you, so thank you for supporting us and the brands we love.