These chewy hazelnut amaretti cookies have a hidden surprise inside: a core of molten Nutella.
Swapping hazelnut flour for almond flour in my soft amaretti cookie recipe results in a chewy, nutty cookie that's downright delightful and naturally gluten free. The nugget of molten hazelnut spread in the middle makes it over the top delicious!
I've thoroughly explored the options for flavored amaretti, from chocolate to raspberry to colorful confetti sprinkles, but this is the first time I've attempted stuffing them.
I'd actually tested a hazelnut amaretti some time ago, but shelved the idea, planning to revisit it during the holidays. And in an attempt to do something a bit different with it instead of just swapping out the nut flour (otherwise this recipe is virtually identical to all my other amaretti), I decided to combine my love of amaretti with my obsession with stuffing stuff inside cookies.
The result?
Simply magical.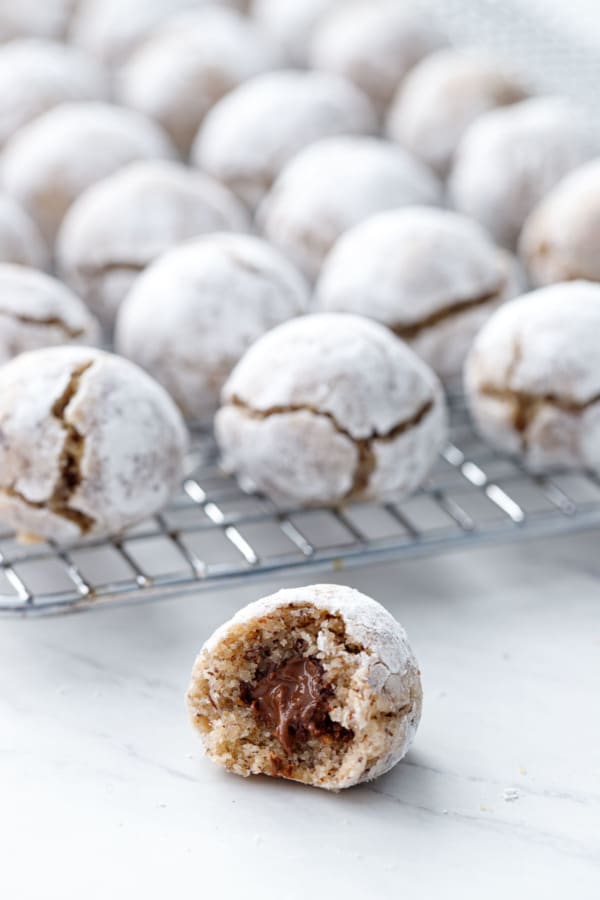 The hazelnut flour has a much stronger flavor than almond, nutty and toasty and robust, with just a hint of almond serving as a fragrant foundation that rounds out the flavor profile quite nicely.
The texture is similar to that of the almond amaretti, although depending on the coarseness of your hazelnut flour you may end up with a softer, more open crumb which I found quite lovely.
The bottoms bake up slightly crispy (be sure to use a double layer of cookie sheets which helps insulate the bottoms and prevents them from getting too dark), with a chewy outside and a marzipan-like inside, and a core of molten Nutella hidden inside.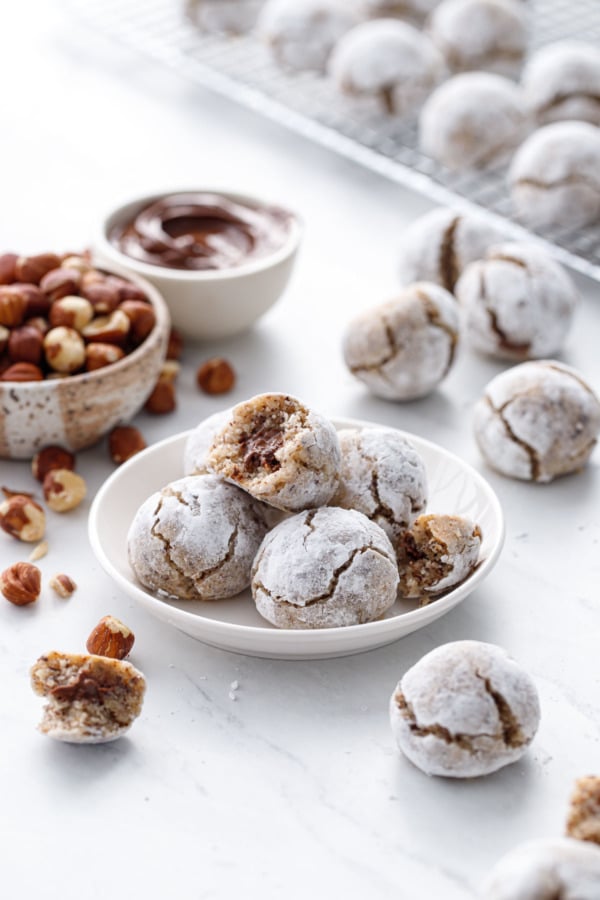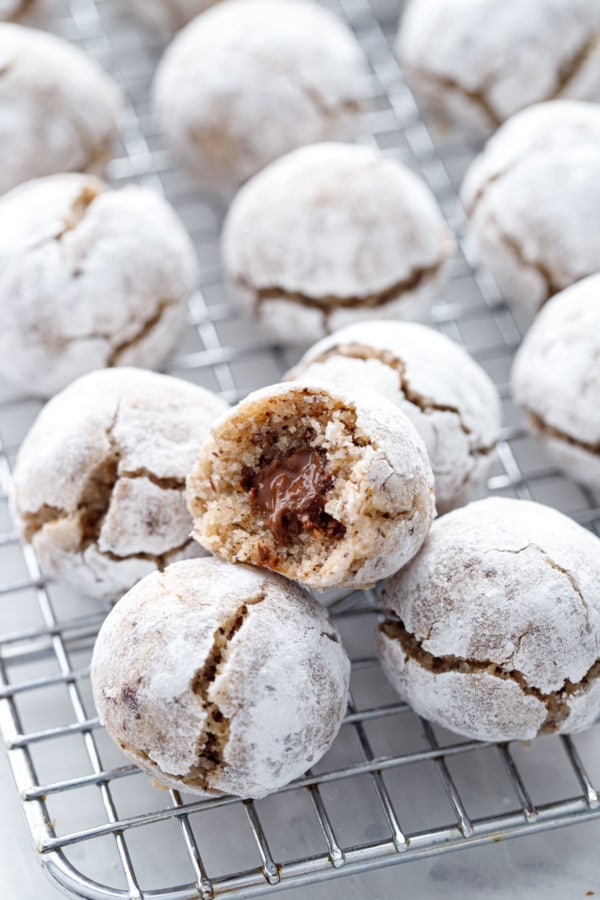 The process of getting the Nutella inside the cookies is actually quite similar to my other stuffed cookie recipes, splitting the ball of dough in half and pressing the filling in the center, then shaping and sealing the dough around it.




Before you make your cookies, you need to first freeze balls of Nutella until firm, at least 30 minutes or longer if possible. You can drop small spoonfuls on a parchment-lined baking sheet (about 1/2 teaspoon each), but I found it easier to pipe dollops with a piping bag or a plastic bag with the corner cut.
Even thoroughly frozen, the Nutella will thaw rather quickly, and once it's softened it's virtually impossible to stuff inside the sticky cookie dough, so you'll need to work quickly. I find it helpful to stuff in small batches (put the Nutella back in the freezer if it starts to get too soft). Assuming I had the dough scooped and split and ready to go, I found I could reasonably do about 8 cookies at once before the Nutella started to go soft on me.
A note about hazelnut flour: the flour I used (from nuts.com) was quite coarse, with some larger pieces of nut and bits of skin mixed in. This will likely vary quite a bit from brand to brand.
I tested versions of this cookie with the coarse flour straight out of the bag as well as a version with sifted flour (sifting removes most of the larger bits resulting in a finer texture and lighter color). I also tested mixing part hazelnut with part almond flour (since hazelnut flour isn't cheap you can use some almond flour—up to 50%—to make it go a bit further without sacrificing flavor).
The coarser flour works well as is, but does produce a slightly looser, more open texture than the original almond amaretti. It's also a bit crumblier in dough form, but still sticky enough you should be able to shape it just fine. Just keep this in mind if you're used to the firmer, denser texture of the almond-flour based dough.
In the end I used all hazelnut flour, and sifted about half of it, which gave me a nice balance and texture.
The cookies can certainly be made without the Nutella filling, but let me just reiterate what a wonderful surprise that molten pocket of creamy milk chocolate and hazelnut.
You could also stuff these with chocolate kisses (does Hershey's even make a Nutella flavor?), or even whole hazelnuts like a Ferrero Rocher.
Stuffed Hazelnut Amaretti Cookies
Chewy hazelnut amaretti cookies with a chocolatey Nutella filling for a satisfying cookie that's naturally gluten free!
Ingredients:
5 tablespoons (90g) Nutella
2 1/4 cups (200g) hazelnut flour or very finely ground hazelnuts, sifted*
scant 1 cup (180g) granulated sugar
pinch salt
2 large egg whites (about 65 grams)
1/4 teaspoon lemon juice
1/4 teaspoon almond extract (optional)
confectioners' sugar, as needed
Directions:
Line a baking sheet or plate with parchment paper. Drop dollops of Nutella onto parchment, approximately 1/2 teaspoon worth each (you can also use a piping bag or a plastic bag with the corner cut). Freeze for at least 30 minutes or until firm.
Preheat oven to 300 degrees F. Stack two matching, heavyweight, light to medium colored cookie sheets one inside the other (stacking two cookie sheets together keeps the bottoms of the cookies from getting too brown). Line with parchment paper.
In a large bowl, whisk together hazelnut flour, sugar and salt until evenly incorporated.
In a mixing bowl or the bowl of a stand mixer fitted with the whisk attachment, whisk egg whites and lemon juice until they hold soft peaks.
Add beaten egg whites and almond extract to dry ingredients and stir until mixture forms a soft, sticky dough, kneading with your hands if necessary. No need to be gentle here, we're not making macarons. ;)
Lightly dust your hands with powdered sugar. Use a small cookie scoop to portion dough into 1-inch balls. Split each ball in half, and flatten one piece somewhat on your palm. Place one frozen dollop of Nutella on top of flattened piece, then top with remaining half of dough, forming it over and around the Nutella and sealing up the sides.
Roll into a smooth ball, then roll in powdered sugar. Arrange on parchment or silicon-lined baking sheets, leaving 1 inch of space between cookies. Repeat with remaining dough. If Nutella starts to soften, place the baking sheet back in the freezer for 5 or 10 minutes to firm it back up again.
Bake for 30 to 35 minutes until tops are cracked and bottoms are just barely golden (if you are NOT using doubled cookie sheets your cookies will brown much quicker, and will likely only need 25 minutes, so watch them closely). If you prefer crunchier cookies you can give them an extra 5 minutes or so or until the tops begin to brown too. Remove from oven; let cool a few minutes, then transfer to wire racks to cool completely.
Cookies will keep at room temperature in an airtight bag or container, for up to 5 days.
*Hazelnut flour can be quite coarse, which will result in a slightly crumblier cookie dough that's a bit harder to shape. Sifting the flour will give you a finer texture, however you will need more flour to produce the same yield (make sure the final weight is 200g after sifting). I opted for a mix, using about half sifted and half unsifted flour. You can also substitute up to 50% of the flour with almond flour without affecting the hazelnut flavor too much.
Did you make this recipe?
Let us know what you think!
Leave a Comment below or share a photo and tag me on Instagram with the hashtag #loveandoliveoil.