These soft and chewy, marzipan-like cookies are stuffed with luscious amarena cherries for a sweet surprise.
Cherry and almond are a truly lovely flavor combination, which makes the dark amarena cherries the perfect filling for these soft Italian amaretti cookies.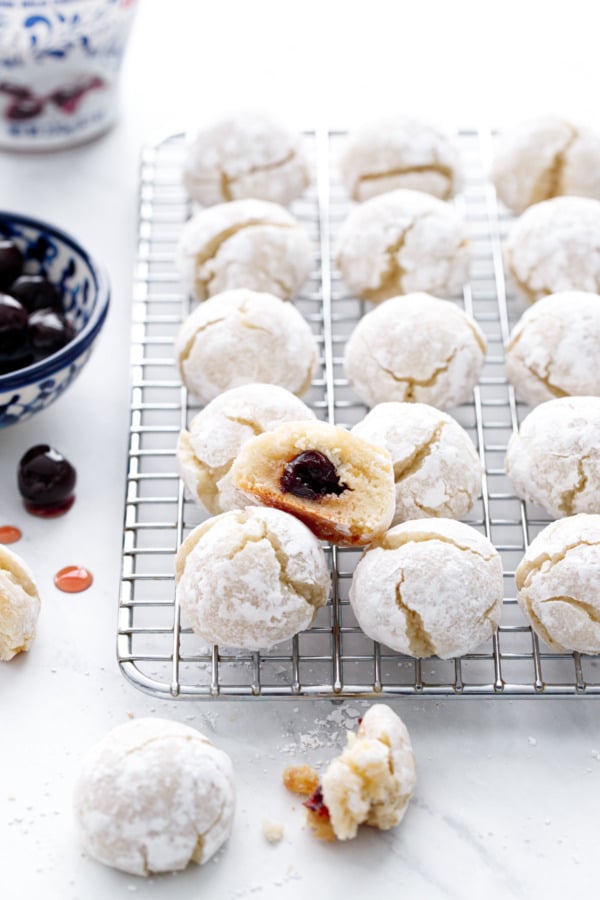 Lately I've been… well, languishing. As you may very well have noticed by the fact that new recipes have been less than abundant around these parts. (Can you believe there was a time I used to post 3 times a week? The past few years I thought I was easing up by doing two. But lately… well, if I can manage one a week that's an achievement. 2 or 3 a month is becoming the new normal.)
It's not that I am not inspired. I've actually got dozens of ideas for new recipes in my draft calendar, just no actual motivation to put down my latest book and make anything.
After yet another recipe failure quashed my momentum and vanquished my motivation, leaving me without anything to post for another week… I knew I needed something quick and straightforward that would work on the first try, one that didn't need hours of prep or planning or fancy ingredients.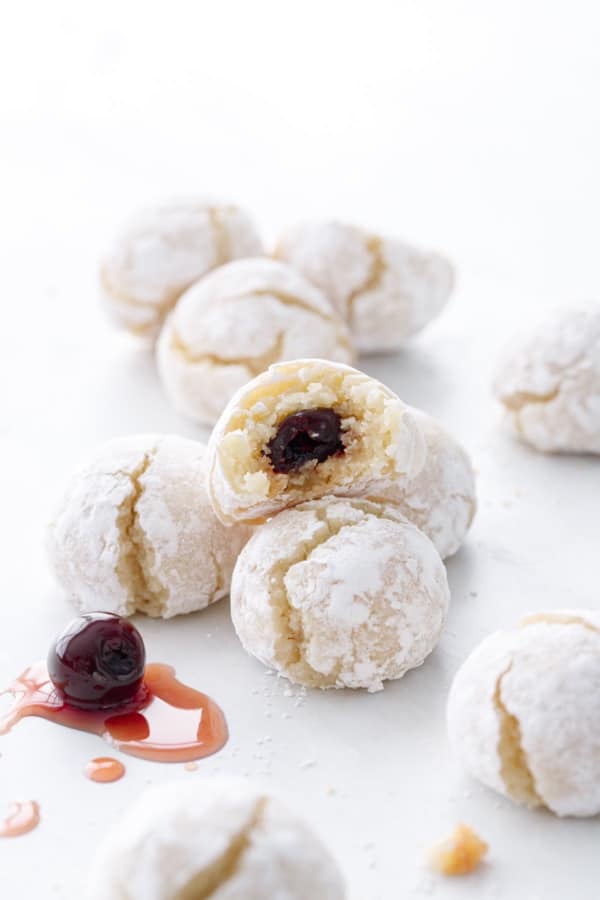 Is it a surprise that I ended up making another variety of my favorite cookie: the amaretti (they're also one of your favorites too, made clear by the fact that at least a few of the flavors typically hovering the top 10 at any given time). This time with a cherry stuffed inside.
Tell me though… at what point am I legally required to rename this blog Love & Amaretti? When the amaretti recipes outnumber the olive oil ones? Because at this point I've done flavored and swirled and stuffed. What's next, amaretti sandwiched or thumbprinted or super-sized and layered into a cake? (Actually, I kind of love that idea.)
If keeping up with a regular posting schedule means unlimited variations of amaretti and coffee cake in lieu of brand new recipes, I'm cool with that. Whatever it takes to get me out of this funk and back into the swing of things.
Cherry and almond go together like chocolate and peanut butter or peanut butter and jelly. It's a flavor combination I've used before and can't seem to get enough of. So it seemed like an obvious choice for a new amaretti flavor variation. It even sounds like it belongs: amarena amaretti.
Did you know… almonds are actually fruits that are botanically related to other stone fruits, including peaches, apricots, and, more distantly, cherries. This relationship is likely why the two flavors go so well together!
The cookies themselves, like the classic amaretti morbidi (or soft amaretti cookies), are soft on the inside and chewy on the outside, with a pleasant coating of powdered sugar and a crackled exterior.
I've noticed with other stuffed cookies that the stuffing actually serves to keep the cookies fresh and soft for a longer period of time, and that's certainly the case here: the juicy cherries work in much the same way as those little brown sugar bears that you soak and use to keep your brown sugar soft, infusing the cookie with moisture from within.
What are Amarena cherries?
Amarena cherries are an Italian variety of black sour cherry, rich in flavor and dark in color (compared to the US-grown sour cherries which are bright red).
The Amarena variety was developed by Gennaro Fabbri in the early 1900s in Bologna, Italy. He and his wife started preserving the dark, bitter cherries in a sugar syrup and selling them in blue and white painted ceramic jars.
You can still buy Fabbri brand amarena cherries today, which is what I used here. You may have heard of Luxardo cherries, true maraschino cherries that are preserved with both sugar and maraschino liqueur (not to be confused with the bright red, dye and corn-syrup filled maraschino cherries you find on your ice cream sundaes.) Luxardo is probably the easiest to come by these days, at least in the US where they're popularity has skyrocketed in the recent years, but they're not exactly cheap. Technically you could stuff these cookies with the bright red maraschino cherries as well, though the taste is more artificially sweet and not as intensely cherry, they're certainly more affordable than the pricier imports.
Other brands to look for include Toschii and even Trader Joe's has their own Amarena cherries that are very reasonably priced, though I thought they tasted too much like cherry Tylenol for my liking. A number of small craft makers have also started selling preserved cherries, both amarena and maraschino, to serve as cocktail garnishes, which you could use here as well.








Stuffing cookies is a technique I've demonstrated numerous times before. Amaretti dough can be on the sticky side, so I recommend dusting your hands and fingers liberally with powdered sugar as often as needed.
Split each ball of dough in half, flatten slightly, place a cherry in the middle, then top with the other half, forming the dough into a smooth, sealed ball around the filling. Then roll in powdered sugar and arrange on baking sheets.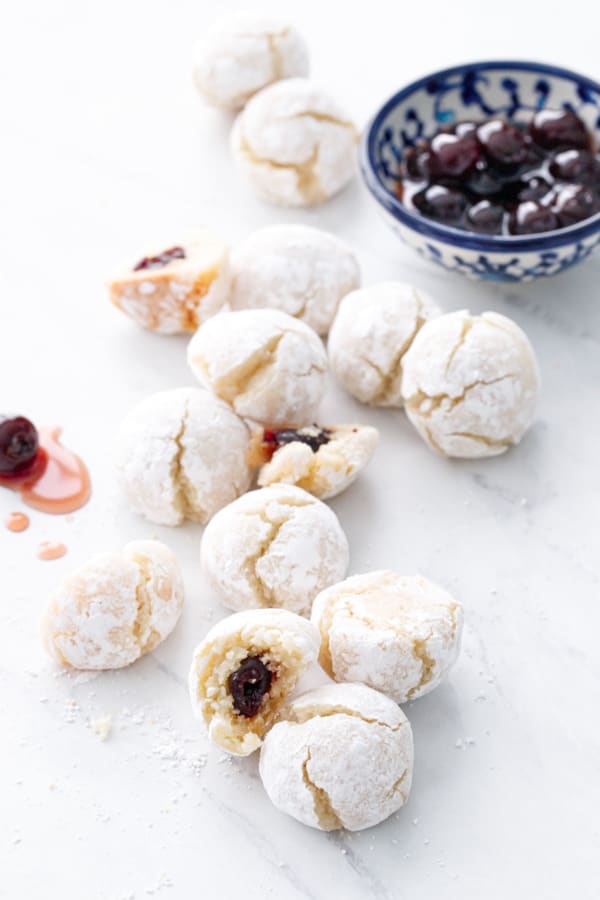 For these cookies I also added 1 teaspoon of Luxardo maraschino liqueur, which gives the cookies a subtly fragrant and boozy undertone that goes so well with the cherries. Just a little something different (otherwise the recipe is almost identical to the original amaretti morbidi, or soft amaretti cookie recipe).
In lieu of Luxardo you could also use Amaretto or even a cherry liqueur like Kirsch. Or leave it out altogether (it won't affect the final cookie in the least).
There is definitely some variance in the appearance of amaretti cookies, no matter the flavor. Sometimes they spread and crack more, other times they might barely crack at all.
While I've made dozens upon dozens of batches of amaretti, factors you think would affect the appearance, like the amount of egg white or the temperature of the dough, really don't have much effect at all.
Rather, the moisture content of the almond flour seems to be the biggest factor. Using fresh, finely ground blanched almond flour will give you the best result here. Dried out almond flour will likely result in a firmer, tougher cookie with fewer distinct cracks. While coarser almond flour (if you try to grind it yourself in a food processor, for instance, it'll never get as fine as store-bought) will usually make the cookies spread more.
I also recommend using conventional powdered sugar here, which is made with cornstarch and doesn't absorb as much into the dough. Organic powdered sugar, which I prefer for unbaked recipes like fudge and buttercream, uses tapioca starch, and has a tendency to disappear much faster (so your cookies won't have the pretty white coating).
Luckily, appearance aside, these cookies are quite delicious no matter what they look like!
Amarena Cherry Amaretti
Chewy Italian almond cookies stuffed with luscious amarena cherries for a satisfying stuffed cookie that's naturally gluten free!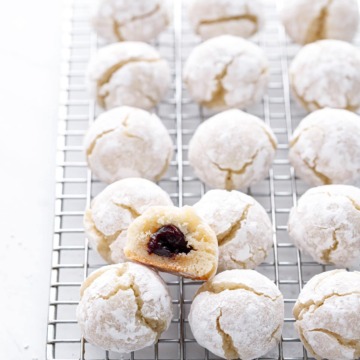 Ingredients:
2 1/4 cups (200g) almond flour or very finely ground almonds, sifted
scant 1 cup (175g) granulated sugar
pinch salt
2 large egg whites (about 65 grams)
1/4 teaspoon lemon juice
1 teaspoon Luxardo maraschino liqueur (optional, you can also use cherry liqueur or amaretto)
1/4 teaspoon almond extract (optional)
24-26 amarena or Luxardo cherries
confectioners' sugar, as needed
Directions:
Preheat oven to 300 degrees F. Stack two matching, heavyweight, light to medium colored cookie sheets one inside the other (stacking two cookie sheets together keeps the bottoms of the cookies from getting too brown). Line with parchment paper.
In a large bowl, whisk together almond flour, sugar and salt until evenly incorporated.
In a mixing bowl or the bowl of a stand mixer fitted with the whisk attachment, whisk egg whites and lemon juice until they hold soft peaks.
Add beaten egg whites, luxardo liqueur, and almond extract to dry ingredients and stir until mixture forms a soft, sticky dough, kneading with your hands if necessary. No need to be gentle here, we're not making macarons. ;)
Lightly dust your hands with powdered sugar. Use a small cookie scoop to portion dough into 1-inch balls. Split each ball in half, and flatten one piece somewhat on your palm. Place one cherry on top of flattened piece, then top with remaining half of dough, forming it over and around the cherry and sealing up the sides.
Roll into a smooth ball, then roll in powdered sugar. Arrange on parchment or silicon-lined baking sheets, leaving 1 inch of space between cookies. Repeat with remaining dough.
Bake for 30 to 35 minutes until tops are cracked and bottoms are just barely golden (if you are NOT using doubled cookie sheets your cookies will brown much quicker, and will likely only need 25 minutes, so watch them closely). If you prefer crunchier cookies you can give them an extra 5 minutes or so or until the tops begin to brown too. Remove from oven; let cool a few minutes, then transfer to wire racks to cool completely.
Cookies will keep at room temperature in an airtight bag or container, for up to 5 days.
Did you make this recipe?
Let us know what you think!
Leave a Comment below or share a photo and tag me on Instagram with the hashtag #loveandoliveoil.