Gingerbread, gingerbread, ginger all the way…
Oh what fun, it is to make, some gingerbread treats today (hey!)
That's how it goes, right? I thought so.
Tell me, at what point do you admit you have a problem?
Following in the footsteps of gingerbread thumbprints, gingerbread granola, and gingerbread slab pie (not to mention the gingerbread brownies, gingerbread caramels, and gingerbread ice cream floats from previous years), I thought to myself, what else can I gingerbread? (Because, yes, I've officially made 'to gingerbread' a verb.)
The answer to that question appears to be rice krispie treats.
Now, I needed a neutral 3rd party that would give me an honest answer (because my typical sounding-board aka husband is a gingerbread grinch). So I asked some friends if this idea sounded totally nuts… to which they replied, "I'd eat it." That was permission enough to proceed with my crazy idea.
And you know what?
It turned out pretty freaking awesome.
Imagine this: soft and gooey rice krispie treats, perfectly chewy and studded with extra marshmallows, with subtle notes of molasses and not-so-subtle gingerbread spices (these treats ain't shy, by any means). It's a festive dessert mashup that works surprisingly well (and doesn't taste unlike cinnamon toast crunch, oddly enough).
Also, aren't these sprinkles just fabulous? They are from Sweetapolita (use code LOVEANDOLIVEOIL15 to get 15% off your order!) Someone please take away my wallet before I order a bottle of each and every medley she offers. GIVE ME ALL THE SPRINKLES!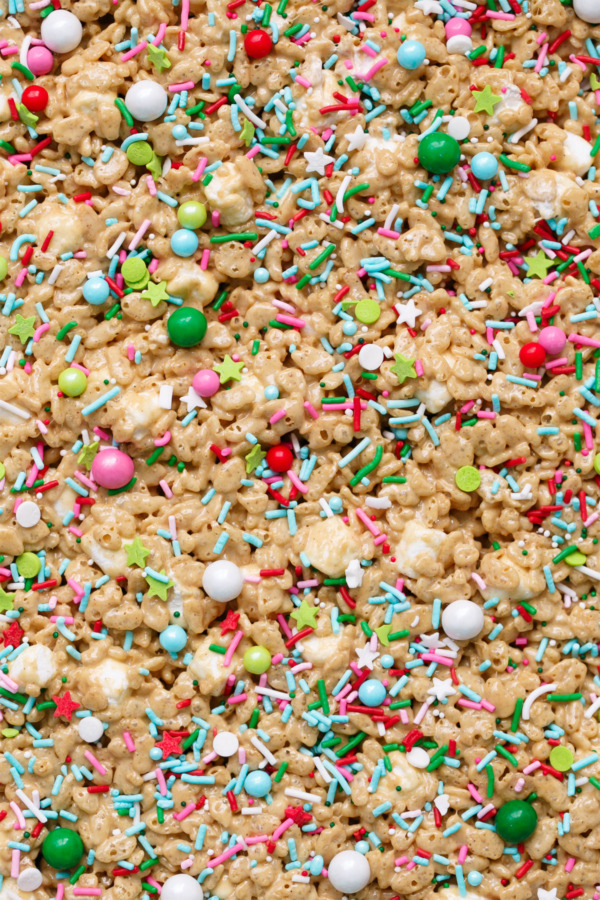 I made a big pan of these treats for a neighbor's Christmas party this past weekend, and gingerbread wasn't the only festive flavor I krispie-tized. I'll give you a hint: Taylor liked this other flavor way more than the gingerbread.
Any ideas? Luckily you won't have to wait long. Stay tuned for the recipe coming tomorrow!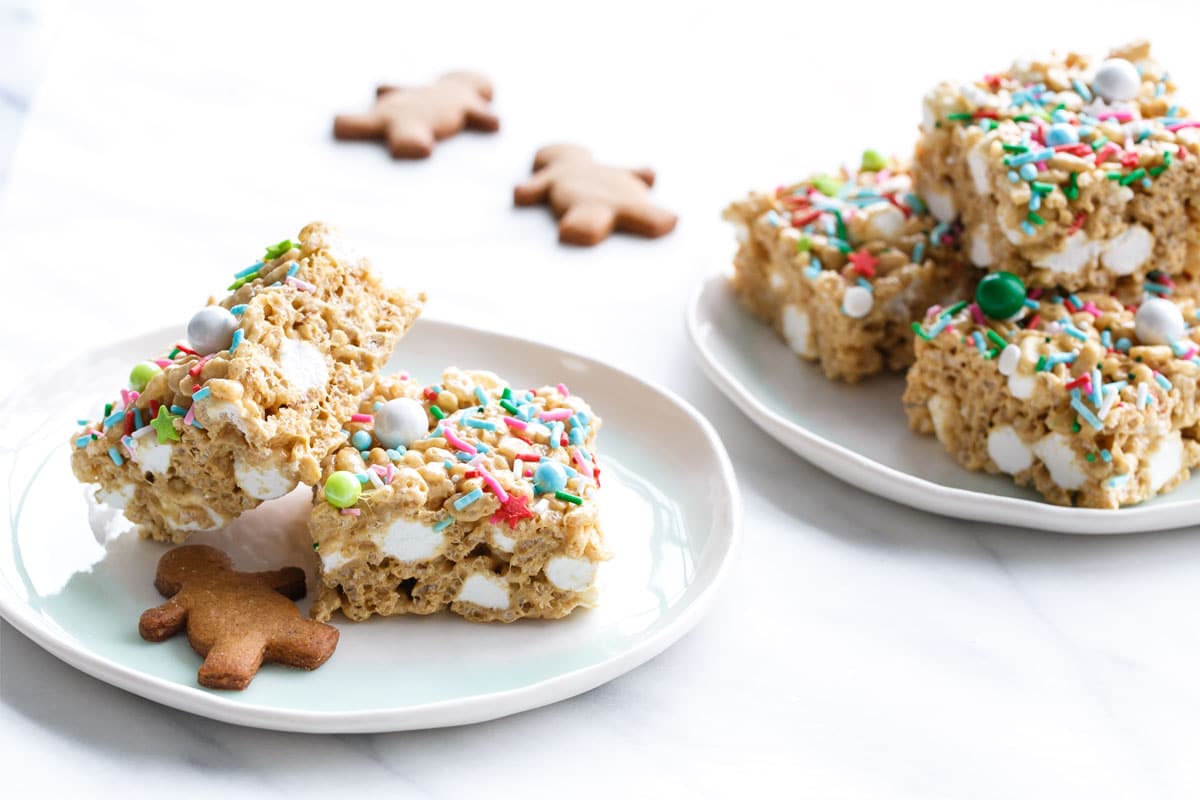 Gingerbread Rice Krispie Treats
Soft and gooey rice krispie treats flavored with molasses and spices: tastes just like gingerbread!
Ingredients:
4 tablespoons unsalted butter
2 tablespoons mild molasses
1/2 teaspoon fine sea salt
1 teaspoon ground ginger
1/2 teaspoon ground cinnamon
1/4 teaspoon ground allspice
1/8 teaspoon ground nutmeg
8 cups (16 oz) mini marshmallows, divided
7 cups rice krispies cereal
Directions:
Lightly butter the bottom and sides of a 13-by-9-inch square baking pan (halve this recipe for an 8-by-8-inch pan). Line bottom and long sides with a strip of aluminum foil; lightly butter foil.
In a large saucepan, melt butter and molasses over medium-high heat. Stir in salt and spices. Add 6 cups of mini marshmallows and stir until melted and smooth. Remove from heat, then fold in rice krispies until evenly coated (be somewhat gentle with them so they don't crush). Fold in remaining 2 cups marshmallows.
Spread into prepared pan, pressing into an even layer. If it helps, lightly butter your hands or the spatula and use that to press the mixture into the pan without sticking. If you want to top the bars with sprinkles, do so while they are still slightly warm and sticky.
Let cool completely before slicing into bars.
Did you make this recipe?
Let us know what you think!
Leave a Comment below or share a photo and tag me on Instagram with the hashtag #loveandoliveoil.