The perfect way to use tender spring kohlrabi, this traditional Hungarian dish features bulbs of kohlrabi stuffed with a flavorful pork and rice filling, and served alongside a kohlrabi soup made with the leftover scraps and greens.
Kohlrabi may look like an alien creature, but if you've never had it before, you're in for a treat! It has a taste and texture similar to broccoli stems, but sweeter and not quite as odorous.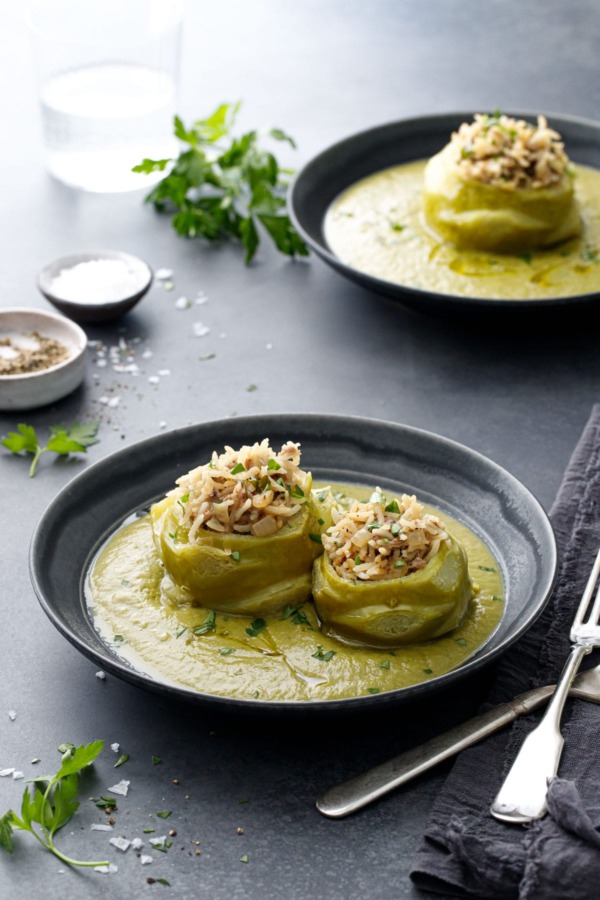 This is our second year as Caney Fork Farms CSA members, which, unlike other CSAs we've been a part of over the years, offers a year round produce box. The fact that we can still get fresh produce in the dead of winter still astonishes this raised-in-Colorado girl.
Last winter, one of the most exciting items in our box was an alien-looking brassica called Kohlrabi. It was something I had never eaten, let alone cooked, and I really had no clue what to do with it. So, hoping for both inspiration and education, I asked my followers on Instagram for recipe ideas. And boy did you deliver!
Many suggested soup, also popular were slaws or salads (the crunchy bulb being not unlike the thick stalks of broccoli in terms of texture and flavor, so this makes sense.)
But one recipe stood out. Piszke, a generous follower from Hungary, sent over a recipe for a traditional Hungarian stuffed kohlrabi with a ground pork and rice filling, then served over a kohlrabi green and sour cream puree.
Stuffed kohlrabi is a very traditional Hungarian dish, but there's no one single way to make it. Much like Italians and their marinara, every family will have their own different version of it, with different meats (some feature beef instead of pork, or a mix of the two) as well as many different stuffings, seasonings, and accompaniments.
But this one is particularly unique in that it uses the entire vegetable, greens and all. It makes its own side dish, essentially, by pureeing the greens and leftover pulp from the hollowed-out bulbs into a gorgeously green, flavorful soup. Brilliant, right? That'd be like a cake recipe that made its own frosting or something.
We've made this recipe a few times in the past year, pretty much every time we found kohlrabi in our CSA box, and liked it so much we wanted to share it with you too.
We found that simply steaming the rice inside the kohlrabi wasn't quite enough to cook it through, leading to semi-crunchy rice that wasn't exactly tasty. We ultimately adapted Piszke's recipe slightly to partially pre-cook the rice with a bit of broth, risotto-style, but this is really the only major change we made to her recipe. A few extra minutes on the stove, and a cup of additional liquid beforehand, gave the rice just enough of a head start so it is fully cooked when the kohlrabi bulbs are perfectly tender.
Depending on the size of your kohlrabi (and how much they've been hollowed out) you may need to adjust the cook time. We used 4 smallish-medium kohlrabis (think tennis ball sized), and they were done after about 35 to 40 minutes. Larger ones may take up to an hour.
You'll know it's done when the kohlbrabi is easily pierced by a fork, and in instant-read thermometer stuck into the center of the largest bulb reads 165 degrees F.
What is Kohlrabi?
Kohlrabi may look like an alien creature, but if you've never had it before, you're in for a treat! I'd describe the taste and texture of kohlrabi as similar to broccoli stems, but slightly sweeter and not quite as odoriferous.
Popular in Northern and Eastern Europe, Kohlrabi is sometimes called a German turnip, although it's actually a member of the brassica family (aka broccoli, cabbage, and brussels sprouts). There are both green and purple versions, and either can be used for this recipe (the purple ones don't actually stay purple when cooked, unfortunately; the final color of this dish will be a muddier green-brown).
While it may look like a root vegetable, the bulb actually grows on top of the soil surface. Both the bulb and the greens are edible, and can be eaten raw or cooked in a number of ways.
Younger spring kohlrabi are preferable for this recipe, as they have a more mild, sweeter flavor, compared to older, larger versions, which, while great and hearty for storing over a long winter, tend to skew slightly more towards bitter.


Preparing Kohlrabi
To prepare kohlrabi, you'll first need to cut off the stems and greens. Coarsely chop these scraps and set them aside: the greens, along with whatever you scrape out of the inside, will become the 'soup' part that gets cooked alongside the stuffed kohlrabi.
If your kohlrabi is larger/older, you may want to peel it or at least trim off any bits of thick or fibrous skin. But for younger vegetables this step isn't really necessary.
Then, cut off a bit of the base so the bulb sits flat on your cutting surface, as well as about 1/3 of the top too.
The best tool for hollowing out bulbs of kohlrabi? A melon baller, funnily enough (it's now called the kohlrabi baller in our house since I can't remember the last time I actually used it for melon).
Use the melon baller to scoop and scrape out the insides, leaving about 1/2-thick wall and a slightly thicker base (the closer you get to the bottom, scoop carefully as it's rather easy to go right through the bottom). Reserve all the bits you scrape out from the inside to cook with the greens.
If you can only find kohlrabi without greens, I think you could use another mild green like spinach or kale here too, just be sure it's not too bitter or the soup will be unpleasantly bitter too. You'll need about 3 to 4 loosely packed cups of greens.
If you have leftover soup, it can be reheated and served on its own too, and is lovely with a slice of warm crusty bread, a drizzle of olive oil, and/or a dollop of fresh sour cream.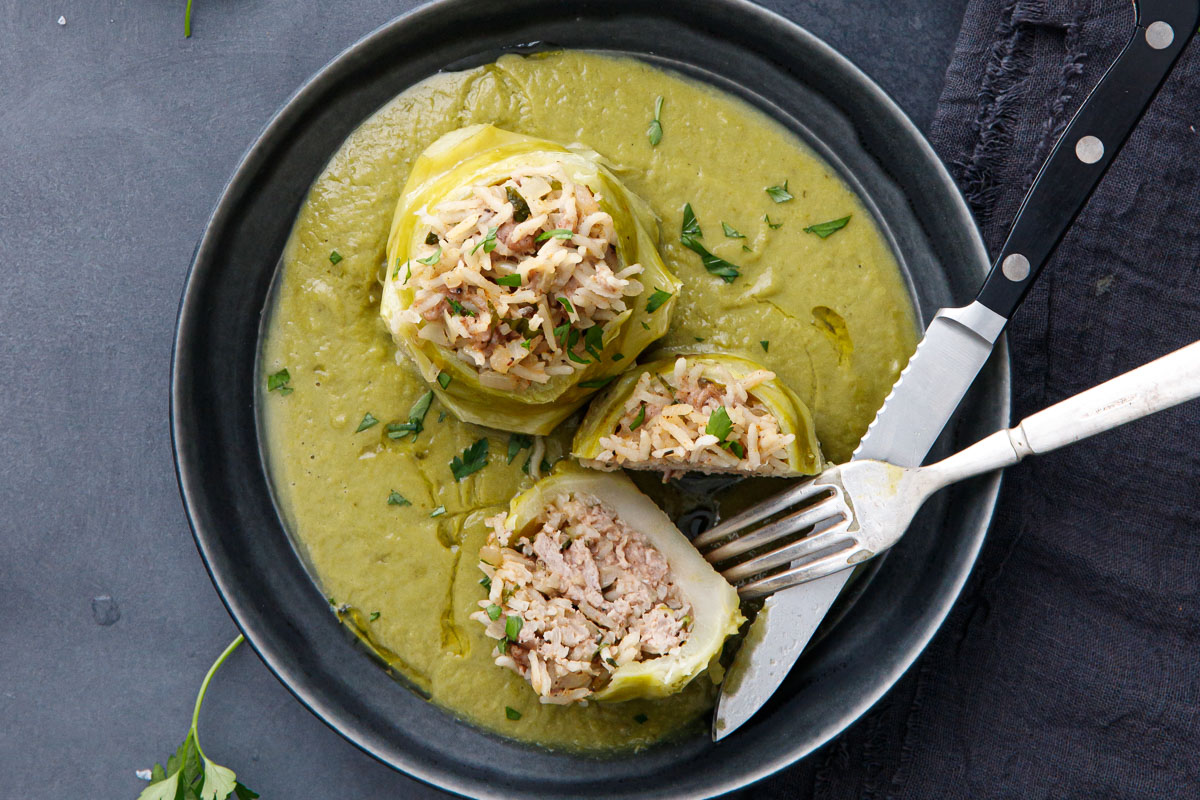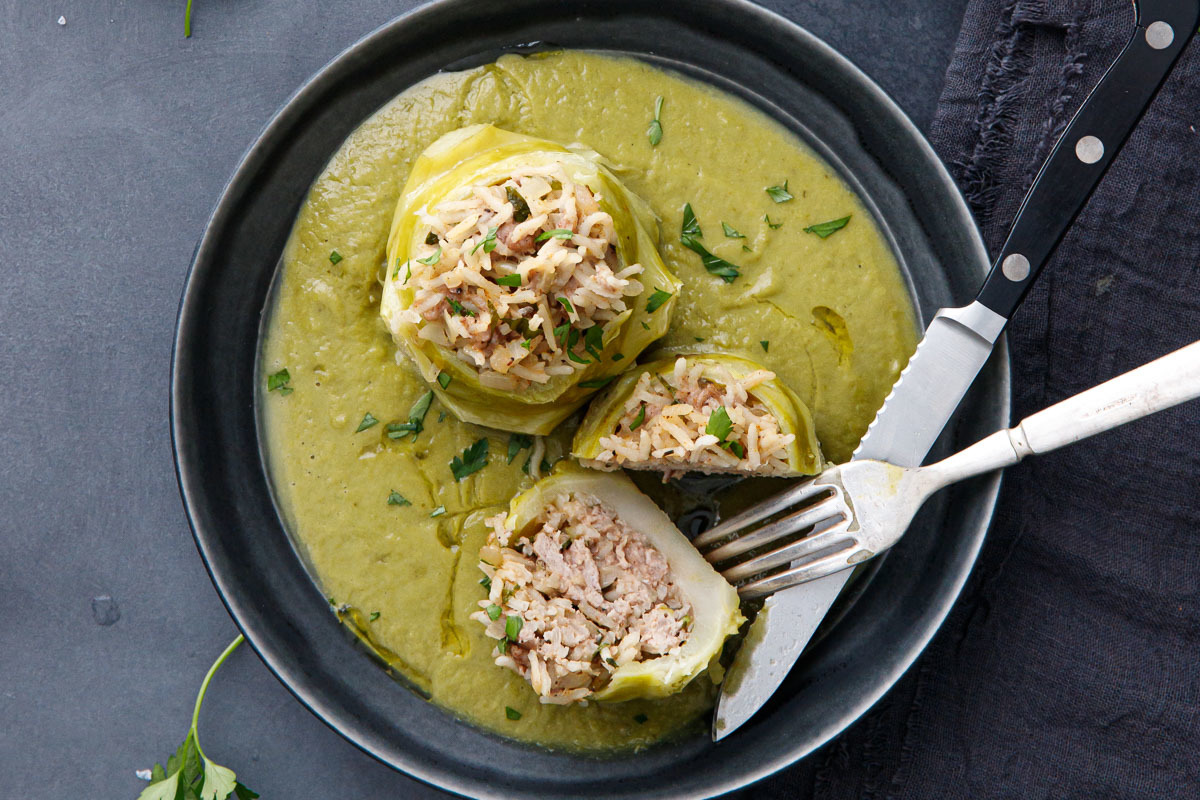 Hungarian Stuffed Kohlrabi
This traditional Hungarian dish features tender bulbs of kohlrabi stuffed with a flavorful pork and rice filling, and served alongside a kohlrabi soup made with the leftover scraps and greens.
Ingredients
4

medium kohlrabi

,

with greens (about 2.5lbs/1kg)

1

tablespoon

vegetable oil

1

large onion

, diced (about

¾ cup

diced)

1

large garlic clove

,

finely minced

⅓

cup

/

60

g

Basmati rice

4

cups

/

960

g

chicken stock

,

divided

½

pound

/

226

g

ground pork

2

tablespoons

fresh parsley

,

chopped

½

teaspoon

dried thyme or summer savory

¼

teaspoon

sweet paprika

½

cup

/

120

g

sour cream

1

teaspoon

cornstarch

1

teaspoon

sugar

,

to taste

salt and freshly ground black pepper

,

to taste
Instructions
Trim off the kohlrabi greens and stems and set aside. Trim off any bits of tough outer skin, if necessary (younger kohlrabis have a thinner skin that doesn't need to be cut off). Cut the root base off the bottom of kohlrabi bulbs to allow them to sit flat on your cutting surface, and about 1/3 of the top off as well. Hollow out the middles using a melon baller, leaving the sides about 1/2-inch thick and the bottom slightly thicker.

Coarsely chop greens; you should have about 3 to 4 cups of loosely packed greens. Set these aside along with all the innards from the hollowed-out kohlrabi bulbs.

Heat oil in a large, heavy bottomed Dutch oven over medium heat. Add onion and let soften for 5 to 7 minutes. Season with salt and pepper. Add garlic and rice and stir until rice is translucent, about 2 to 3 minutes.

Add 1/2 cup chicken broth and cook, stirring occasionally, until liquid is mostly absorbed. Add another 1/2 cup broth and cook until absorbed and rice is just short of al dente. This will take about 10 minutes.

Transfer partially-cooked rice to a bowl and let cool for a few minutes, then add ground pork, along with parsley, thyme, paprika, and a generous pinch of salt and pepper. Gently stir, or use to your hands if desired, to mix until rice and pork are evenly distributed.

Stuff hollowed-out kohlrabi bulbs with pork and rice mixture. They can mound slightly on top, though the filling will expand a bit as it cooks so you don't want to pack it in too tightly.

Return Dutch oven to medium heat. Arrange greens and leftover pulp in the bottom of the pan. Nestle the stuffed kohlrabis into the greens, pouring the remaining 3 cups chicken broth around them.

Bring liquid to a gentle simmer; cover and cook for 30 to 45 minutes or until the kohlrabis are fork tender and the filling in the largest kohlrabi registers 165 degrees F on an instant read thermometer.

Using tongs and/or a slotted spoon, transfer the cooked kohlrabis to a lightly oiled plate and set aside.

Transfer the remaining contents of the pot, including all greens and remaining pulp, into a blender (be very cautious working with hot liquids like this). Add sour cream and cornstarch and blend until smooth.

Return to Dutch oven and medium heat and bring to a simmer until thickened. Taste, then season as desired with sugar, plus salt and pepper and even a squeeze of lemon juice if you like.

To serve, ladle the soup into serving bowls, and place the stuffed kohlrabis in the center. Serve warm, with additional sour cream and a sprinkle of fresh parsley as desired.
All images and text ©
for Love & Olive Oil.
Did you make this recipe?
Let us know what you think! Leave a Review below or share a photo and tag me on Instagram with the hashtag #loveandoliveoil.