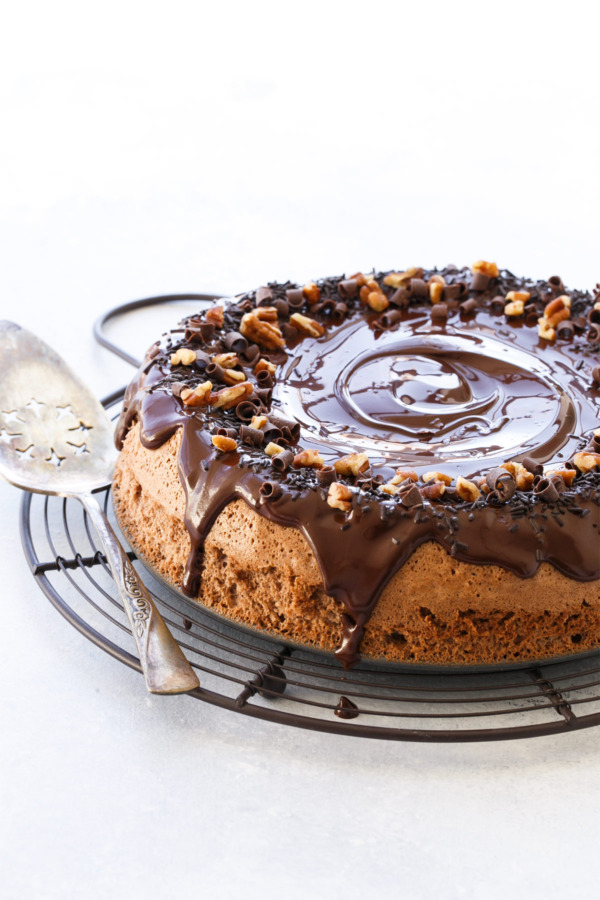 From Grandma's recipe files… I made this one for our Hanukkah dinner, though it's intended as a Kosher dessert recipe for Passover. If you've ever tried to bake according to the strict rules and restrictions surrounding such a holiday, you'll know it is no easy feat. The torte (or is it a cake?) relies solely on egg whites for leavening (since the jury is out as to whether baking soda/powder is suitable for Passover or not), and it uses matzo cake meal instead of flour (you can also use almond flour, just don't use regular matzo meal as it is too coarse in texture). For non-Passover occasions the recipe will work with all-purpose flour as well.
What is a torte? Well, in this case it falls somewhere in between a light chocolate cake and a chocolate souffle in terms of texture, essentially a chocolate sponge cake if you will. If you're looking for a rich chocolate cake, this is not it (this red-wine chocolate cake however, is what chocolate-cake-dreams are made of, albeit not exactly Kosher.) This cake/torte/whathaveyou, on the other hand, is light and spongy in texture, nutty from the pecans with the barest hint of cocoa and cinnamon, and topped with a bittersweet chocolate glaze (lest the cake itself not be chocolaty enough for you). I garnished it with chocolate sprinkles and pecans, to hint at the ingredients found within.
I've been doing a lot of chocolate-and-pecan recipes lately, what with this decadent pie and these boozy brownies. But you know what? That's because chocolate and pecan are perfectly complimentary; it's a combination that should be more utilized.
I'll admit, even with the glaze and garnish, this isn't the prettiest dessert. It's baked in an ungreased springform pan (like a souffle, leaving the pan un-greased allows it to stick to the sides and rise higher than it would otherwise). As it cools, the cake shrinks away from the sides of the pan while sticking at the same time, leaving a thin layer of itself behind. The result is maybe not the smooth and straight-sided beauty you were expecting, but that's what the glaze is for, right?


If I had to choose between this torte and this cake, I'd probably choose the later, but that's just because I love me some deep dark chocolate cake. That said, on Passover, that kind of cake isn't really an option. If you're wanting chocolate cake, your options are pretty much flourless chocolate cake or a lighter egg-white leavened cake like this one. Take your pick: either way, you won't be disappointed.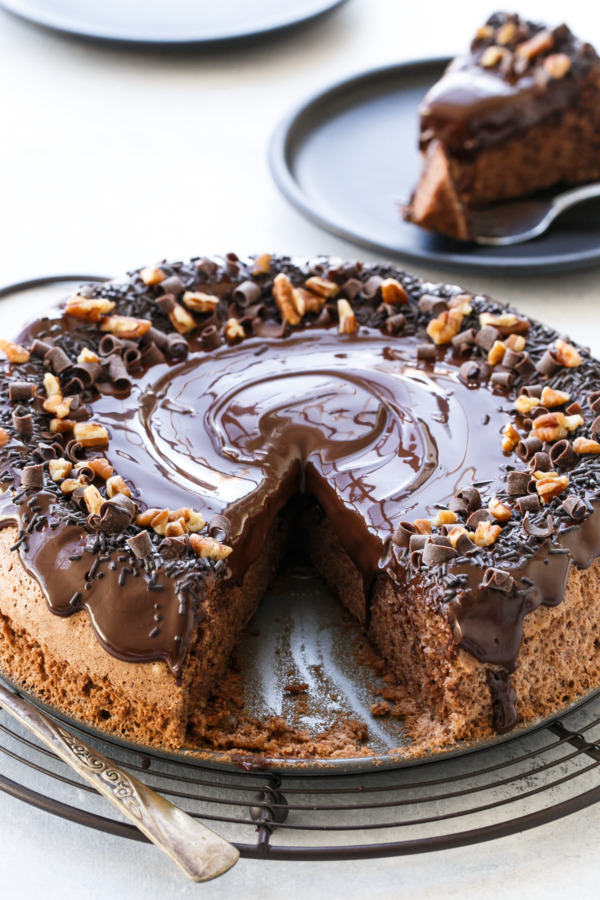 Passover or not, it's a recipe worth remembering, for sure, for those situations when you don't want something overly rich and heavy that's going to send you scrambling for the milk.
Cocoa Pecan Torte
Made with matzo cake meal, this light and airy chocolate cake is kosher for Passover, though you can also use all-purpose or even almond flour in its place. The rich chocolate glaze makes it all the more elegant.
Ingredients:
For Cake:
6 large eggs, separated
3 tablespoons strong brewed coffee
1 cup granulated sugar, divided
4 ounces pecans, lightly toasted and finely ground
1/2 cup matzo cake meal* (or substitute AP or almond flour)
2 tablespoons cocoa powder
1/2 teaspoon cinnamon
1/4 teaspoon salt
For Glaze:
6 ounces bittersweet chocolate, chopped
2 tablespoons butter or shortening
Directions:
Preheat oven to 325 degrees F.
In a large mixing bowl or the bowl of a stand mixer, beat egg yolks until thick and light lemon in color, about 6 minutes. Beat in coffee. Gradually add 1/3 cup of sugar, beating until sugar dissolves.
Stir together ground pecans, 1/3 cup sugar, matzo cake meal, cocoa powder, and cinnamon in a bowl. Add half of dry ingredients to egg yolks, blending on low speed until incorporated, then mix in the rest of the dry ingredients.
In a large, clean mixing bowl, beat egg whites and salt until frothy. Add remaining 1/3 cup sugar and beat until it forms medium-stiff peaks. Add about 1 cup of egg whites into egg yolk mixture and mix to lighten the batter, then gently fold in remaining egg whites.
Pour batter into an ungreased 9-inch springform pan. Bake for about 40 minutes or until edges are puffed and a toothpick inserted near the center comes out clean. Let cool slightly, then remove sides of springform pan and let cool completely on a wire rack.
To prepare glaze, gently melt chocolate and butter or shortening in a double boiler or in the microwave, cooking on 50% power in 30 second intervals. When chocolate is melted and smooth, pour over cooled cake. Garnish with chopped pecans and chocolate sprinkles, if desired.
*Matzo cake meal is a very fine flour made from ground up matzo crackers, and is kosher for Passover. If you can't find it you can substitute all-purpose flour (if you don't need it to be Kosher for Passover) or almond flour.
Did you make this recipe?
Let us know what you think!
Leave a Comment below or share a photo and tag me on Instagram with the hashtag #loveandoliveoil.