These refried black bean tacos are a perfect quick and easy vegetarian dinner. Made with canned black beans and pickled jalapeños, they're packed with flavor and serve as the perfect foundation for your favorite taco toppings.
This is one of those recipes you'll come back to time and time again; it really is as quick and easy as it claims, not to mention perfect if you're trying to eat less meat, but don't want to sacrifice on flavor.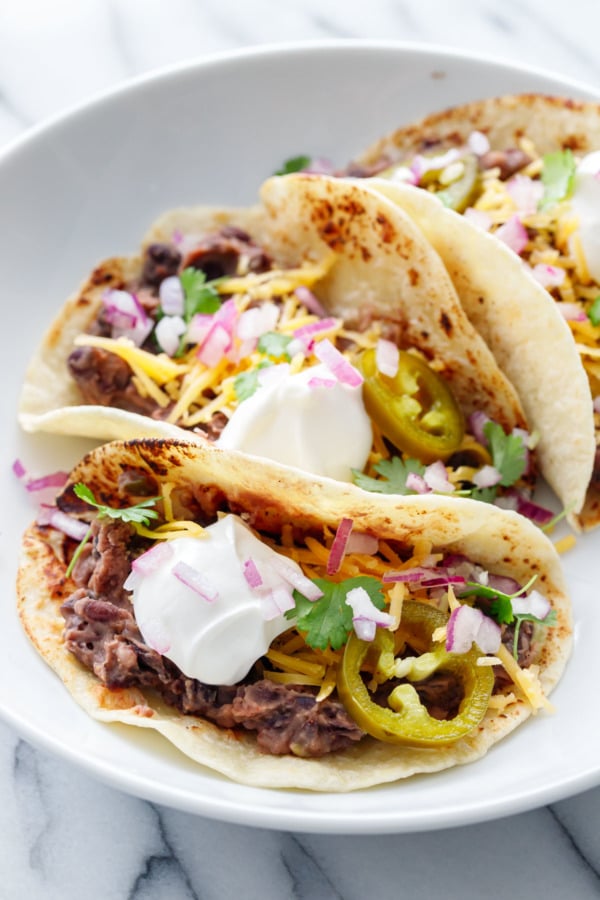 There is no shortage of black bean taco recipes on this site, it being one of our favorite fillings for meat-free tacos.
But these black bean tacos, which involve a quick refried-style black bean filling made from canned black beans and flavored with spices and pickled jalapeños, may just be our favorite. Served with your choice of toppings in a soft flour or corn tortilla, they really are a perfect vegetarian weeknight main that checks all the boxes.
Choose your toppings accordingly and they can even be vegan!
We initially cobbled this recipe together back in spring of last year (actually, it may have been 2020 but the two years have melted together into one long year in my mind). Needless to say, we've made it at least half a dozen times since then, slowly using up the many cans of black beans that had accumulated in our pantry.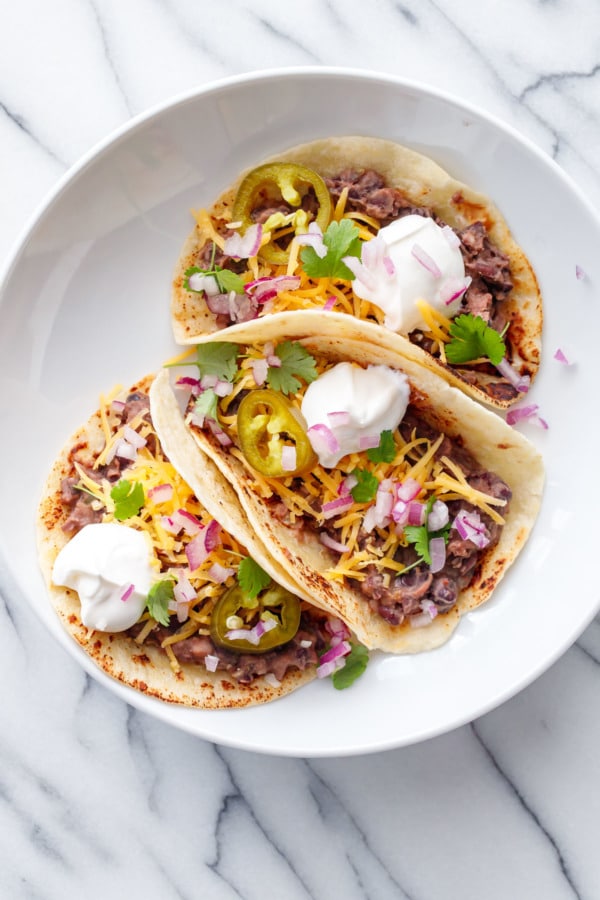 Refried beans are, essentially, beans that are cooked twice ('refrito' translates to well fried or twice fried). The beans are cooked once in water until tender, then cooked again and mashed with spices and additional fat (hence: fried).
These are by no means authentic refried beans, rather a quick approximation of the texture and flavor achieved by quickly mashing a can of black beans with some spices and their own juices until they are suitably spreadable.
If you want a bit more authentic refried bean flavor, replace some of the bean liquid with fat, either vegetable oil or (more traditionally) lard. You could use canned pinto beans here as well with similar results.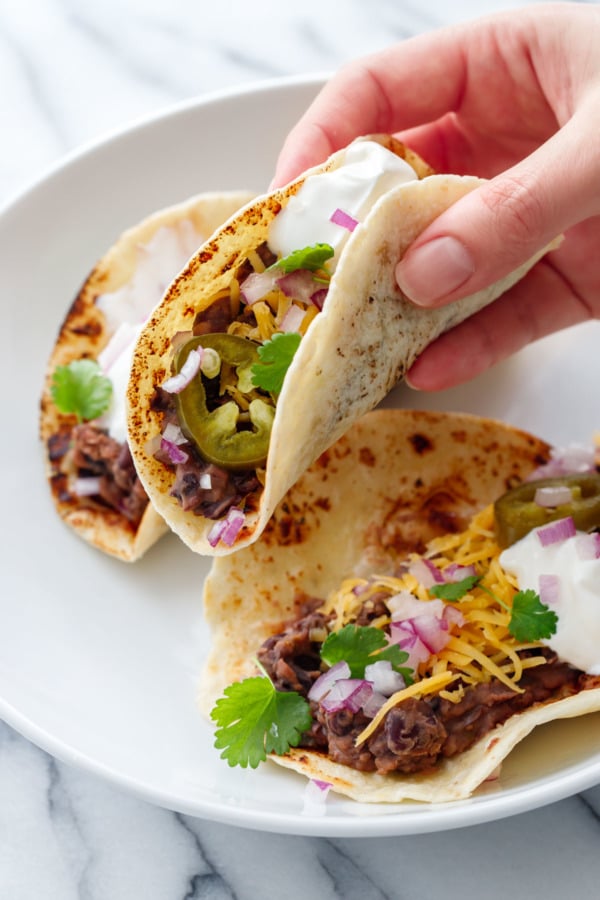 The bulk of the flavor comes from the spices (cumin, oregano, and chipotle chili powder), plus the unexpected addition of pickled jalapeños and pickled jalapeño juice.
We personally love Trader Joe's sweet and hot jalapeños, we always have a jar or two of these on hand at all times (they make for the absolute best nachos, also queso cheese dip). Other brands we've tried are much sweeter (dare I say, candied?) with less spice and not quite as much vinegary tang.
You can also make your own pickled peppers (though I recommend upping the sugar just a bit to enhance the 'hot and sweet' nature of the store-bought ones.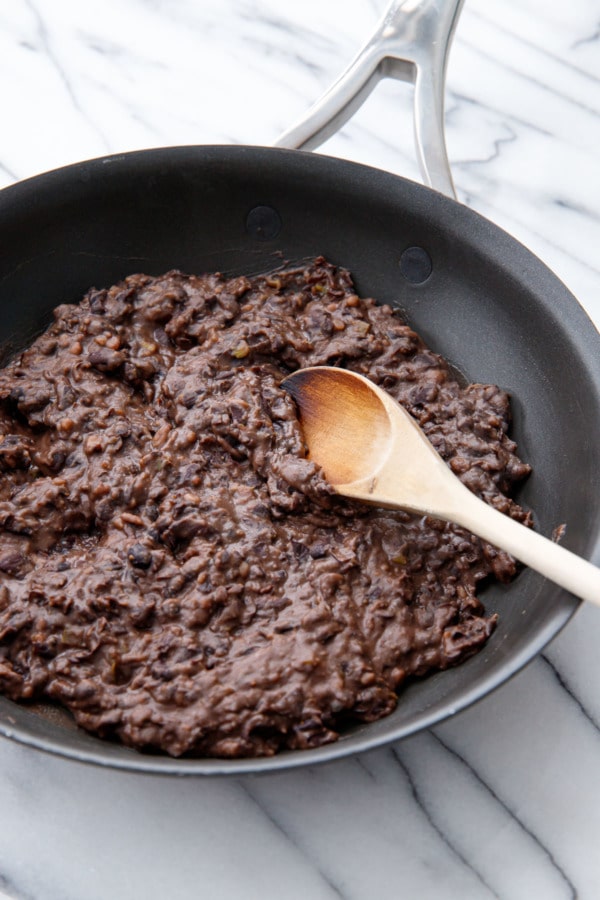 We've found that not all canned black beans are created equal: some are far drier than others and some don't mash as smoothly. (If you're wondering, Delallo black beans are our favorite, their canned chickpeas and cannellini beans are far superior too.)
This recipe instructs you to drain the beans, but don't discard the liquid: you just need to measure it, then add 1/2 cup of it back to the beans (with a splash of water if necessary if your liquid comes up short). Simmer and mash until the beans are suitably sloppy but no longer soupy.
You can also use dried black beans as well, simmered until tender. Just remember to reserve about 1/2 cup of the bean cooking liquid to mix in with the mashed beans.
The bean mixture will get firmer the longer it sits, so if you plan to have enough for leftovers the next day you may want to add a little more liquid when you reheat it.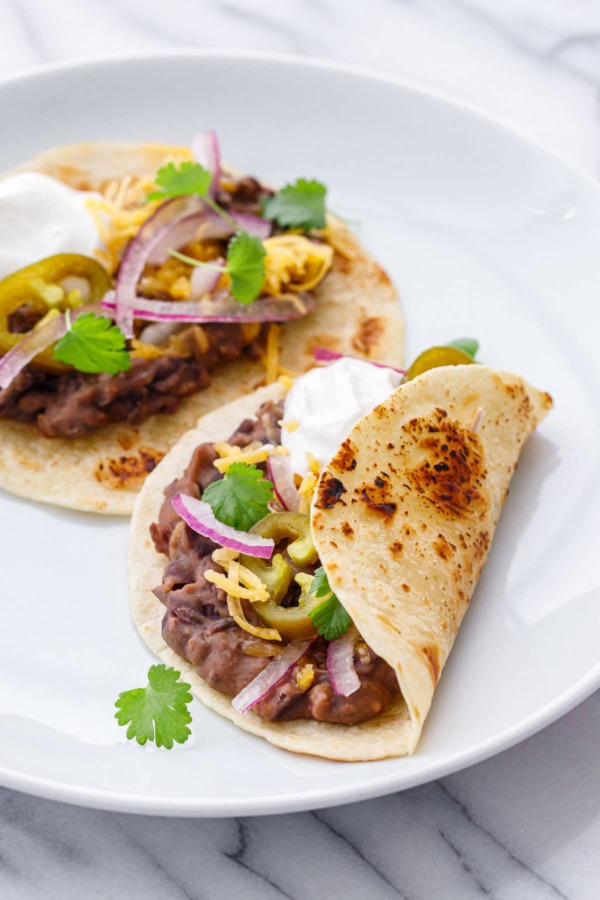 I won't start a debate on flour vs corn tortillas, though I love that smaller, street taco-sized flour tortillas are becoming easier to come by (that's what we've used here, lightly warmed over a hot gas burner or briefly fried in a frying pan with a splash of oil).
We love topping these simple tacos with cheese and sour cream, and a bit of green either from fresh cilantro or shredded iceberg lettuce. A touch of thinly sliced red onion or radishes make the finishing touch.
I think they'd also be great with a fresh salsa or even a bright fruit salsa.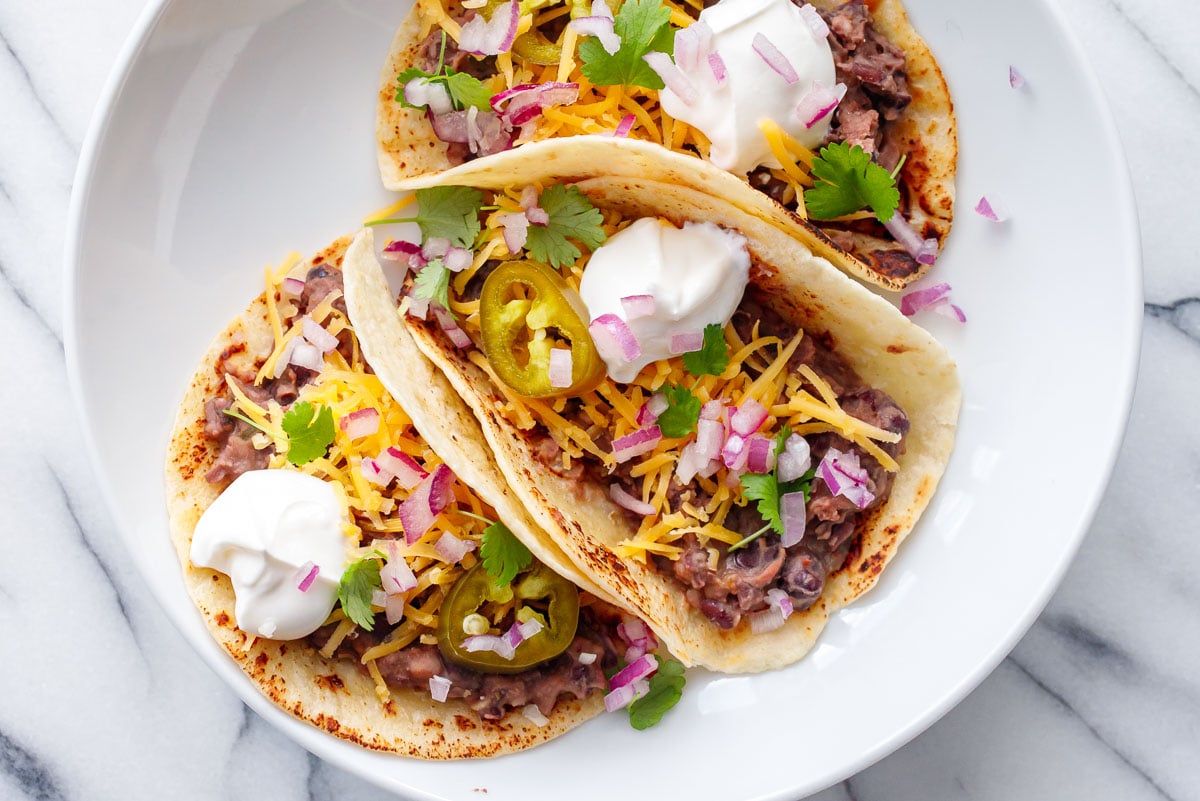 Easy Refried Black Bean Tacos
These refried black bean tacos are a perfect quick and easy vegetarian dinner. Made with canned black beans, they're packed with flavor and serve as the perfect foundation for your favorite taco toppings.
Ingredients
1

tablespoon

olive oil

½

teaspoon

cumin

½

teaspoon

dried oregano

½

teaspoon

chipotle chili powder

1

(14 oz) can

/

396

g

black beans with liquid

1

tablespoon

pickled jalapeños

,

finely chopped (plus more for topping as desired)

1

tablespoon

pickled jalapeño juice

½

teaspoon

salt

small flour or corn tortillas

,

warmed
Optional toppings:
Sour cream

Shredded cheese

Fresh cilantro

Romaine or iceberg lettuce

,

finely shredded

Hot sauce or salsa

Shaved red onion or thinly sliced radish
Instructions
Drain black beans, reserving liquid in a measuring cup. You should have about 1/2 cup of liquid; if less than that, add enough water to equal 1/2 a cup.

Heat olive oil in a large skillet over medium heat. When the oil is hot, add spices and toast for 1 minute until fragrant.

Add salt, black beans and reserved liquid, and pickled jalapeños and jalapeño juice to the pan. Lightly mash the beans with a potato masher or the back of a wooden spoon. Simmer 5 minutes until thickened.

Spoon bean mixture into warm tortillas and top with sour cream, shredded cheese, and other toppings as desired.
All images and text ©
for Love & Olive Oil.
Did you make this recipe?
Let us know what you think! Leave a Review below or share a photo and tag me on Instagram with the hashtag #loveandoliveoil.