Say hello to the cookie of your dreams: studded with crushed chocolate sandwich cookies and a layer of sweet vanilla cream filling hidden inside.
These deeply chocolate, delightfully chewy cookies are sure to be a fast favorite with their intensely chocolate chew and bits of crunchy cookie throughout, not to mention the heavenly cream filling.
Take one cookie, disassemble it and stuff it inside another cookie… is that considered cookie cannibalism?
If that's wrong, well, I don't want to be right.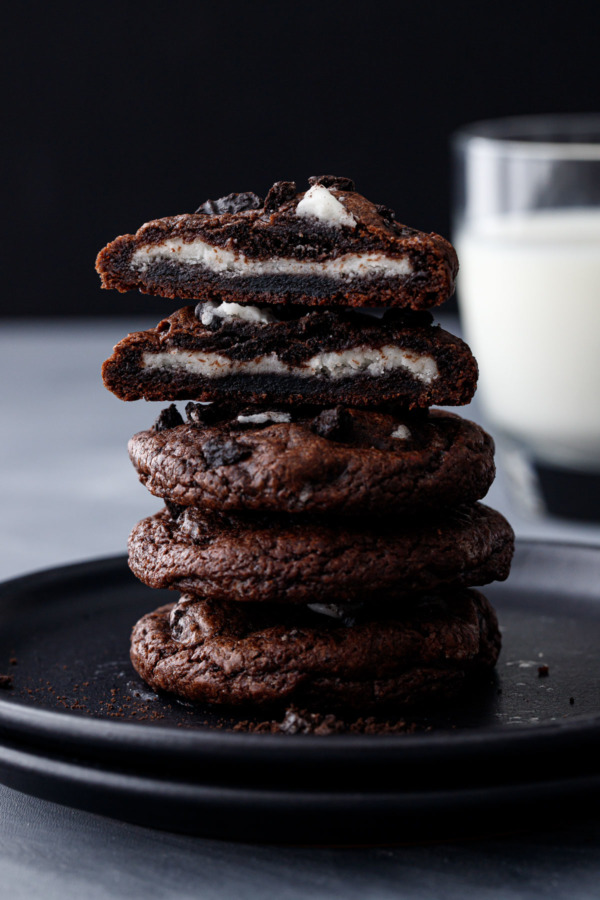 These soft and chewy chocolate cookies are ever so decadent, made with ample amounts of rich, Dutch-processed cocoa and studded with crushed up sandwich cookies that also gives these cookies a delightful crunch.
Sounds good, doesn't it?
And I certainly could've stopped there and had myself a fantastic cookies 'n cream cookie recipe.
But, if you know me at all, you know that I like to take things over the top… which typically involves stuffing one good thing inside another good thing (indeed, stuffed desserts are some of my favorite things to make).
And so, I stuffed these already over-the-top cookies with a hidden layer of vanilla cream.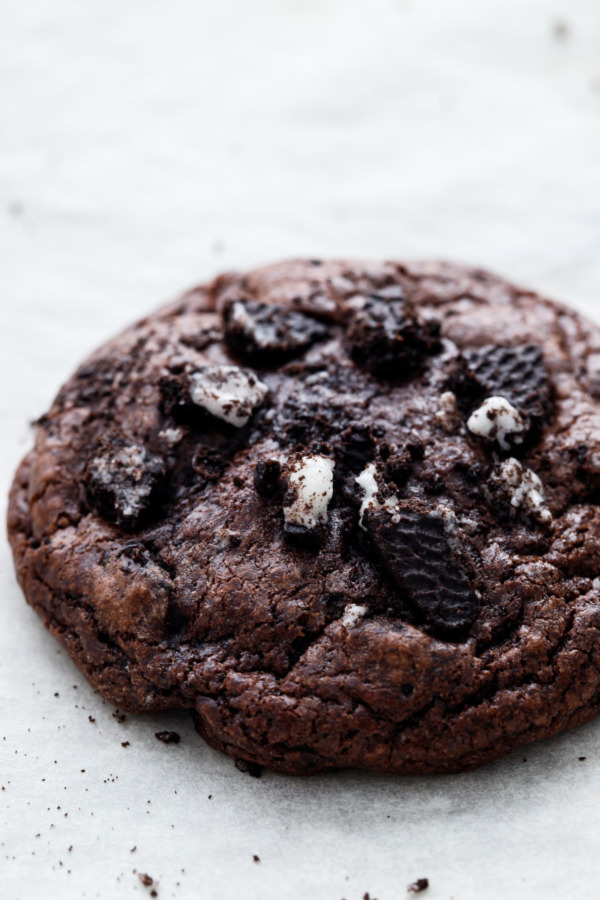 I love stuffed cookies because they look so innocent on the outside… or, well, not exactly innocent in this case (they look downright sinful), but just by looking at it you really have no idea as to the sheer level of deliciousness you're biting into.
Don't get me wrong, these cookies look amazing, mouth-watering even. But that outer appeal is still no match for the extra layer of vanilla cream hidden inside.
Even better, get one that's still warm out of the oven, when the vanilla cream almost oozes out as you bite into it. Swoon.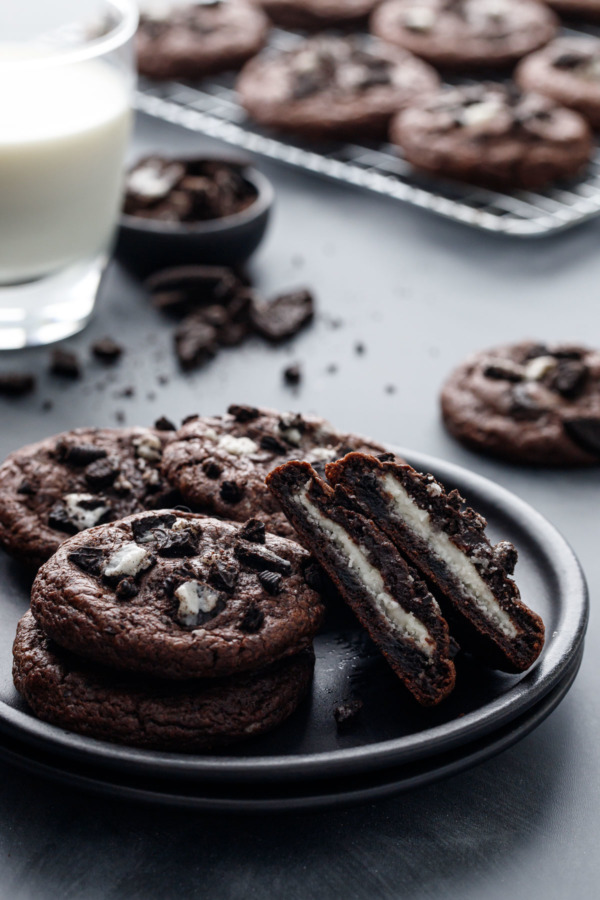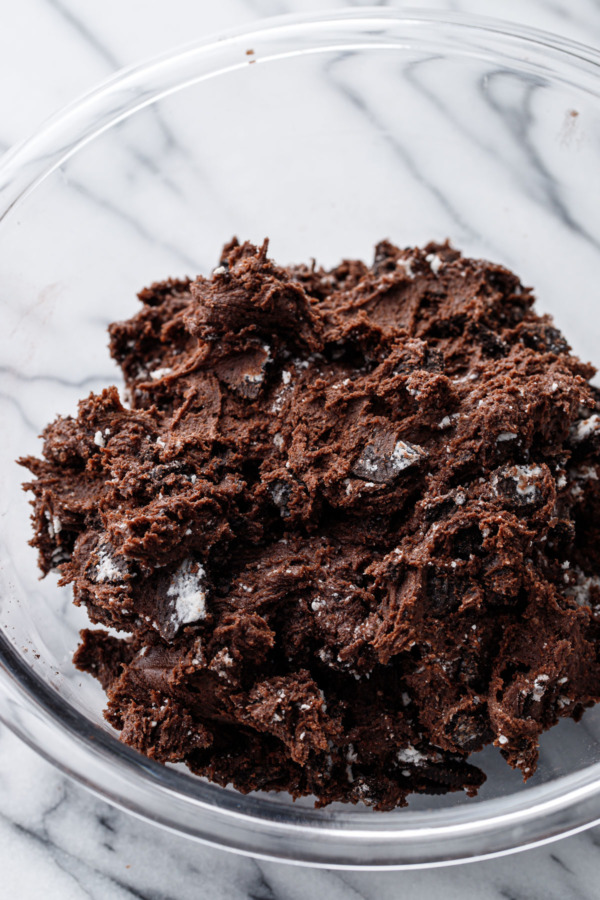 The act of stuffing these cookies 'n cream cookies is a lot like some of my other stuffed cookie recipes (from White chocolate-stuffed to marzipan stuffed to maraschino cherry stuffed… I told you I liked stuffing things).
First you'll need to extract your cream filling. This involves slicing (or twisting, if you're skilled) the cream filling off of the chocolate cookies (don't waste the cookies themselves, finely ground and mixed with butter they make for one of my favorite pie crusts, for this chocolate chip cookie pie, for example, or this crunchy peanut butter chocolate tart). Stack two pats of cream together, one double stack per cookie.
Then take one ball of dough (I use a medium cookie scoop here for consistent sizing), split it in half, roll and press each half out into a smooth circle, then place your filling in the middle. Press around the edges to seal the filling inside, forming a puck-shaped piece of dough.


I wanted the outside of the cookies to hint at the cookies 'n cream inside, so I also pressed a few pieces of crushed cookies into the top of each unbaked dough ball. As the cookie bakes, these pieces will spread out but stay on top of the cookie, resulting in a picture perfect final product that gives your eyes a taste of what's inside.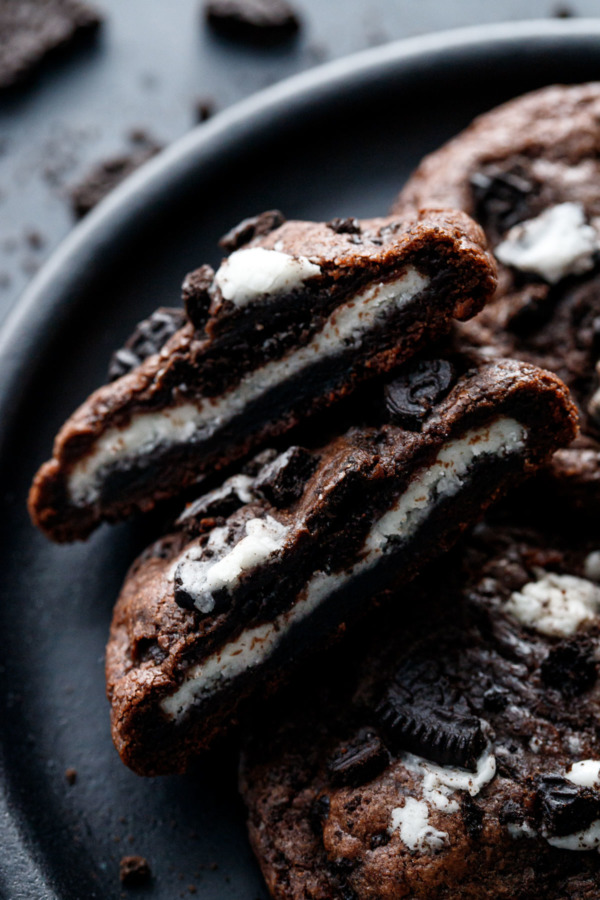 I figure you've got 3 options with this recipe:
unstuffed. Just bake up the batter as is (with the crushed up cookies), and you've got one hell of a cookie.
stuffed. carefully separate the cream filling from some double stuf sandwich cookies, stack two of them together, and wrap your dough around it.
extra stuffed. why not stuff an entire cookie inside? (you'll need a bit more dough, more like 45g instead of 35g).
So yes, you could certainly stuff an entire Oreo into the middle (there are lots of cookie recipes out there that do this), but I like using just the filling (I find the overall size of the cookie more reasonable and the cookie-to-filling ratio more balanced).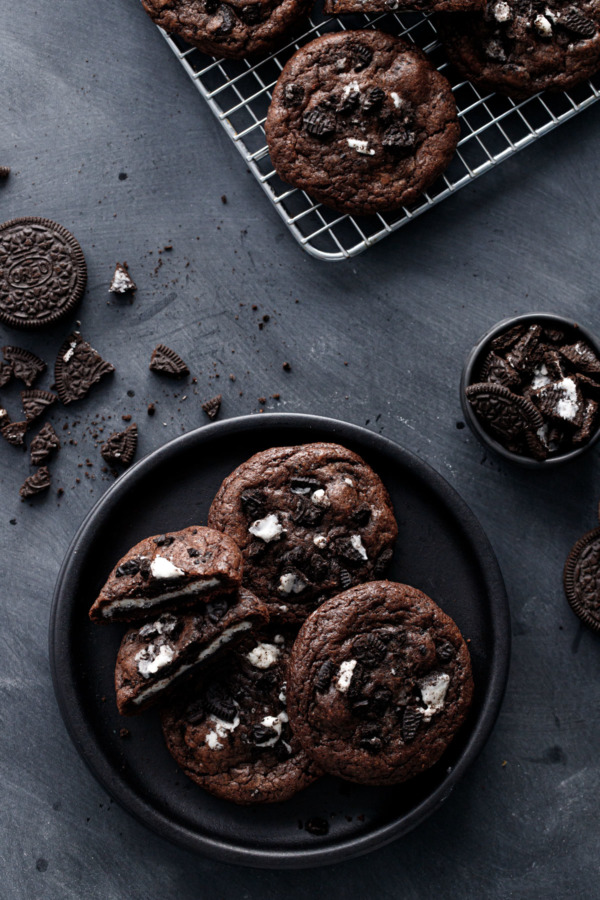 I personally prefer Trader Joe's Joe Joes – the filling has a more prominent natural vanilla flavor and isn't as overly sweet as the name brand Oreos. I also found that it was much easer to extract the Joe Joes filling than the Oreos (the later seemed more 'stuck' to the cookie itself); it also got meltier in the oven (making the act of biting into a warm cookie a truly transcendent experience).
You could also play with flavors here—I imagine the candy cane Joe Joes would turn these into an amazing Christmas cookie, same for the mint Oreos or even something like pumpkin spice. Hello lover.
Cream-Stuffed Chocolate Cookies 'n Cream Cookies
Chewy, dark chocolate cookies studded with crushed sandwich cookies and stuffed with vanilla cream filling.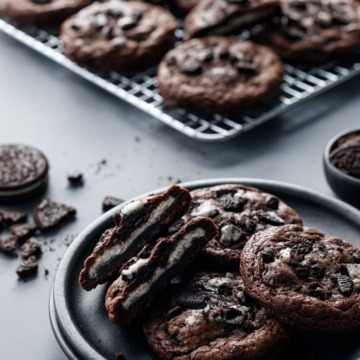 Ingredients:
2 1/4 cups (281g) all-purpose flour
1/2 cup plus 2 tablespoons (55g) Dutch-processed cocoa powder, sifted
1 teaspoon baking soda
1/2 teaspoon baking powder
1/2 teaspoon kosher salt
1/2 teaspoon instant espresso powder
3/4 cup (170g) unsalted butter, at room temperature
1 1/4 cup (250g) packed light brown sugar
2 large eggs, at room temperature
2 teaspoons vanilla extract
60 double-stuffed chocolate sandwich cookies (about 24 oz, from two regular or one 'party size' package)
Directions:
In a bowl, sift together flour, cocoa powder, baking soda, baking powder, salt and instant espresso powder. Set aside.
In a large mixing bowl or the bowl of a stand mixer, cream butter and brown sugar until light and fluffy, about 2 to 3 minutes. Add eggs and mix on medium-high speed, scraping down the sides of the bowl, until incorporated. Mix in vanilla extract.
Reduce mixer to low and slowly add dry ingredients until just incorporated.
Crush 10 sandwich cookies into smallish size pieces; fold into dough until evenly incorporated. Cover and chill dough for at least 30 minutes until workable.
While dough is chilling, preheat oven to 350 degrees F. Line a baking sheet with parchment paper and set aside.
Carefully remove the filling from the remaining 50 cookies. Rather than twisting, prop the cookie up vertically and use a thin knife or offset spatula to 'slice' the filling from one side of the cookie. Keep the sliced-off cookie where it is, and then slice off the other side. Carefully separate filling. Stack two rounds of cream together, and repeat with remaining cookies until you have 25 stacks. You can bag and store the plain cookies for another use (they make a great pie crust!)
Use a medium cookie scoop to form 1 1/2-inch balls (approximately 35g each). Split ball in half, roll each half into a smooth ball and then flatten it in the palm of your hand. Place one stack of cream filling in the center, then place the other flattened ball on top. Press around the edges to seal, and form into a puck-shape. Place on prepared cookie sheet. If desired, you can press a few pieces of crushed-up cookie on top of each dough puck (it makes for a nicer final appearance). Repeat, leaving 2 inches apart on baking sheet (you should be able to fit 8-9 or so on one sheet).
Place sheet in freezer for 5 minutes, then bake for 10 to 12 minutes or until cookies have spread evenly and tops are cracked and no longer shiny. Remove from oven and let cool on cookie sheets for 10 minutes, then transfer to a wire rack to cool completely. Repeat with remaining dough, keeping dough refrigerated when not actively using it.
Cookies will keep in an airtight container for up to 5 days.
Did you make this recipe?
Let us know what you think!
Leave a Comment below or share a photo and tag me on Instagram with the hashtag #loveandoliveoil.