The spice is right with these crispy hasselback sweet potatoes, slathered in butter and seasoned with a fragrant garam masala spice blend.
This unique method for roasting sweet potatoes may be a bit more work than your standard spud, but the impressive results are well worth the effort!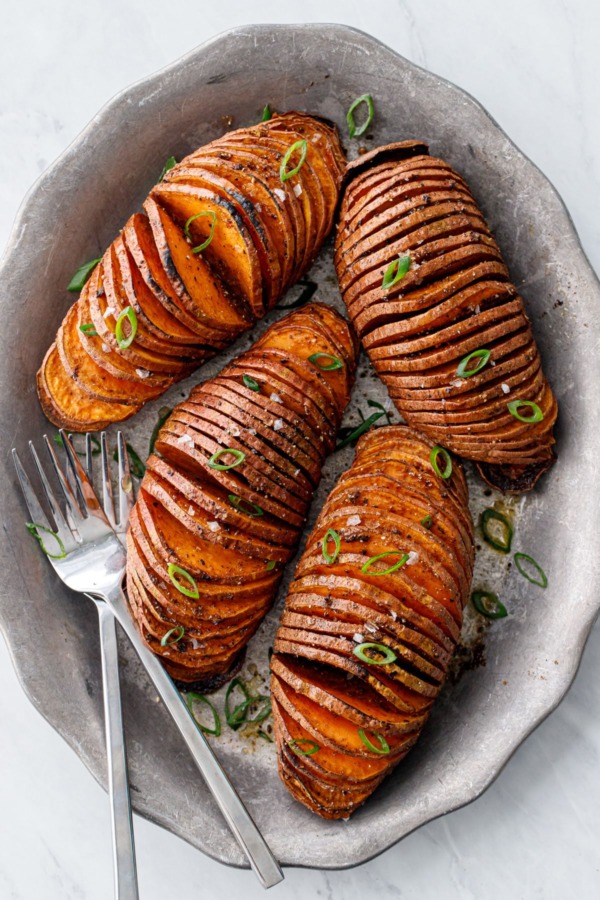 This post is sponsored by The Spice Hunter and includes tracking links. For more information about tracking links and how to opt out, please visit All About Do Not Track prior to clicking any links found in this post.
Garam Masala (which roughly translates to "warming spice mix") is a spice blend with origins in Northern India. I'd describe it as pumpkin spice meets curry: with fragrant cinnamon, cloves and cardamom complimented by savory cumin, black pepper and coriander, though the particular spices and proportions will vary greatly from one recipe to another.
It's those pumpkin-spiced notes that make it such a perfect compliment for sweet potatoes, which around this time of year are usually smothered with brown sugar, cinnamon, and marshmallows. But unlike those sticky sweet iterations, the savory spices in garam masala make this dish particularly pleasing. So the next time you can't decide whether to cook sweet potatoes in a sweet or savory manner: garam masala lets you have both at the same time.
The Spice Hunter's Garam Masala Blend has just the right amount of earthiness, plus a balanced sweetness and warming heat, making it perfect for this satisfying holiday recipe.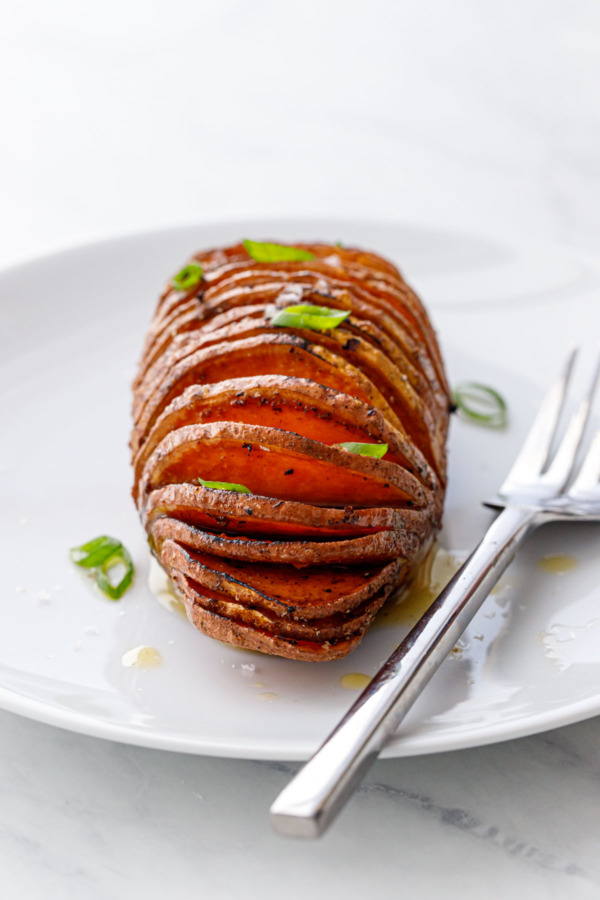 The method of cooking potatoes hasselback-style originated in Sweden, where potatoes were sliced very thin to allow for even cooking with crispy skin and creamy insides. That same method works equally well for sweet potatoes, which come out of the oven with beautiful crispy skin and silky smooth, tender flesh.
Yes, there might be a bit more work involved than a standard baked sweet potato, but the end result is way more impressive (not to mention much more fun to eat).
We topped our garam masala-spiced hasselback sweet potatoes with some sliced green onion to urge it more towards savory, toasted pumpkin seeds or crispy bacon bits would be good too. You could also top them with candied pecans, marshmallows or even a sprinkle of brown sugar if you prefer things sweet… this recipe can really go either way.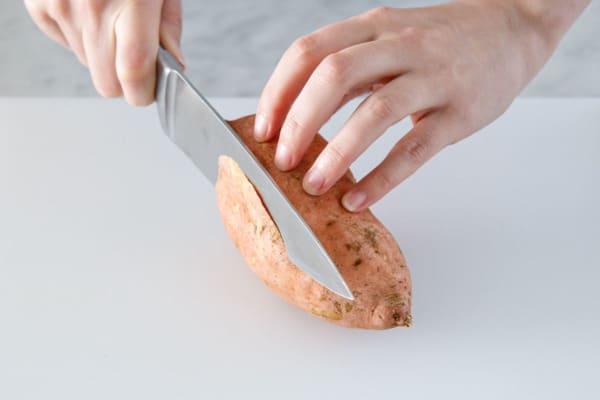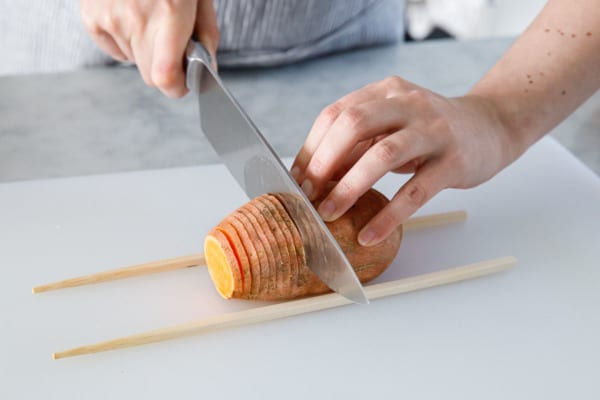 What's the secret to amazing hasselback sweet potatoes? It's all about how you slice it.
Ultimately you're looking for thin, even slices down the entire length of the potato. My slices ended up about 1/4-inch thick, but if your knife skills are rockin' you can go even thinner.
To ensure you don't cut all the way through the potatoes, lay two square wooden chopsticks down on either side of your potato. The chopsticks will serve as a bumper for your knife, preventing you from cutting all the way through.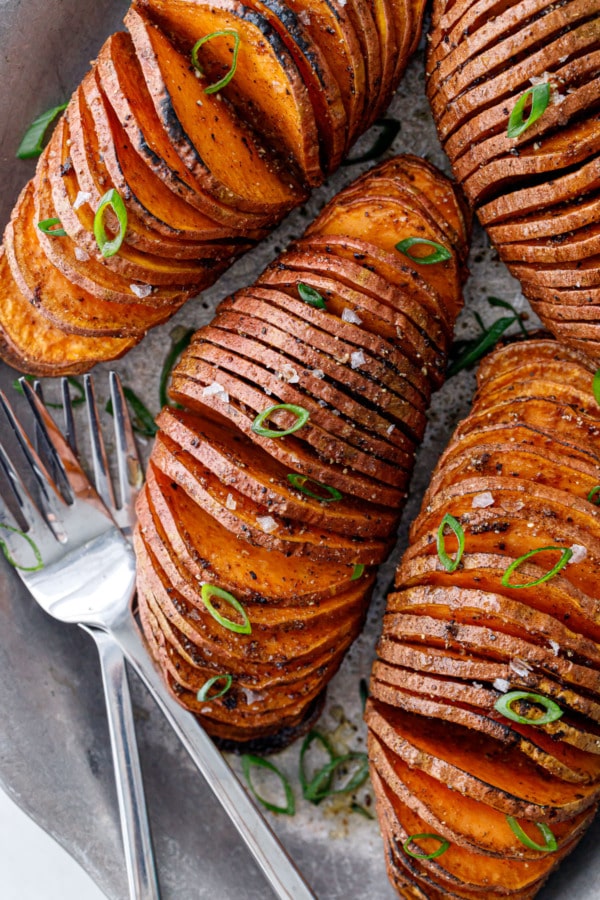 When selecting your sweet potatoes, look for medium-sized tubers (about 8 ounces in size), with similar size and girth and an overall even shape (it'll be easier to cut that way). If your sweet potatoes are larger or smaller in size you may need to adjust the cooking time accordingly. Thicker slices will also take longer to cook through than thinner slices.
You can scale this recipe up or down as needed. You could probably fit a couple more potatoes in a single casserole dish (as many as you can fit without them actually touching).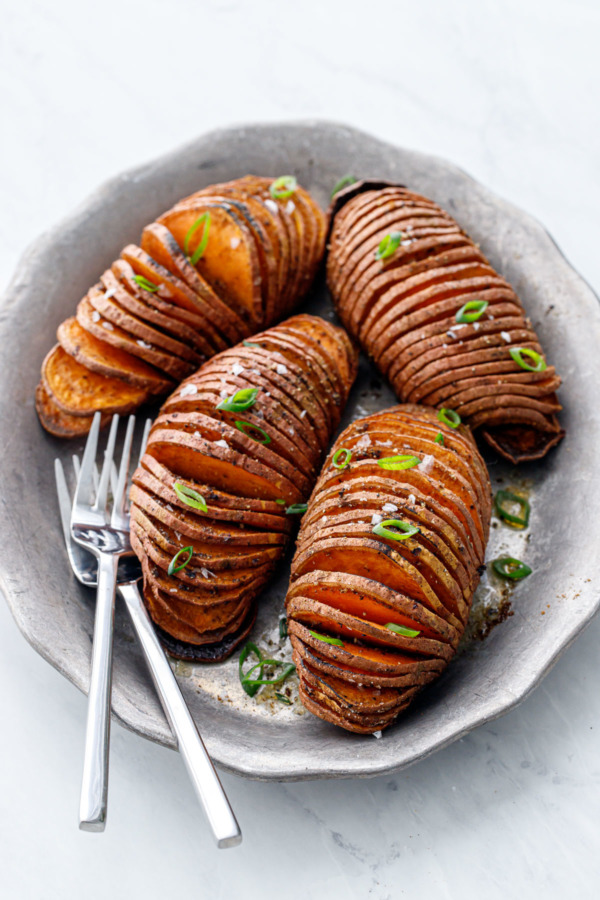 Why Ghee? You'll notice this recipe calls for ghee or clarified butter (the same thing, essentially). Ghee is butter that has been simmered and strained to remove the excess water and milk solids. As a result, it is much more stable and has a higher smoke point than non-clarified butter. You can easily make your own clarified butter or save yourself some time and buy a jar of ghee (it's fairly easy to find these days at most natural grocery stores or international food stores).
This is important for this recipe in particular as regular butter will burn at temperatures above 300 degrees F or so. Baking butter-slathered sweet potatoes in a 425-degree oven for 60 minutes is a great way to ruin your favorite baking pan (trust me on this one). Clarified butter, on the other hand, has a smoke point of 482 degrees F and will not burn.
If you cannot find ghee and simply don't have an extra 10 minutes to make your own clarified butter, you can substitute an oil with a similarly high smoke point like avocado oil or sunflower oil. Coconut oil will also work as long as it is refined (unrefined or virgin coconut oil has a much lower smoke point).
Want to check out The Spice Hunter's products for yourself?
For a limited time, get 15% off all orders at spicehunter.com (excludes
branded merchandise) through 12/31/19 with code HOLIDAYSPICE19. You can also sign up for The Spice Hunter's newsletter to receive coupons and recipe inspiration throughout the year!
Happy cooking!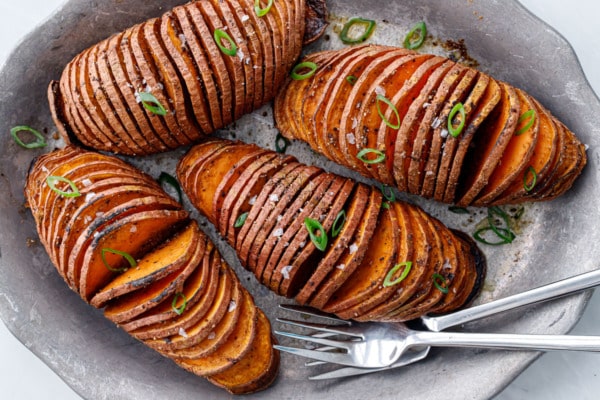 Spiced Hasselback Sweet Potatoes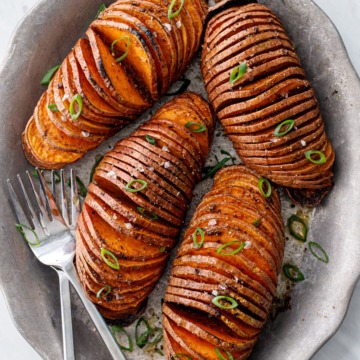 Ingredients:
4 medium sweet potatoes (about 8oz each)
1/2 cup ghee or clarified butter, melted
1 tablespoon The Spice Hunter Garam Masala Blend
1 teaspoon kosher salt (decrease to 1/2 teaspoon if using salted butter)
sliced green onions, for topping
Directions:
Preheat oven to 425 degrees F. Lightly spray a casserole dish with nonstick cooking spray and set aside.
Wash and scrub the potatoes. Cut off the rounded edge on the bottom of the potato so it will lie flat. Cut off the ends.
Place two chopsticks on either side of the potato to serve as guides as you cut. Make vertical cuts to create even 1/8 to 1/4-inch thick slices down the entire length of the potato, taking care not to cut all the way through the bottom (the chopsticks should stop you from doing so). If your potato tapers at the ends take care not to slice through to the bottom.
Arrange potatoes in casserole dish, leaving 1-inch of space between them.
Mix together melted ghee or butter, garam masala and salt in a small bowl. Use a pastry brush to generously brush about half the butter mixture over the sliced potatoes. Use a butter knife or a fork to spread apart the layers and make sure the inside gets buttered as well.
Bake for 30 minutes; remove from oven and brush remaining butter on top of potatoes and in between layers (remelt the butter if it has thickened).
Bake for another 15 to 30 minutes or until potatoes are browned and crispy on the edges and soft throughout (use a toothpick to check for doneness in the middle, they may take more or less time depending on the size of your potato and the thickness of your cuts).
If desired, spoon the melted butter from the pan over the potatoes before serving. Sprinkle with large flake sea salt, pepper, and more garam masala to taste; top with sliced green onions and serve warm.
Did you make this recipe?
Let us know what you think!
Leave a Comment below or share a photo and tag me on Instagram with the hashtag #loveandoliveoil.
Disclosure: This post was created in partnership with The Spice Hunter®. As always, all opinions written are purely our own. We're incredibly grateful for opportunities like these that allow us to continue sharing delicious recipes with you, so thank you for supporting us and the brands we love.