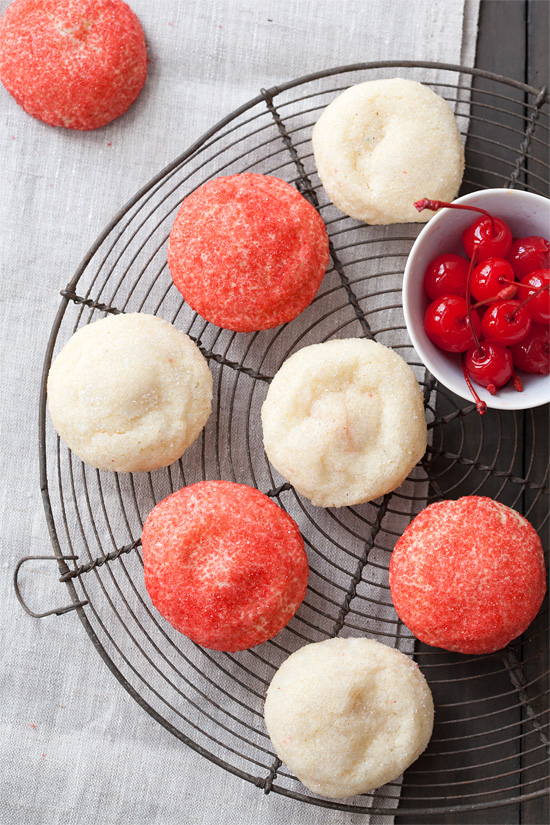 If I had a cookie for every "stuffed" cookie recipe I've oogled, well, I'd be stuffed.
Much like these cookies.
Because it turns out, stuffing things inside cookies is loads of fun.
I'm stuffed just thinking about the possibilities.
Sure, you could put the cherries on top. But the result is a bit too boob-like for me. But depending on your intended audience that might be just what you're going for.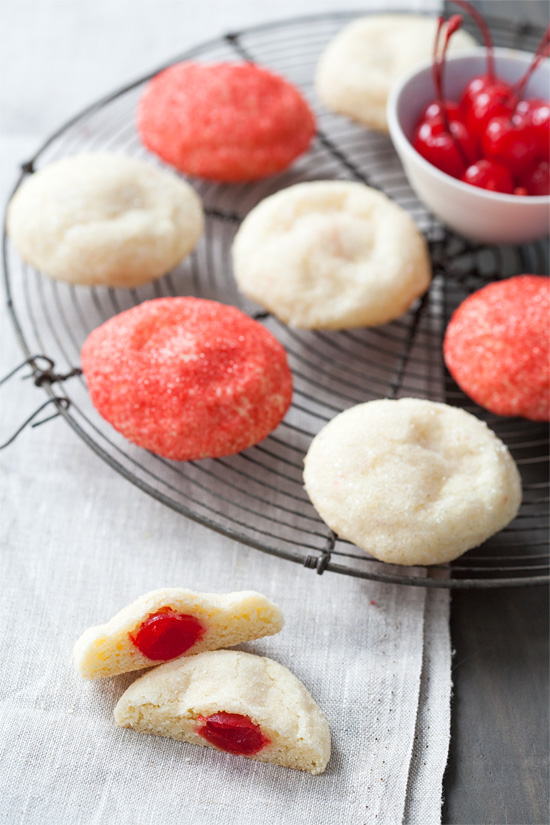 These particular stuffed cookies feature a soft, almond-scented and sugar-rolled outside with a maraschino cherry hidden inside (I don't know what it is, but cherry and almond were seemingly made for each other). The recipe utilizes the same dough base as the chocolate mint truffle cookies; the combination of melted butter, cream cheese, and vegetable oil magically producing an unbelievably soft and pillowy texture that stays that way for days. Seriously, it's one of the best cookies I've ever had.
I rolled a few in red sanding sugar for a festive touch. You could also add a few drops of pink or red food coloring and they'd be instantly Valentine's-ready.
I ran out of cherries before I ran out of dough, so a few got stuffed with some Hershey's chocolate melts (basically large, flat chocolate chips). Those are equally as good (chocolate-stuffed sugar cookies? Heck yes!) with an added element of surprise. Will you get cherry, or chocolate? Either way, you win. But you better have another anyway. You know, just to improve your odds.
Stuffed Cherry Blossom Sugar Cookies
Ingredients:
2 1/2 cups unbleached all-purpose flour
1/2 teaspoon baking soda
1 teaspoon baking powder
1/2 teaspoon salt
1 1/2 cups sugar
1/4 cup (2 ounces) regular cream cheese, cut into cubes
6 tablespoons (3/4 stick) unsalted butter, melted
1/3 cup vegetable oil
1 large egg
2 tablespoons milk
1 teaspoon vanilla extract
1/2 teaspoon almond extract
36 maraschino cherries (from an 8oz jar)
1/4 cup granulated or decorative sanding sugar, for rolling
Directions:
Preheat oven to 350 degrees F. Line a baking sheet with a silicone mat or parchment paper.
In a bowl, whisk together flour, baking powder, baking soda, and salt. Set aside.
Combine sugar, cream cheese, and melted butter in a large bowl and whisk until mixture forms a smooth paste (a few lumps are ok). Whisk in oil. Add egg, milk, and vanilla and almond extracts and stir until smooth. Fold in flour mixture until incorporated and no dry ingredients remain.
Pour 1/4 cup or so of sugar into a small bowl. Dough will be soft, but should still be workable. If not, refrigerate it for 15 to 20 minutes until it is. Use a medium cookie scoop to portion out about 1 1/2 tablespoons of dough. Press a cherry in the center, shape into a ball around it, then roll in sugar to coat. Arrange on prepared baking sheet, leaving about 2 inches of space between each cookie.
Bake for 11 to 13 minutes, until cookies are set and cracked. Cool on the baking sheet for 3 minutes, then transfer to a wire rack to cool completely. Store in an airtight container at room temperature for up to 1 week.
Adapted from Cooks Illustrated.
All images and text ©
Lindsay Landis
/ Love & Olive Oil
Did you make this recipe?
Let us know what you think!
Leave a Comment below or share a photo and tag me on Instagram with the hashtag #loveandoliveoil.