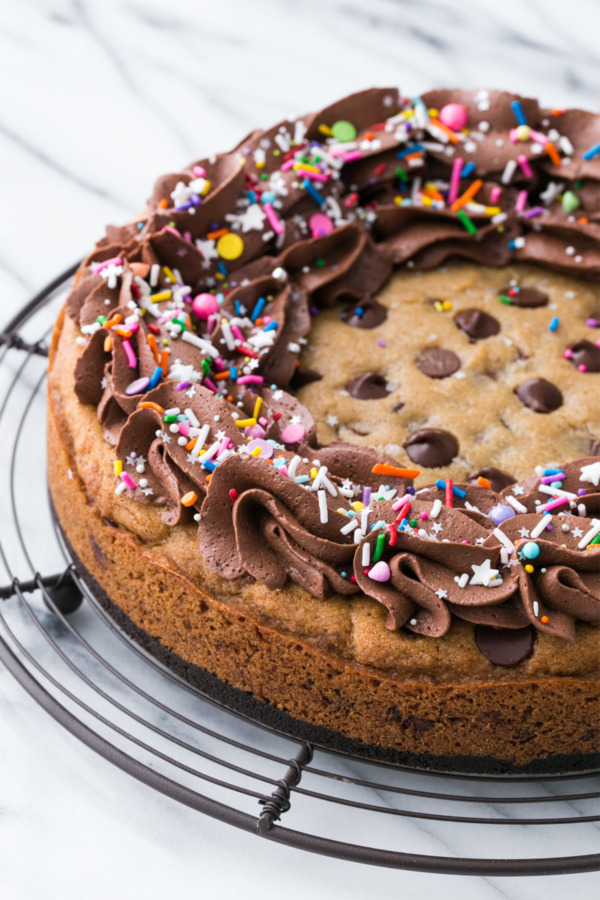 Get out your paper and pencils. It's time for a POP QUIZ!
#1. This is a:
A. Cookie.
B. Cake.
C. Pie.
D. All of the above.
The answer? It should be clear.
I may not be able to be two places at once (yet) but I think this proves I can make a dessert that is three things at once without breaking any universal laws of physics.
It's basically giant chocolate chip cookie, baked in a cake pan, with a cookie crust (and it follows that since crust is a defining characteristic of pie, and this cookie has a crust, this cookie must therefore be a pie. How's that for advanced algebra?)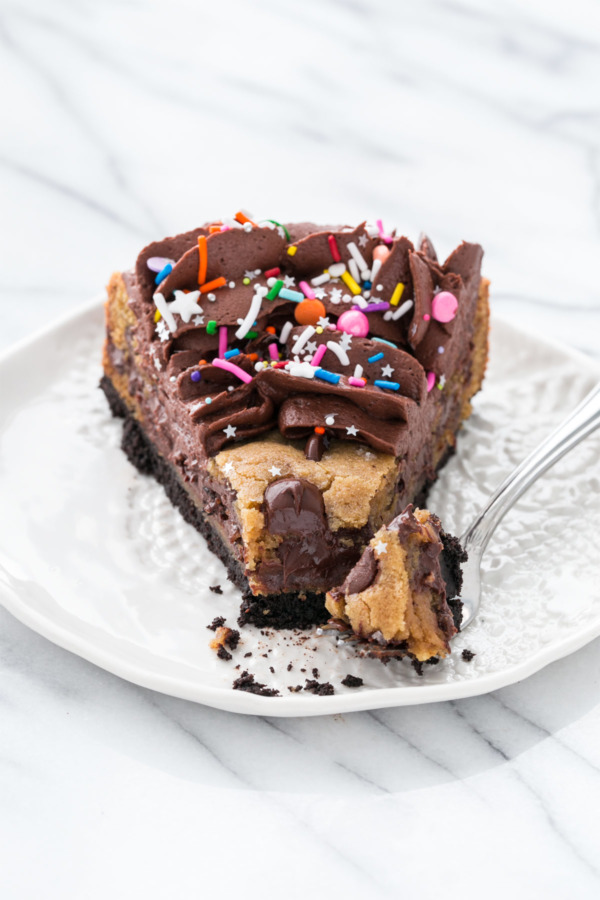 The crust here does more than define this dessert: it adds textural contrast along with notes of dark cocoa and salty sweetness.
Of course, you could certainly bake this without the crust and you'd have yourself a classic giant cookie cake. But if you want to call it a pie… well, I think we've already determined that the crust is essential.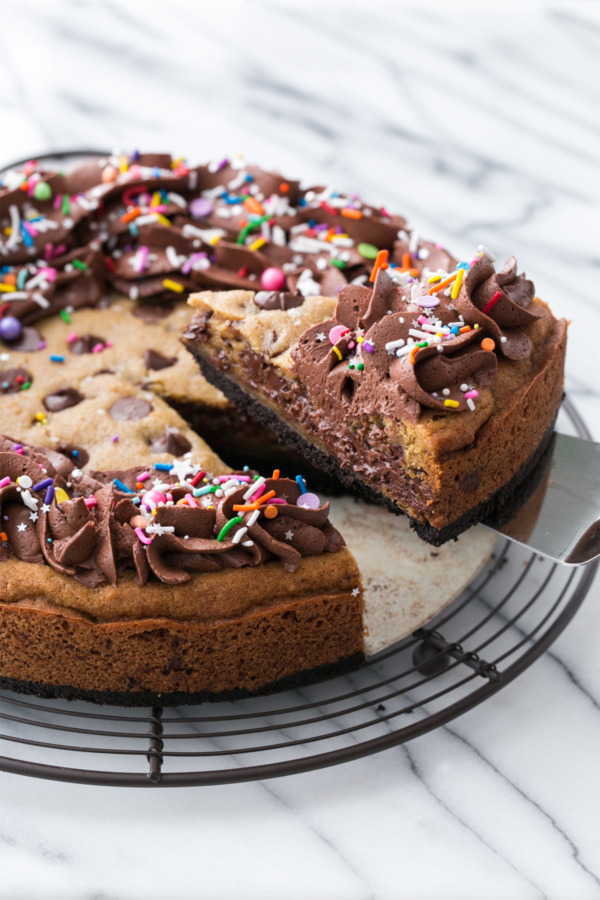 My favorite way to celebrate (anything, really) is stuffing my face with mouthfuls of sprinkled sweets… care to join me?
This recipe is adapted from Sally's Chocolate Chip Cookie Cake Recipe. Which is, coincidentally, no coincidence: Sally is having a baby, and a few blogger friends have gotten together to throw her a virtual baby shower (minus the silly party games and with one heck of a dessert table).
I hope you'll join me passing along a sugar-filled congratulations to Sally for her best recipe yet (the baby, I mean, though the cookie is a close second).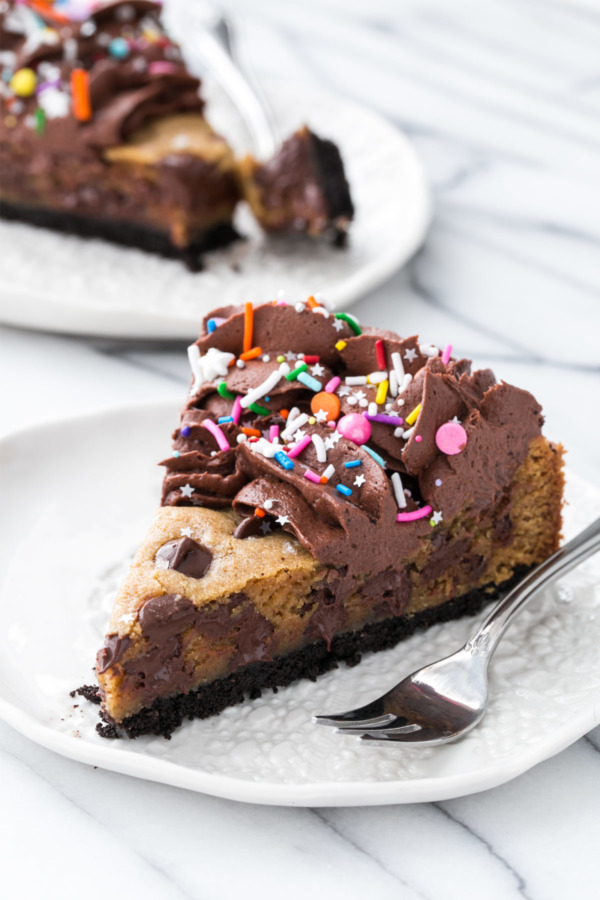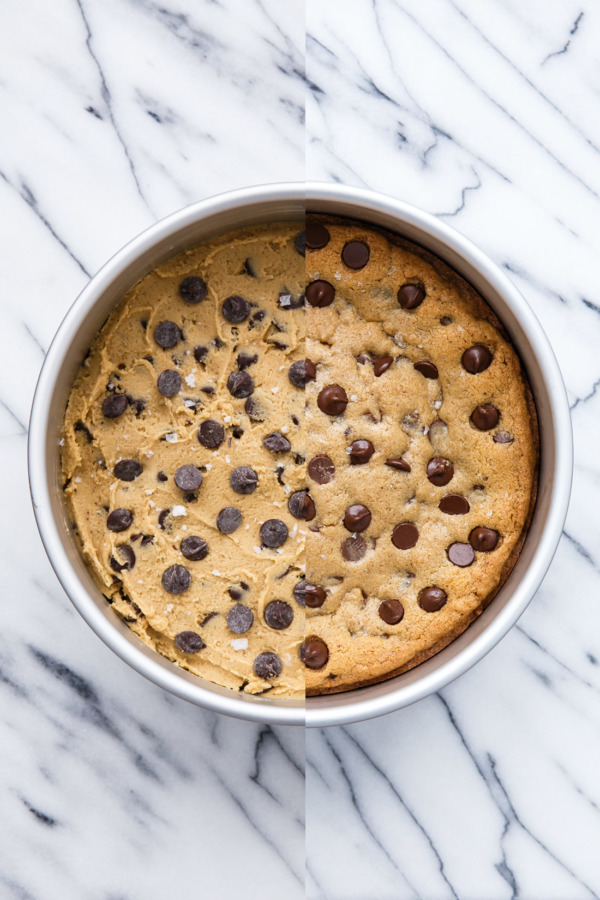 I baked this cookie in my favorite cheesecake pan with a removable bottom. The thick sides insulate the cookie better than a regular spingform, but the removable bottom makes it just as easy to take it out. You can certainly use a regular springform pan too, a pie pan would also work (though you'd serve and slice it in the pan like you would a regular pie).
Be sure you let the pie cool completely before you pipe the frosting; I know the wait is killer, but, trust me, you don't want a melted mess of chocolate buttercream which is exactly what you'll get if the cookie isn't completely cool.
Your patience will be greatly rewarded.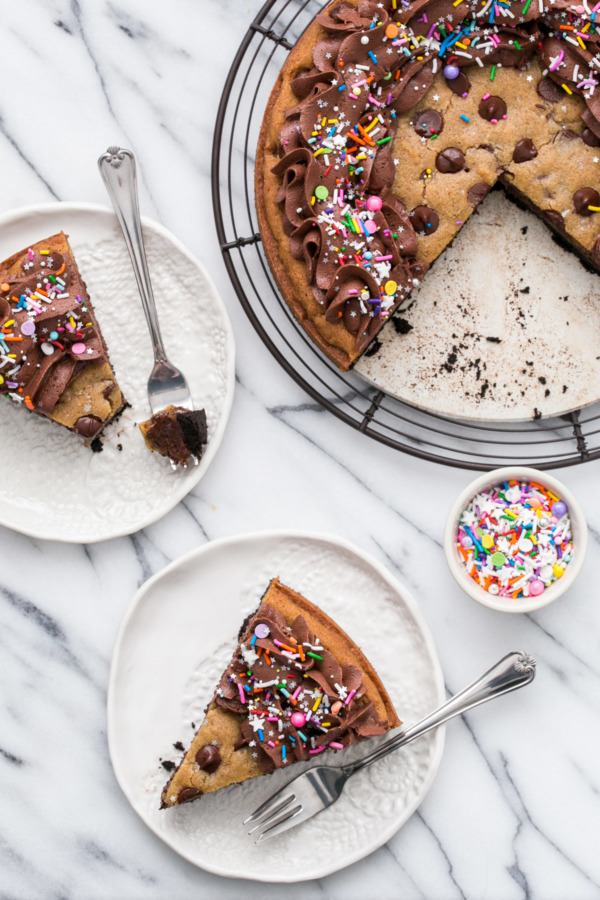 Golden brown crispy edges and a soft and gooey center (the best part if I do say so myself), topped with swirls of fluffy cocoa buttercream and a flurry of colorful sprinkles.
Oh, baby!
Whether you are celebrating a birthday, baby shower, or just an ordinary weekday, this chocolate chip cookie pie is the perfect recipe for all celebrations: large and small.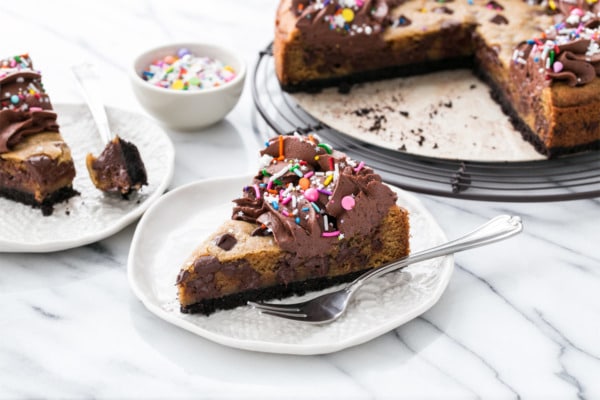 Chocolate Chip Cookie Pie
This giant chocolate chip cookie is baked in a cake pan with a chocolate cookie crust and fluffy chocolate buttercream frosting. Don't forget the sprinkles!
Ingredients:
For Crust:
1 1/4 cups (6 ounces) chocolate wafer cookie crumbs
1 ounce semisweet chocolate, finely chopped
3 tablespoons unsalted butter, cut into chunks
For Cookie:
3/4 cup unsalted butter, at room temperature
1 cup packed light brown sugar
1 large egg plus 1 egg yolk, at room temperature
2 teaspoons vanilla extract
2 cups (8.5 ounces) all-purpose flour
2 teaspoons cornstarch
1 teaspoon baking soda
3/4 teaspoon salt
1/2 teaspoon instant espresso powder (optional)
1 1/2 cups semi-sweet chocolate chips
maldon flake sea salt, for topping
For Frosting:
1/2 cup unsalted butter, at room temperature
1/4 cup cocoa powder, sifted
1 1/2 cups powdered sugar, plus more as needed
2 tablespoons heavy cream, plus more as needed
pinch salt
1/4 teaspoon vanilla extract
sprinkles, for decoration
Directions:
Preheat oven to 350 degrees F.
For crust, combine butter and chocolate in a microwave safe bowl. Heat in the microwave on 50% power, stirring every 30 seconds, until chocolate is melted and smooth, about 1 to 2 minutes. Pour into cookie crumbs and mix until evenly moistened.
Press crust into the bottom of 9-inch springform pan or cake pan with removable bottom (you can also use a pie pan if you want, and just serve it in the pan like you would a normal pie instead). Refrigerate crust while you make the dough.
In a large mixing bowl or the bowl of a stand mixer fitted with paddle attachment, beat the butter for 1 minute on medium speed until completely smooth and creamy. Add the brown sugar and beat on medium speed until creamy, about 1 minute. Mix in egg, egg yolk, and vanilla on medium-high speed until combined, scraping down the sides of the bowl as needed.
In a separate bowl, whisk together flour, cornstarch, baking soda, salt, and espresso powder.
With the mixer on low speed, slowly add dry ingredients and mix until well combined. Stir in chocolate chips (set a few tablespoons of chips aside to sprinkle on top if desired).
Press the cookie dough evenly into the prepared crust. Sprinkle with remaining chocolate chips and a pinch of flake sea salt.
Bake for 25 to 30 minutes or until the cookie is golden brown around the edges and just cooked through in the middle. If you prefer a gooier cookie, take it out at the low end of this range; if your prefer your cookies crispier and cooked through, you may want to cook it a few minutes more. Remove from the oven and set the pan on a wire rack to cool completely. Remove the sides of the springform pan.
For frosting, cream butter with an electric mixer on high speed until light and fluffy. Add cocoa powder and 1 cup of powdered sugar and mix until smooth, scraping down the sides of the bowl as needed. Add remaining powdered sugar, 1/2 cup at a time, alternating with a tablespoon or so of heavy cream, until desired consistency is achieved. In warmer months, you may need less cream/more sugar to make a thick, pipeable frosting; in cooler months it might be the opposite. Mix in salt and vanilla and beat until very light and fluffy.
Spoon frosting into piping bag fitted with a large star tip. Pipe onto edges of cooled cookie in a decorative pattern. Top with sprinkles as desired. Store cookie in an airtight container at room temperature for up to 3 days.
Did you make this recipe?
Let us know what you think!
Leave a Comment below or share a photo and tag me on Instagram with the hashtag #loveandoliveoil.
Want even more sprinkles?!
Be sure to check out all the other baby shower goodies created by some of my favorite bloggers: