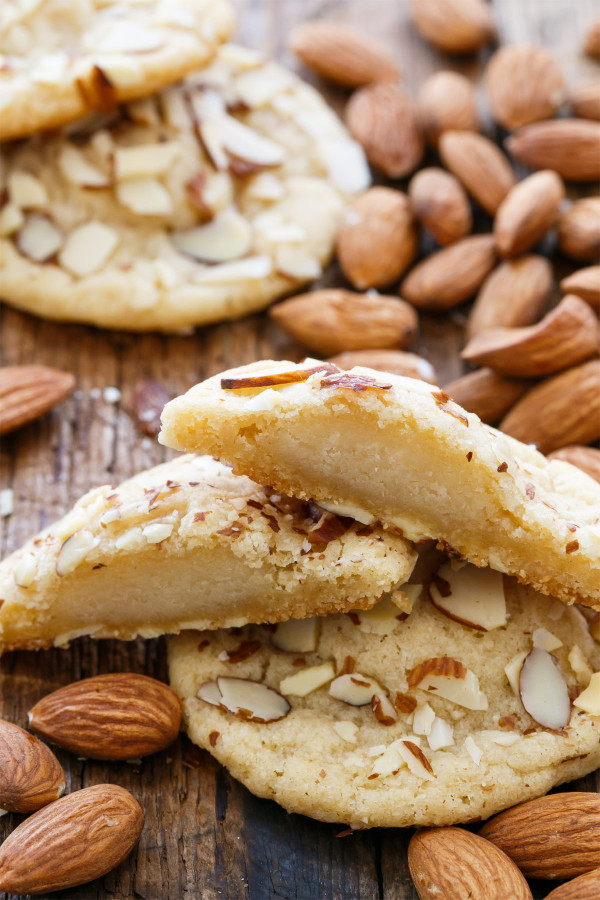 I've made plenty of stuffed cookies before. I've made marzipan-laced cookies before. But what I haven't done before is stuff cookies with marzipan.
I mean, it seems obvious now that I've done it, and now that I have, I'm not sure how I lived without these cookies in my life for so many years before this moment.
Taylor, upon taking a single bite of my first batch warm from the oven, promptly declared this the best cookie he's ever eaten. I acknowledged his compliment and went back to work, knowing full well that he often speaks in hyperbole and his "best ever" changes on a near-daily basis. Besides, you already know my feelings on designating recipes the "best ever"…. because really, unless you never plan to bake another cookie for the rest of your life, all you can honestly say is it is the "best so far". It's not quite as finite that way.
But then I shared a few of these cookies with our contractor and crew currently hard at work over at the new house, and he too exclaimed it was the best cookie he's ever eaten.
Perhaps I'm on to something here?
These utterly soft, almond-flavored sugar cookies are stuffed with pillows of marzipan filling, lightly scented with orange blossom water (because, as I discovered before, orange blossom and almond are a match made in confection heaven).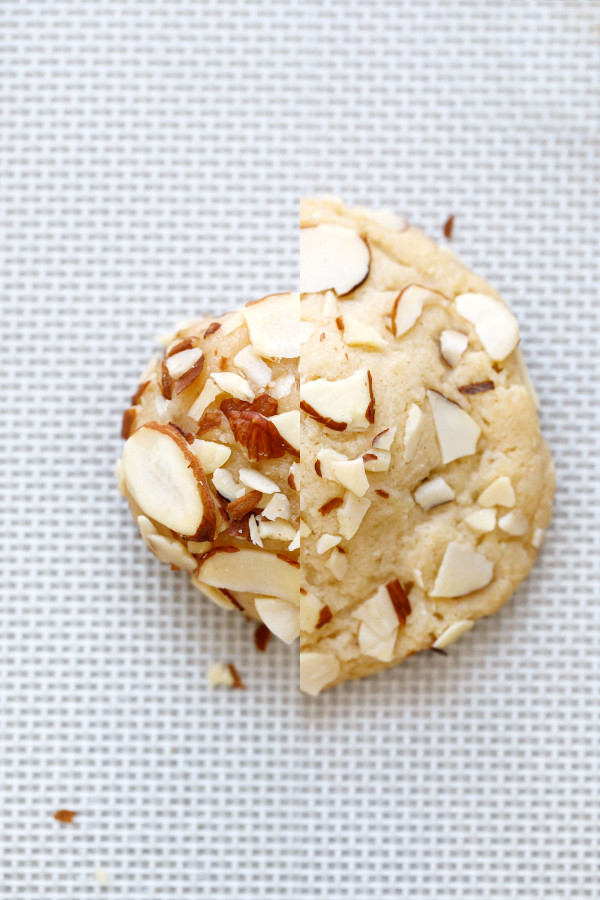 The cookies are stuffed, then rolled in some crushed sliced almonds for an added layer of crunch. They puff when they bake, then slightly sink when they cool, forming darling little mounds around the almond filling, a visual hint that there is more to these cookies than meets the eye.
Stuffing the cookies is fairly straightforward. Simply split your dough ball in two and slightly flatten in against your palm. Place your disk of almond paste filling in the center, then top with the other half of the dough. Press to seal around the edges, then press the whole ball into the crushed sliced almonds before placing on the baking sheet.
I used the soft sugar cookie base from America's Test Kitchen, one that I've used times before, which incorporates melted butter, oil, and a bit of cream cheese into the cookie base. This perhaps unusual combination results in a pillowy soft sugar cookie that stays soft for days.
In this version I used a mix of white and brown sugars, which results in a cookie that's somewhere in between a sugar cookie and a chip-less chocolate chip.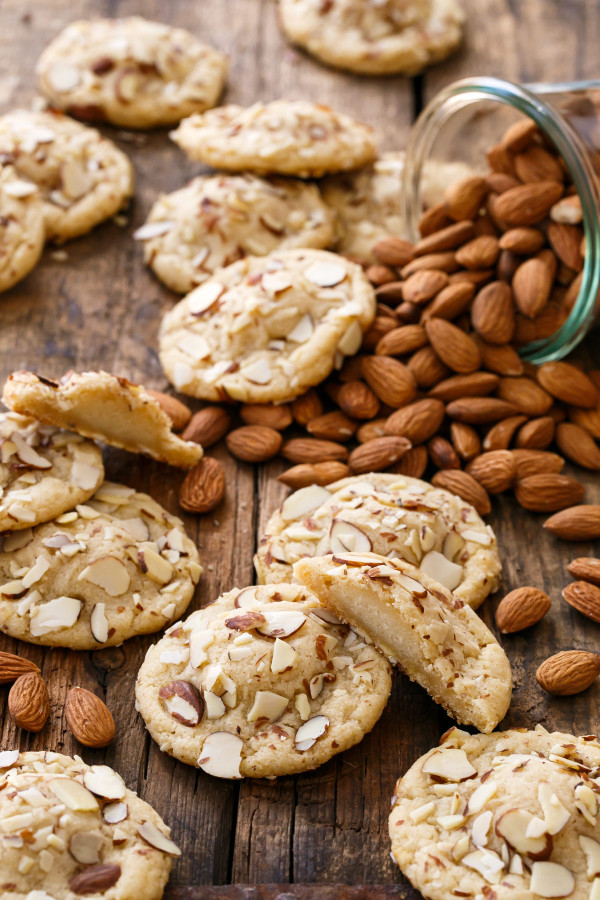 Almond lovers (my people): this one's for you.
Note: This recipe has been re-tested and updated as of December 2018, since the featured product, an almond & wheat flour blend, has been discontinued (and more than one reader attempts using all almond flour don't quite produce the same result). This new version uses both all-purpose and almond flours to replicate the original as closely as possible!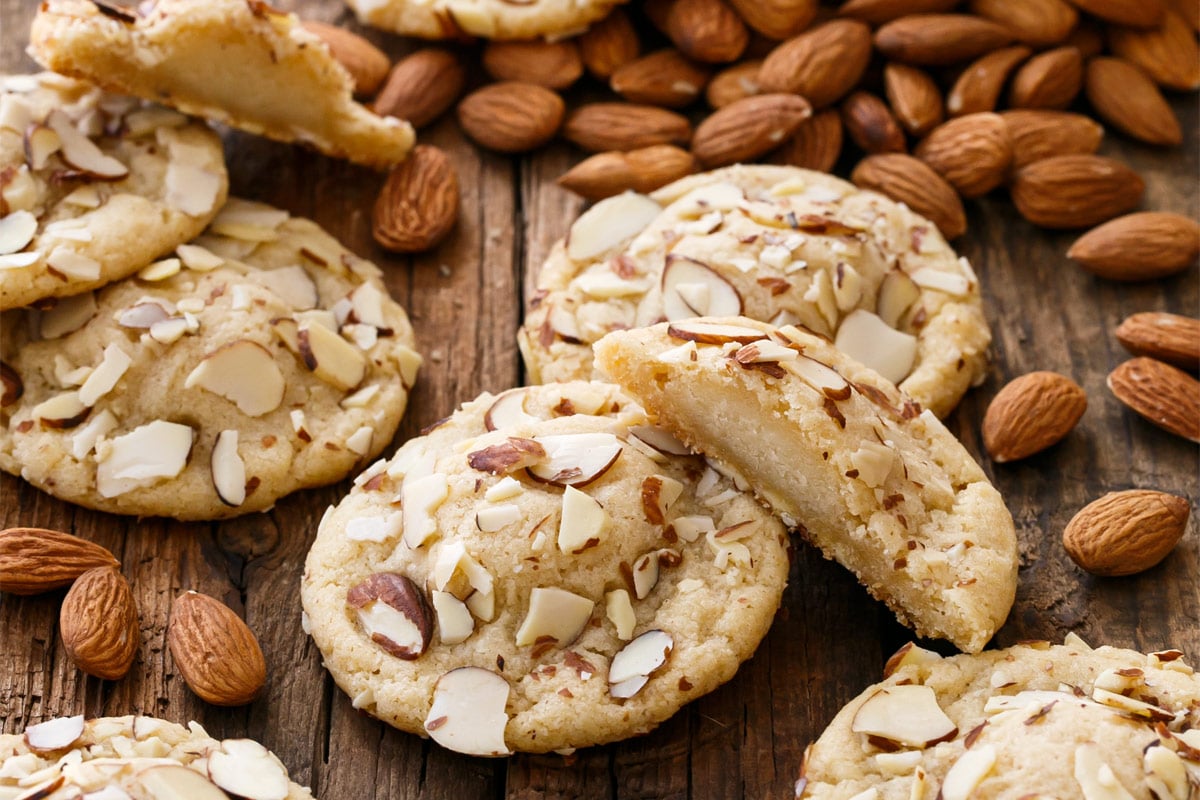 Marzipan-Stuffed Almond Sugar Cookies
Deliciously soft almond-flavored sugar cookies are stuffed with pockets of marzipan, lightly scented with orange blossom water for a unique flavor.
Ingredients:
For Cookies:
2 cups (8 1/2 ounces or 240 grams) all-purpose flour
1/2 cup (2 1/2 ounces or 70 grams) almond flour
1 teaspoon baking powder
1/2 teaspoon baking soda
1/2 teaspoon kosher salt
1 cup granulated sugar
1/2 cup packed light brown sugar
1/4 cup (2 ounces) cream cheese, at room temperature
6 tablespoons unsalted butter, melted
1/4 cup vegetable oil
1 large egg, at room temperature
1 teaspoon vanilla extract
1/2 teaspoon almond extract
For Filling:
8 ounces almond paste
2 teaspoons light corn syrup
1/2 cup powdered sugar, plus more as needed
1/2 teaspoon orange blossom water (optional)
1 cup sliced almonds, lightly crushed
Directions:
Preheat oven to 350 degrees F. Line baking sheets with parchment paper or a silicone baking mat.
In a bowl, whisk together flour, almond flour, baking powder, baking soda, and salt; set aside.
Combing sugar, brown sugar, and cream cheese in a large mixing bowl; smoosh and blend with a large rubber spatula until uniform and paste-like. Add melted butter and oil and stir until smooth. Add egg and extracts and stir until smooth and shiny.
Pour in dry ingredients and fold until just incorporated and no dry ingredients remain. The dough will be fairly soft, but still workable as it's definitely more oily than sticky. Still, if it seems much too sticky to work with, you can chill it for 20 to 30 minutes to stiffen it up a bit.
To make filling, knead together almond paste, corn syrup, powdered sugar, and orange blossom water until smooth, using a light dusting of powdered sugar to prevent the paste from sticking. Form into 3/4-inch diameter balls (about 1/2 teaspoon worth or 5 grams each), then flatten slightly into a 1-inch diameter disk.
Spoon dough by the tablespoonful. Split in half and slightly flatten in the palm of your hand. Place one almond paste disk in the center, and top with other half of dough. Seal edges and smooth into a flattened ball shape. Press into crushed almonds until fully coated, then arrange on prepared baking sheets, leaving 2 inches of space between cookies.
Bake for 10 to 12 minutes or until tops are puffed and edges are lightly golden brown. Let cool for 5 minutes on baking sheet, then transfer to a wire rack to cool completely. Repeat with remaining dough. Cookies will keep in an airtight container for up to 5 days.
Did you make this recipe?
Let us know what you think!
Leave a Comment below or share a photo and tag me on Instagram with the hashtag #loveandoliveoil.