After 5 gelato-filled nights in Venice and 2 chocolate-filled days in Zurich, our travels took us to the French countryside, or more specifically, the Loire Valley: land of medieval castles and royal châteaux and vineyards as far as the eye can see. We spent 6 days in this lovely little region of France, exploring castle gardens, wandering flower-lined streets, sipping wine and nibbling on fresh cheese and crusty bread.
It was the middle of May when we were there, and the picturesque little towns were in full bloom. It's one of the reasons why spring is my favorite time to travel: everything is so much more charming when flowers are involved. It's also generally less crowded than summer and more temperate too. It was actually a bit colder than I anticipated, and I spent the first few days shivering until our hostess so kindly lent me a scarf (note to self: always pack a lightweight scarf even if the weather forecast misleads you). I eventually picked up my own scarf from a boutique in town, and wouldn't you know, as I stepped out of the store, the clouds parted, the sun warmed my face, and the temperature continued to go up from there (should've bought the scarf earlier in the trip! Ha!)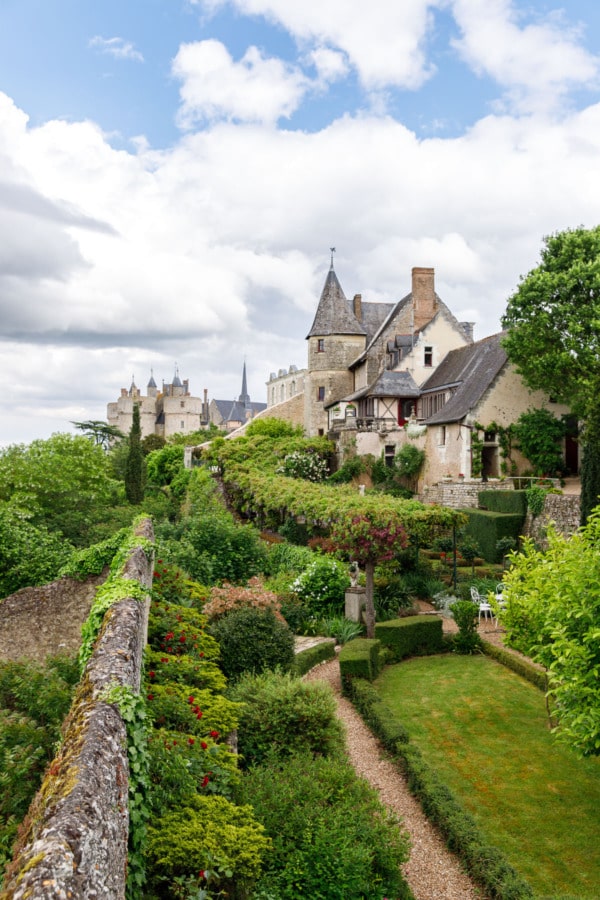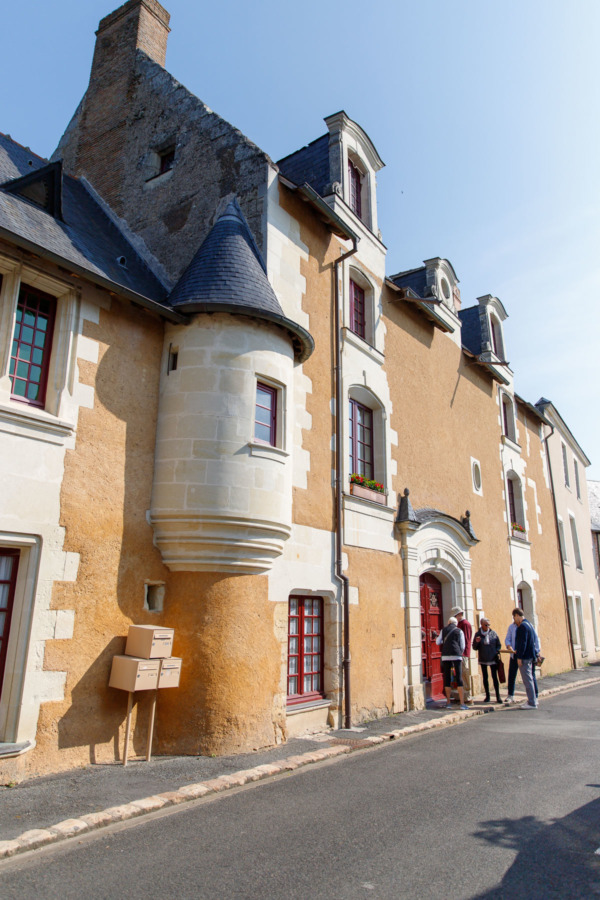 When we were just starting to plan this trip, Venice was a given, but it seemed logical to make the most of our travel (the flight over being the most expensive part) and see another place while we were over there any way.
My travel bucket list is full of destinations, from Iceland and Portugal to Croatia and Greece, not to mention the rest of Italy and, well, everywhere else (just about). One place that wasn't on my shortlist, however, was the French countryside (Taylor and I usually preferring to stick to cities when we travel).
After a bit of hypothetical back and forth, my aunt sent me a link to her friend's chateau in France. When you get an email that says, "My friend has a château in France"… do you really need to think about it?
When I clicked the link and actually saw Maison Dovalle, well, let's just say I've never responded to an email so quickly and confidently. Yes! A thousand times yes! Don't twist my arm or anything.
So, it was settled, we'd spend 2 weeks in Europe, splitting our time between Venice and France. (We also ended up with 2 bonus days in between, which we spent in Zurich. You can read about that here!)
This is how we found ourselves in the tiny hilltop town of Montreuil-Bellay, about 3 hours outside of Paris, staying in a beautiful 15th century castle chateau overlooking the valley.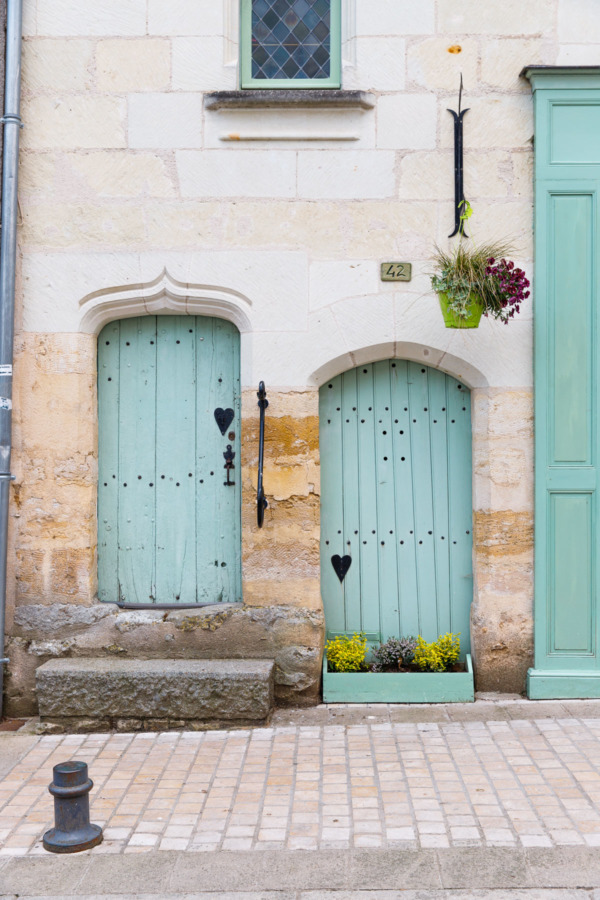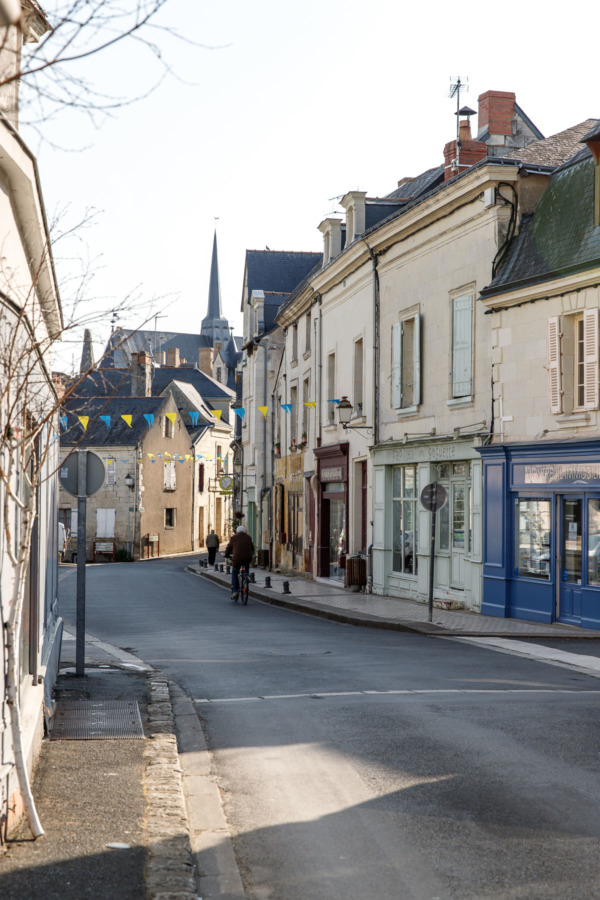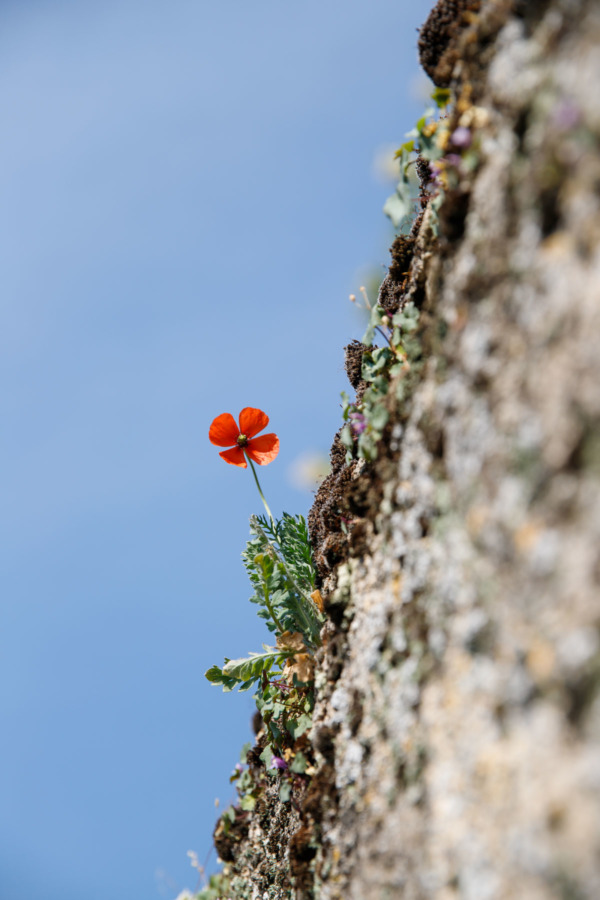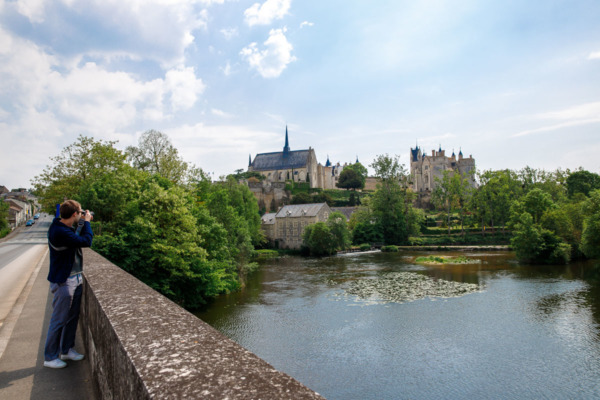 The Loire Valley region is probably best known for it's castles and châteaux, the area being a popular country retreat for the French nobility in the 16th and 17th centuries (seriously, you could spend two months just visiting the 100+ open-to-the-public châteaux alone). It's also known as the Garden of France due to its abundant orchards and vineyards, the mild climate making it a perfect agricultural center. The central part of the valley was added to UNESCO's list of World Heritage Sites in 2000.
It's one of those places that you could easily tack on to a trip to Paris, either as a day trip to one or two of the castles, or even a few nights relaxing in one of the charming little towns. Or better yet, spend a whole month here hopping from town to town, castle to castle (you'd need at least that long to really see them all).
I don't have an extensive list of recommendations for restaurants and such, as, to be completely honest, easily 2/3 of our meals were a mish-mash of market finds and nibbles enjoyed at the chateau. However, I've organized my images by location and will talk a little bit about some of the other towns and attractions we visited during our trip.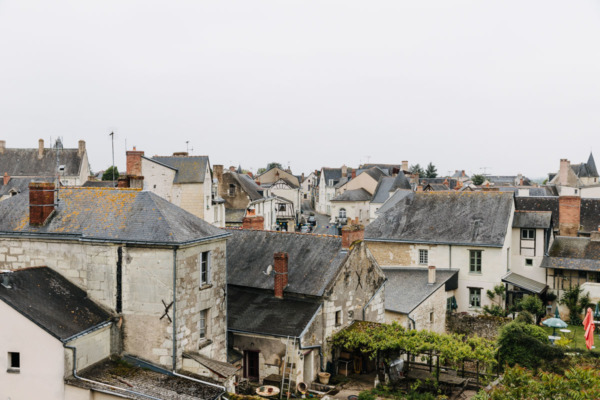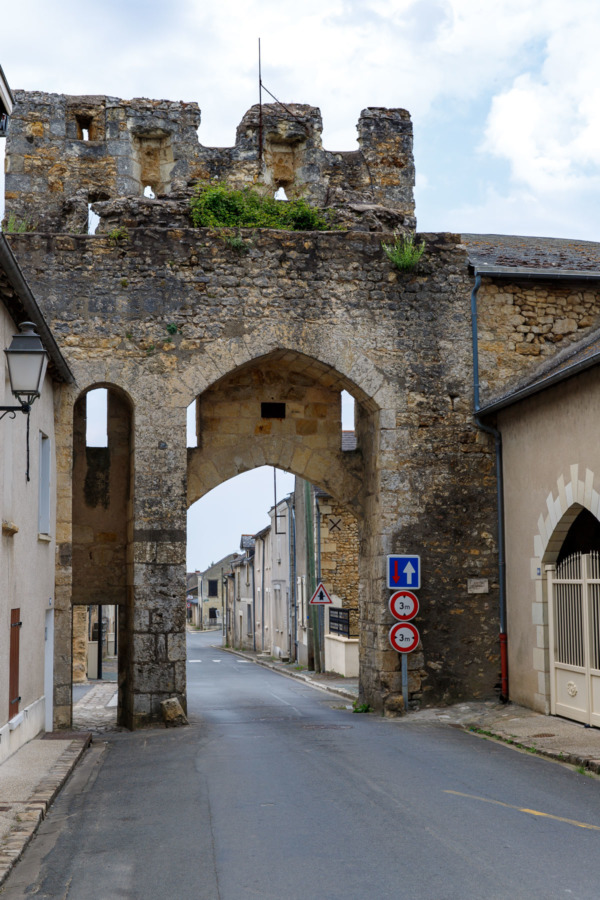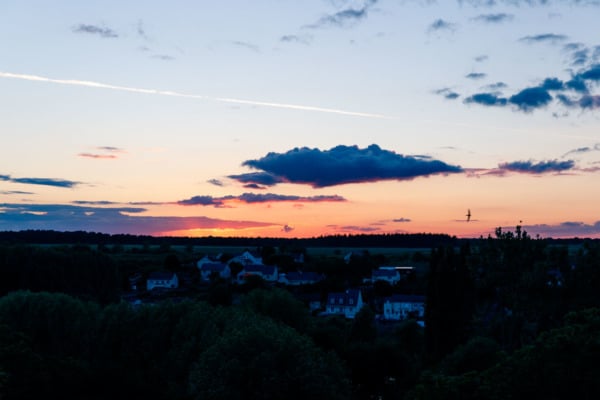 Montreuil-Bellay
Being our home base, we got to know this little town quite well, from the charming bakery we visited every day (sometimes more than once), to the local creperie overflowing with locals enjoying a light lunch.
The town itself sits up on a hill, anchored by the fairytale-esque turrets of the Château de Montreuil-Bellay, which dates back to medieval times and was the site of battles and sieges alike.
In addition to French-language guided tours of the interior, you can also wander the grounds and ramparts on your own, as well as partake in a complementary wine-tasting of some of the château's award winning wines.
The town itself boasts an adorable little patisserie (the highlights being the speculoos eclair and marizpan pig filled with layers of almond cake and chocolate cream), a creperie, a few little cafes and French restaurants, an antique shop, a clothing boutique, multiple wineries, a pharmacy (travel tip: learn how to say "I have a cold" in the local language) and even a Super U (the French equivalent of a Walmart). I mean, everything you need, right?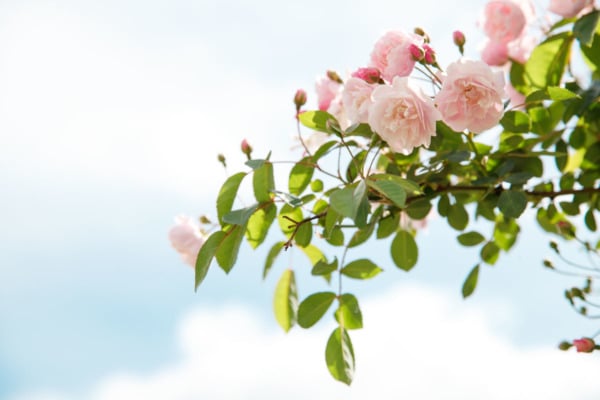 Montsoreau
This cute little village is home to a bustling flea market on the 2nd Sunday of every month, which worked out perfectly with our schedule. Vendors line the streets along the river selling a wide array of antiques and eclectic goods, as well as locally-made food products and fresh produce at the food market (which happens every Sunday). There was also a local arts and crafts exhibit, where we picked up a gorgeous little etching of the town (art being one of our favorite souvenirs).
We had reservations for brunch at La Marine de Loire hotel & spa, which offers a delightful brunch buffet in their charming tea room. With a large assortment of fresh breads, savory bites and gorgeous little pastries, it was quite enjoyable. (I'm still thinking about that little orange pastry, layers of cream and crunch and bright citrus.)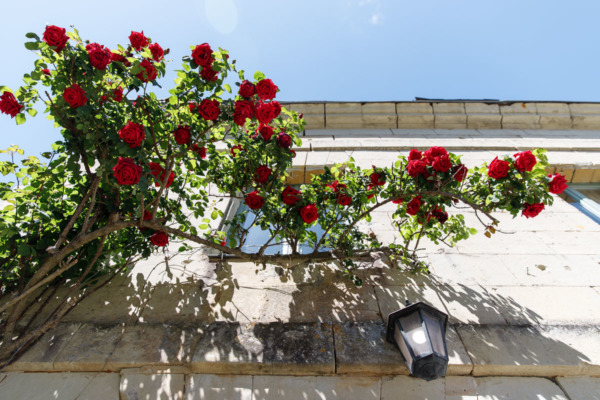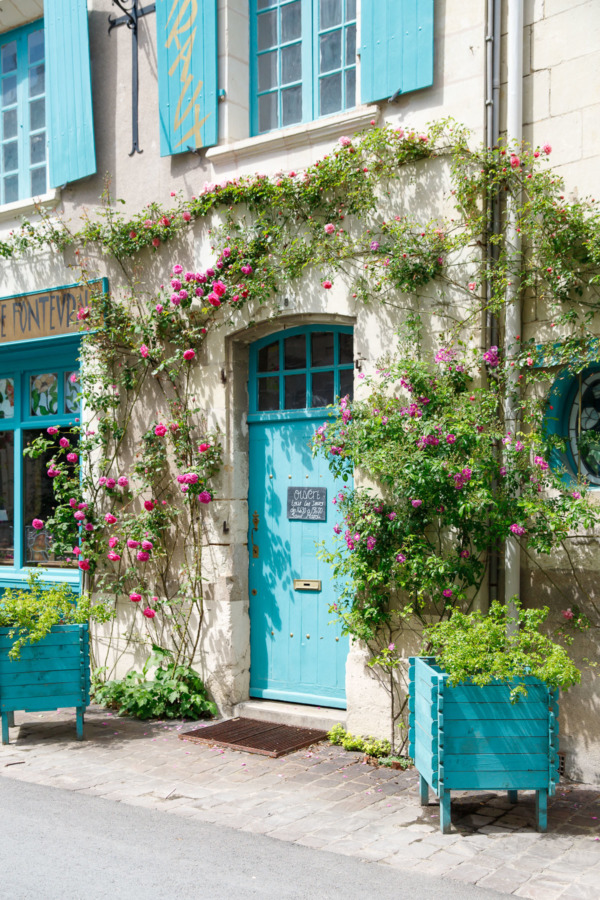 Fontevraud-l'Abbaye
We drove through this adorable little down on our way to the flea market in Montsoreau, and knew we had to stop for a closer look on the way back. The town is home to the Fontevraud Abbey, the largest abbey in Europe.
We spent a bit of time in the gift shop (a lovely little gift shop if you're looking for unique souvenirs), but opted not to tour the abbey itself and instead explore the rose-lined streets, er, street—there's really only one main street running through the town.
There's not much else here besides the abbey and a few shops lining the downtown square. Still, it was worth checking out if only for those turquoise doors (that shot's a framer!)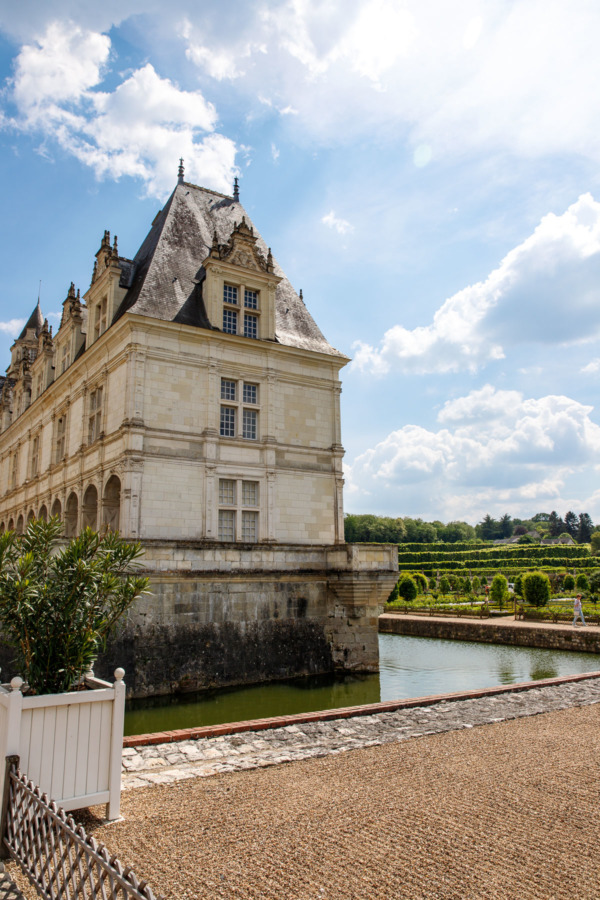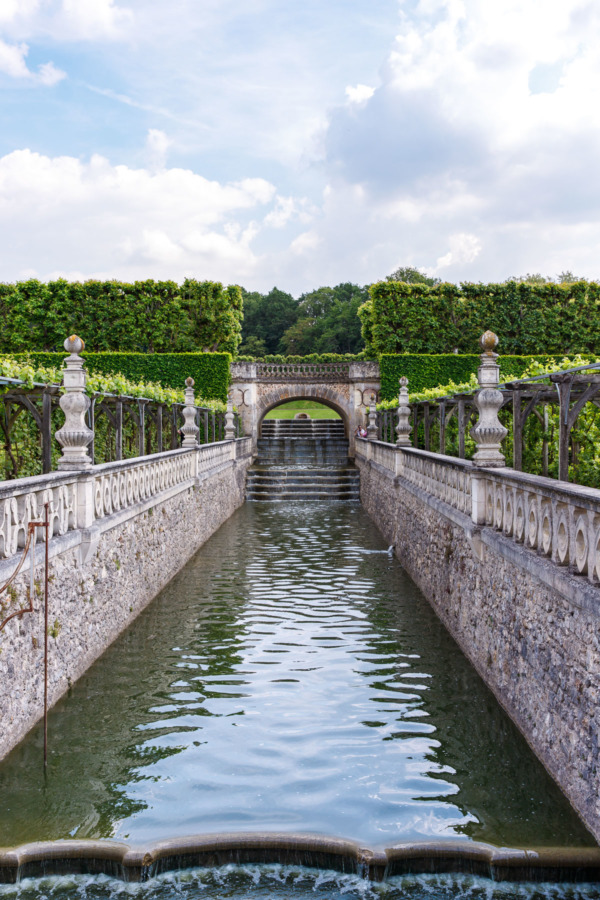 Villandry
Sure, we could've spent all week touring castles and châteaux, but we didn't. Still, we figured we had to go to at least one while we were in the area, and the gardens of Château Villandry lured us in.
I'll note that the chateau itself isn't exactly what I expected. The home was still in use as a country retreat as recent as the early 20th century, so it's not nearly as historic as I thought. We walked through the interior pretty quickly, opting to spend the majority of our time outside in the gardens, which are truly spectacular.
Travel Tip: Even if you're just there for the gardens, I still recommend purchasing an interior ticket too. It's the only way to get up to the keep and see the gardens as they were meant to be seen: from above.
Also? Don't pass up the snack bar outside. It was rather warm that afternoon and the prospect of a refreshing scoop of ice cream lured me in. The flavor list was quite extraordinary, featuring herbs and produce from the gardens. My nettle, verbena and mint sorbet was decidedly different from my normal flavor choices, but absolutely delightful. I don't think I've ever seen nettles for sale at our local farmers market, but you can bet if I ever do I will try to recreate this.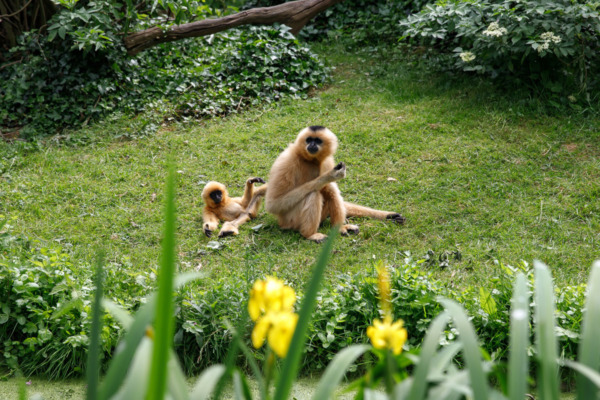 Bioparc de Doue la Fontaine
Wait, I thought you went to France? Why are there pictures of lions and giraffes??
While a zoo might not be what you expected in the middle of French wine country, the Bioparc in Doue la Fontaine (a quick 15 minutes drive from Montreuil-Bellay) is definitely worth the trip. It's by far one of the most unique zoos I've ever encountered.
Built within an old rock quarry, the habitats are constructed in amongst the rock walls, with tunnels and passageways leading to different levels of the park. The well-planned enclosures make you feel like you are part of the animals' natural habitats, rather than just coldly observing them through a metal fence.
The South American aviary was by far one of our favorite areas, we could have easily spent an hour there just watching the parrots, flamingos and penguins flitting about within the natural stone walls, although the giraffes, lions, monkeys and goats were fun to see as well.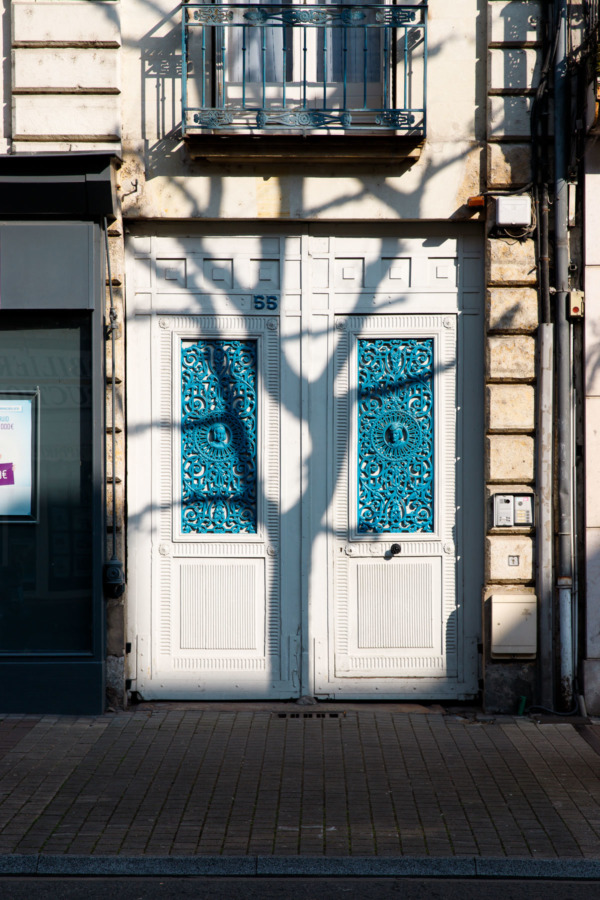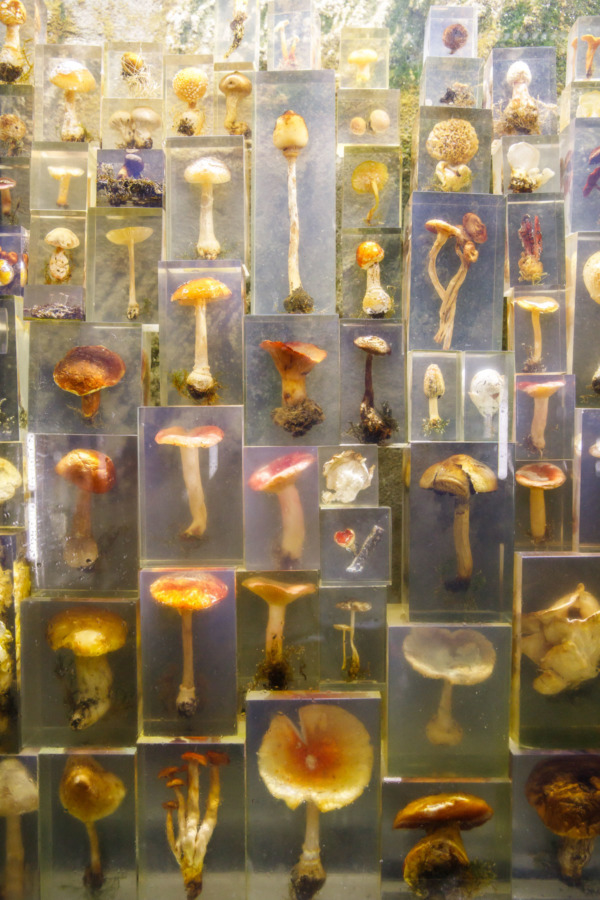 Saumur
Saumur was the largest town and closest train hub to Montreuil-Bellay. It's a pretty easy 3 hour train journey from Paris here, although not a direct one. We didn't spend a lot of time here, the town itself being much larger and more commercial feeling than some of the other little villages we visited. Saumur is known for its equestrian programs, although we weren't able to fit in a show while we were there.
One thing we did manage to fit in? The mushroom museum (duh). Located just outside Saumur, the Musée du Champignon is built within a troglodyte house and the natural caves extending far into the mountain behind it. It's a self-guided tour, but the museum's caves are filled with lots of informative signage in both English and French. You see examples of the many methods of mushroom cultivation as well as a huge collection of mushroom species from around the world. I found it very interesting (it'd also be great on a hot day since the caves are naturally cool).
We also did a good bit of wine-tasting in the area. Pictured above is a private tour of Le Petit Saint Vincent winery just outside Saumur, a family run winery that's been in operation for 4 generations. The natural caves underneath the winery are a sight to see!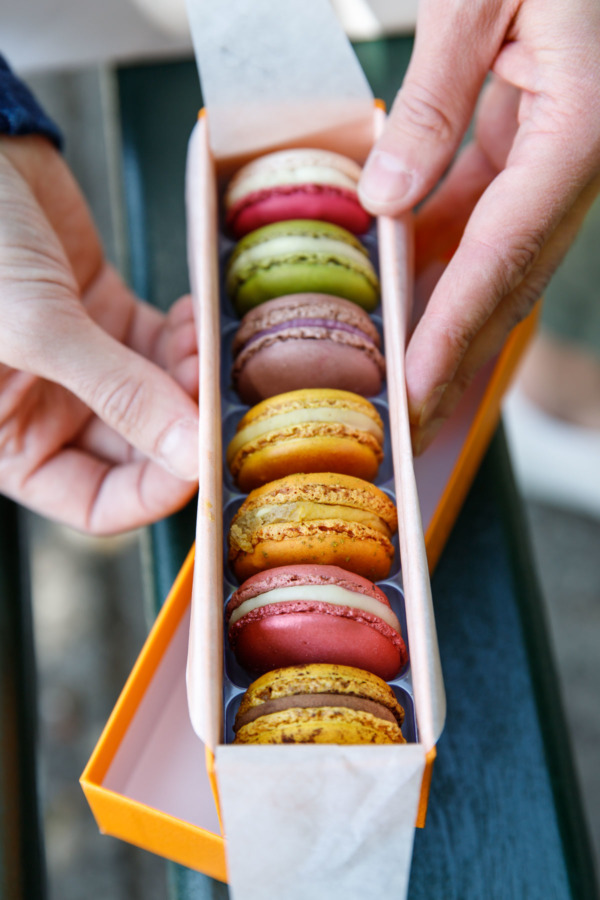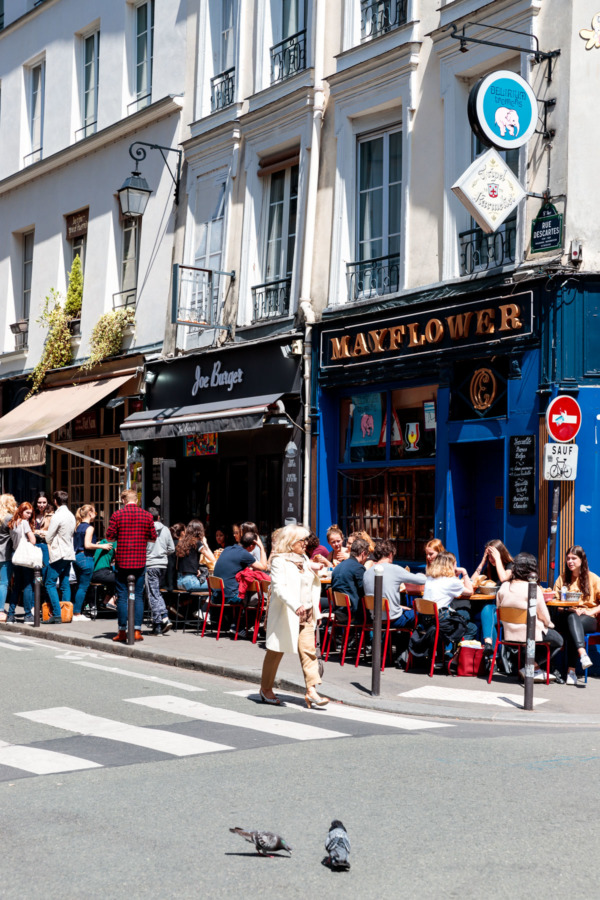 Paris
We were originally going to spend 6 nights in Montreuil-Bellay, heading back to Paris for one final night before our flight out the next day. As it turns out, we ended up heading back to Paris a day early.
We've been to France twice, and twice we've been affected by strikes in one form or another. The French go on strike quite regularly it would seem, and a series of rolling rail strikes were, coincidentally, scheduled during our trip (at least they have the courtesy to schedule them, but still). I wouldn't have known about it except for an article I saw on David Lebovitz's facebook page (coincidentally, the same way I found out about the air traffic control strike when we were scheduled to fly into Paris 3 years ago).
If you're planning on going to or through France, either by plane or train, it's worth a quick google before you go just to make sure there are no strikes. I'm not sure what we would have done if we hadn't known about this, arriving at the train station for our originally scheduled train only to find it cancelled. We probably would have panicked, argued about what to do, and ended up on a 5 hour bus ride to Paris (doesn't that sound fun).
Still, the last French strike gave us a bonus day in London… this time we got a bonus day in Paris. I, for one, am not complaining.
A day in Paris probably doesn't warrant it's own post, but we took the opportunity to check out Montparnasse and the Latin Quarter, areas we hadn't had time to see before, as well as grab a few pastries and even meet up with Laura and Connor who coincidentally happened to be there at the same time (if you recall, we both happened to be in Japan at the same time last year. Could this be the start of an accidental yearly tradition?)