For a quick and flavorful weeknight dinner, this unique yellow curry is just the ticket: creamy and coconutty and packed with bold, balanced flavor on top of a bed of smoked basmati rice.
It's a well-rounded, ultra-satisfying meal. What's more, it's ready in no time, and makes for some amazing leftovers.
The recipe you see here is certainly not what we started with; changing, evolving and improving each and every time we made it.
After first discovering the brilliance that is Vadouvan (I believe it was a magazine recipe that first mentioned this new-to-us spice blend), we whipped up a deliciously simple coconut curry with little more than chicken and onions. Flavorful, sure, and we definitely made note of its potential, but it was, frankly, lacking in the substance department. We tried adding sautéed spinach, cauliflower florets, and even tofu to give the dish more oomph and substance.
This most recent version, our favorite by far, adds tomato and okra. As it turns out, the hint of acid and sweetness from the tomato and the hearty texture of the okra, not to mention its natural thickening properties, are just what this dish needed.
The okra lends a lovely thick, velvety texture to the curry. Traditionally considered a Southern staple, okra is rather versatile and makes a perfect addition to curries like this one.
Okra is often chastised for it's slimy texture (once you start slicing it you'll know exactly what I mean). Here we've embraced the slime instead of fighting it: cooked down within the flavorful coconut curry sauce, the slime serves as a natural thickener, resulting in a unique velvety texture that simply can't be reproduced with traditional thickeners like cornstarch or flour.
That said, the okra can only thicken the curry so much, so please, please use full fat coconut milk here. The lite stuff is simply too thin and watery and you won't achieve the same rich results.
Can I also just take a moment to admire the beauty of okra? It might seem low-brow, but when you really stop to examine the geometric perfection of this unique pod, you really can't help but admire it's beauty. The fact that it's delicious too, well, that's just an added bonus.
This particular variety, gifted to us by a food-loving neighbor, is known as Star of David okra. I won't nitpick the fact that it actually has 8 points, not 6, although I definitely see where they were coming from (since more common varieties of okra only have 5 points).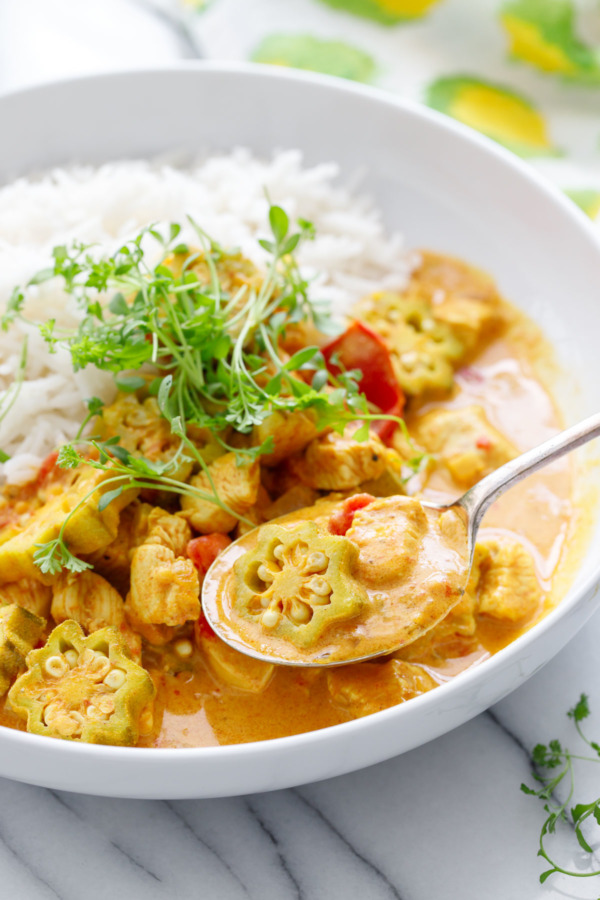 The smoked basmati rice was a new-to me discovery recommended by a member of my facebook group who lives in Germany. I was so intrigued by the sound of it that I instantly tracked it down online and bought myself a bag. It's definitely more pricey than regular rice, but we've really been enjoying the extra hint of smokey flavor that it brings to savory dishes like these.
I imagine you could accomplish something similar with regular basmati rice seasoned with smoked salt instead.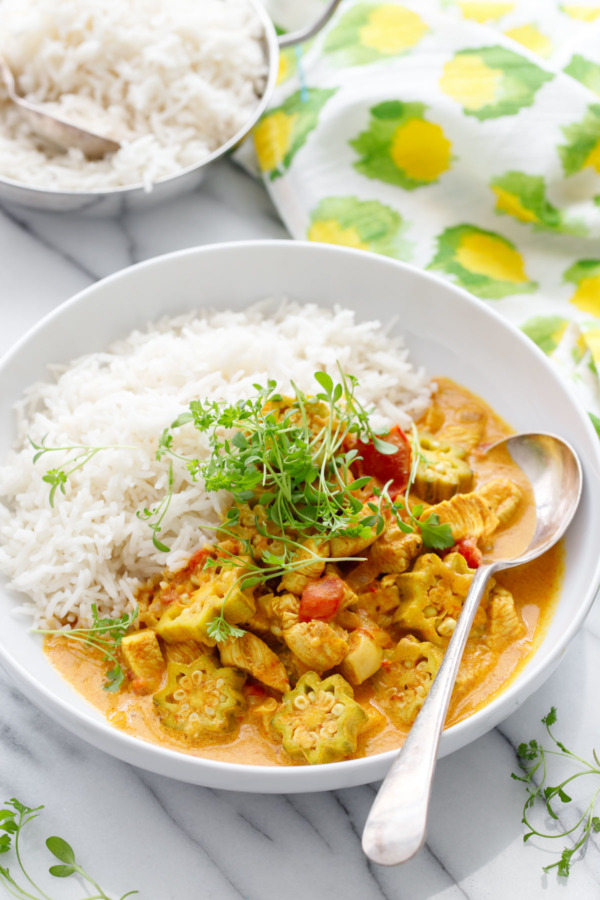 What is Vadouvan?
Vadouvan is a French yellow curry spice blend. It's more allium forward (with dried shallots, onion, and garlic) than your typical yellow curry, with a heady fragrance of coriander, fennel and fenugreek and a slight hint of smoke that plays off the rich coconut cream and smokey rice. Normally yellow curry is too heavy on the cumin for my tastes, but Vadouvan is much more subtle and refined.
You can certainly use regular yellow curry powder here, but I'd definitely encourage you to track down some Vadouvan and give it a try, even if you're not normally a fan of yellow curry. I count myself among you, and have to say, this stuff really changed my opinion about yellow curry forever.
I mean, if you're ordering the smoked basmati rice online anyway, you may as well get some Vadouvan too.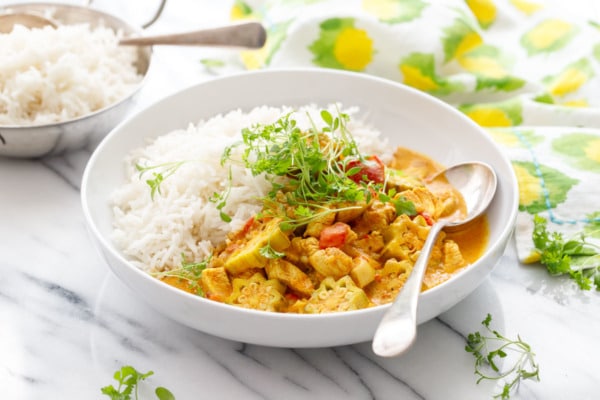 Vadouvan Chicken Curry with Smoked Basmati Rice
This easy and satisfying curry is made with Vadouvan, a French spice blend that's deliciously unique. It's rich and creamy, with chicken, okra, fresh tomatoes and served atop a bed of smoked basmati rice.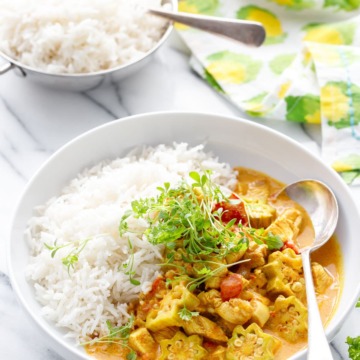 Ingredients:
2 tablespoons coconut oil
1 large onion, chopped (about 1 1/4 cups chopped)
3 tablespoons Vadouvan curry powder
1/2 teaspoon kosher salt
1 large tomato, cored and coarsely chopped
6 ounces fresh okra, stems removed and thickly sliced
2 boneless skinless chicken breasts, cut into bite-sized pieces
1 14oz. can full-fat coconut milk
1 tablespoon lime juice
1 1/2 cups smoked basmati rice, cooked according to package instructions
Fresh cilantro (or micro cilantro), for garnish
Directions:
Prepare rice according to package instructions, ideally timing it so that the rice is done about the same time as the curry. Keep covered and let sit for 10 minutes before fluffing with a fork.
Heat coconut oil in a large non-stick skillet over medium high heat. Add onion and sautée until softened and just starting to color, about 8 to 10 minutes. Add curry powder and salt and stir until onion is evenly coated and fragrant, about 1 minute.
Add tomato and okra and cook for 5 to 7 minutes or until tomatoes begin to break down and okra starts to soften.
Add chicken, stirring and flipping until most of the chicken is visibly opaque, about 10 minutes.
Add coconut milk and simmer for 10 to 15 minutes or until thick and velvety and chicken is cooked through. Add lime juice, then taste and season with additional salt and/or lime juice as desired.
Divide rice among serving bowls and spoon curry over top. Garnish with fresh cilantro and serve.
Did you make this recipe?
Let us know what you think!
Leave a Comment below or share a photo and tag me on Instagram with the hashtag #loveandoliveoil.