If you're thinking about visiting Croatia, chances are Plitvice National Park is on your radar (as it should be!) Before you go, here are some helpful tips and suggestions that will make your visit much more pleasant.
I'll admit, seeing photos from friends and others who've visited Plitvice may have been one of the reasons why Croatia was at the top of my travel bucket list. I mean, how can you resist that stunning blue water and cascading waterfalls?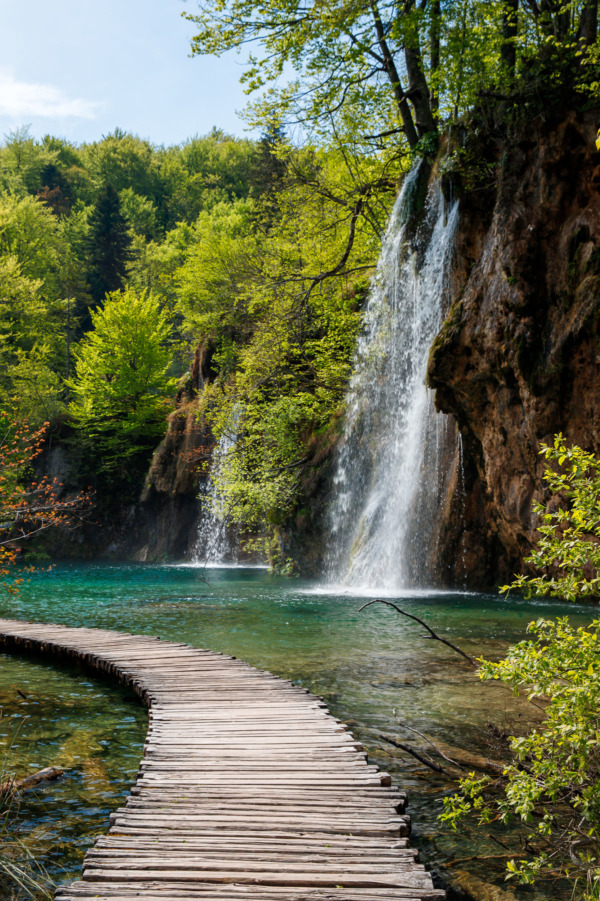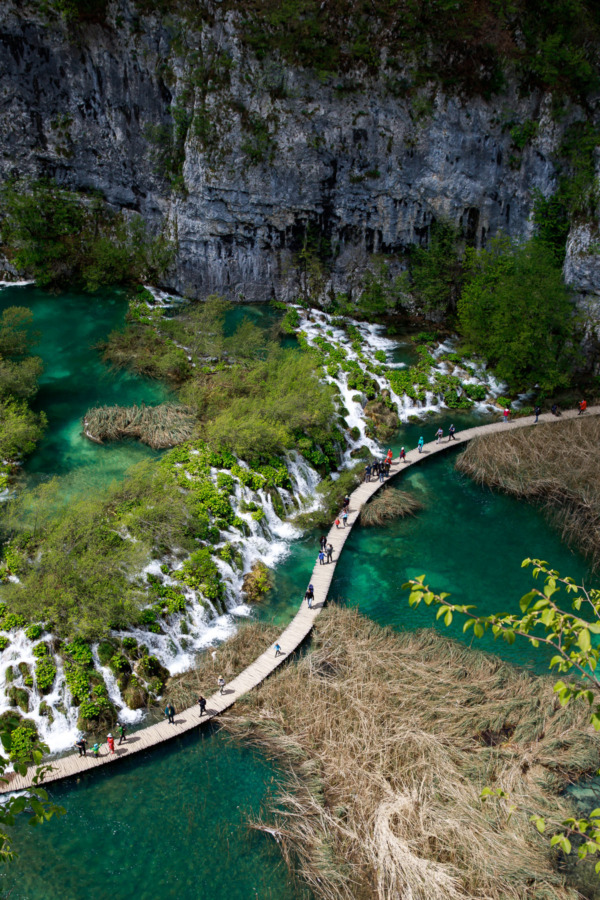 There was no doubt in my mind that we had to visit this magical place, located in the Croatia's interior not far from the Bosnian border.
We planned to spend half a day in this beautiful national park in the middle of our trip; if you wanted to hike around a bit more you could certainly plan on a full day, though I think any more than that is probably overkill (the area itself is beautiful but there's not much else to see or do nearby).
Many people visit Plitvice as a day trip, but we opted to stay nearby the night before, mainly so we could wake up first thing in the morning and be at the park right when it opened at 8am (7am in the peak summer season). We rented a car on our way out of Split, and from there made our way 2 1/2 hours inland (stopping for a bit to explore Zadar on the way) to Plitvice. The drive itself was beautiful, and the roads were well maintained and we had no issues with navigation. I highly recommend renting a car, just so you can travel on your own schedule.
We were prepared for cold weather, having seen snow in the forecast just a few days prior. We really lucked out, however, as while the day started out quite chilly, it became an absolutely perfect day with sunshine and blue skies dotted with fluffy white clouds. Even if every other day of our trip was rainy, this one perfect day more than made up for it, and was easily the highlight of our trip.
If you're going to visit Croatia, you simply have to visit Plitvice—it's by far one of the most beautiful places I've ever been.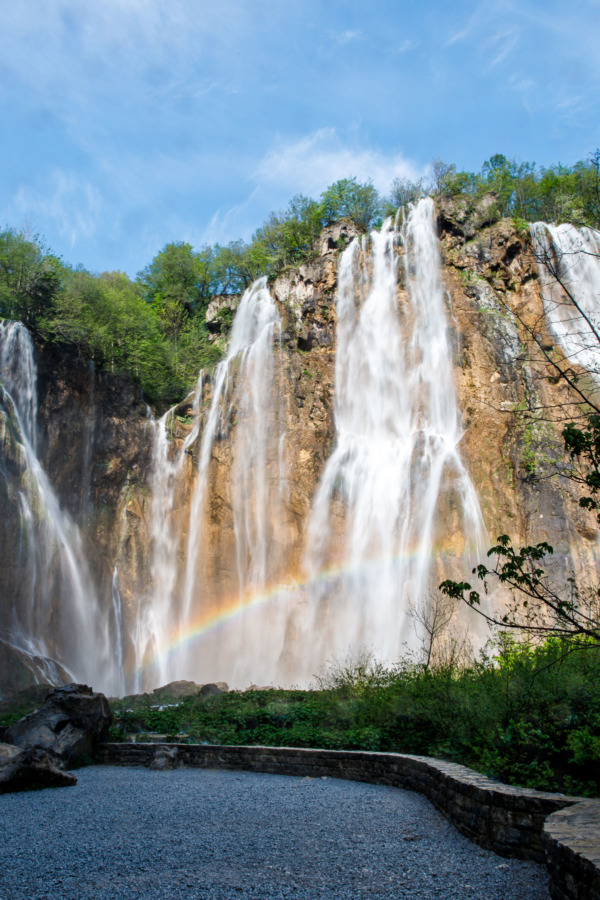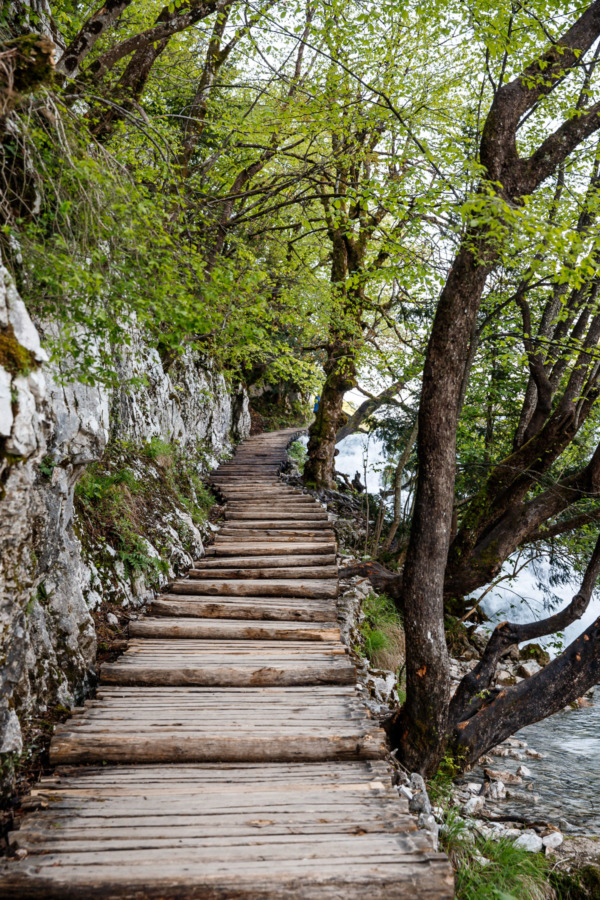 Best Time to Visit Plitvice
If you want to visit Plitvice National Park and avoid the crowds, go early on a weekday during the shoulder season (spring or fall). I personally would say spring is the best because the waterfalls will be fuller from the winter snowmelt, whereas in fall (while the colors would be stunning against the turquoise water) the falls themselves might be smaller.
The summer is the most crowded time at Plitvice, July and August especially, but if that's your only option, at least try to go on a weekday and get there at least 30 minutes before the park is open (7am during peak season — I'm being dead serious here. You can sleep in another day.) You won't have the place to yourself, obviously, but hopefully you should at least avoid the worst of the crowds.
Plitvice is also open during the winter (hours are more limited, so be sure to check opening times before you go), and while it will certainly be cold, it looks absolutely stunning (especially if you can catch it right after a fresh snowfall).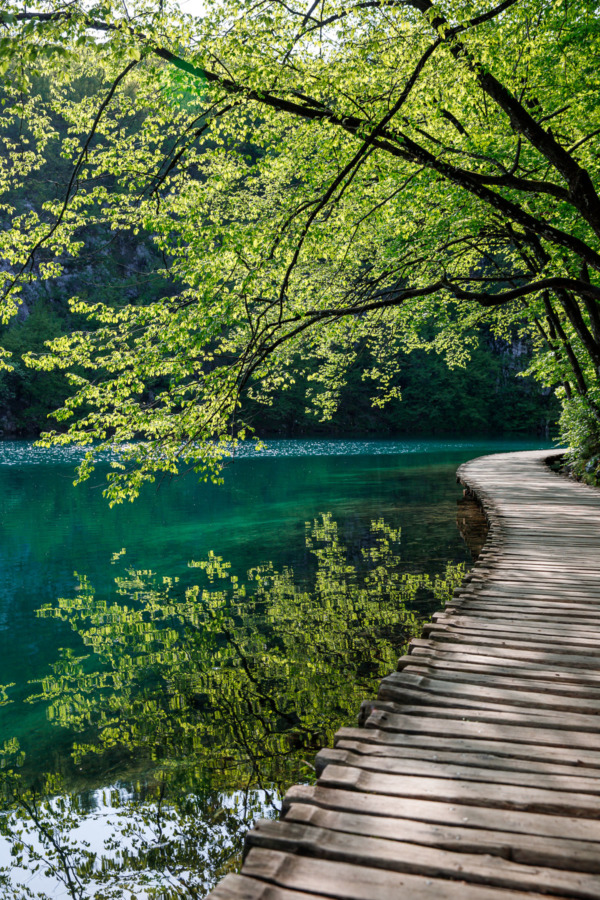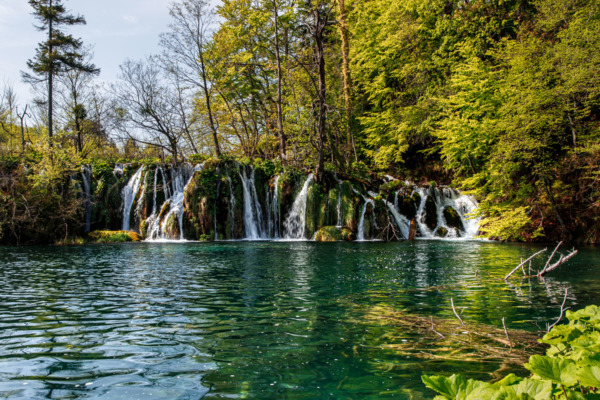 Choosing Your Route
There are a number of different routes mapped through the park, and it might be confusing as to which one is best.
The route we followed (Rick Steve's recommended route) is essentially a hybrid of routes C and H, starting with the popular lower lakes and then an abbreviated route through the upper lakes, skipping the longer top loop (which is apparently mostly wooded, not many waterfalls to see), and then ending back at the bottom with the most picturesque viewpoints overlooking the waterfalls below.
Overall we spent about 4 hours in the park, though I think this route could be easily finished in 2-3 if you don't take so many photos (lol).
Start at Entrance 1. This is the most popular entrance, which is why some recommend starting at Entrance 2, but we figured we'd get the most popular stuff out of the way early before it gets too crowded. EARLY IS KEY! Especially if you're visiting during high season, plan to get to the park 30 minutes before it opens.
Once you're in, follow the signs for Route B through the lower lakes, meandering around the boardwalks and viewing the large waterfalls head on.
The big waterfall (Veliki Slap) is a 10 minute detour off of Route B (right after you cross the first lake), and highly recommended. You can also climb up the steep steps to the viewpoint at the top of the waterfall if you want (we didn't, it's quite a steep hike and we wanted to save our energy.)
At the top of the Lower Lakes is the shuttle boat stop, a pretty 20-minute ride that takes you across Lake Kozjak to the bottom of the upper lakes.
From the boat stop follow signs for route C, leading you through some of the most beautiful lakes and waterfalls (at least we thought so!) of the entire park.
When you reach the fork in the road, leave route C and follow signs for route H, which will take you back down the South side of the lake to the shuttle boat stop, where you'll hop on a shorter boat over to a shuttle bus stop, and then a final short walk from here back down to Entrance 1, where you'll pass some of the most picturesque viewpoints in all of the park (I love that this route really saves the best for last!)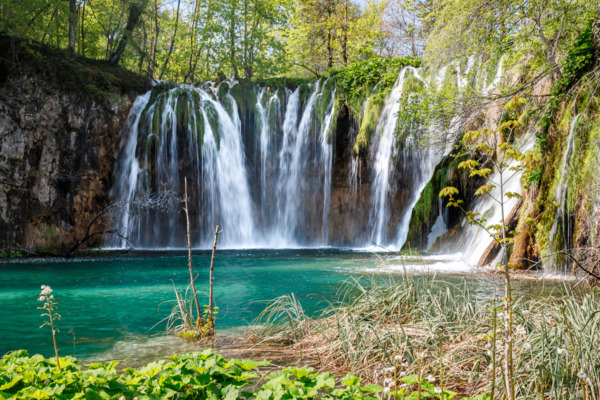 Tips for Making the Most of your Visit
Get there early! Especially if you're visiting during high season, drag your butt out of bed, eat a big breakfast, and get to the park 30 minutes before it opens (save even more time by buying your entrance ticket ahead of time).
Stay the night. A lot of people do Plitvice as a day trip from Split or Zagreb, but it's a solid 2-3 hour drive from either city. Unless you want to leave at 4 in the morning, you'll probably be arriving around 10 or 11am with the rest of the tour busses. This is the most crowded time of day. Instead, I recommend spending the night at one of the many guest houses in the area, or even one of the official park hotels. That way you can wake up in the morning and head straight to the park as soon as it opens, beating out the bulk of the crowds.
Bring snacks. There are no concessions other than at the park entrances, so pack granola bars and water to last you a solid 4 hours of hiking.
Wear layers. It actually snowed two days before our visit, so needless to say, we were prepared for cold weather. I actually wore a pair of leggings under my jeans, and 4 layers on top, and I'm glad I did because it was very cold first thing in the morning. But as the day went on and the sun came out, I was happy for removable layers.
Get a polarizer. If you're using a larger interchangeable lens camera, look into getting a polarizing filter. Just like polarizing sunglasses, a lens polarizer will cut the glare off the water, enhancing the color and clarity of the beautiful turquoise lakes and waterfalls. It's taken me some time to learn to use my polarizer properly, so definitely practice a bit before you go.


Where to Stay
As I mentioned above, I'd recommend staying in the area the night before your visit so you can get to the park first thing in the morning.
There are 3 official park hotels located inside the park near entrance 2. From what I've read, they are definitely older and a bit dated, but the prices are moderate and you've got amazing access to the park.
We ultimately booked a room in a guest house nearby, about 10 minutes drive from Entrance 1. There are plenty of these around (tourism being the primary source of income for this area and locals have certainly capitalized on that). The one we chose was decent enough, though we got kind of a weird vibe from it as soon as we arrived. The rooms were clean, but very sparse, almost hospital-like and cheaply decorated in 'builder-grade' modern decor, and missing some important details like toilet paper holders. And the pillows were probably the stiffest and most uncomfortable we've ever slept on. But the breakfast was FANTASTIC. I felt like the owner made it his personal mission to be sure we had more than enough food to sustain us through our 4 hours in the park and then some… the food just kept coming. So while we were feeling a bit weirded out by the place overall, the breakfast really redeemed it for us.
If you can find accommodations that include meals, that'd be ideal; like I said, the area is pretty remote and there isn't very much in the way of restaurants or grocery stores.
I hope you find this information helpful in planning your own trip to Croatia, and more specifically Plitvice Lakes National Park.