I'll fully admit to letting my stomach guide me in our decision to spend 2 days in Zurich this past spring, or, more accurately, my sweet tooth led us there.
To put it bluntly: I wanted chocolate. Real Swiss chocolate. And lots of it.
That's as much a reason to go somewhere as anything, right?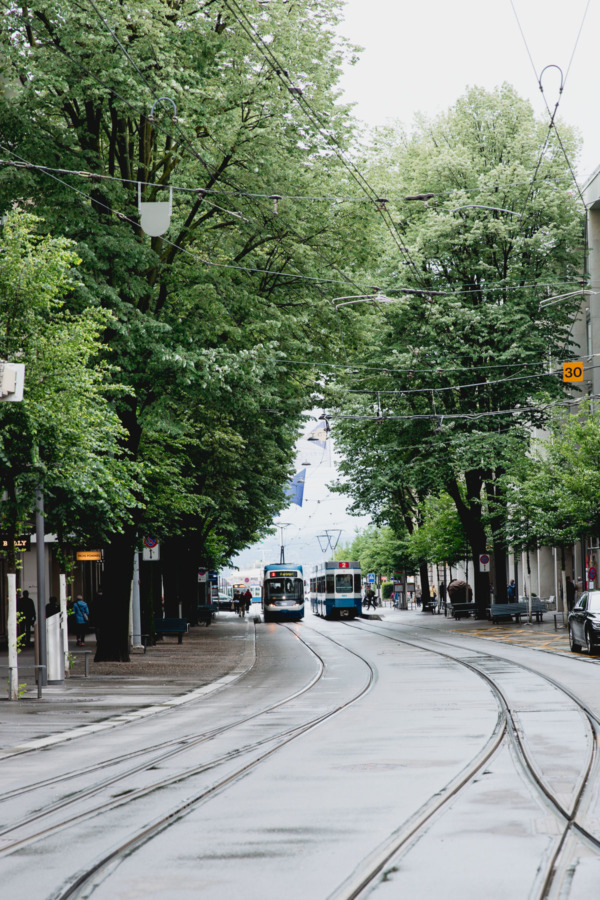 Our big trip this year was a family affair, the result of perhaps a few too many margaritas during our family reunion in Lake Tahoe last fall. It didn't take much poking and prodding to make it a reality, and before we knew it we found ourselves with flights booked and a rough itinerary planned, giving us 5 nights in Venice and 6 nights in the most amazing castle chateau in the Loire Valley region of France (I plan to share more about this part very soon!)
But we found ourselves with 2 unaccounted for days in the middle of the trip. The rest of our party was splitting up, my sister and her friend heading off to the turquoise waters of Croatia and Greece, and my aunts and cousin were going to drive to France, stopping in Turin and Lyon along the way. We weren't too keen on the whole 14-hours-in-a-car thing, but what else to do with that time?
We could always spend it in Paris, sure, and that would have been the most economical option (we had to get back to Paris anyway to catch the train to the Loire Valley), but we've already been to Paris, and while we certainly could have occupied ourselves there with pastries alone, were itching to visit someplace new.
Zurich was on our shortlist, a place that I felt drawn to ever since I learned of my Swiss ancestry (no wonder I love cheese and chocolate so much), and visiting just seemed right. So, we booked a cheap flight from Venice to Zurich and set about deciding what to do with the whole 36 hours we had to spend there.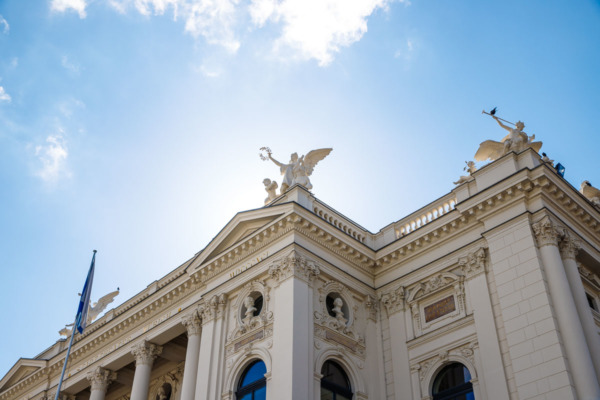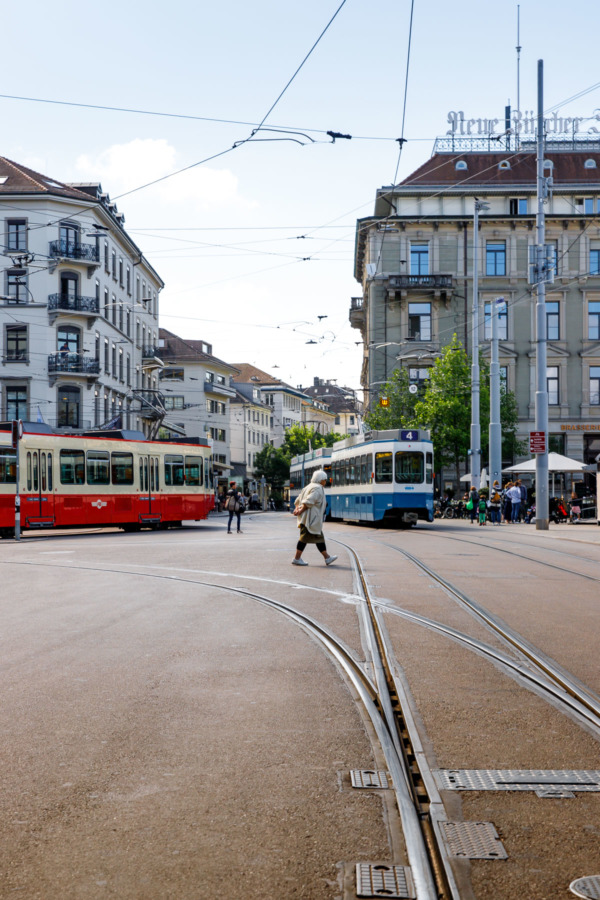 As we started planning our Swiss chocolate extravaganza, it didn't take us long to learn that one of the days we would be in Zurich was Ascension Day. I'd never heard of this holiday before, but apparently it's a big deal in Catholic countries, and most everything, including many restaurants, most museums, and pretty much all of the chocolate shops are closed.
I had wanted to do a chocolate tour, figuring a guided tour would be a more efficient way to eat the most chocolate in the shortest amount of time, but, alas, the holiday nixed that option for us.
Travel tip: always look into the local holidays where you will be travelling, and adjust your schedule (and your expectations) accordingly.
So I spent a bit of time researching chocolate shops on my own, adding them all to my Google map, and then planned our day around the various places I wanted to go.
Luckily, Zurich itself is very accessible and it made visiting all the chocolate shops in one day entirely possible. The old town area is easily walkable, the distance from the Southernmost star on my map to the Northernmost was less than a 20 minute walk. It made it very easy to get around. We weren't there long enough to explore much outside of the town center, but the public transportation system included busses, boats, and trolleys and was incredibly easy and efficient.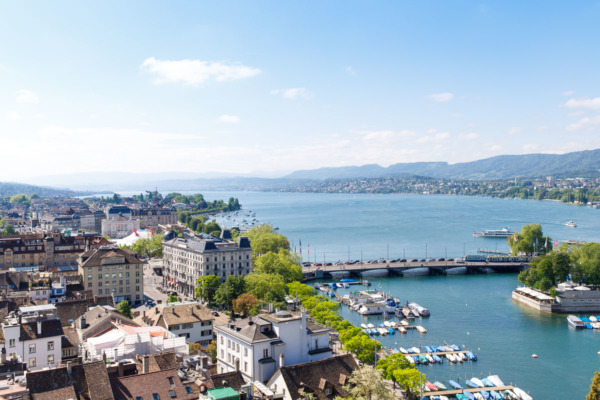 We arrived mid-day on Thursday (Ascension day) to an overcast sky and a light drizzle that decided to let loose not long after we started out on our historical walking tour. I'll admit that I didn't absorb as much information as I could have from the tour, being that I spent most of it wrangling my umbrella and making sure my camera was well protected from the rain. Still, the tour gave us a good frame of reference for the major sights and geography of the city that came in handy as we wandered on our own the following day.
While I normally like to indulge in a food tour when visiting a new city (where we can get an overview of the place AND sample some goodies while we're at it), because of the holiday that wasn't an option for us. So I was grateful that this tour was operating despite the holiday.
On Friday, our primary objective was chocolate, but we did manage to fit in a few of Zurich's most prominent attractions in between sweet stops.
If you plan to visit Zurich and don't have long to stay, I definitely recommend at least climbing the tower at Grossmünster (the view can't be beat, although the stairs are a bit vertigo-inducing), and pop into Fraumünster to see the Chagall windows (aside from Sagrada Familia in Barcelona, they were probably the most awe-inspiring examples of stained glass I've ever seen).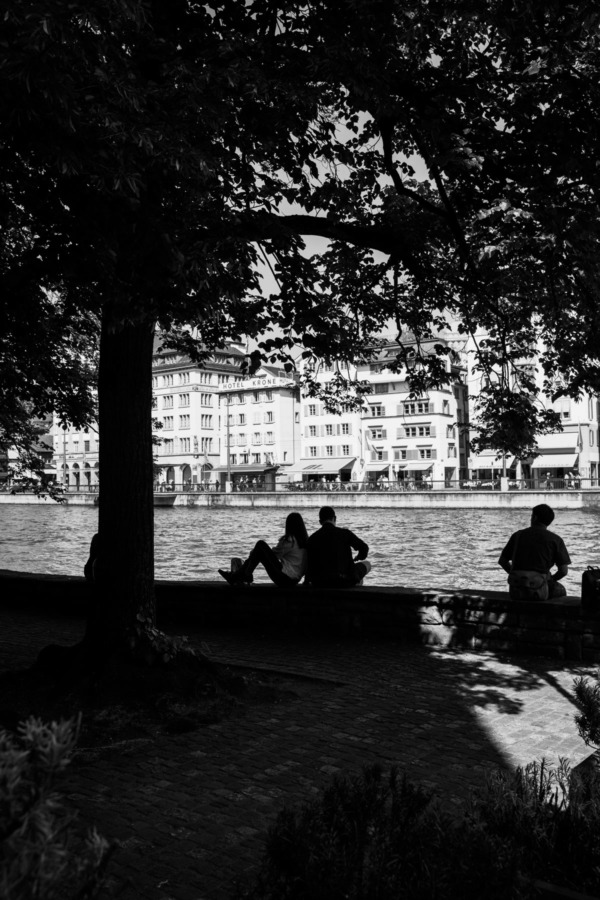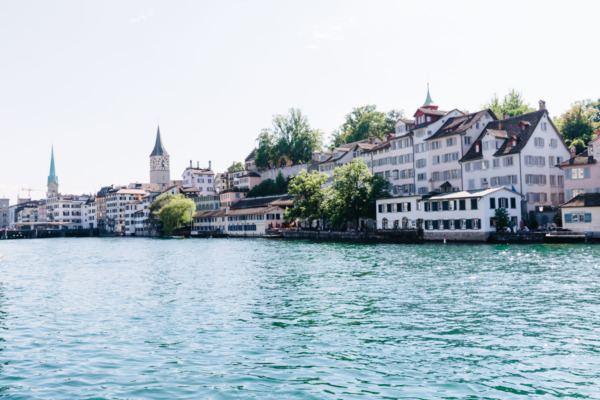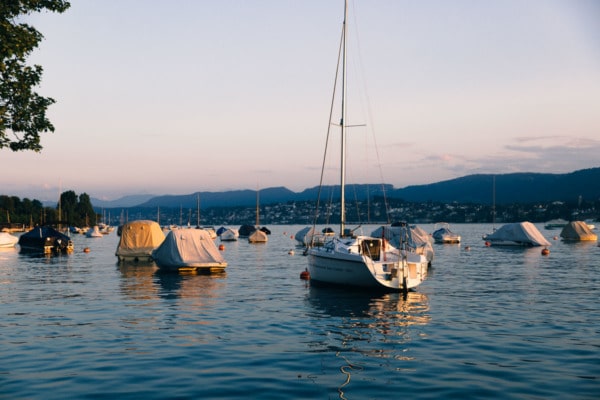 On our second and final evening, after a short respite at the hotel, we set out to experience Zurich during golden hour… and let me say, most cities, and especially this one, is truly at its finest during the hour before sunset. And not just with regards to pictures, either.
As we walked down towards the lake, it seemed that the entire city had come out to watch the sunset along the waterfront. People clustered along the retaining walls and benches, snacking on sandwiches and sipping on wine and listening to the street musicians who played above the soft laughter and chatter. The temperature was absolutely perfect, the light was truly golden, and we couldn't help but feel the energy and overwhelming optimism that comes from something as simple as a perfectly warm day. This sunset stroll was certainly one of the highlights of our time in Zurich, and it didn't cost us a penny.
And speaking of pennies… if you plan to visit Switzerland, you've probably realized that it's not cheap, and we discovered that very quickly upon arriving (you can't even get 20s out of the ATMs, because it really won't buy much of anything). But there are definitely things you can do to keep costs down. For one, I'd suggest finding a hotel that includes breakfast or an apartment with a kitchen. For a low-cost lunch you can always pop into a market and pick up a picnic lunch instead of sitting down at a restaurant.
Also, definitely take advantage of the Zurich card, which offers free public transportation as well as free/discounted admission to many of the city's many museums and attractions. (Disclaimer: Zurich Tourism provided us with complimentary Zurich cards as well as a free historical walking tour during our stay.)
Expense aside, Zurich was absolutely lovely, and I hope someday to be able to return and spend more time exploring this gorgeous country. And eating more cheese and chocolate too, obviously.
For those of you who might be traveling to Zurich in the near future, I've included a list of all our chocolate, food and other recommendations below. I hope you find it helpful!
Give Me All the Chocolate
I picked up a bar or two and a few truffles at each shop we visited. I figured the bars would travel well and planned to bring those home (I intentionally left plenty of space in my suitcase for this very reason). I got mostly milk chocolate since that is what Switzerland is known for, after all! And most of these places ship worldwide if you'd like to try some for yourself. :)
Max Chocolatier – This Lucerne-based boutique chocolate shop was probably one of our favorites. From the beautiful packaging to the unique flavors to the friendly and knowledgable shopkeeper, everything about this shop was simply perfect. They also offer chocolate tastings and making classes, something I would have loved to do if the schedule had been in my favor.
Vollenweider – Like a high-end jewelry shop, but for chocolate. Probably the fanciest shop we visited, but the pastries and chocolates were simply stunning. The chocolate bars were beautifully packaged (they make great gifts), and you could also get 'grab bags' with assorted flavors and scraps of chocolate for a discounted price (we got a few bars for gifts and a grab bag for ourselves).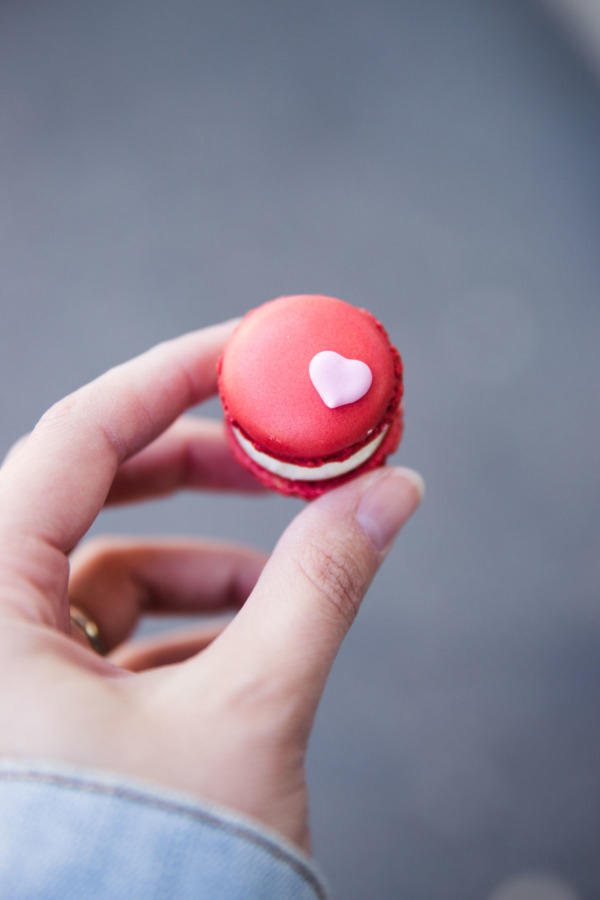 Confiserie Sprüngli – The ultimate chocolate destination, this is probably one of the most famous chocolate shops in Zurich. They have a few locations in Zurich, including one in the train station. Don't miss the famous Luxemburgerli (mini macarons that are arguably better than Paris!)
Conditorei Schober – With an ornate chocolate shop in front and an adorable cafe in back, this shop is definitely worth a stop. Even if you just get a cup of hot chocolate to-go (and boy is it incredible hot chocolate!)
Teuscher – A great place to grab gifts since they offer their signature chocolate bars in miniature sizes. They're famous for their champagne truffles, but my favorite was the pistachio one.
Coop – Ok. So hear me out here. You can go to a dozen gorgeous chocolate shops and spend $15 a bar on amazing Swiss chocolate. But, you can also go to the grocery store, head to the candy aisle, and pick up some almost-as-good chocolate bars for $2 a pop. We found a few gems here, including a Jack Daniels-filled milk chocolate bar (Tennessee meets Switzerland? Of course we had to buy it) as well as a pistachio creme thing that tasted like pistachio gelato, and even some Lindt flavors you can't get in the states (and let me add, the Lindt chocolate you get in Switzerland isn't the same as what you can get in the US). I always like to visit the grocery store candy aisles (also: soda, and beer for Taylor) in other countries!
Other Food & Drink
Barmunster – Hip cocktails with a delicious mocktail menu as well (I always appreciate being able to order a creative mocktail!)
Delish – The quick service cafe in our hotel. A great place to grab a quick and affordable lunch or snack. The quiches were ridiculously good!
Baltho Kuche & Bar – The hotel restaurant where we enjoyed a lovely dinner. The burger was insane (with Swiss beef, raclette cheese, a fried egg and truffle mayo… I mean, right?!) and the drinks were creative and dusted with gold leaf (the chestnut mocktail I had was ridiculously good and unique). Even if you're not staying here, it's a great option for a nice dinner.
Raclette Factory – Switzerland is known for its cheese, obviously, so we had to tuck into a melty plate of raclette (basically melted cheese covering an assortment of things). Right in the heart of downtown, this is a great place to stop for cheese and beer.
Sights & Activities
Grossmünster Church & Tower – Take a trip up the winding staircase into one of the two towers of Grossmünster, Zurich's largest cathedral. You won't be disappointed: from the top you get a 360 degree view of the city.
Fraumünster Church & Chagall Windows – My aunt told me, if I did one thing in Zurich, I should see the Chagall stained glass windows at Fraumünster. Let me say, with the exception of maybe Sagrada Familia in Barcelona, these were the most breathtaking stained glass windows I've ever seen. I've always loved Chagall's colorful artwork, and seeing his forms translated into glass was incredible. Alas, no photos were allowed in the church, so you'll just have to go and see for yourself. :)
Historic Old Town Walking Tour – Arranged through Zurich's tourism board, this historic walking tour is a great overview of the major sights and history of Old Town Zurich. It runs every day (twice daily on weekends), including holidays.
Beyer Uhrenmuseum – Amazing watch museum. Even if you are not a watch person, it's fascinating to see the history of watches and clocks. There are some really… interesting pieces in this museum. Free entry with your Zurich card!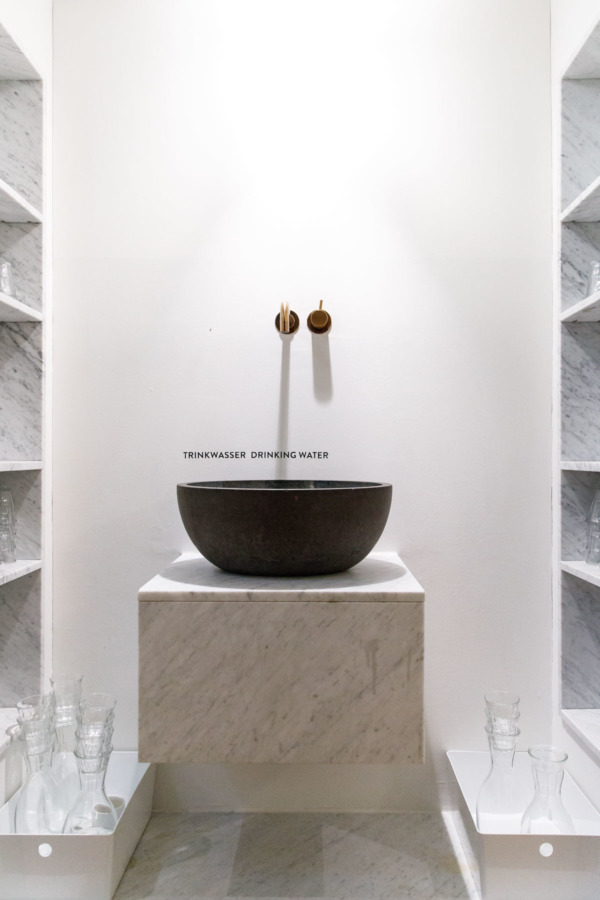 Accommodations
Marktgasse Hotel – This gorgeous hotel is located in a 15th century building in the heart of Old Town, minutes from Zurich's biggest attractions. Due to the building's unique history and protection, every room is different. I'd recommend adding on the breakfast as well, which is served in the Delish cafe and is a perfect way to start the day. The cafe is also a great place to grab a quick bite to eat (the quiches were particularly delicious!)
(Disclaimer: Hotel Marktgasse provided me with a media rate with complimentary breakfast and dinner at their Baltho restaurant one night during our stay. However all opinions expressed here are entirely my own).