What's not to love about Melbourne, Australia? From the bustling CBD to the free public transportation to the amazing brunch scene, Melbourne is most definitely one of our favorite cities we've visited.
Spending 6 days in one place sounds like a lot, but we had absolutely no problem filling our time (and our stomachs) in Melbourne. Be sure to check out the end of this post for a full list of our recommendations!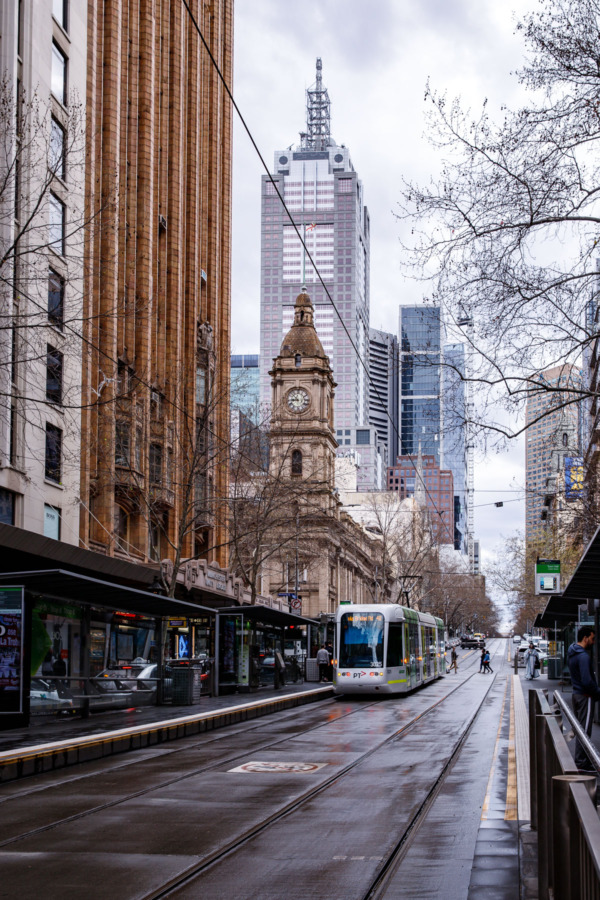 Since it's not looking like we're going to be going anywhere in the near future, I may as well spend my time writing about the last trip we were lucky enough to go on last September to Australia.
Living vicariously through my past self, if you will.
So much has happened since then, including the massive fires that swept through the entire country (that was in January. THIS YEAR January, even though it seems like it was 3 years ago at this point. Craziness).
Anyway, we stumbled across a fabulous airfare deal to Australia, $600 from Nashville. Since the typical fare is well over twice that, we really didn't hesitate and booked a trip for two weeks in September, flying into Melbourne and out of Sydney. We figured since you're on the plane for so dang long, and lose a few days just adjusting to jet lag, anything shorter would really be a waste.
Let me just say, typically after 14 days of travel we've had our fun and are ready to come home. Typically around 12 days is the perfect length trip for us.
And yet…
As the end of our trip loomed ever closer, we found ourselves thinking we could have easily stayed for another two weeks. Or longer even.
That goes to show just how much we loved Melbourne and Sydney, and Australia in general. We simply didn't want to leave.
We debated adding a 3rd city into the mix, even toying with the idea of flying to the Red Center and Uluru for a night or two… but what's hard to grasp is the enormity of the country. It'd be like flying from New York to Utah for a night and then back again. Not to mention since there is so little out there in the vast red desert in the middle of the country, the prices are surprisingly high for both flights and accommodations. We ultimately decided to save that adventure for another trip, and just focus our time on the two major cities of Melbourne and Sydney.
When booking our flights, we were able to book what's called an "open-jaw" ticket, meaning flights into one city and out of another. Since (again, Australia is huge) the two cities are pretty far apart, doing this saved us the extra travel time involved in getting back to our arrival city. We ended up flying from Nashville to Melbourne via Denver and LA (two connections was not ideal, obviously, but for $600 we were willing to do it), and then back home from Sydney to Nashville via San Francisco. We then found a cheap one-way Qantas flight from Melbourne to Sydney that was incredibly quick and convenient (US folks will be shocked to hear than when flying domestically within Australia you don't even need to show your ID at the airport. We were baffled.)
We spent 6 days and 5 nights in Melbourne. Which might seem like a lot of time, but we had no problems filling it.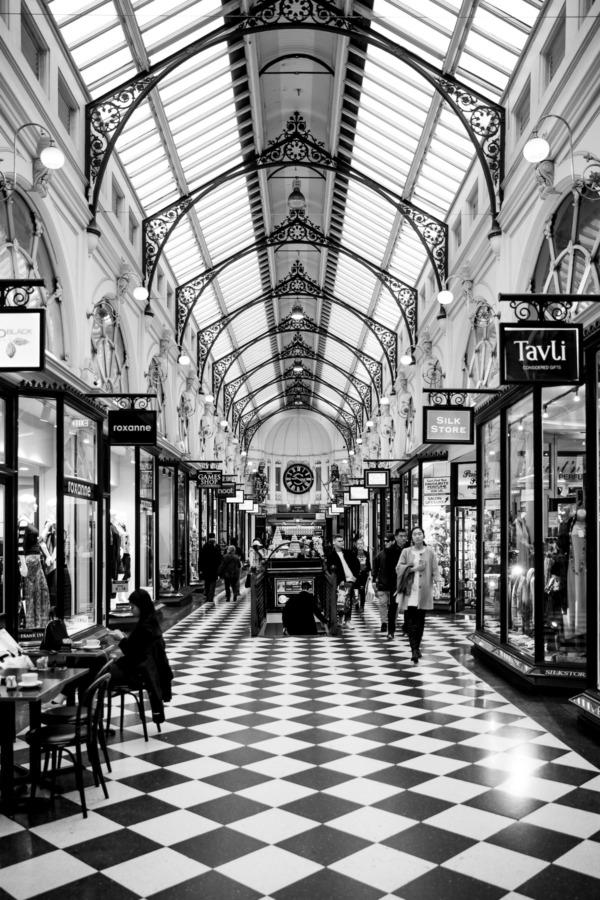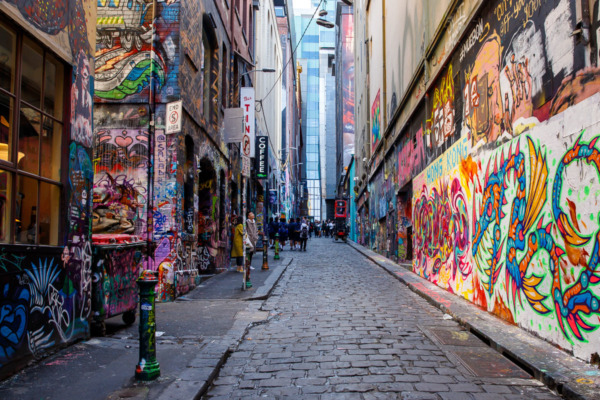 We originally considered doing a day trip along the Great Ocean Road, which looks downright beautiful, but once we started looking into bus tours and/or rental cars it started getting stressful so we scrapped that. Next trip.
We also had hoped to make it down to St. Kilda one evening to see the fairy penguins, but didn't even make it that far as the weather was being less than cooperative so we opted to stay in the city.
And yet, we felt there was more than enough to do and certainly plenty of things to eat (and eat. and eat) within the city limits that day trips didn't even seem necessary.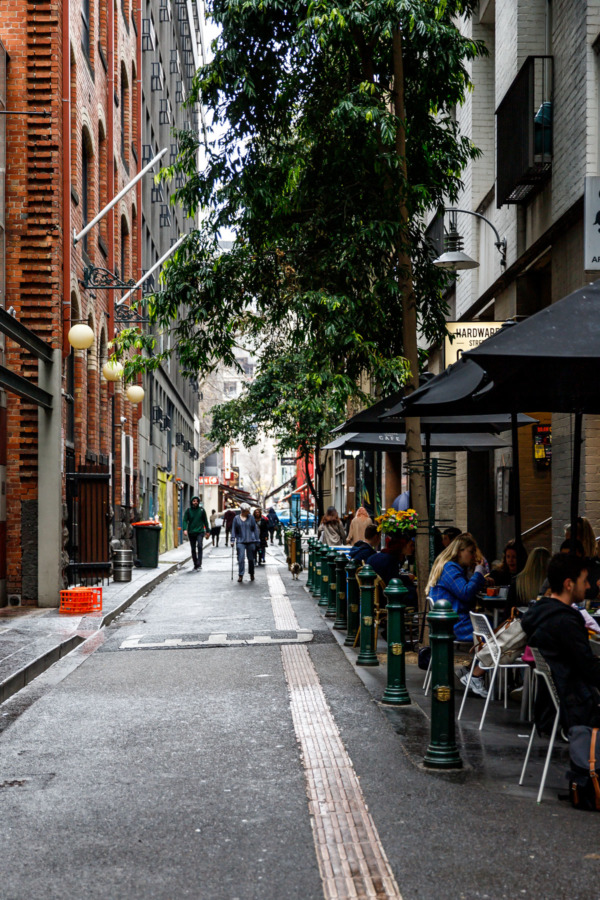 The first few days of our time in Melbourne were rather cold and drizzly, it still being early spring and all. But the drizzly weather meant it really wasn't very crowded at all, at least as far as tourists go. In fact, most of the time we were surrounded by locals. Which is definitely my favorite way to travel.
And while the outdoor gardens and riverfront are surely gorgeous, there's just as much to do in Melbourne inside too, include a number of seemingly hidden arcades filled with shops and cafes, completely protected from the weather. I loved the Royal Arcade in particular, the gorgeous stained glass windows and decorative iron supports made the space particularly photogenic, and the presence of multiple chocolate and pastry shops inside didn't hurt either. ;)
There are also a number of markets throughout the city, one anchoring each different neighborhood, and these are great options for days when the weather is less-than-ideal. Filled with cafes and food vendors and unique shops, they're great places to grab a snack and a unique souvenir. We checked out both the Queen Victoria Market in downtown Melbourne, as well as the Prahran market on the southside of the river.








Melbourne has an absolutely amazing brunch scene. You can sit down for an incredible, creative brunch spread any day of the week, not just on the weekend (if you do go out on the weekends though, anticipate a wait).
From ube waffles to okonomiyaki omelets to crazy good croissants and more than a few lattes (matcha lattes for me), we definitely made the most of our brunches, often starting the day with a coffee and pastry and then doing a full brunch shortly thereafter. An afternoon snack of a satisfying meat pie or something sweet usually held us over until dinner.
I should also add that coffee lovers will feel right at home in this caffeine-fueled city. Some even say that the "third-wave" coffee movement started in Melbourne, and the sheer number of charming little cafes that serve incredible coffee definitely backs up that theory. Needless to say, Taylor was in heaven (and immediately started researching espresso machines as soon as we got back).






Melbourne In Black and White
One of our favorite activities was the street photography workshop we signed up for one afternoon. Taught by local photographer Matt Krummins, we spent 3 hours running around the city to various locations and then standing still, cameras in hand, letting the city move around us.
I've never really thought to use low shutter speeds to capture the movement of a city (when shooting food, movement is not usually a factor), not to mention trying to think in terms of black and white instead of my usual technicolor.
When traveling, I often find myself taking the same shots over and over, pointing up at buildings or down the centers of streets and alleys… and when I go back to edit I get frustrated because nothing is very interesting. This workshop showed me a different way to see and to capture a city, and the shots I took during this workshop are some of my favorite travel photos I've ever taken.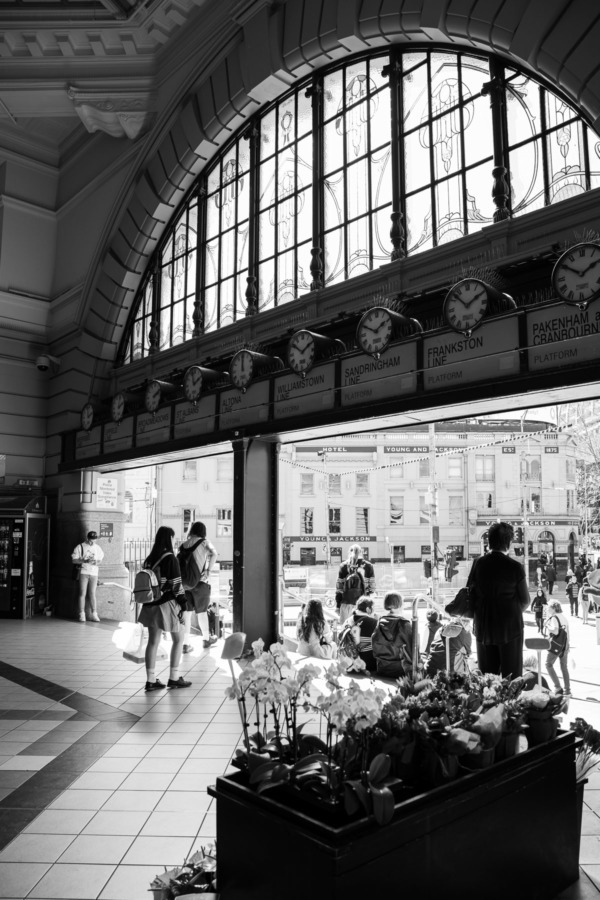 If you happen to be visiting Melbourne when Matt is hosting one of his workshops (typically, current circumstances aside, he usually hosts one per month), I highly recommend signing up. Even if you're a beginning photographer, you'll come away from the workshop with so much valuable information and inspiration to take with you on your travels.
And now I'm convinced I need to seek out a photography workshop on every trip we take from now on. In addition to our typical food tour, of course. ;)
And speaking of food tours, we stumbled upon a chocolate and desserts-focused food tour that, well, we couldn't resist. It took us to half a dozen spots in downtown Melbourne, where we got to sample everything from truffles and handmade chocolates to a Columbian hot cocoa served with cubes of mozzarella cheese (yes, really!)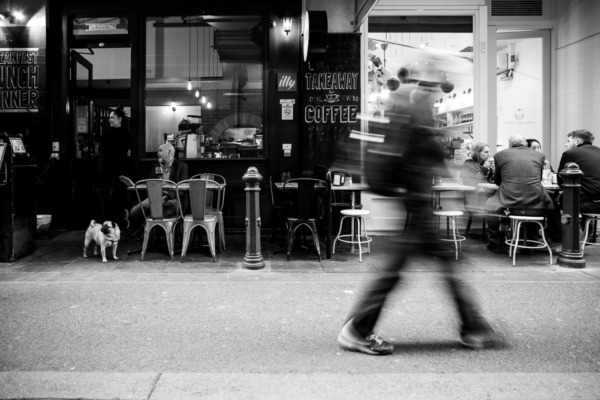 Our Full Itinerary
I've shared my full itinerary on Pebblar, which includes everything we did and everywhere we ate during our trip, as well as a number of places I had bookmarked that we didn't have time to check out (next trip, perhaps!)
Related: I adore Pebblar for travel planning. It's like Google Maps + Journy + other travel apps all rolled into one. Before a trip I'll go in and add all the things and places to do and food recommendations I've received, then organize all those spots into detailed daily itineraries that make the most sense geographically (this part is easiest to do on a Desktop computer). Once you're on your trip the mobile app lets you easily view and follow your itinerary on the go!


What to See & Do
Street Photography Tour – If you happen to be in Melbourne when Matt is hosting one of his street photography workshops, I'd highly recommend you sign up! The 3 hour workshop was incredibly informative, giving us a lot of really useful tips and information for making the most of your camera in an urban setting.
Chocoholic Tours – Melbourne is known for its chocolate, so a food tour focused entirely on chocolate and desserts seemed like a given! We did the Lanes & Arcades Chocolate & Desserts walking tour, which gave us a great overview of much of the city's history and architecture as well as ample dessert tastings.
Rose Street Artists' Market – Open every weekend, this handmade market is a great place to find some unique, locally-crafted gifts and artwork.
Royal Botanic Gardens – A gorgeous, sprawling botanical garden just South of the city. They offer free walking tours daily at 10:30 (be sure to register online ahead of time). We happened to be the only two registered for the tour that day, so we basically got a private tour of the highlights of the gardens.
SEA LIFE Aquarium – A fun activity for a rainy day. I was quite impressed with this aquarium, especially the penguin area which was a ton of fun.
Hosier Lane – A narrow alleyway filled with amazing street art. We happened to catch an artist in process, and it was amazing to see where he started in the morning and the progress he made by the end of the day when we walked by again.
Queen Victoria Market – Ok, this belongs in the what to see and what to eat categories. A gigantic food market that's a sight to behold, and also a great place to grab a bite to eat at one of the many food vendors. There are also a number of cute non-food related shops surrounding the market (don't miss the shipping container shops along String Bean Alley), so give yourself ample time to wander a shop. The market does offer daily food tours on Saturdays, however the timing didn't quite work out for us to do one.
Prahran Market – Also a see/do/eat situation. Not quite is big as QVM, but this market is much more local feeling and has some amazing food options, as well as a really fabulous cooking store too.
The Crown Casino – Taylor has a thing for casinos, so we always have to check them out in any city we visit. A great rainy-day activity with lots of great dining options as well.
Where to Eat
Prince's Pies – Classic Australian meat pies (they are similar to what we call Pot Pies here in the US, but with flakier crusts and more filling options than just chicken). We went here multiple times when we needed a quick, cheap, and filling snack. The classic beef pie was my favorite I think.
Lune Croissanterie – If you love croissants, you absolutely have to come here (the original location in Fitzroy or the outpost in the CBD). With creative flavors like Apple Pie and Lychee Rose, it was hard to resist getting one of everything. This place can be quite popular, so I recommend going early on an off day to beat the crowds.
Operator25 – Unique Japanese-inspired brunch fare. The bright purple ube waffles were particularly tasty, and Taylor's okonomiyaki omelet was delicious as well.
Top Paddock Cafe – One of our favorite meals, this gorgeous cafe is located in the Richmond neighborhood (we went here before our walking tour of the botanical gardens which is a quick bus ride away). I had an insane black waffle dish topped with all sorts of edible flowers and other goodies; it was downright gorgeous (and delicious!)
Hardware Societé – Another stellar brunch spot. While the wait was quite lengthy (we went on a Sunday), it was definitely worthwhile for the chorizo baked eggs alone (my French toast—or Fried Brioche as they called it—wasn't quite as spectacular as some of the other sweet brunch dishes we enjoyed elsewhere, though I still enjoyed it).
Cumulus, Inc – One of the fancier restaurants we tried, though we went during lunch and the prices were actually quite reasonable. Reservations recommended, or get there right when they open and grab a seat at the bar.
Travel Tip: if you want to dine at fancier places, check out their lunch menus. Often you'll get the same, high-caliber dishes at a much lower cost.
Naked for Satan – A funky bar in the Fitzroy neighborhood, with a great rooftop terrace that's perfect for sunset views of the city. We stopped in for a drink and a snack before heading to dinner.
SPQR Pizzeria – Definitely worthwhile stop if you're craving pizza in Melbourne. The salad here was… one of the more unique salad presentations we've ever seen, with the stalks of romaine lettuce stacked around the edge of the bowl like a lettuce fence. Not entirely practical to eat, but interesting to look at.
Koko Black – Fancy chocolate shop in the Royal Arcade. Worth stopping in for a hot chocolate, which you can take upstairs and sit by one of the arch windows overlooking the arcade below (great people watching). Be sure to get a truffle or two and some beautifully packaged chocolate bars to take home as gifts (the Pistachio Ganachio Block was particularly tasty… like pistachio gelato!)
Market Lane Coffee – There's no shortage of good coffee in Melbourne, but this cafe was one of our favorites. With a refreshing menu and a light and airy atmosphere, it was a delightful stop on our way to the park. They also had some unique menu items, including something called cascara tea, which is made from steeping coffee cherries. The perfect tea-coffee hybrid, perhaps? I sure enjoyed it.
Switchboard Cafe – This adorable little cafe was originally the office tower's switchboard, hence the name. The tiny little alcove cafe has a very limited, but very tasty menu of coffee drinks and sandwiches, as well as pastries.
Shortstop Coffee & Doughnuts – A cute local donut shop specializing in cake donuts and organic coffee; the honey and sea salt crueller was particularly good. They also have a location in Sydney as well.
HuTong Dumpling Bar – We went to the location across from the Prahran market, but there are a few others throughout the city (as well as in Sydney).
Where to Stay
Since we were staying for 5 nights, we found an AirBnB on Collins St. right in the heart of the CBD. The location was fabulous, minutes from a tram station (there's a Free Tram Zone that encompasses the entire CBD, which makes it incredibly easy to get around). While some of the neighborhoods we visited were unique and lively, if this is your first time visiting I'd highly recommend this central location.
***
I'll be posting about the second half of our trip in Sydney sometime here in the next month or two. I swear, these travel posts take me exponentially longer than any recipe… so many photos to sort through and edit and itineraries to write out and whatnot. But I really love having this permanent scrapbook of our trip here on the blog. Especially times like these when travel isn't possible, scrolling back through our past travel posts lets me relive the experiences… which is almost as good as being there again.
I sincerely hope you all enjoy these posts as much as I enjoy writing and reminiscing. :)