Ljubljana, the city of dragons, may be one of the smallest European capital cities, but it is certainly not lacking in terms of personality, history and charm. After a few short days you'll be so in love with this livable, walkable, and lovable city that you won't want to leave!
An easy 90 minute drive from Zagreb, Ljubljana makes a great side trip if you're visiting Croatia. It's a city of many influences, managing to feel a little bit Eastern European and Mediterranean at the same time. In other words: it's downright charming!
We had 3 unaccounted-for nights in our Croatia trip, and couldn't decide if we wanted to explore Croatia's Istrian peninsula or head north to Slovenia. We hemmed and hawed over this for weeks before finally deciding (we really need to get better about making decisions without obsessing over them).
In the end, we figured that by this point in the trip, we would have seen plenty of quaint beach towns, and a change of scenery might be appreciated. Plus, it gave us a chance to check another country off our list too!
We definitely made the right call: Ljubljana turned out to be absolutely delightful, and one of our favorite places of the entire trip.
Once we figured out how to pronounce it, that is. (Hint: treat the j's more like y's… so it's pronounced something like lube-lee-ah-na).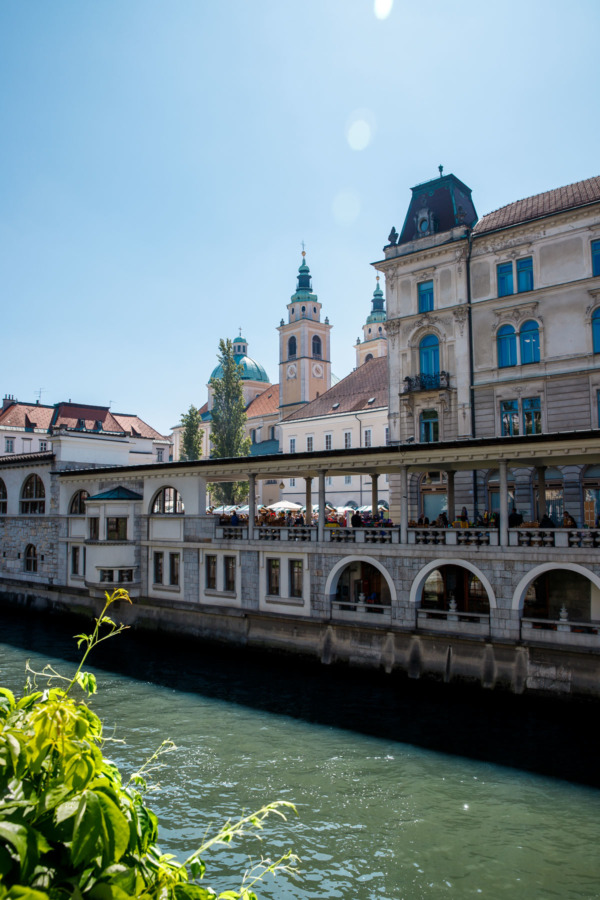 The historic downtown is quite small, easily walkable, and completely adorable, with quaint, pastel-colored buildings with an art nouveau flair. The city also prides itself on being one of the greenest capital cities in Europe (it was awarded the #1 spot in 2016), by promoting biking and public transportation, upgrading green spaces, and encouraging recycling through an innovative, underground waste disposal plan.
Another wonderful thing about this delightful capital city is that it isn't overrun with tourists and cruise ships like most of the other European hot spots (ahem Dubrovnik coughcough), which was a nice relaxing change of pace. What tourists were there were mostly European, but outside of the central Triple Bridge area I really didn't notice them at all. It definitely felt like a city where people actually lived and worked and studied.
We didn't have much of a plan for our days in Ljubljana, and, when it wasn't raining, spent our time wandering along the river bank and winding our way through the quaint streets.
Oh, and eating. Because that's what we do when we travel. And Ljubljana certainly didn't disappoint (see my recommendations at the bottom, including a few of our favorite bites of the entire trip!)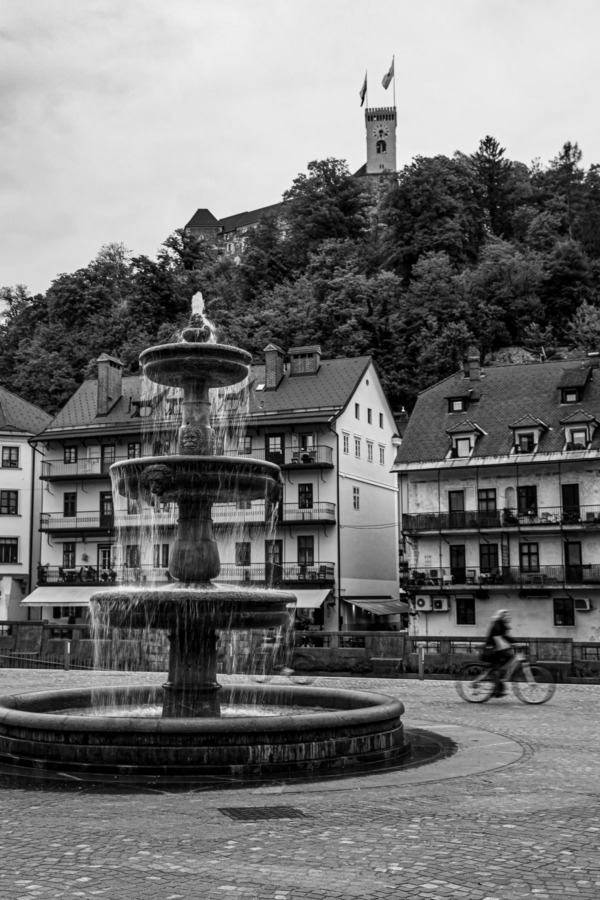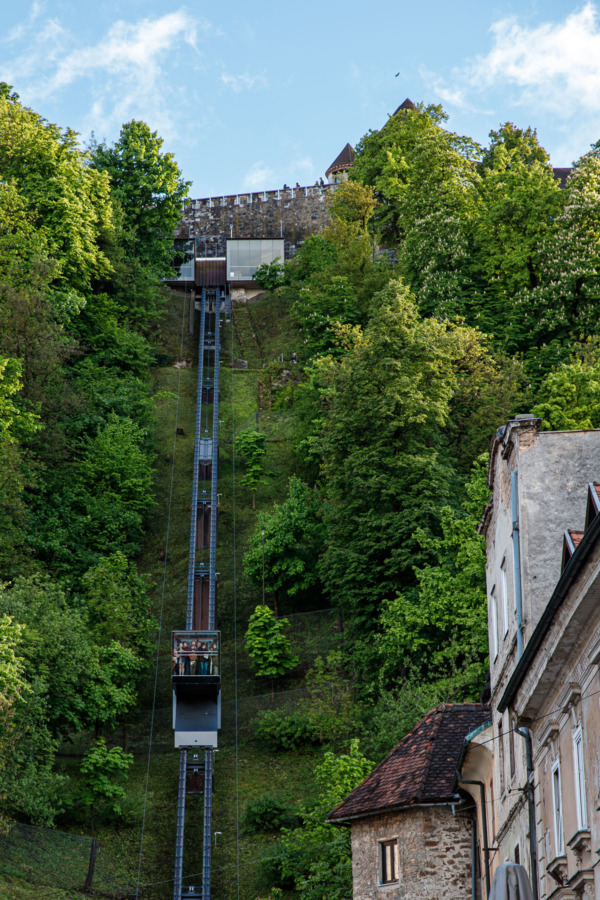 Castle on a Hill
The focal point of the city is Ljubljana Grad, the castle on top of the hill in the center of the city. It was originally constructed in the 11th century as a medieval fortress, but most of the current structure dates back to the early 16th century, when most of the castle was rebuilt after a devastating earthquake. It's been used for everything from a military defense fortress to an army hospital and even a prison; as late as the 1960s it was even used as public housing.
You can ride a glass funicular up to the top of the hill, or take one of a number of pedestrian routes (might I suggest taking the funicular up, and walking back down? Castle Hill is no joke.)
Once at the top, you can stroll around the castle courtyard and ramparts for free without a ticket, but if you want to go in any of the towers, interior rooms or special exhibits, you'll need an entry ticket (a modest 13 euro which includes a one way ride on the funicular). I definitely think the ticket is worth it for the towers alone, but the exhibits were interesting as well.
Also, if you purchase a Ljubljana city card, castle entry ticket and one way funicular ride are included for free. And if you take one of the guided city tours (also free with the city card), the tour ends with a funicular ride up to the castle, so plan on doing your castle tour immediately afterwords.
I'd also suggest either timing your visit to conclude around sunset, or coming back at sunset one day during your trip. Make your way to the Western side of the castle ramparts and watch in awe as the sun sets over the snow-capped mountains in the distance.


City of Dragons… and bridges.
Ljubljana is also known as the city of dragons. And there are literally dragons everywhere: guarding the bridges, flying high on the city's official flag, and even adorning the drain covers throughout the city.
So it makes sense that the Dragon Bridge is the second most famous of the city's many bridges (the first being the iconic Triple Bridge, which is literally three bridges in one).
Overall Ljubljana boasts 17 bridges spanning its namesake river, including the Triple Bridge (though I'm not sure if that one counts as one bridge or three), the Dragon Bridge, the modern glass Butcher's Bridge adorned with thousands of padlocks, and the Cobbler's Bridge, named for the shoemakers whose booths once occupied the bridge.


No Way Jože
The architecture in this city is so interesting. In the city center many of the buildings are pastel colored with art nouveau accents, but you also have a number of really unique, industrial modern-type buildings as well as some incredibly old structures dating back as early as the 1500s (like the restaurant pictured above).
While we got a bit of the architectural history on our guided city tour, where we learned that most of the iconic buildings and structures can be attributed to architect Jože Plečnik. He designed the Triple Bridge, the iconic Central Market as well as the modern riverfront, and the National Library building (whose windows are designed to look like open books).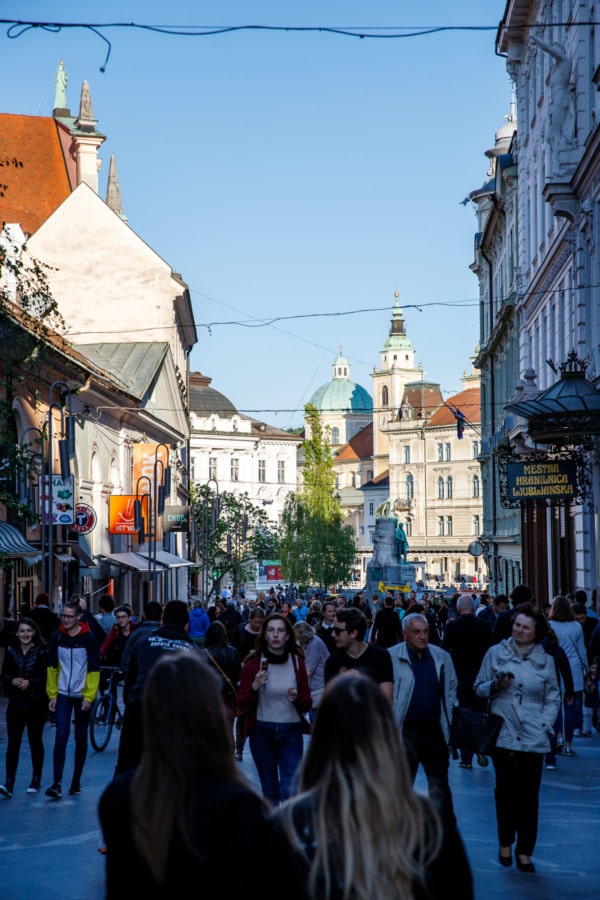 Open Kitchen
If you happen to be in Ljubljana on a Friday from mid-March through October, you have to check out Odprta Kuhna (open kitchen). It's a food market held in the square just behind the Central Market building. It's an open air market filled with hundreds of local food vendors selling everything from traditional Slovenian fare to incredible pastries to international delights. It's open all day and into the evening too, so you can easily eat more than one meal in this foodie paradise.
There's are also vendors selling fresh produce and other local foodstuffs in the square every day but Sunday.
These kinds of food markets are one of our favorite things to seek out when traveling, and I highly recommend googling around for market days and times as well as special events before you leave. Both farmers' markets (although we can't fully enjoy their wares as we're not equipped to cook full meals) as well as street food markets that showcase a wide variety of local food options in a fairly compact space. It's a great way to get a little taste of everything the city has to offer!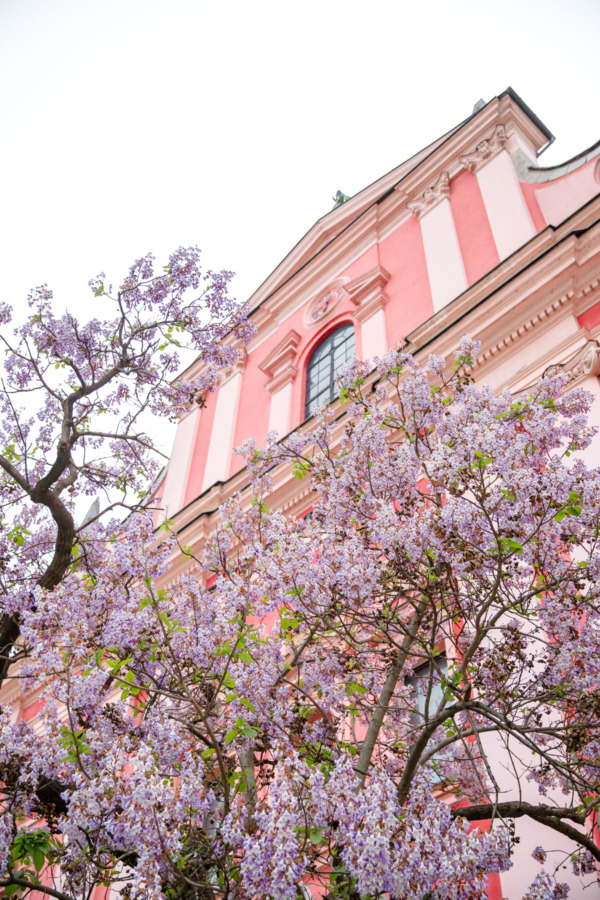 Overall we spent 3 nights and 2 full days in Ljubljana, which was a perfect amount of time to really feel like we got to know the city.
We had originally planned to take a full day trip up to Lake Bled (an easy hour drive from the city), but the weather was rather rainy in the morning when we woke up, so we decided to stay in town instead. While I'm sure Lake Bled is lovely, I'm glad we opted not to go. I think we would have missed out on a lot by only having one full day in Ljubljana.
If you find yourself with more than two days in Ljubljana, then I'd definitely recommend a day trip out to Lake Bled or one of the other unique sights within a short drive of the city.
We drove from here to Zagreb, and, although it was a bit out of our way, opted to stop at the Postojna caves, which really blew me away. I'd highly recommend this outing if you find yourself in Ljubljana with a half a day to kill on your way in or out of the city.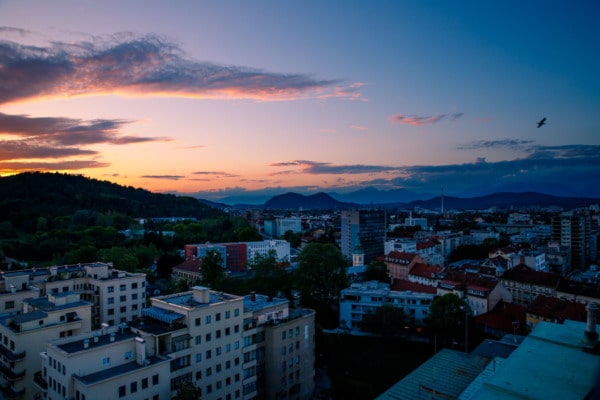 I hope I've convinced you that Ljubljana is most definitely worth a visit, even if it hasn't been on your radar before now (if we're being honest with each other, I bet you had to go look at Google maps to see where exactly Slovenia is. Right? I know I wouldn't have been able to find it on a map before this trip!) Also, Slovenia and Slovakia are two entirely different countries (we actually had a woman from Slovakia on our city tour and she was joking with the guide about how often the two are confused).
I hear the rest of Slovenia is lovely too, the coastal cities are known for their sea salt and the Julian Alps are apparently stunning to drive through, and the country is dotted with natural wonders including caves, river gorges and towering peaks. It may be a small country, but it is certainly large on natural beauty and stunning scenery.
Clearly we need to go back and see the rest of it!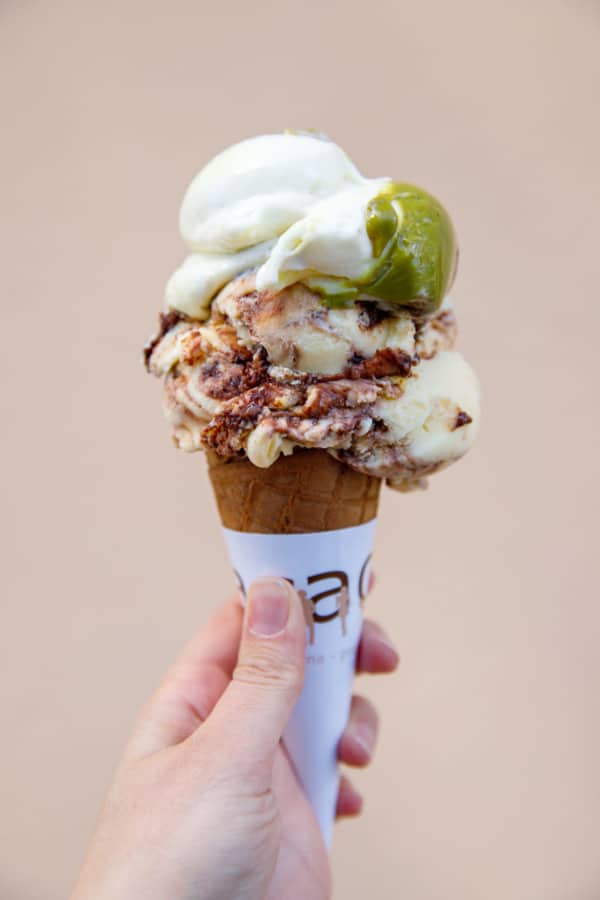 To aid in your own travel planning, I've compiled a list of all our favorite eats and activities in this friendly city of dragons.
Where to Eat:
Le petit Cafe – A charming little French restaurant a block from our apartment. We went for dinner one night, but their brunch menu looks fabulous as well.
Pizzeria FoculuS – Housed inside a historic 18th century building, with an arched ceiling painted with hundreds of leaves, this pizza place is a sight to see in and of itself. The pizza was decent, although I can't fully vouch for the taste as we mistakenly received a different pizza than we ordered (sorry but I don't think hummus has any place on pizza). The last thing I want to do in a foreign country is cause a scene, and I honestly didn't know whether it was our mistake or theirs, so we just ate it and didn't say anything. Clearly something was lost in translation. Anyway. Still worth checking out!
Ala Pršuterija – Prosciutto and cheese boards galore! I took one look at the walls covered in wooden bread boards of all shapes and sizes and immediately decided this is where I wanted to eat. We shared a medium prosciutto board which was much more meat than we expected; piled high with paper thin slices of local prosciutto, plus cheese, olives and stuffed peppers.
Cacao – Amazing gelato. Like, seriously, this place would stand up to Italian gelato any day.
Moji štruklji Slovenije – štruklji is a regional specialty: soft, steamed layers of filo dough filled with soft cheese and other sweet or savory fillings. It's… different, for sure, but definitely worth trying! We tried a sweet version with orange and dark chocolate. We later learned that, while this place had both sweet and savory versions in dozens of different flavors, down in Zagreb they really only serve the savory kind with fresh farmers' cheese (our food tour guide there thought it was weird we had a sweet one!)
Klobasarna – Traditional Slovenian-style sausages. Perfect for a snack between meals or a quick lunch.
Odprta Kuhna – If you happen to be in town on a Friday during the warmer months, this open-air food market is a must. Filled with dozens of local food vendors selling local delicacies and international delights. We came here for breakfast pastries, then came back later in the day for an amazing lunch too.
What to Do:
Guided City Tour – The local tourism board offers a reasonably priced city tour daily, a two hour tour that provides a great overview of the city's history and architecture (as well as a few nibbles along the way). If you buy a city card, the tour is free, and you get admission into the castle too (which basically pays for the price of the card).
Ljubljanski Grad – Ljubljana castle sits perched atop a hill in the center of the city. Tip: plan your visit around sunset. You can also access the castle ramparts for free, without a ticket – we found this to be an ideal location for sunset viewing. You can also take the glass funicular up to the top of the hill, which is way more fun than hiking up all those steps.
Nebotičnik Skyscraper – Nebotičnik literally just means Skyscraper, which is apt being the tallest building in the city. We went up to the bar at the top one evening for drinks and a snack, and got a great view of the castle in the glow of the setting sun. Decent food and cocktails, but the view is really the main draw.
Pivovarna Union Brewery – Visit one of the oldest and largest breweries in Slovenia, with multiple tours running daily.
Postojna Caves – Located about 45 minutes from Ljubljana, Postojna is one of the largest limestone cave systems in the world, complete with an electric tram that travels over 3km into the mountainside. A very cool experience and a great stop on your way in or out of Ljubljana.
Where to Stay:
We stayed in an airbnb in the city center. As great as our other accommodations were on our trip, this one fell a bit short. The place itself was well situated just on the edge of the (car-free) city center, with free parking (since we had a rental car was one of our criteria when choosing a place.)
But the checkin process was badly handled, the host was off motorcycling through Germany and the person meeting us was only reachable by phone… and we didn't have international phone service. After pacing around for 45 minutes on the street, she finally came out to meet us and took us up to the place.
For that reason I won't link to the exact place we stayed, but it was located on the South-west edge of the old town area, a few blocks from the National Library. The whole old town is incredibly walkable and surprisingly small, you can get from one end to the other in about 15 minutes, so you'd really be ok staying anywhere in the general vicinity.