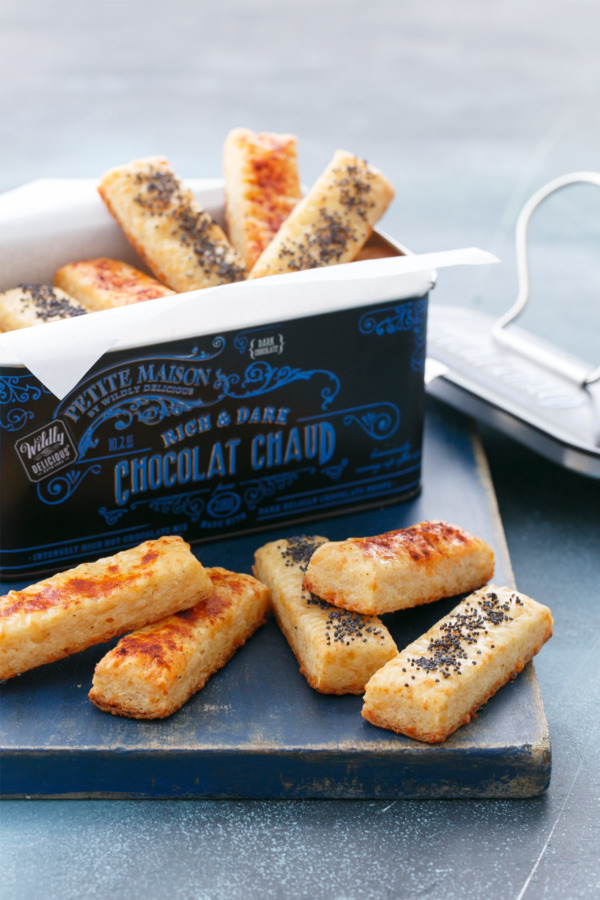 Another gem from Grandma's recipe box…
This one would make a perfect party snack.
Not that we actually threw a party or anything (just who do you think we are?) and yet, we had no trouble devouring the whole batch on our own.
When I first pulled this recipe from the shoe box, I wasn't quite sure what to expect. "Parmesan Puff" could mean so many different things. Would it be like a cheese puff? Or more like a cracker?
With no picture to go off of, I simply had to make them and see for myself.
(And yes, that tin indeed says chocolat chaud. The recipe said to store the cooled puffs in "tightly covered tins" but the only suitable container I could find was this French hot chocolate tin, which, incidentally, was exactly the right size to hold a row of cheesy rectangles. How's that for ingenuity?)
Ultimately, the puffs fall somewhere between a savory puff pastry and a cheese cracker (think a thicker, softer cheez-it, essentially). With buttery, flaky layers and a slightly crispy bottom not unlike the crispy browned bits from an overzelous grilled cheese.
Surprising, really, how a puff-pastry like dough can come from butter, cream cheese, flour, and grated parmesan. It's not what I expected at all, but, needless to say, I was pleased as punch with the final result.
Wanting to be true to Grandma's recipe as much as possible, I followed her elegantly scripted instructions exactly, cutting my puffs into perfect 1-inch-wide by 3-inch-long rectangles (what, you don't keep a ruler in the kitchen?) but you could also have some fun with cookie cutters here too. Although, keep in mind that any scraps, while they can be re-rolled and re-cut, won't be quite as puffed or flaky as the first roll out (they are sort of like biscuits in that regard).
I couldn't decide between paprika or poppy seeds to be sprinkled on top (the recipe mentioned both as options), so I did a half of each. I opted to use smoked paprika too instead of sweet, figuring the extra smokiness and mature flavor couldn't hurt (smoked paprika perhaps being one of our favorite and most-used spices… I rarely use the regular variety).


This recipe calls for grated parmesan. Not shredded… grated. The powdery stuff (you know what I'm talking about). I personally don't love the kind that comes in the green can (tastes like soap), but Trader Joe's has a great alternative: same classic grated texture, but slightly higher quality cheese.
You can also make your own grated parmesan by placing chunks of parmesan cheese in a food processor and pulsing until very finely ground. You'll need about 9 ounces of cheese to yield 2 cups of grated cheese.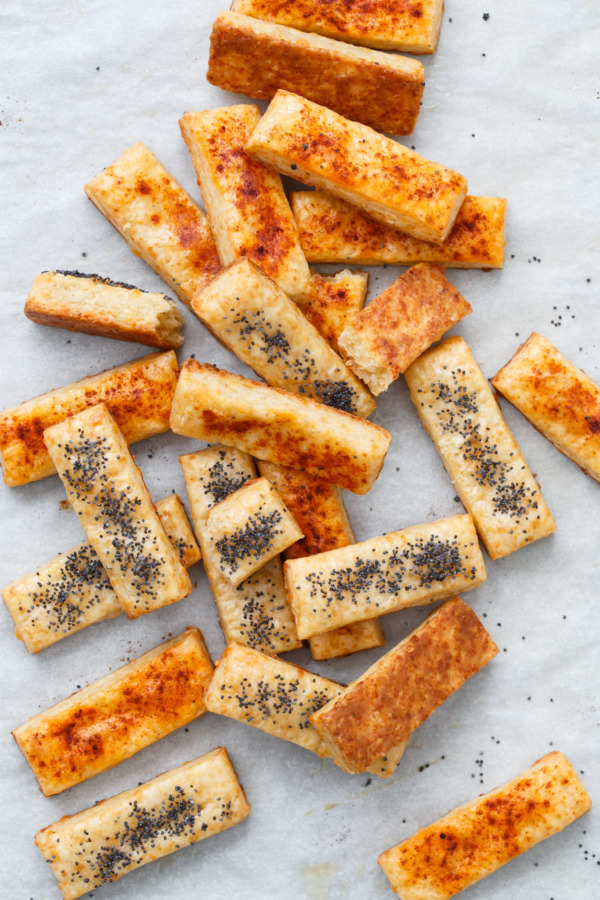 I'm also excited to try making pecorino puffs (because where Parmesan is good, Pecorino is better, at least in our house). I also think any similarly hard cheese would work here; not sure about softer ones like cheddar, which might not have the same result. I'm intrigued enough to try it, though! Or, better yet, swapping the cream cheese for goat cheese? That sounds downright fabulous to me.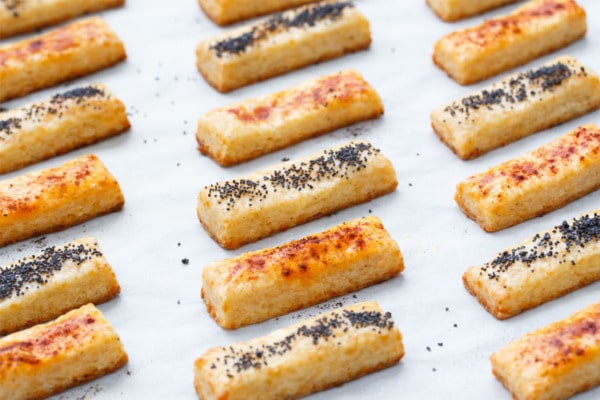 Parmesan Puffs
Straight from my grandma's recipe box, these buttery, flaky parmesan puffs are a perfect party snack.
Ingredients:
2 cups (9 ounces) grated parmesan
2 cups (8.5 ounces) all-purpose flour
1/2 teaspoon freshly ground black pepper
1/2 teaspoon ground cayenne pepper
1 cup unsalted butter, at room temperature
4 ounces cream cheese, at room temperature
1 large egg, lightly beaten, for brushing
poppy seeds and/or paprika, for topping
Directions:
In a bowl, combine parmesan, flour, pepper and cayenne and mix until evenly incorporated.
In a mixing bowl or the bowl of a stand mixer, combine butter and cream cheese. Beat on medium-high speed until smooth and creamy, 2 to 3 minutes. Add parmesan mixture and work in with your fingers until it forms a round ball of soft dough.
Divide dough into two pieces and roll into balls; flatten slightly. Wrap tightly in 2 layers of plastic wrap. Refrigerate overnight until firm. (You can also freeze the dough for use at a later time).
Preheat oven to 375 degrees F. Let dough return to cool room temperature for about 20 minutes before rolling out. Keep one dough disc in the fridge while you roll out the other.
On a lightly floured surface or between two layers of waxed paper roll into an oblong 1/4-inch thick. Cut into 1-by-3-inch strips. Arrange on parchment-lined cookie sheets, leaving 1/2 inch of space between them. Brush with lightly beaten egg; sprinkle with paprika or poppy seeds if desired.
Refrigerate for 30 minutes, then bake for 12 to 15 minutes or until puffed and golden brown on the bottoms. Cool on wire racks before storing in an airtight container for up to 5 days (recrisp slightly in a 375 degree oven, if desired).
Did you make this recipe?
Let us know what you think!
Leave a Comment below or share a photo and tag me on Instagram with the hashtag #loveandoliveoil.