One cannot live on cupcakes and cookies alone (though I'd sure be willing to give it a try), which is why, to prove that we do, in fact, eat dinner, I'm posting this healthful soup.
Not to mention it's good cold weather grub.
Which we've had a lot of lately.
Too much in fact.
We moved south to get away from the snow and cold.
Apparently, we didn't move far enough south.
Brr.
As we anxiously await spring, at least there is some comfort in a warm bowl of soup. Curried sweet potato soup. Topped with tangy goat cheese. And served with buttery goat cheese drop biscuits (that couldn't be easier to prepare).
Now go away snow. Scram.
Curried Sweet Potato Soup with Goat Cheese Biscuits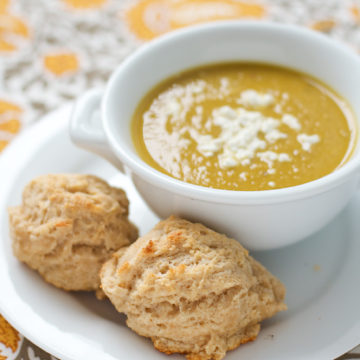 Ingredients:
For Soup:
1 1/2 tablespoons olive oil
1 cup coarsely chopped onions
1 large clove garlic, coarsely chopped
1 tablespoon chopped ginger
1 teaspoon ground cumin
1/2 teaspoon ground coriander
1/4 teaspoon ground cardamom
1/4 teaspoon turmeric
1/8 teaspoon crushed red pepper flakes
2 1/2 pounds sweet potatoes, peeled and sliced 1/4-inch thick
6 cups chicken or vegetable broth, or slightly more as needed.
salt and pepper to taste
6 to 8 teaspoons goat cheese
For Biscuits:
2 cups all-purpose flour
3 teaspoons baking powder
1 1/2 teaspoons salt
4 tablespoons (2 ounces) cold unsalted butter, cut into cubes
4 tablespoons (2 ounces) goat cheese, crumbled
1 cup buttermilk
1 tablespoon unsalted butter, for the pan
2 tablespoon unsalted butter, melted to top the biscuits
Directions:
To prepare soup: heat the oil in a large pot over medium heat. Add the onions and saute until the onions are soft and begin to brown, about 10 minutes. Add the garlic and saute, stirring for 30 seconds. Add the ginger, cumin, coriander, turmeric and red pepper flakes. Finally, add the sweet potatoes and broth and bring to a boil.
Reduce the heat and simmer until the sweet potatoes are soft, about 20 minutes.
Puree the soup, in batches in a blender or food processor. Season to taste. The soup can be made a day ahead and kept in the fridge. Reheat over low heat. If the soup is too thick, add a little more stock.
Ladle into bowls and sprinkle with crumbled goat cheese.
To Prepare Biscuits:
Place a 10-inch cast iron skillet in the upper third of the oven and preheat to 425 degrees F.
In a medium bowl, whisk together flour, baking powder and salt. With your fingers incorporate the butter and goat cheese until the flour resembles a coarse, pebbly mixture. Make a well in the center of the flour mixture and pour in the buttermilk. With a fork, mix together the buttermilk and flour until all of the dry flour disappears.
Melt 2 tablespoons of butter in a small sauce pan or in the microwave. Set aside.
Remove the cast iron from the oven and place one tablespoon of butter in it. Work the pat of butter around, greasing the entire pan, including the sides.
Quickly drop the batter by 1/4-cup (a large ice cream or muffin scoop works very well) into the hot skillet, spacing biscuits somewhat evenly (they will touch when baked… that's ok.) Brush with melted butter.
Bake for 14-16 minutes or until slightly golden in color. Remove from the oven. Let rest for 5 minutes. Serve warm.
Did you make this recipe?
Let us know what you think!
Leave a Comment below or share a photo and tag me on Instagram with the hashtag #loveandoliveoil.