Cheese, glorious cheese! What is there more handsome?
This white queso is particularly dashing… ultra creamy with a ton of flavor coming from the crispy spicy chorizo, green chiles, and pickled jalapenos.
May I have some more, please?
This queso was inspired by a similar dish at Butchertown hall, one of our favorite neighborhood restaurants here in Nashville. While their chorizo is house-made and simply fabulous, we used a raw bulk chorizo from Whole Foods and it worked perfectly to add spice and sass to this queso. Their house-made chips are also on point, and I even convinced them to throw in a few extras with my other leftovers when I went for lunch the other day. Because store-bought tortilla chips just don't compare to freshly fried homemade ones.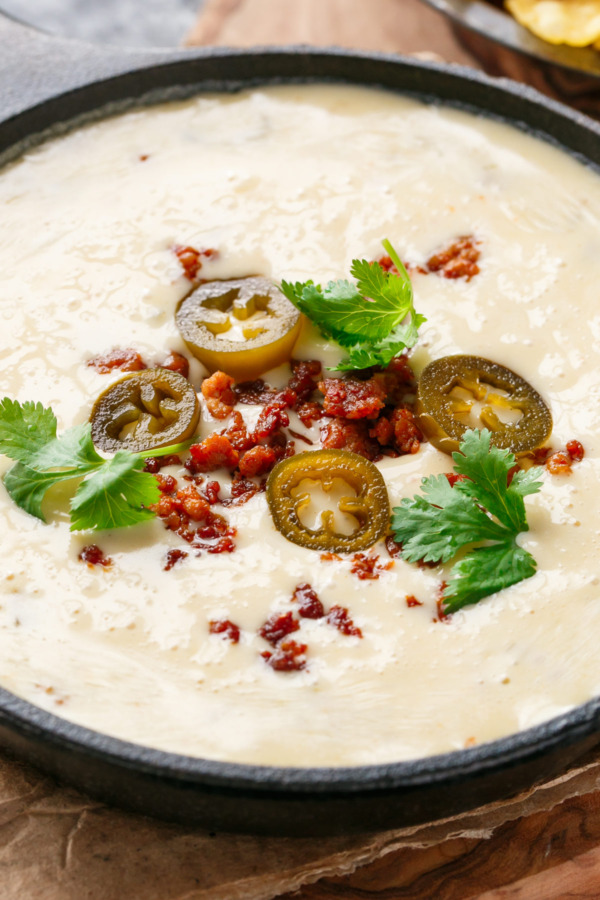 I'll admit, I didn't grow up eating queso. In fact, I'd really never heard of it (oh, the humanity!) until I moved to Nashville 9 years ago. And I'll also admit, I am not a fan of the traditional velveeta-and-rotel combination (don't kill me, but it's true).
Still, not having grown up with the stuff, I wasn't very experienced when it came time to make it. I first tried to make it like a bechemel, a cheese sauce that starts with a roux of flour and butter and then adds milk and finally a mix of melty cheeses. Basically mac 'n cheese, without the mac.
When that didn't work (the result was too thick and not the perfectly creamy texture I was looking for), I gave up the gourmet combination of cheeses and used a block of "Queso-Melt" cheese, basically white American cheese branded with the Mexican flag. In the process of seeking out the perfect cheese, however, I did discover you can buy blocks of white American cheese (which also works here) at the deli counter at Publix. Just ask for a single hunk instead of slices. Trust me, grated cheese will melt so much nicer than sliced.
The other trick to the creamiest queso? Evaporated milk. It's not 100% required (you could use all whole milk in a pinch) but, especially if you plan to reheat the queso later, the proteins and stabilizers in canned evaporated milk will result in a much creamier, and more stable texture.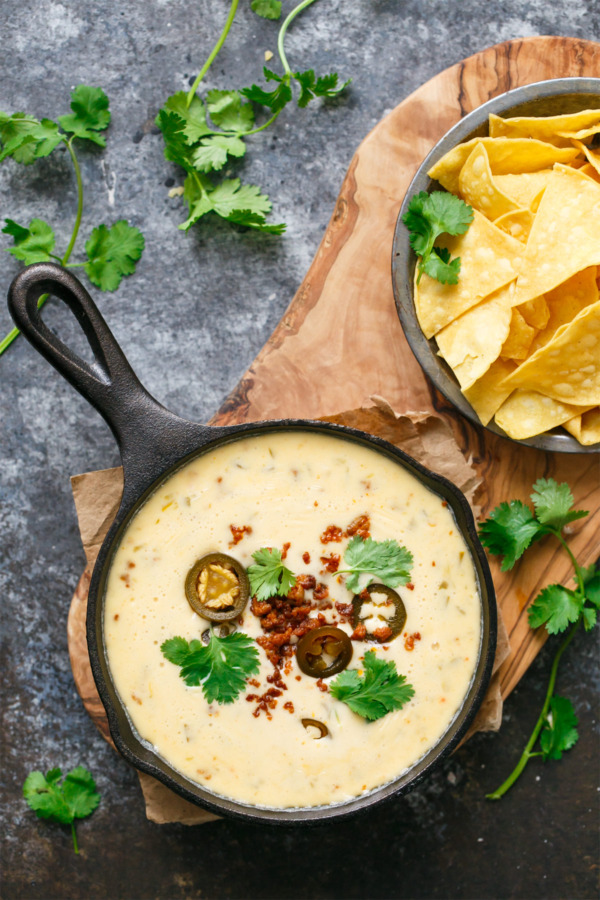 I've included the amount of chiles and peppers that I thought gave the dip a pleasant heat. But feel free to add more or less to adjust the heat level to your liking. It's also worth tasting your chorizo once it's cooked, as depending on where you got it and who wielded the spice jars that day, the spice level of fresh chorizo can vary greatly. If it's too mild you can always add some extra chili powder or cayenne, along with some more smoked paprika for an even more intense flavor. Trust your tastebuds, that's my motto!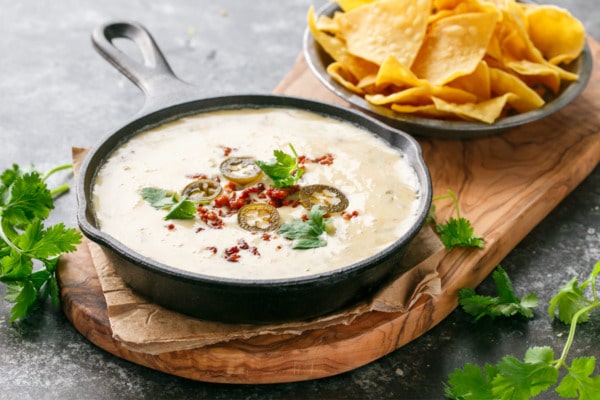 Spicy Chorizo Queso Dip
Creamy white queso dip with spicy chorizo and pickled jalapeño peppers: perfect for your next party!
Ingredients:
6 ounces raw chorizo
8 ounces queso blanco or white american cheese, grated
1 small (5 oz) can evaporated milk
1/4 cup whole milk
2 tablespoons diced green chiles
1 tablespoon chopped pickled jalapenos, or more to taste
cilantro, for topping
tortilla chips, for serving
Directions:
Preheat a large skillet set over medium high heat. Add chorizo and cook, breaking up large chunks into smaller bits, until browned and slightly crispy, about 10 to 15 minutes. If your chorizo is particularly learn (if it doesn't release a lot of fat as it cooks) you may want to add a tablespoon of vegetable oil to help it crisp up.
Transfer chorizo with a slotted spoon to a paper-towel lined plate; set aside.
Wipe out skillet and return to low heat. Add evaporated milk and milk to skillet and heat until it just starts to steam, then add grated cheese, a handful at a time, whisking until melted and smooth. Be sure to do this gently over low heat, don't rush it, or the sauce might separate on you.
When cheese is completely melted and smooth, stir in green chiles and jalapenos, along with most of the chorizo (reserve a spoonful or two for topping, if desired).
Pour queso into warm serving dish. I used a 6-inch cast iron skillet I had preheated in the oven for 15 minutes. This will keep you queso creamier longer.
Top with reserved chorizo, a few slices of pickled jalapeno, and fresh cilantro, as desired. Serve warm.
Queso can also be made a day ahead of time and refrigerated in an airtight container. Reheat over low heat on the stovetop or in the microwave in 30 second intervals, stirring until smooth and creamy.
Did you make this recipe?
Let us know what you think!
Leave a Comment below or share a photo and tag me on Instagram with the hashtag #loveandoliveoil.