Figs make some of my favorite preserves, and this recipe is no exception.
I've been planning it since last fall when I received a glut of figs from the California Fig Advisory Board. While I made use of most of them, some went in the freezer for later use. (I peeled, chopped, and mashed them first so they'd be jam-ready in a jiffy.)
In the tasting notes that accompanied the 4 unique fig varieties, it mentioned Sierra figs having a creamy center and sweet and mild flavor like a Riesling. That got me thinking about figs and wine, which ultimately led to this gem of a jam. Yes, I used rosé instead of Riesling, but you can't deny that rosé is having its moment right now, so why not turn it into a jam?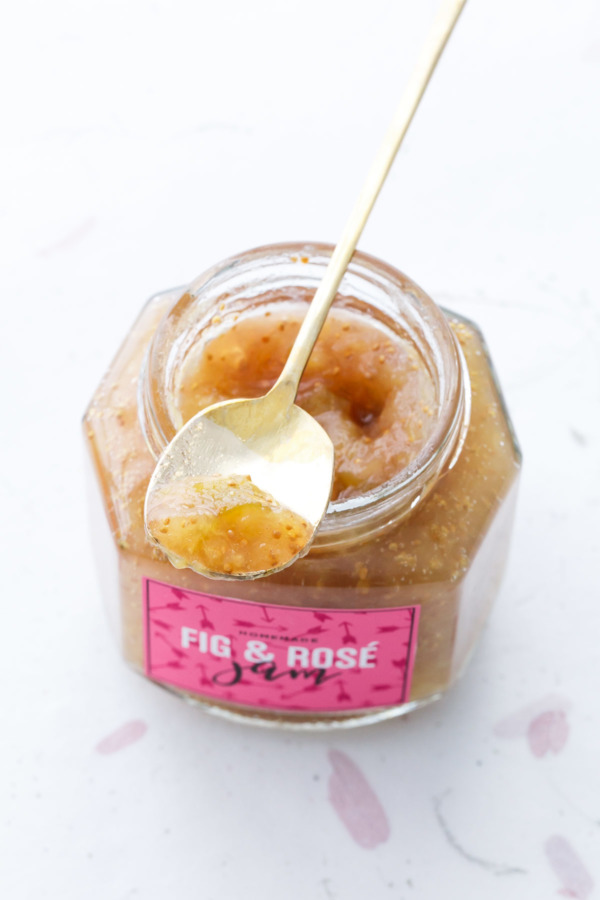 Much like my peach rosé popsicles from earlier this summer, rosé proves to be a perfect pairing for fruit, be it frozen or jammed and canned. The rosé flavor is subtle but noticeable, and compliments the sweetened fig beautifully. I'd recommend looking for a wine that mentions notes of red fruit or even figs on the label for a truly perfect pairing (and yes, you can use white wine here instead of rosé if you like!)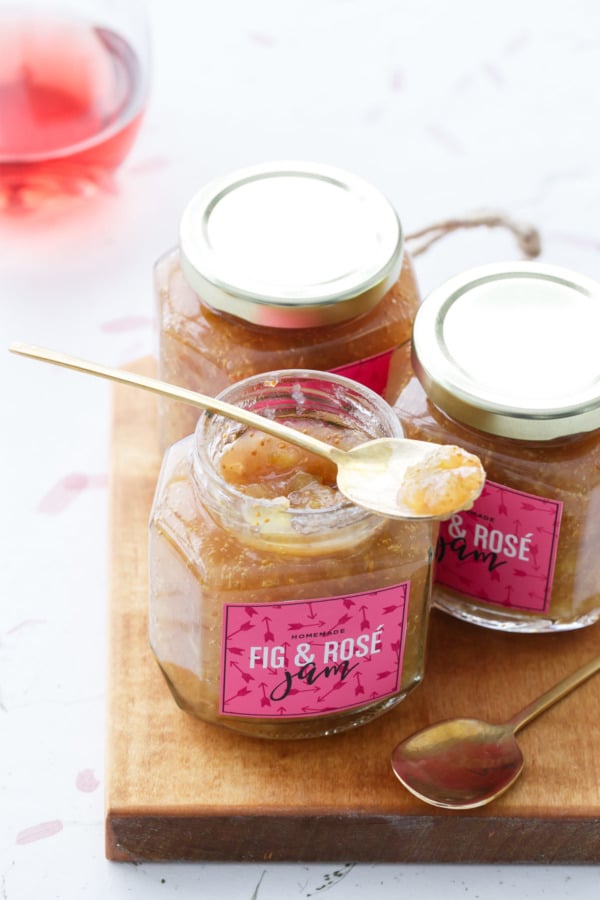 I used green Sierra figs in my jam, but you can use whatever variety of fig you happen to have on hand, just know that the color of the jam will change accordingly (as pretty as it is in the bottle, the rosé doesn't actually affect the color of the jam much at all). Dark mission or brown turkey figs will produce a ruby red jam, and pink-centered tiger figs will produce a blush pink jam.
Whatever variety you use, if the skins are particularly thick (as is the case with most green figs), I recommend peeling the figs first. Basically, if the skins are thick enough that you can peel it, you should. The result will be a much finer-textured jam than if you left the skins whole.


Like any good wine, this jam would be stellar on crackers with a nice aged cheddar or fresh goat cheese.
Or, better yet, spread on bread and top with cheese for the ultimate grown-up grilled cheese.
Talk about seriously delicious.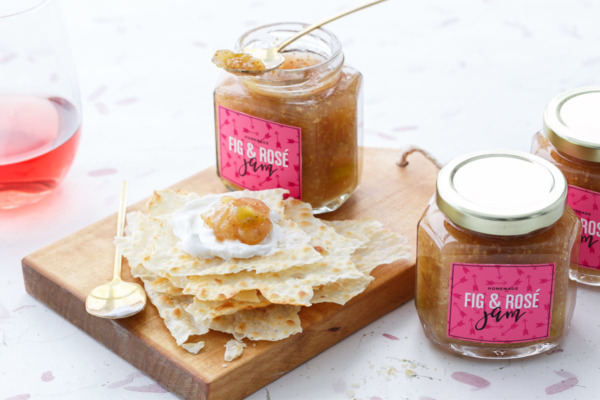 Fig Rosé Jam
Fruity green figs with rosé wine for a sweet and sophisticated jam. Use black or brown figs for a ruby red jam, or green figs for a honey-colored jam.
Ingredients:
2 pounds figs (skins removed if thick), chopped and mashed (about 3 cups mashed)
1 cup rosé wine
1 1/2 cups granulated sugar
3 teaspoons Pomona's Universal Pectin
1/4 cup lemon juice
4 teaspoons calcium water* (included with the pectin)
Directions:
To prepare figs, remove stems and coarsely chop. If your figs are particularly thick skinned (some varieties are) you might want to peel them first. Totally optional, and not easy by any means, but your final jam will be smoother as a result. Mash fruit in a bowl or saucepan using a potato masher.
Fill a large stock pot or canning pot 2/3 full with water; place a rack of some sort in the bottom and place over medium-high heat. Wash/sterilize your jars and submerge in water bath as it heats. The pot should be just about boiling by the time the jam is ready to go. Keep jars in hot (not boiling) water until ready to use.
In a bowl, whisk together sugar and pectin until evenly distributed.
Combine mashed figs with wine in a large, heavy saucepan set over medium-high heat. Bring to a boil and simmer for about 5 minutes or until figs are soft and start to lose their shape. Add lemon juice and calcium water and bring to a full rolling boil. Add sugar and pectin, stirring vigorously until completely dissolved. Continue to stir until jam returns to a full boil, which shouldn't take more than 1 to 2 minutes. Remove from heat.
Ladle jam into jars, leaving 1/4-inch of headspace. Wipe jar rims and threads. Screw on lids and rings. Process in a boiling water bath for 10 minutes. Remove from water and let cool completely, 12 to 24 hours. Check seals. Any unsealed jars should be refrigerated and used within 3 weeks.
* Calcium powder to make calcium water is included with the Pomona's brand pectin. If you are substituting another pectin brand/type, please follow the instructions inside your pectin package, paying attention to the process and the proportion of fruit to sugar required by that type of pectin (different kinds of pectin will require different amounts of sugar to properly set).
Did you make this recipe?
Let us know what you think!
Leave a Comment below or share a photo and tag me on Instagram with the hashtag #loveandoliveoil.
Bonus Printable Labels
Since my jam didn't turn out very pink (I had visions of a perfect shade of blush pink… alas, green figs are not the way to achieve such a color) so I wanted a touch of pink in the labels to compensate. These pretty in pink labels perfectly compliment the honey-colored jam.
To use, simply download the file and print onto white label paper, cut out the shapes, and apply directly to the (canned and cooled) jars. You can also print onto cardstock and punch out holes to use as hang tags.
The rectangle labels are designed to perfectly fit these 6oz oval hex jars, but they'd also work on smooth-sided mason jars or lids as well. Front and back labels included with space to fill in the made/opened dates and batch number.
The downloadable PDF file contains 6 front/back labels per page.