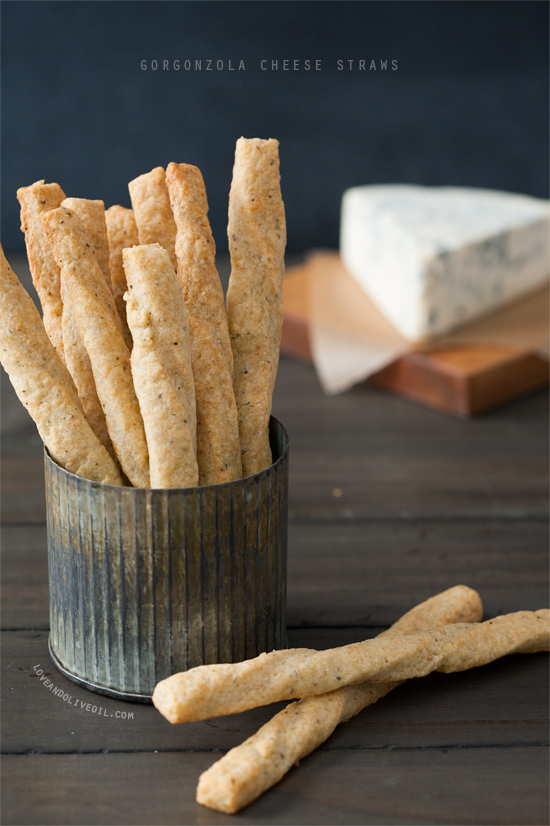 I don't know what my obsession with gorgonzola is lately, but my first attempt at more of a crispy-cracker-like snack was not so successful. It's like I couldn't roll the dough thin enough. Stumped at how I could acheive such an outcome, I went in a different direction (what do they say, if you can't solve the problem change the problem?)
This recipe is based on the cheddar version for which Lesley has become famous ('round these parts at least). Any food blogger gathering or potluck and one of the first questions anyone asks is, will there be cheese straws? (The answer is, yes, because even if Lesley doesn't bring them somebody else will).
Using her recipe as a base, I replaced the classic cheddar with a crumbly gorgonzola. I also added a bit of baking powder (for some extra lightness and lift) and a healthy dose of black pepper. Once they are baked, most of the funkyness from the gorgonzola dissipates. In fact, if you didn't tell someone these were gorgonzola, they could easily be mistaken for cheddar. They'd be perfect served with wine or beer, crispy and salty with a cheesy, soft cloud-like interior.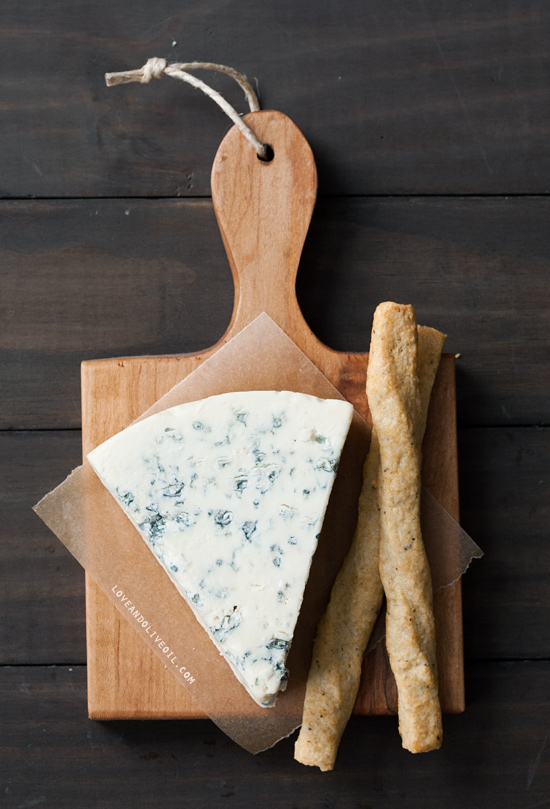 I might suggest you make a double batch of these, as they disappear rather quickly (in fact, I was lucky to get a good shot of these before Taylor devoured them all). They're quite dangerous in that respect.
Bring them to your next party. I promise they will make an impression. A word of warning, though, because once you do, people may never allow you to bring anything else. Ever.
Gorgonzola Cheese Straws
Ingredients:
4 ounces crumbled Gorgonzola cheese
1 cup all-purpose flour
6 tablespoons unsalted butter, cut into tablespoons
1/2 teaspoon baking powder
1/2 teaspoon salt
1/4 teaspoon freshly ground black pepper
2 tablespoons milk
Directions:
Preheat oven to 350 degrees F with racks in upper and lower thirds.
Pulse cheese, flour, butter, baking powder, salt, and pepper in a food processor until mixture resembles coarse meal. Add milk and pulse until incorporated. Dough will be crumbly, but should stick together when pinched with your fingers.
Roll out dough on a lightly floured surface with a lightly floured rolling pin into a rectangle approximately 1/4-inch thick. Cut dough with a lightly floured pizza wheel or lightly floured sharp knife into 1/2-inch strips. Carefully transfer to two parchment lined baking sheets, leaving a little bit of space between them. You can also gently twist the strips for a slightly different effect (if they break at any point, just pinch them back together).
Bake, rotating the baking sheets halfway through baking, until straws are puffed and bottoms are golden, about 15 to 18 minutes. Cool completely. Straws will keep, stored in an airtight container, for up to 3 days.
Did you make this recipe?
Let us know what you think!
Leave a Comment below or share a photo and tag me on Instagram with the hashtag #loveandoliveoil.