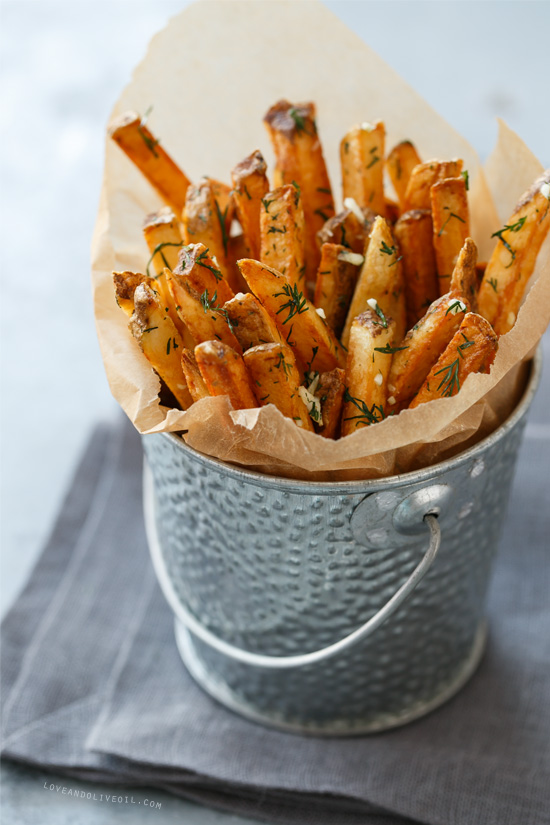 You can't have a proper hot dog without a proper french fry. And much like last week's potato chips, I've never made proper fried fries before now. Baked, yep, but again, like the potato chips, it's just not the same. Fry imposters. Basically baked potatoes.
The key? These fries aren't just fried once, but twice, which makes them extra crispy, just how I like 'em. This basic recipe is from Russell van Kraayenburg's new cookbook, Haute Dogs, all about, you guessed it, hot dogs (although, as I type this the cats are sitting here glaring at me, wondering why they aren't called 'hot cats' because clearly that would be superior).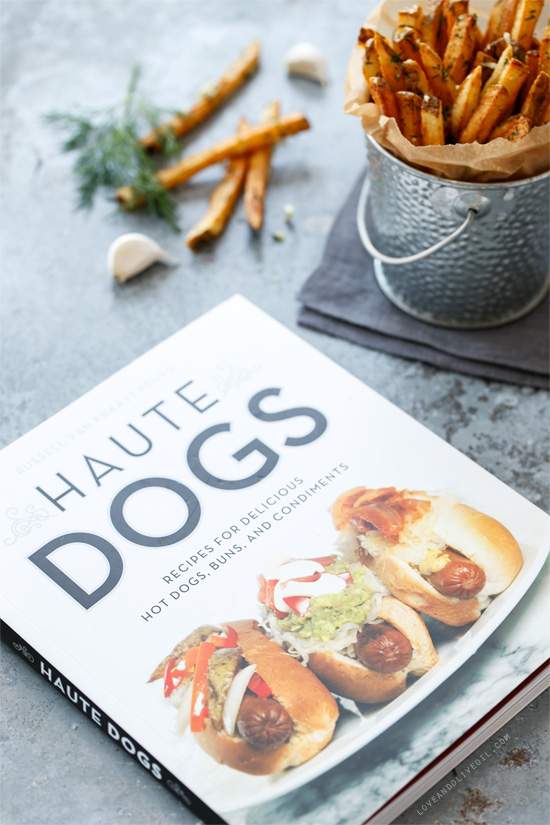 We chose to spice (herb?) up Russell's classic fry by tossing them with fresh garlic, dill, and fine sea salt. You could use other herbs, thyme or rosemary for example, or grated parmesan cheese, or, like he suggests in the book, sprinkle them with some wasabi powder for a real kick in the pants. Heck yes.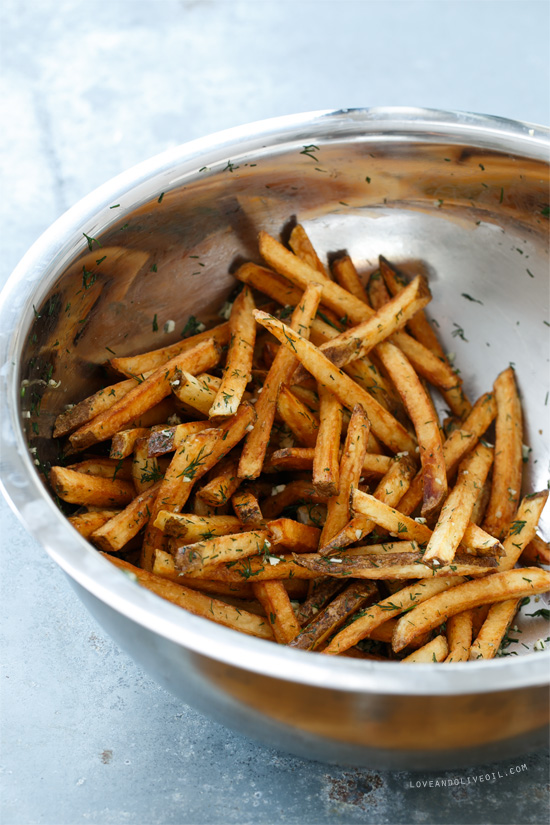 Homemade French Fries with Fresh Garlic and Dill
Ingredients:
2 pounds russet potatoes, unpeeled
1 quart vegetable or peanut oil
2 tablespoons chopped fresh dill
2 tablespoons finely minced fresh garlic (from 6-8 cloves)
fine sea salt, to taste
Directions:
Cut potatoes lengthwise into 1/4-inch-thick slices, and then cut slices into sticks about 1/4 inch wide. Alternatively, you can use a mandoline with a fry blade to speed up the process.
Soak potatoes in cold water for 20 minutes. Meanwhile, heat oil to 300 degrees F in a large pot.
Transfer potatoes to a towel or paper towels and dry thoroughly. Cover a countertop, baking sheet, or large serving platter with fresh paper towels.
Working in batches, add potatoes to pot (do not overcrowd) and fry for 5 to 8 minutes, until light golden and cooked through. Transfer fries to paper towels to drain while you cook the remaining potatoes.
When all potatoes have been fried, increase oil temperature to 375 degrees F.
Just before serving, fry potatoes a second time, working in batches, until golden brown, about 2 to 4 minutes.
Using a large slotted spoon or fry basket, drain and transfer hot fries to a large bowl with garic and dill. Sprinkle generously with sea salt and toss to coat. Doing this immediately when the fries are out of the oil will help the toppings to stick. Serve immediately.
Did you make this recipe?
Let us know what you think!
Leave a Comment below or share a photo and tag me on Instagram with the hashtag #loveandoliveoil.