What. A. Year. Seriously. Perhaps the best year yet.
This year I published my first cookbook. Wrote a second cookbook. Went to Florida, Atlanta (twice), Birmingham, Colorado, New York, and Pennsylvania. Appeared on local TV. Appeared on national TV. Successfully made caramel. Threw a birthday party for a blog. Smuggled cherries home from Colorado. Made homemade cat food. Ate chocolate in Hershey. Ate ramen in NYC. Embraced strawberry season. Went to Disneyworld. Didn't go on Splash Mountain. Dressed my cats up in miniature Santa hats. Lived to tell about it. Bought a few spoons (just a few). Designed over two dozen new food blogs. Baked some cookies. Raised over $1,500 for hurricane Sandy relief, and over $4,400 for Cookies for Kids' cancer because of those cookies. Phew.
Indeed, 2012 was a great year. But I have a feeling 2013 is going to be even better. We are both incredibly grateful for the role this blog and you (our readers!) play in our lives. Cheers!
As I have in the past, I'd like to quickly highlight some of my favorite treats and recipes posted in the past year. As I've seen myself grow as a cook, photographer, and writer, this task gets increasingly more difficult each year. So much so that I'm including 9 more posts in my year-end wrap up than I did last year. I had no choice… otherwise this round-up would be sugar filled and chocolate coated through and through. It just so happens that *MY* memory lane is paved with sugar cubes and chocolate bars. Can you blame me?
The 3 most visited posts this year were the Chocolate Chip Cookie Dough Truffles (for the 3rd year running), Grasshopper Brownie Bars, and Cream Egg Brownies. Yup, you guys like your chocolate just as much as I do (maybe that's why we get along so well).
Enjoy this look back at some of my favorites from the past year, full of chocolate and creme de menthe, ripe summer fruit and rainbow sprinkles.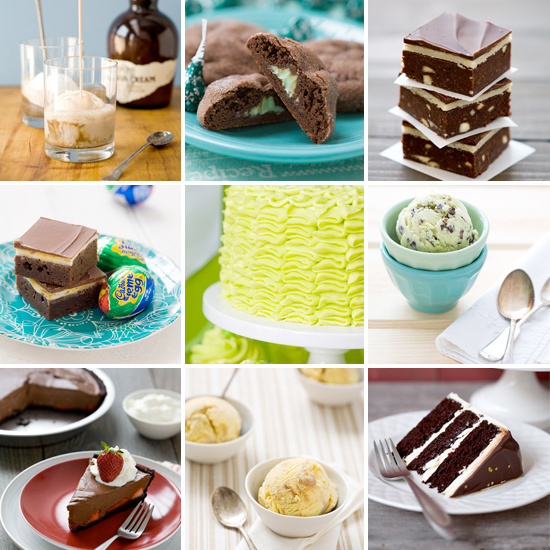 (1) Bourbon Cream Root Beer Floats / (2) Chocolate Mint Truffle Cookies / (3) Marzipan Brownies / (4) Cream Egg Brownies / (5) Meyer Lemon and Olive Oil Chiffon Cake with Lemon Poppyseed Curd / (6) Andes Mint Chip Ice Cream / (7) Chocolate Strawberry Oasis Pie / (8) Peanut Butter & Honey Ice Cream / (9) Blackberry Red Wine Chocolate Cake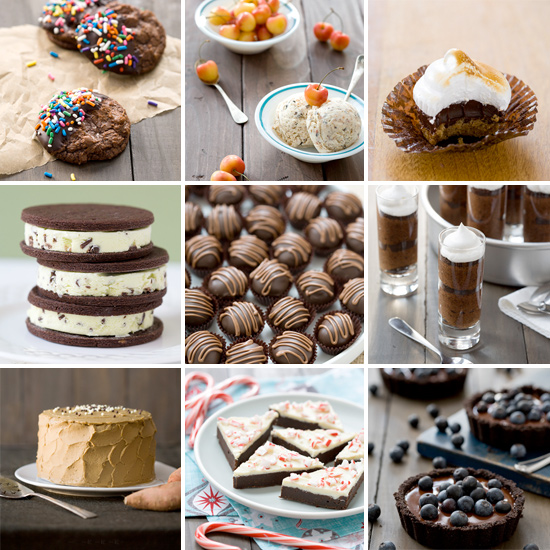 (1) Chocolate Dipped Brownie Cookies with Rainbow Sprinkles / (2) Rainier Cherry and Chocolate Chip Ice Cream / (3) Mini S'Mores Tarts / (4) Creme de Menthe Ice Cream Sandwiches / (5) Mexican Chocolate Chip Cookie Dough Truffles / (6) Chocolate Velvet / (7) Sweet Potato Layer Cake with Molasses Buttercream / (8) Peppermint Bark Brownies / (9) No-Bake Blueberry Truffle Tartlets
And because one cannot live by chocolate alone (although I'd darn well like to try), these were my favorite non-dessert recipes of 2012:
(1) Savory Winter Greens Beignets / (2) Roasted Root Vegetable Salad with Goat Cheese / (3) Homemade Gravlax / (4) Open-Faced Heirloom Tomato Sandwiches / (5) Fruit and Herb Lemonade / (6) Arugula Pistachio Pesto / (7) Peach Lavender Jam / (8) Watermelon Blueberry Salsa / (9) Fresh Tomato Soup with Mascarpone
Here's to a happy and prosperous new year!