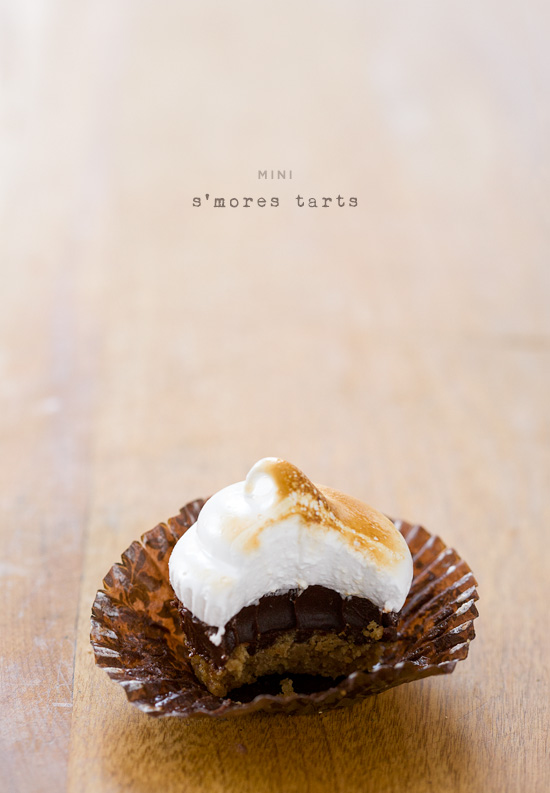 Who doesn't love s'mores? I mean, really.
I've been hit by multiple severe s'mores cravings lately, only to be thwarted by stale graham crackers.
That's the quickest way to ruin a good s'more, I tell you.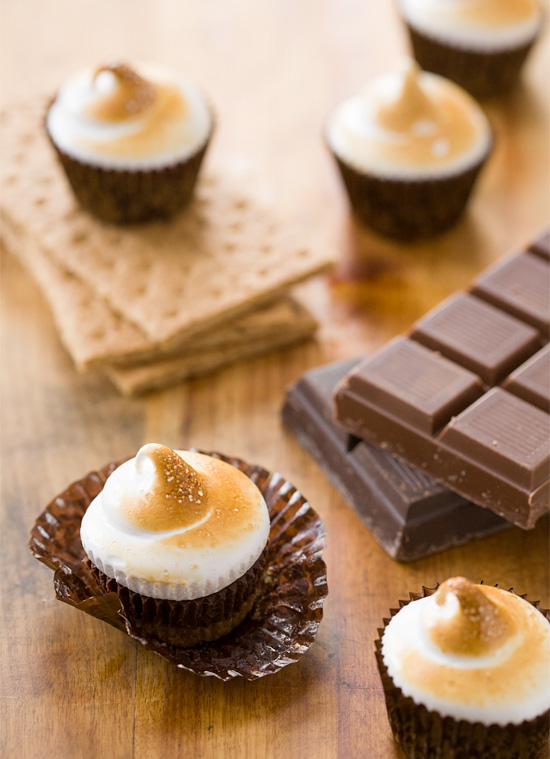 These little tarts are addicting. When I realized how many tarts the recipe was going to give me, I thought, I'll surely share these. We'll give a bunch away to neighbors, because we surely can't eat them all.
I was wrong.
Sorry, neighbors.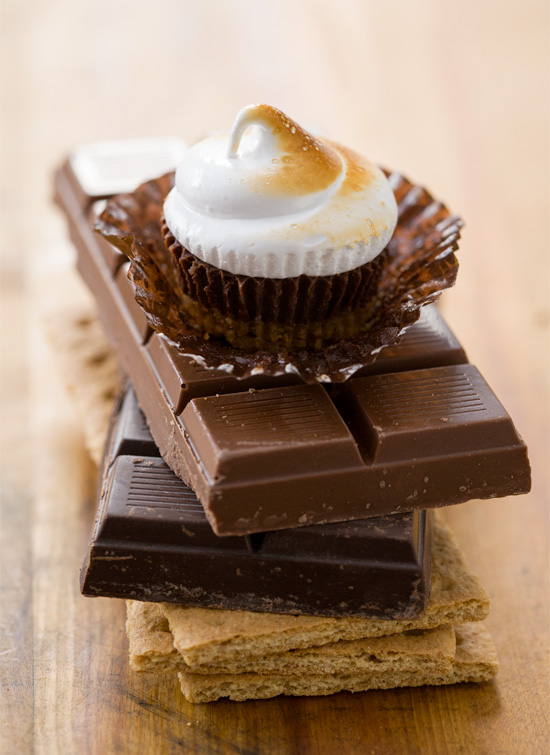 The (fresh! not stale!) graham cracker crusts are topped with a sweet ganache made with a mix of milk and dark chocolates. I started with solid dark chocolate in the first batch, which turned out to be a bit too bitter. Turns out there's a reason most s'mores are made with milk chocolate. Also, too much cream made it virtually impossible to peel off the wrappers (but, needless to say, we did not let the mess factor stop us from enjoying this first test). The second batch was far better, with an improved consistency, and an added sweetness from the milk chocolate that is the ideal counterpart to the fluffy homemade marshmallow, perfectly golden brown and toasted.
If you're feeling really wild… stir 1/2 cup of peanut butter into your melted chocolate mixture. It'll blow your mind. I did this with the second half of my tarts and it was like playing s'more roulette… will I get a plain tart or a peanut butter one? Either way you win.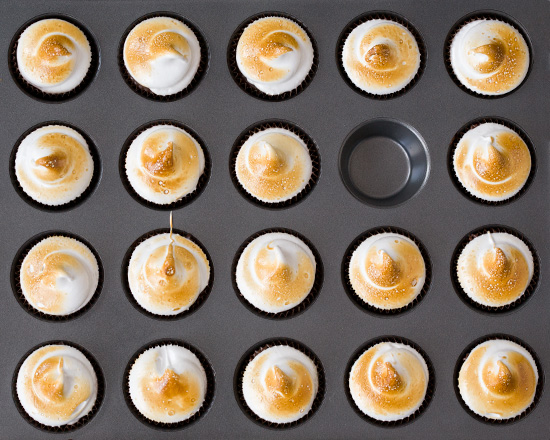 These tarts didn't stand a chance. Their bite-sized nature didn't help either; it was way to easy to walk by the fridge and pop one (or two) into your mouth. Whoops.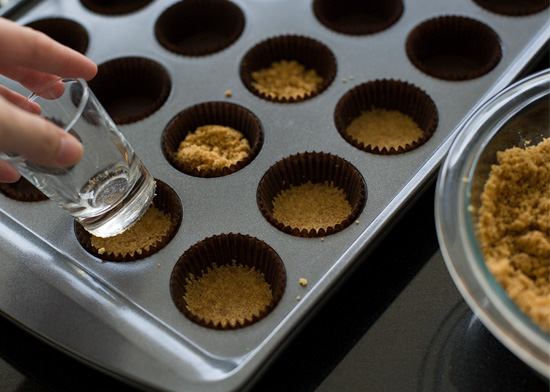 Helpful tip: a shotglass is the perfect size for pressing crusts into mini-muffin cups. It'll make your job so much easier, just drop 1/2 tablespoon of crumb mixture into each cup, then firmly press down with the bottom of the shot glass.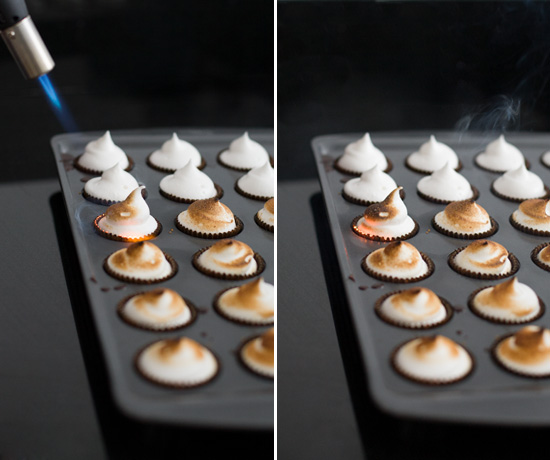 Another helpful tip? Careful with that torch. Fire + paper cupcake wrappers = a combustible combination.
Mini S'Mores Tarts
Ingredients:
For Crust:
1/2 box (12 cookies) graham crackers, finely chopped (about 1 1/2 cups crumbs)
1 tablespoon brown sugar
5 tablespoons unsalted butter, melted
For Chocolate Layer:
12 ounces dark chocolate, chopped
12 ounces milk chocolate, chopped
1 cup heavy cream
For Marshmallow Topping:
2 1/4 teaspoons unflavored gelatin (from 1 packet)
1/2 cup cold water, divided
3/4 cup granulated sugar
1/2 cup corn syrup, divided
1/2 teaspoon vanilla extract
Directions:
Preheat oven to 350 degrees F. Line two 24-count mini cupcake pans with paper liners.
To prepare crust, combine graham cracker crumbs and sugar. Add butter and stir with a fork until mixture resembles wet sand. Firmly press 1/2 tablespoon of crumb mixture into the bottom of each muffin cup (tip: a standard size shot glass is the perfect size for this task, and makes it much less tedious than using your fingers). Bake crusts for 4 to 5 minutes or until set. Let cool.
Combine chopped chocolates and cream in a saucepan. Stir over low heat until chocolate is melted and smooth. Divide chocolate mixture among cups, filling each one almost to the top. Tap pans gently on the counter to remove air bubbles and level surface. Refrigerate until set, at least 1 hour or overnight.
To prepare marshmallow topping, place 1/4 cup cold water in a small dish. Sprinkle gelatin over and let sit for 5 minutes to soften.
Combine sugar, remaining 1/4 cup water, and 1/4 cup corn syrup in a small saucepan. Bring to a boil over medium-high heat, stirring occasionally, and boil until mixture reaches 240 degrees F on a candy thermometer.
Place remaining 1/4 cup corn syrup in the bowl of a stand mixer. Microwave gelatin mixture on high for 5 to 10 seconds or until completely melted, then add to bowl with corn syrup. Turn mixer to low speed, and slowly drizzle in hot sugar syrup. When all the syrup has been added, increase mixer speed to medium-high, and mix for 5 minutes. Add vanilla extract and beat on the highest speed for another 5 minutes, until marshmallow is opaque, glossy, and tripled in volume.
Transfer marshmallow to a piping bag fitted with a large round tip. Pipe heaping dollops of marshmallow onto each tart. Let sit for 20 to 30 minutes to allow the marshmallow to set, then gently toast marshmallow with a kitchen torch, or place under the broiler for a few seconds until golden brown (be careful not to set the papers on fire). Refrigerate for at least 30 minutes to allow the chocolate to firm up again. While tarts are best enjoyed the day they are made, they will keep perfectly fine in the refrigerator for up to two days.
Did you make this recipe?
Let us know what you think!
Leave a Comment below or share a photo and tag me on Instagram with the hashtag #loveandoliveoil.