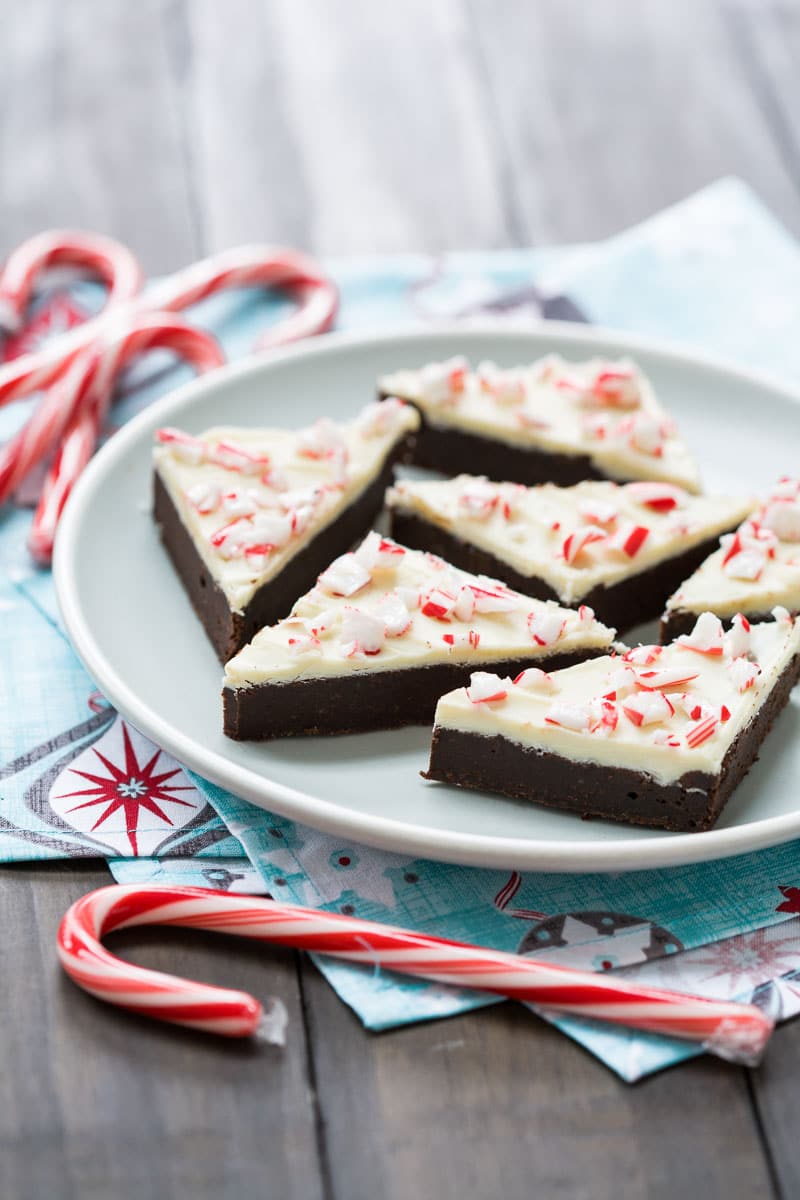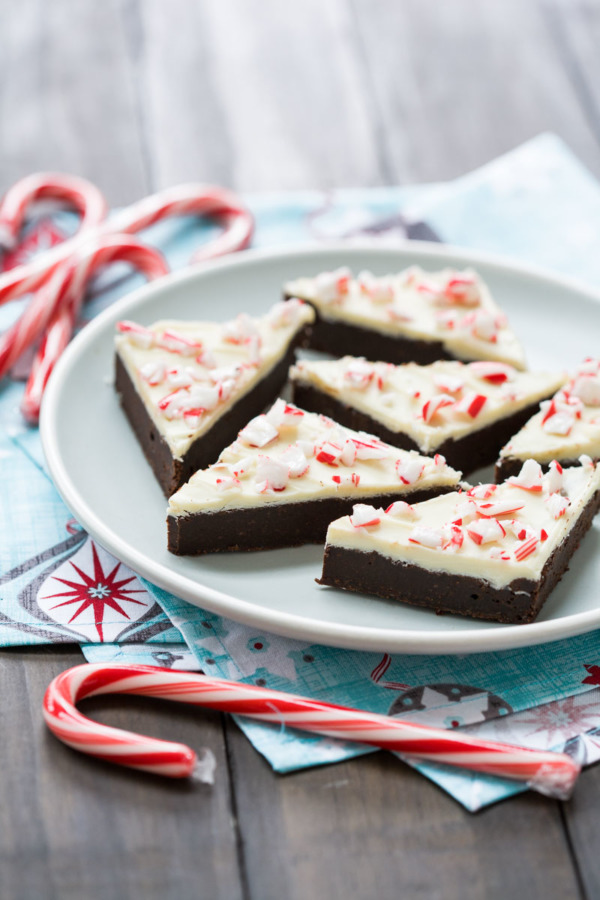 The holidays are officially and undeniably upon us, which means the internet is awash with everything peppermint. Just like one month ago it was everything pumpkin, and one month from now it'll likely be a sea of red velvet.
That's just how the internet works, apparently.
And while I am loath to contribute to the peppermint-ing of the blogosphere, I'll be honest when I say that I have been waiting since June to share these brownies with you.
I mean, Christmas decorations appearing in stores well before Halloween is bad enough… so I figured you wouldn't much appreciate me posting an all-out festive dessert in the middle of summer.
So I waited.
I sat on the idea, as visions of candy canes danced in my head in the 90-degree heat.
Until I finally had an excuse to make these divinely inspired brownies. Our annual food blogger holiday shindig last night was the perfect venue to debut their decadence. And now I can finally share them with you. Joy!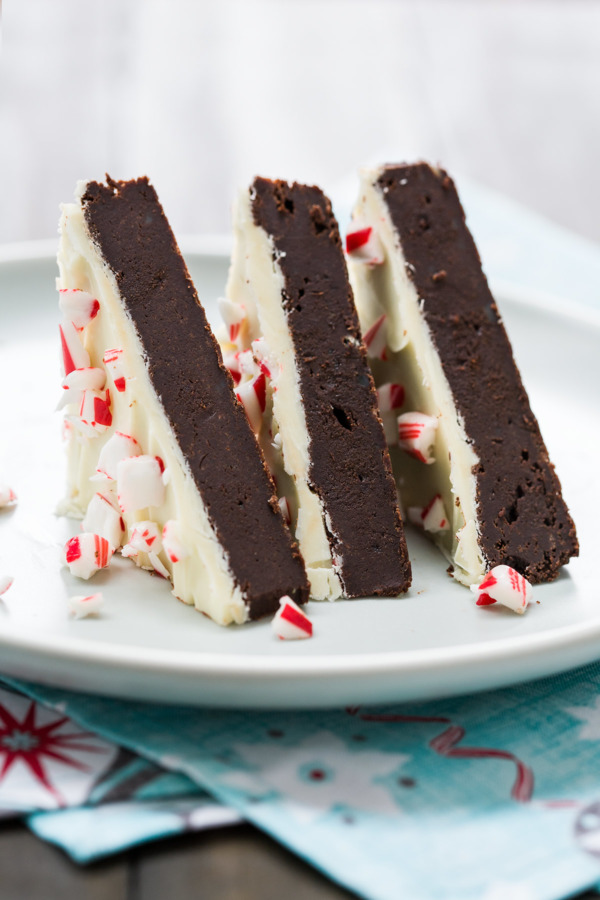 I've said before I like my brownies dense and fudgy (if I wanted something cake-like I'd bake a freaking cake). Well, I think the picture above shows you that these brownies go well beyond fudgy. They are perhaps the fudgiest brownie in the history of the world.
And I'm totally cool with that.
The brownies are then topped with, well, peppermint bark. A layer of smooth white chocolate studded with crushed candy canes. The peppermint bits are just bright enough to hold their own against the brick of dark chocolate brownie.
Now that I think about it, I should have shared these in June, gosh darn it. Candy cane or not, they are totally appropriate ANY time of year.
Note: This recipe has been re-tested and updated as of December 20, 2015, after receiving a few comments that the brownies came out crumbly. This new version is moist and fudgy and even better than before!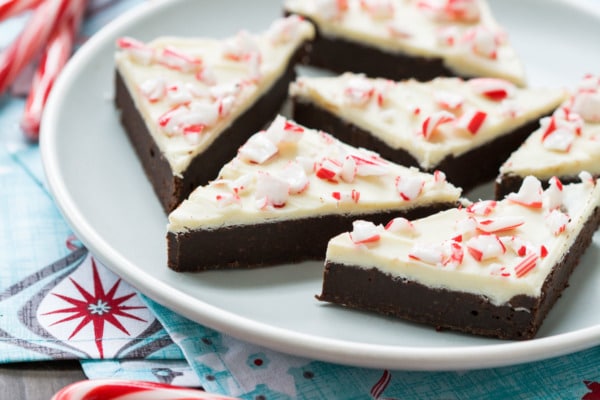 Peppermint Bark Brownies
This perfect holiday dessert recipe combines two of your favorite desserts in one: rich, fudgy brownies topped with sweet white chocolate pepper mint bark.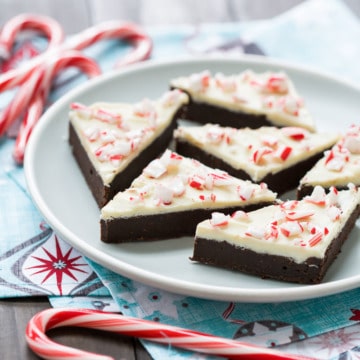 Ingredients:
1/4 cup all-purpose flour
1/3 cup dark or dutch processed cocoa powder
1/4 teaspoon baking powder
1/4 teaspoon salt
5 ounces dark or bittersweet chocolate (70-75%), chopped
1/2 cup (1 stick) unsalted butter, cut into cubes
1 cup granulated sugar
2 large eggs, at room temperature, lightly beaten
3/4 teaspoon vanilla extract
1/4 teaspoon peppermint extract
For Topping:
6 ounces good quality white chocolate, chopped
1 1/2 tablespoons vegetable shortening
3 to 4 candy canes, coarsely chopped or crushed (about 1/2 cup)
Directions:
Preheat oven to 350ºF. Line the bottom and sides of a 8-by-8-inch pan with parchment paper, leaving a slight overhang on two edges.
Sift together flour, cocoa, baking powder, and salt in a small bowl and set aside.
Melt chocolate and butter in a double boiler or a medium-large bowl set over gently simmering water. Stir until smooth, then remove from heat. Whisk in sugar and stir until mostly dissolved and mixture has cooled slightly.
Whisk in eggs, vanilla, and peppermint extract until just combined (do not overmix). Sprinkle flour mixture over top and fold in to chocolate mixture using a large rubber spatula until just incorporated. Pour into prepared pan.
Bake for 25 to 30 minutes or until toothpick inserted into the middle comes out clean. Transfer pan to a wire rack and allow to cool completely.
Gently melt white chocolate and shortening together in a double boiler or in short bursts in the microwave on low power (white chocolate is very fragile and so you want to be sure you melt it very gently; be patient, rushing is the quickest way to ruin it). Remove from heat before it is completely melted; the residual heat will be enough to completely melt it. Pour over brownies, spreading into a thin, even layer. Sprinkle with candy cane pieces. Chill until set, at least 30 minutes, or preferably overnight (these brownies are at their best and fudgiest when chilled in the refrigerator overnight).
Remove brownies from pan using the edges of the parchment paper to lift the entire block out of the pan. Using a large sharp knife, cut into 9 squares, then diagonally in half into triangles. Brownies will keep, covered in the refrigerator, for up to 5 days.
Did you make this recipe?
Let us know what you think!
Leave a Comment below or share a photo and tag me on Instagram with the hashtag #loveandoliveoil.