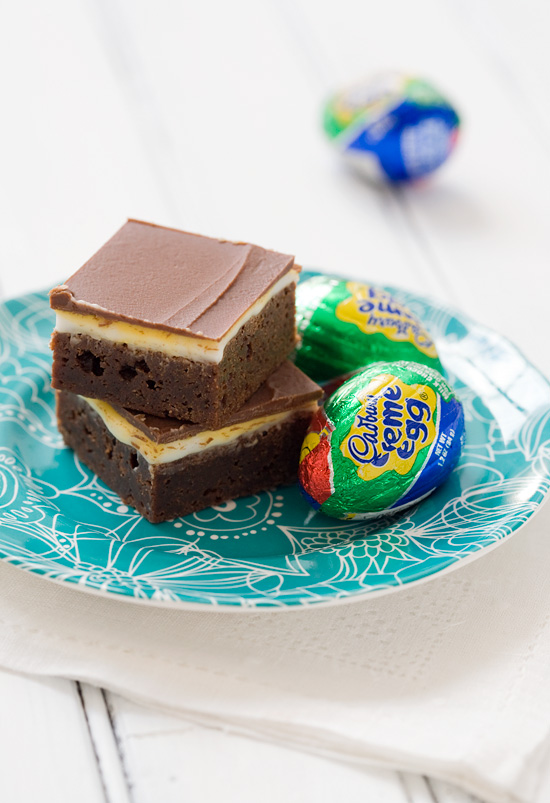 The weather is warm, the sun is shining. The birds are chirping, the bunnies a hoppin'. And that could only mean one thing: Easter is upon us.
I know this post will divide you all into two camps. The OMG'ers and the EWW'ers. Cadbury eggs tend do to that; you either love them or you hate them. And while I've argued before that the homemade version of the holiday confection could convert even the most adamant naysayers, I still admit that this sweet treat isn't for everyone.
For those who, like me, can't wait until the foil-wrapped eggs appear each year, I've got a special treat just for you.
Starting with the homemade cream egg filling. Creamy in consistency with subtle notes of vanilla, and sticky as all get out, it's far more sophisticated than the store bought version (quicker too, I'd imagine, than cracking a dozen cadbury eggs and extracting the filling). Sandwich that between a dense and fudgy milk chocolate brownie and a milk chocolate glaze. Replacing dark chocolate with milk chocolate results in a smooth and sultry chocolate flavor more reminiscent of the original treats. But you could definitely use dark chocolate as well. I'm an equal-opportunity chocoholic, I promise, and am not one to judge you by the color of your chocolate.
While there's no arguing these are incredibly sweet, I think you'll find them more than pleasing. The chocolate-to-filling ratio is vastly greater than the original, taking them down a notch from sickeningly sweet to just awfully sweet. So while I wouldn't recommend scattering these about the yard on Sunday morning (are those grass stains on my brownie?) they would make for a perfect, indulgent finish to your Easter meal.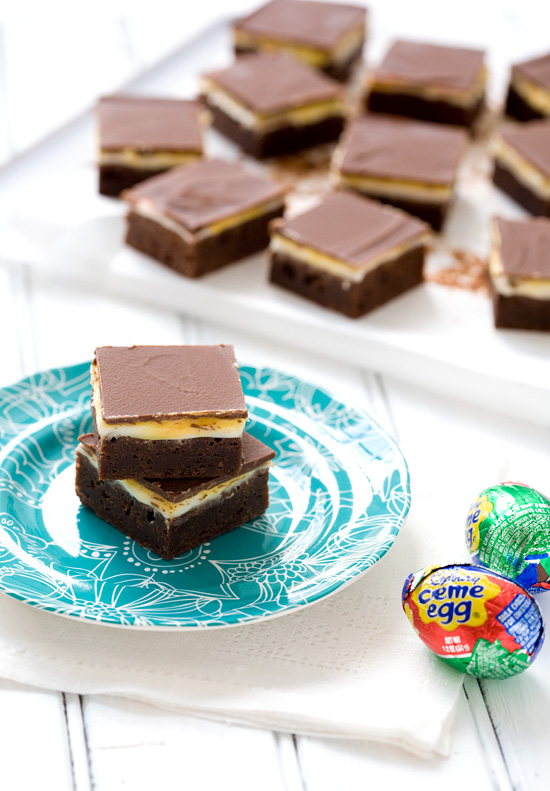 Another side effect of this season, other than the non-stop sugar high and pastel overload, are the alluring and distracting candy aisles. Yesterday morning I sent my husband down to the store to pick up (and I quote) "TWO Cadbury eggs" for this photo. Which (bless his heart) he did willingly so early on a Sunday morning. Unfortunately, he returned with $12.52 worth of not just Cadbury eggs, but Cadbury chocolate and caramel eggs, mini eggs, and Snickers eggs. "I just couldn't help it," he said as he handed over the loot.
I think he's a keeper, don't you?
Cream Egg Brownies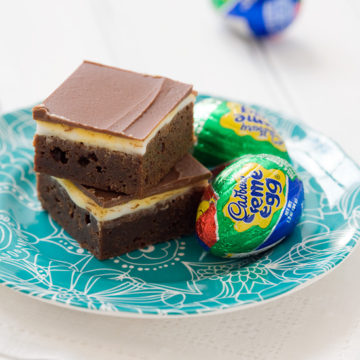 Ingredients:
For Brownies:
2/3 cup flour
2 tablespoons dark or dutch processed cocoa powder
1/2 teaspoon salt
6 ounces milk chocolate, chopped
1/2 cup (1 stick) unsalted butter, cut into cubes
1/4 cup granulated sugar
1/2 cup light brown sugar, packed
2 large eggs, at room temperature, lightly beaten
1 teaspoon vanilla extract
For Cream Filling:
1/4 cup light corn syrup
2 tablespoons unsalted butter, room temperature
1/2 teaspoon vanilla extract
1/8 teaspoon salt
1 1/2 cups powdered sugar
For Glaze:
3 ounces milk chocolate, chopped
2 tablespoons unsalted butter, cut into cubes
Directions:
Preheat oven to 350ºF. Line the bottom and sides of a 8-by-8-inch pan with parchment paper, leaving a slight overhang on two edges.
Sift together flour, cocoa, and salt in a small bowl and set aside.
Melt chocolate and butter in a double boiler or a medium-large bowl set over gently simmering water. Stir until smooth, then remove from heat. Whisk in sugars and stir until dissolved and mixture has cooled slightly.
Whisk in eggs and vanilla extract until just combined (do not overmix). Sprinkle flour mixture over top and fold in to chocolate mixture using a large rubber spatula until just incorporated. Pour into prepared pan.
Bake for 25 to 30 minutes or until toothpick inserted into the middle comes out clean. Transfer pan to a wire rack and allow to cool completely.
For cream filling, beat together corn syrup, butter, vanilla, and salt on medium-high speed until smooth. Add powdered sugar, a little bit at a time, mixing until creamy. Dump 3/4 of the cream mixture on top of cooled brownies and spread into an even layer. Add a drop of yellow food coloring to remaining cream mixture and stir until evenly colored. Drop dollops of yellow cream on top of white layer, and then swirl gently with a spatula. Refrigerate for at least 2 hours or until set.
Gently melt chocolate and butter together in a double boiler or a small saucepan set over low heat. Stir until smooth. Pour over cream filling, carefully spreading into a thin, even layer. Return to refrigerator and chill until set, at least 30 minutes, or overnight if possible (brownies are best when chilled overnight).
Remove brownies from pan using the edges of the parchment paper to lift the entire block out of the pan. Using a large sharp knife, cut into 2-inch squares. Brownies will keep, refrigerated in an airtight container, for up to 5 days.
Did you make this recipe?
Let us know what you think!
Leave a Comment below or share a photo and tag me on Instagram with the hashtag #loveandoliveoil.