The 2nd Annual Great Food Blogger Cookie Swap is done for another year, and it was well worth the blood, sweat, and butter that went into organizing it. We couldn't be more thrilled with the results! 576 food bloggers. Over $4,400 raised for Cookies for Kids' Cancer. And more than 20,000 cookies shipped around the world. It makes my heart happy just thinking about it.
Almost as happy as rainbow sprinkles make me.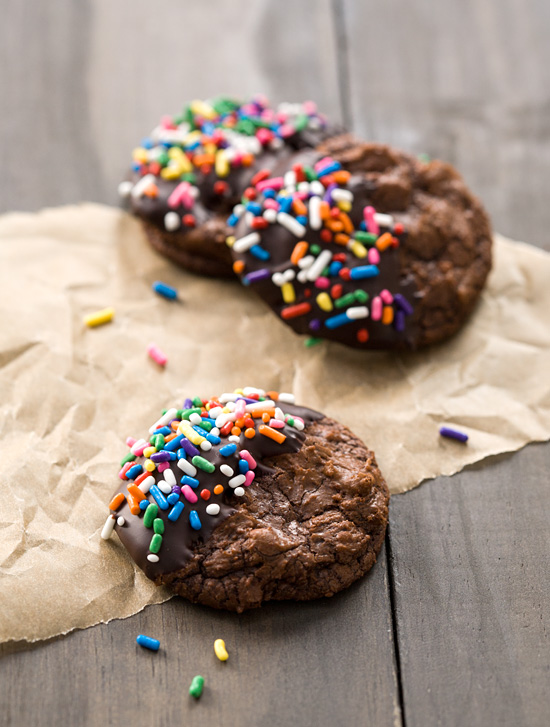 I had been planning my cookie for months: a chocolate crinkle rainbow sprinkle cookie (rhyme intentional) was the original idea. The final product wasn't quite so much crinkly as it was a brownie in cookie form. But I didn't stop there, I dipped the decadence in even more dark chocolate, and topped them with the happiest of all sprinkles. Joy!
My only mistake was making *just* enough to ship to my matches. Seriously people. I only ate one of these (it broke on its own, I swear!) before boxing them up and shipping them off to New York, Chicago, and Philadelphia.
I better make myself another batch, stat.
Luckily there was no shortage of cookies here, as three boxes of truly unique cookies arrived on my doorstep one by one. Chai Sugar Cookies from Sweet Lavender Bake Shoppe, Orange White Chocolate Cranberry Cookies from Gerry at Foodness Gracious (who, by the way, also included some fantastic artisan caramels from his Etsy shop!), and Christmas Confetti Cookies from Dine & Dish!
Such creative cookies, so different from the ones I received last year. I tell you, sometimes things just taste better when someone else bakes them.
Maybe next year I'll challenge myself to do a non-chocolate cookie.
Then again, maybe not.
Chocolate Dipped Brownie Cookies
Ingredients:
1/2 cup all-purpose flour
2 tablespoons dark or dutch-processed cocoa powder
1/4 teaspoon baking powder
1/4 teaspoon salt
8 ounces dark or semisweet chocolate, chopped
1/4 cup (1/2 stick) unsalted butter, cut into cubes
2 large eggs, room temperature
3/4 cup granulated sugar
1 teaspoon vanilla extract
1/2 cup mini semisweet chocolate chips
For Dipping:
6 ounces dark or semisweet chocolate, finely chopped
1 to 2 tablespoons vegetable shortening, as needed
Rainbow sprinkles
Directions:
Preheat oven to 350 degrees F. Line a baking sheet with a silicone baking mat or parchment paper.
Sift flour, cocoa powder, baking powder, and salt into a mixing bowl. Set aside.
Combine chocolate and butter in a double boiler or a heat-proof bowl set over a pot of barely simmering water. Stir until melted and smooth. Remove from heat and set aside.
In a mixing bowl or the bowl of a stand mixer, beat together eggs, sugar, and vanilla until pale and creamy, about 8 minutes. Mix in melted chocolate mixture. Add dry ingredients and stir until just incorporated. Fold in chocolate chips.
Drop batter using a small cookie scoop by the scant tablespoonful onto cookie sheet, leaving two inches of space between cookies. The batter will be somewhat loose at this point, but shouldn't be runny. It will thicken the longer it sits.
Bake for 7 to 8 minutes or until tops are shiny and cracked. Like a brownie, you don't want to over bake these cookies. Remove from oven and let cool on cookie sheet for 2 to 3 minutes, then transfer to a cooling rack to cool completely.
To dip, gently melt chocolate together with 1 tablespoon of shortening. You can use a microwave, heating on low power in short, 15 to 20 second bursts, or in a double boiler, setting the bowl over the simmering water and then removing it from the heat. The residual heat should be enough to melt the chocolate without overheating it. If you can melt the chocolate ever so gently, and not allow the temperature to exceed 88 degrees F, it will retain its original temper and will harden nice and shiny. Add more shortening as needed to thin out the chocolate to a dipping consistency, then dip half of each cookie into the melted chocolate. Place on a parchment lined baking sheet and top with sprinkles, if desired.
Cookies are best enjoyed within a day or two but will keep, covered in an airtight container, for up to a week.
Did you make this recipe?
Let us know what you think!
Leave a Comment below or share a photo and tag me on Instagram with the hashtag #loveandoliveoil.