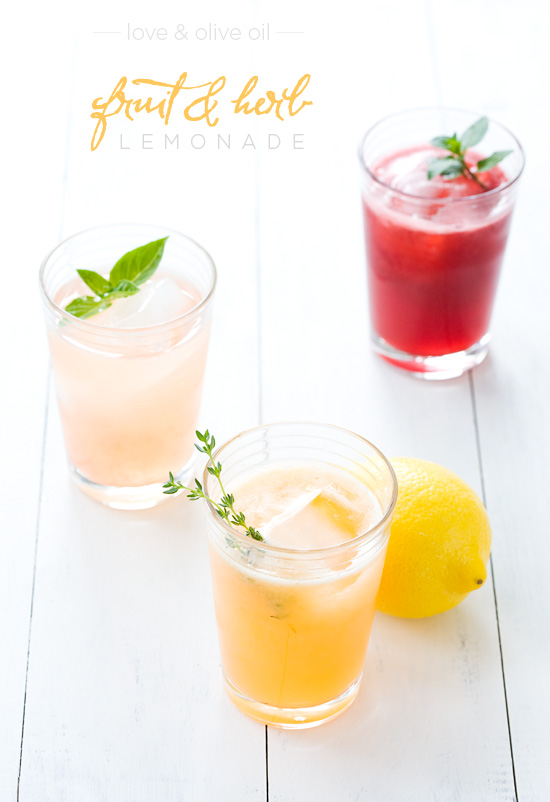 I was something of a petite entrepreneur when I was a child. I'd setup elaborate bake sales and lemonade stands at the top of our driveway (which just so happened to be along a very popular bike route in our town). I'd prepare an assortment of baked goods, including cookies, brownies, fudge, etc. as well as a huge pitcher of lemonade, and wait for the thirsty customers to roll by.
I can only imagine how my profits would have soared if I had just looked beyond the tub of powdered lemonade.
No matter your age, homemade lemonade is a true joy. The subtle sweet-and-tart flavor of fresh lemons is something that can't be reproduced in powdered form. And while, granted, nothing is as easy as dissolving a spoonful of powder in a pitcher of water, making lemonade from scratch is not much harder.
For an even more impressive spread, try these unique lemonade variations, combining fresh summer fruit and herb-infused sugar syrups. With distinctive combinations like peach and thyme, blackberry and mint, and even tomato and basil, summer just got a whole lot cooler. The tomato basil is particularly unique—the lemons and sugar turning a typically savory fruit into a sweet libation. Try it! It's better than it sounds. But don't stop there, try combining different fruits and herbs—I'm thinking lavender, lemon verbena, or rosemary could be incredible—the possibilities are endless!
Fruit and Herb Lemonade
Ingredients:
1/2 cup granulated sugar
1/2 cup water
1 cup lemon juice (from about 4 to 6 large lemons)
3 cups cold water
ice
For Peach Thyme:
2 peaches, peeled* and pitted
2 sprigs fresh thyme
For Tomato Basil:
1 large (8oz) tomato, peeled* and cored
2 tablespoons packed basil leaves
For Blackberry Mint:
1 cup blackberries (or blueberries)
2 tablespoons packed mint leaves
Directions:
Combine sugar and 1/2 cup water in a small saucepan set over medium-high heat. Bring to a simmer, then remove from heat. Add herbs; cover and let steep for 5 minutes. Remove herbs and transfer to a glass jar or heat-proof container and refrigerate until cool, at least 20 minutes or until ready to use.
Blend fruit in a blender or food processor until smooth; strain through a fine mesh sieve or run through a food mill to remove any seeds and excess solids.
Combine fruit purée with lemon juice in a large pitcher. Stir in 3 cups cold water and sugar syrup to taste. Pour over ice.
*To easily peel peaches and/or tomatoes, bring a pot of water to a boil. Cut an X-shaped slit in the bottom of fruit. Boil for 30 seconds, then transfer with a slotted spoon to a bowl filled with ice water. When fruit is cool enough to handle, the skins should slide right off.
Did you make this recipe?
Let us know what you think!
Leave a Comment below or share a photo and tag me on Instagram with the hashtag #loveandoliveoil.