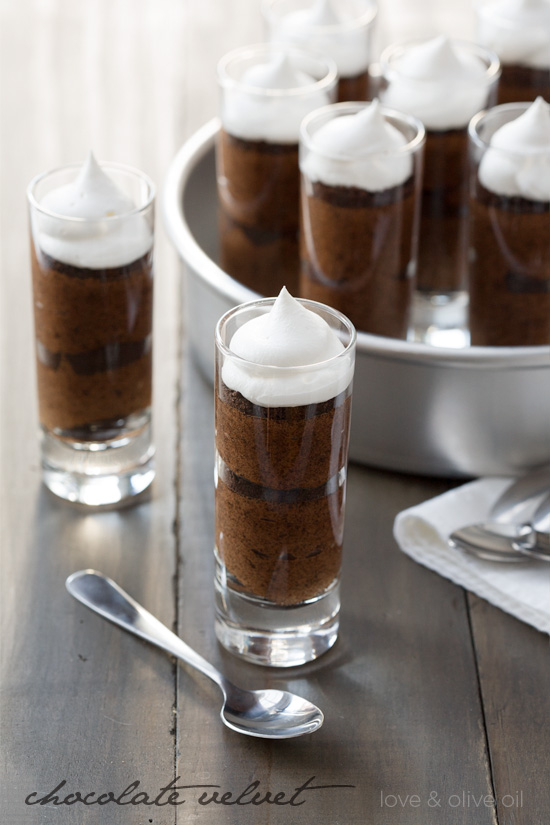 Funny how I can track the course of my entire childhood with memories of dessert.
There were the classic chocolate chip cookies my mom used to make all the time. I was never far away when she did (otherwise who was going to lick the bowl?).
There was the cake my sister and I tried to bake for my Dad's birthday one year. When the layers started to slip and slide and no amount of frosting would glue it together, we stuck tootsie pops into the cake in an effort to hold it together. It wasn't pretty, but boy did it taste good.
I remember my favorite cheesecake that I loved so much. The one with the chocolate swirls and the cookie crust. The recipe came to us randomly in a pile of junk mail.
I remember tackling, so bravely at the age of 10, complicated sugar candies like lollipops and salt water taffy. Yet why am I faced with a fear of cooked sugar now when back then I was completely fearless? Go figure.
And then there was La Cocina. Or LaCo as the locals called it. One of the best restaurants in our little town. It was always a special treat to go to LaCo, where you could feast on the Smiley Face platter (a plate of baked beans with a cheesy grin) and endless chips and salsa. But that's not the reason I was always so excited to go there.
No.
The real reason was dessert.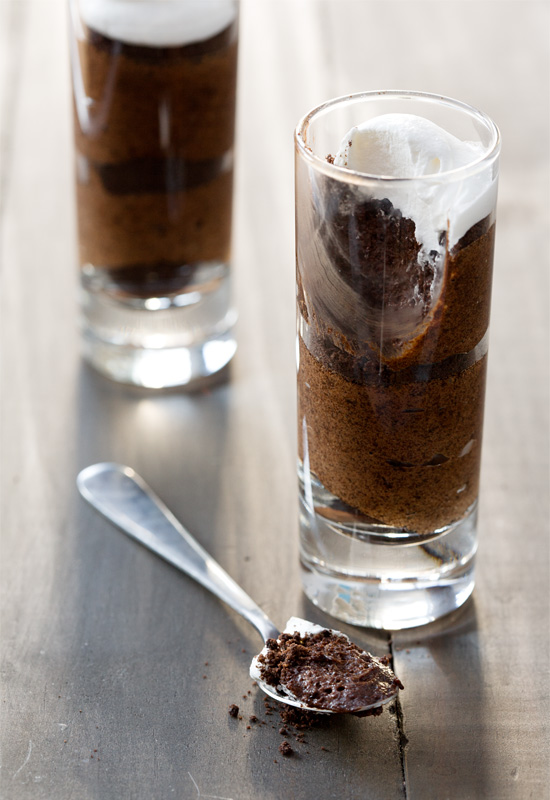 Suitably dubbed Chocolate Velvet, the dessert was as light and airy as a chocolate cloud. It was like chocolate mousse – but so much more. Served in a towering slice like the best piece of chocolate cake you've ever had, and dusted with fine chocolate cookie crumbs that stuck to your chin.
Needless to say, when La Cocina shut its doors, I was crushed. The prospect of no more chocolate velvet was more than my chocolate-filled mind could handle.
I never forgot about that dessert, and often discussed the urgent matter of the recipe with my mom. She had, at one point, acquired a copy of what was apparently the secret recipe, but the cryptic instructions were so baffling that I had never attempted it before. Finally, after a decade-long velvet void I couldn't wait any longer.
Once I figured out that the egg whites were best folded into the chocolate mixture and not the plain cookie crumbs, and that the dark-as-night chocolate color I remember was most likely from cookie crumbs folded into the mousse (though that part was missing from the overly abbreviated recipe), the dessert came together just as I remember.
I chose to serve the dessert in mini shot glasses – because, what's not to like about mini shot glasses? But you could certainly layer the mousse in a 9×9 baking dish instead, and slice it into (larger-than-shot-glass-size) portions for serving. That's your call.
Ah, memories.
Chocolate Velvet
Ingredients:
4 ounces unsweetened chocolate, chopped
3/4 cup granulated sugar
1/4 cup water
5 eggs, separated
1/2 tablespoon Cointreau or Triple Sec
1/8 teaspoon cream of tartar
1 9 ounce box chocolate wafer cookies, finely ground (about 2 cups crumbs)
Fresh whipped cream, for topping
Directions:
In a double boiler or a heat-proof bowl set over (but not touching) a pot of gently simmering water, combine chocolate with sugar and water and stir until melted and smooth.
In a small bowl, whisk egg yolks. Slowly ladle about half of hot chocolate mixture into egg yolks, a little at a time, whisking constantly. This will temper the egg yolks instead of cooking them. Return mixture to double boiler for 2 to 3 minutes or until thickened slightly. Remove from heat, stir in Cointreau, and let cool to lukewarm.
Combine egg whites and cream of tartar in a large mixing bowl or the bowl of a stand mixer fitted with the whisk attachment. Whisk on high speed until stiff peaks form, 5 to 7 minutes.
Fold 1/3 of egg whites into chocolate mixture to lighten it. Gently fold in remaining egg whites until no lumps remain. Fold in 1 1/2 cups of cookie crumbs.
Divide half of chocolate mixture among shot glasses or serving dishes. Sprinkle with half of remaining cookie crumbs. Top with remaining chocolate mixture and a final layer of cookie crumbs. Refrigerate at least 2 hours or until set. Just before serving, top with whipped cream.
*Note: this recipe contains raw or undercooked eggs. We recommend purchasing farm-fresh eggs from a trusted source. If you are uncomfortable consuming raw eggs, you can buy pasteurized eggs in the shell.
Did you make this recipe?
Let us know what you think!
Leave a Comment below or share a photo and tag me on Instagram with the hashtag #loveandoliveoil.