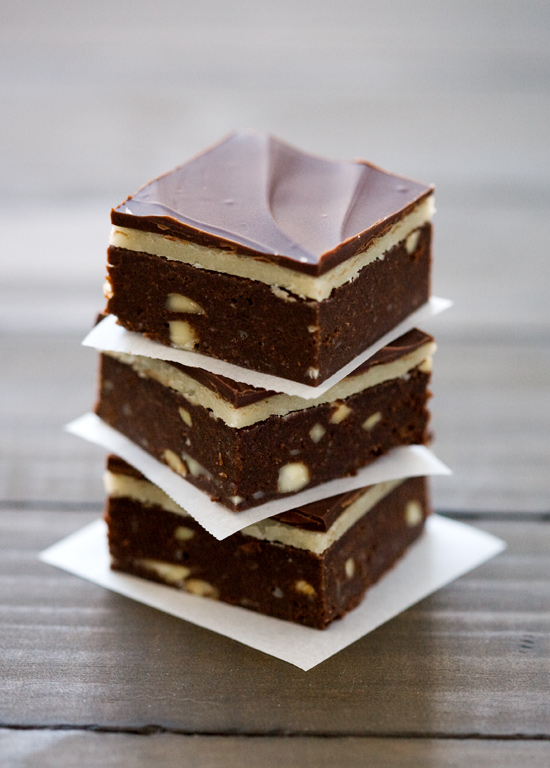 I've been thinking a lot about brownies lately. And mainly, what makes a really good brownie. I've been doing research, all scientific and the like.
I've come to the conclusion that the denser the better. It should almost be the consistency of fudge (why did you think they were called fudgy brownies, anyway?) Chewy. But not gooey.
Dark chocolate. Lots of dark chocolate. The best your wallet can muster. Might I suggest Sharffen Berger? That's what I used for what can only be called a truly divine brownie.
Toppings, mix-ins, and frostings, of course, are completely optional, but what's the fun in a plain old brownie?
And finally, unlike chocolate chip cookies which are the best warm out of the oven, brownies are best when left to chill overnight. Yes, I said overnight. I know. Such a tease. But it's worth the wait.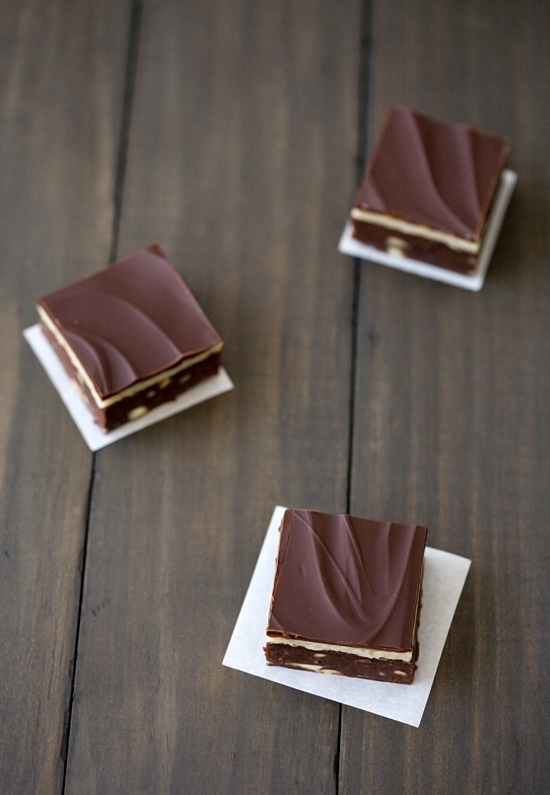 Now that you've discovered the ultimate brownie, why not take it to the next level? Give it a smattering of chopped almonds and top it with a layer of marzipan and chocolate glaze, and brace yourself. You'll swoon so deeply you may just find yourself in need of a good old fashioned fainting couch.
This is the kind of brownie that would end wars. Heal grudges. Get you the best table in the house if you're so inclined to share with the hostess (I speak from experience on that one). It's kind of ridiculous, really, how good these are. And if you come from a family of marzipan addicts like I do (it runs through my veins, I tell you!) it just might be the best thing you've ever eaten.
Don't say I didn't warn you. Fainting couch. Have one.
Marzipan Brownies
Ingredients:
2/3 cup flour
2 tablespoons dark or dutch processed cocoa powder
1/2 teaspoon salt
3 ounces bittersweet chocolate, chopped
3 ounces unsweetened chocolate, chopped
1/2 cup (1 stick) unsalted butter, cut into cubes
1/2 cup granulated sugar
1/2 cup light brown sugar, packed
2 large eggs, at room temperature, lightly beaten
1/2 teaspoon vanilla extract
1/2 teaspoon almond extract
1/4 cup chopped almonds
For Marzipan:
5 ounces almond paste
1/3 cup powdered sugar
2 teaspoons corn syrup, plus more for brushing
For Glaze:
3 ounces dark chocolate, chopped
2 tablespoons unsalted butter, cut into cubes
Directions:
Preheat oven to 350ºF. Line the bottom and sides of a 8-by-8-inch pan with parchment paper, leaving a slight overhang on two edges.
Sift together flour, cocoa, and salt in a small bowl and set aside.
Melt chocolates and butter in a double boiler or a medium-large bowl set over gently simmering water. Stir until smooth, then remove from heat. Whisk in sugars and stir until dissolved and mixture has cooled slightly.
Whisk in eggs, vanilla, and almond extract until just combined (do not overmix). Sprinkle flour mixture over top and fold in to chocolate mixture using a large rubber spatula until just incorporated. Fold in chopped almonds. Pour into prepared pan.
Bake for 25 to 30 minutes or until toothpick inserted into the middle comes out clean. Transfer pan to a wire rack and allow to cool completely.
For marzipan, liberally dust a smooth surface with powdered sugar. Knead together almond paste with corn syrup, adding more sugar as necessary to keep mixture from sticking. Continue kneading until paste is smooth and all sugar has been incorporated. Roll into an 8 by 8-inch square. Lightly brush the top of brownies with more corn syrup, then place marzipan layer on top, pressing to adhere. Refrigerate while you prepare the glaze.
Gently melt chocolate and butter together in a double boiler or a small saucepan set over low heat. Stir until smooth. Pour over marzipan, carefully spreading into a thin, even layer. Return to refrigerator and chill until set, at least 30 minutes, or preferably overnight (brownies are best when left to chill in the refrigerator overnight).
Remove brownies from pan using the edges of the parchment paper to lift the entire block out of the pan. Using a large sharp knife, cut into 2-inch squares. Brownies will keep, refrigerated in an airtight container, for up to 5 days.
Did you make this recipe?
Let us know what you think!
Leave a Comment below or share a photo and tag me on Instagram with the hashtag #loveandoliveoil.