This stunning persimmon pie would be a great alternative to the traditional pumpkin pie for the holidays. It's smooth and creamy, lightly spiced with flavor notes of honey, pumpkin, and apricot. Serve with a dollop of freshly whipped cream for the perfect bite!
If pumpkin pie is the official pie of Thanksgiving, I'm declaring persimmon pie the official pie of Christmas (because as much as I love cookies, Christmas is sadly lacking in pies.) Pumpkin is so last month… this persimmon pie is it.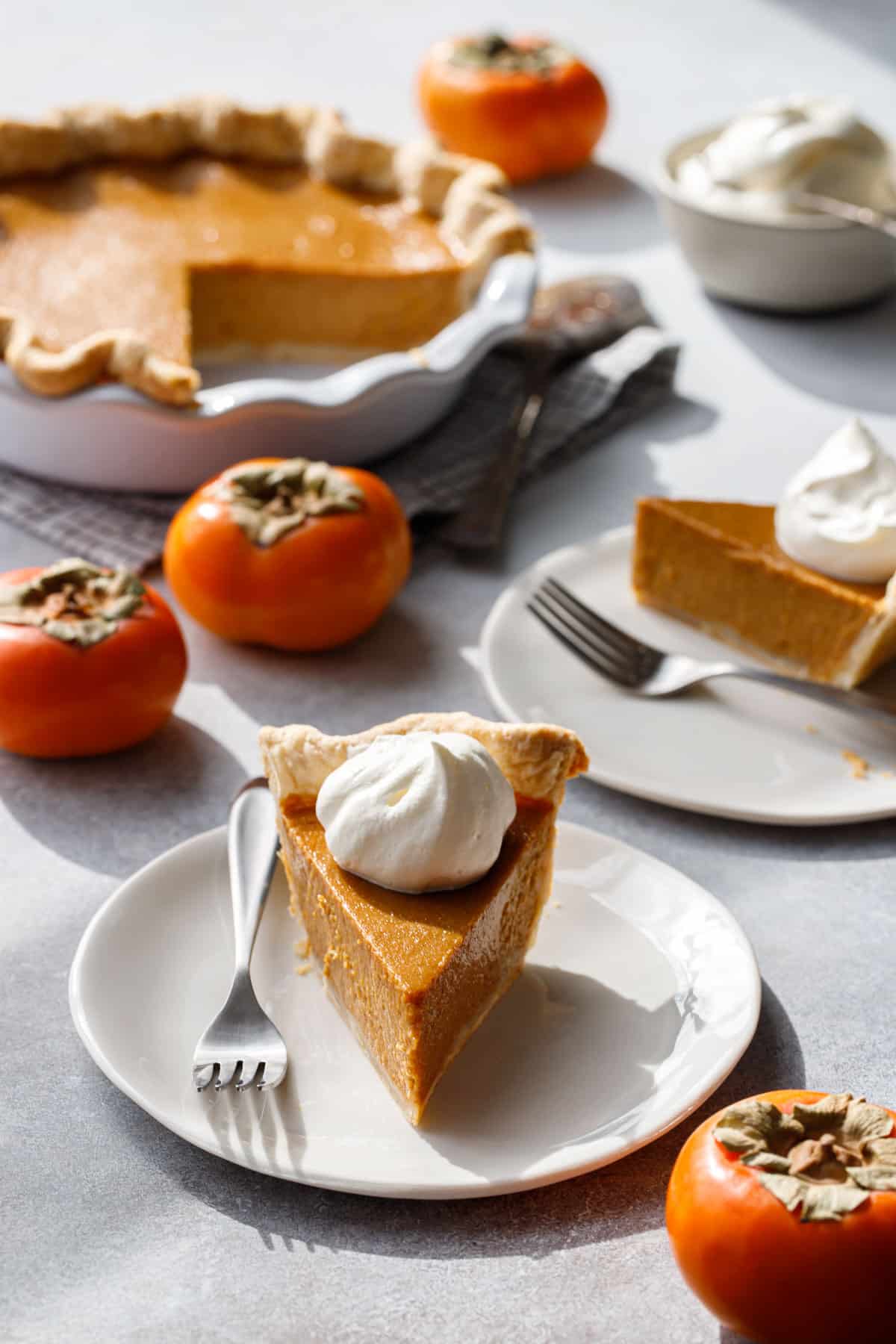 What looks like a pumpkin pie, tastes kind of like a pumpkin pie, but definitely isn't a pumpkin pie?
Persimmon pie! Yes, I said persimmon! The fruit!
If you've never had a persimmon before, it's one of my favorite fall/winter fruits. I'd describe their flavor as sweet and slightly tangy, somewhere between a peach or apricot and a pumpkin, with subtle notes of honey and even caramel that pairs beautifully with fall spices.
The pie itself is laced with seasonal spices, which does fool the brain a bit: upon first bite you may think you're eating a pumpkin pie (and if I hadn't told you it wasn't pumpkin you may never know). Except, it's not quite pumpkin like you're used to. Maybe a little bit fruitier, perhaps? Like someone snuck a peach into the can of pumpkin puree (which sounds weird but also kind of wonderful?)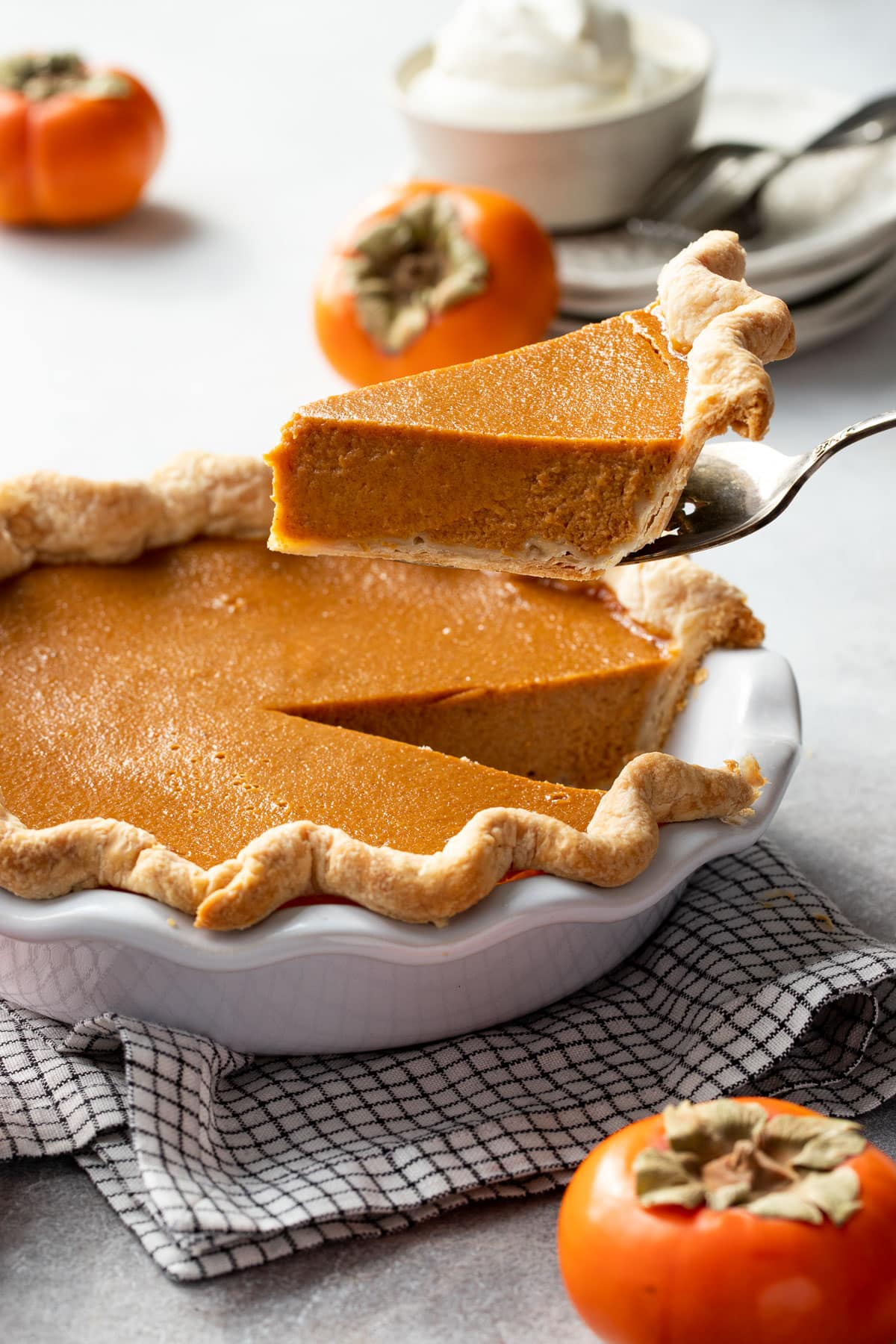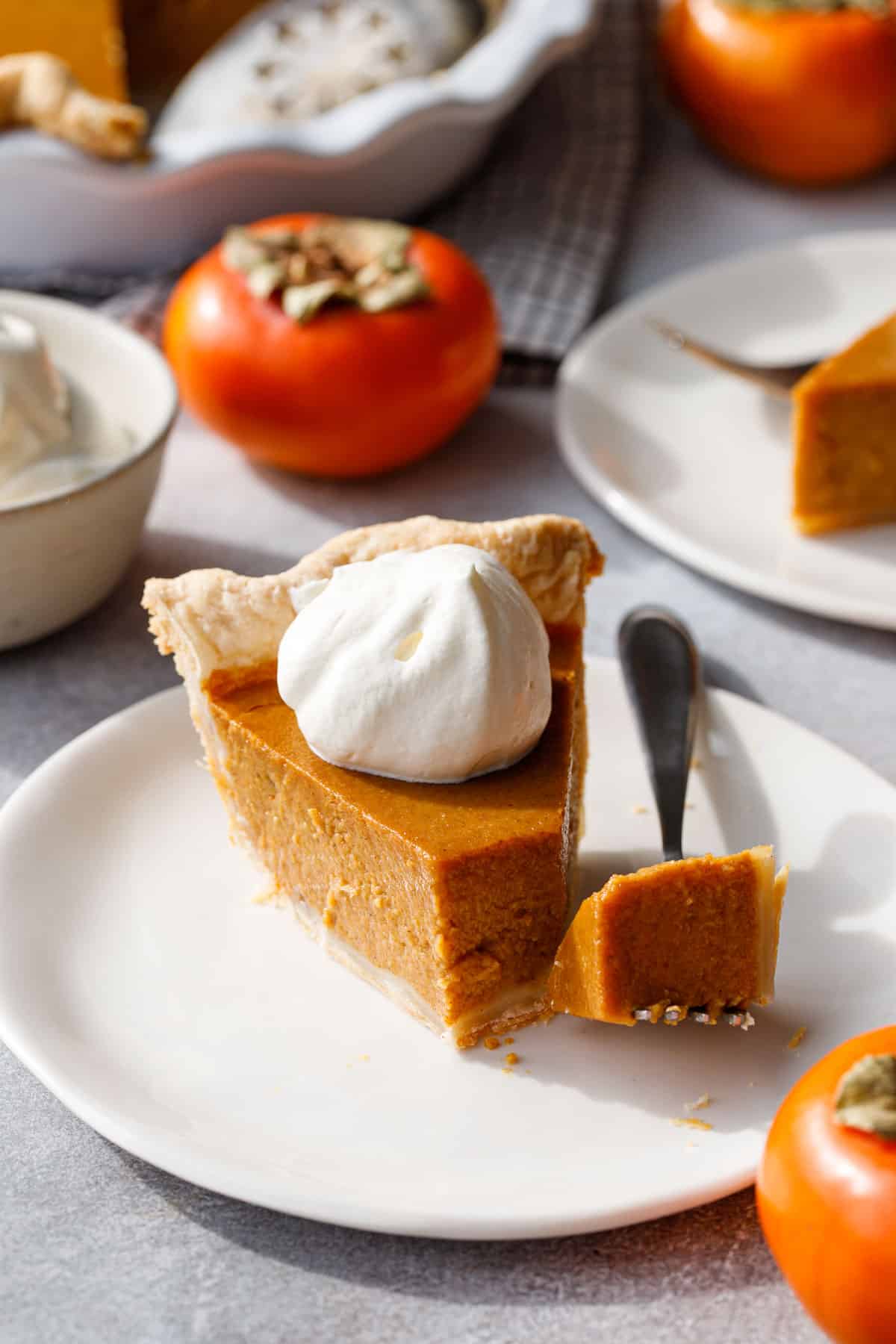 I became rather obsessed with making a persimmon pie after Twitter-friend Sara mentioned it. Having never heard of such a thing, I immediately went-a-googling to see what I could find. There's really a dearth of persimmon pie recipes on the internet, but I managed to find two, one from Southern Living and one from MasterClass that I merged, tweaked, scaled and adapted to arrive at this final recipe.
One of the major issues with persimmon over pumpkin is the higher moisture content of the persimmon, which can lead to a slightly watery texture.
To remedy this, I reduced the persimmon puree by 25% before adding it to the custard base. Cooking out a bit of the water made a huge difference in the final texture of the pie, as well as using evaporated milk instead of regular milk or cream.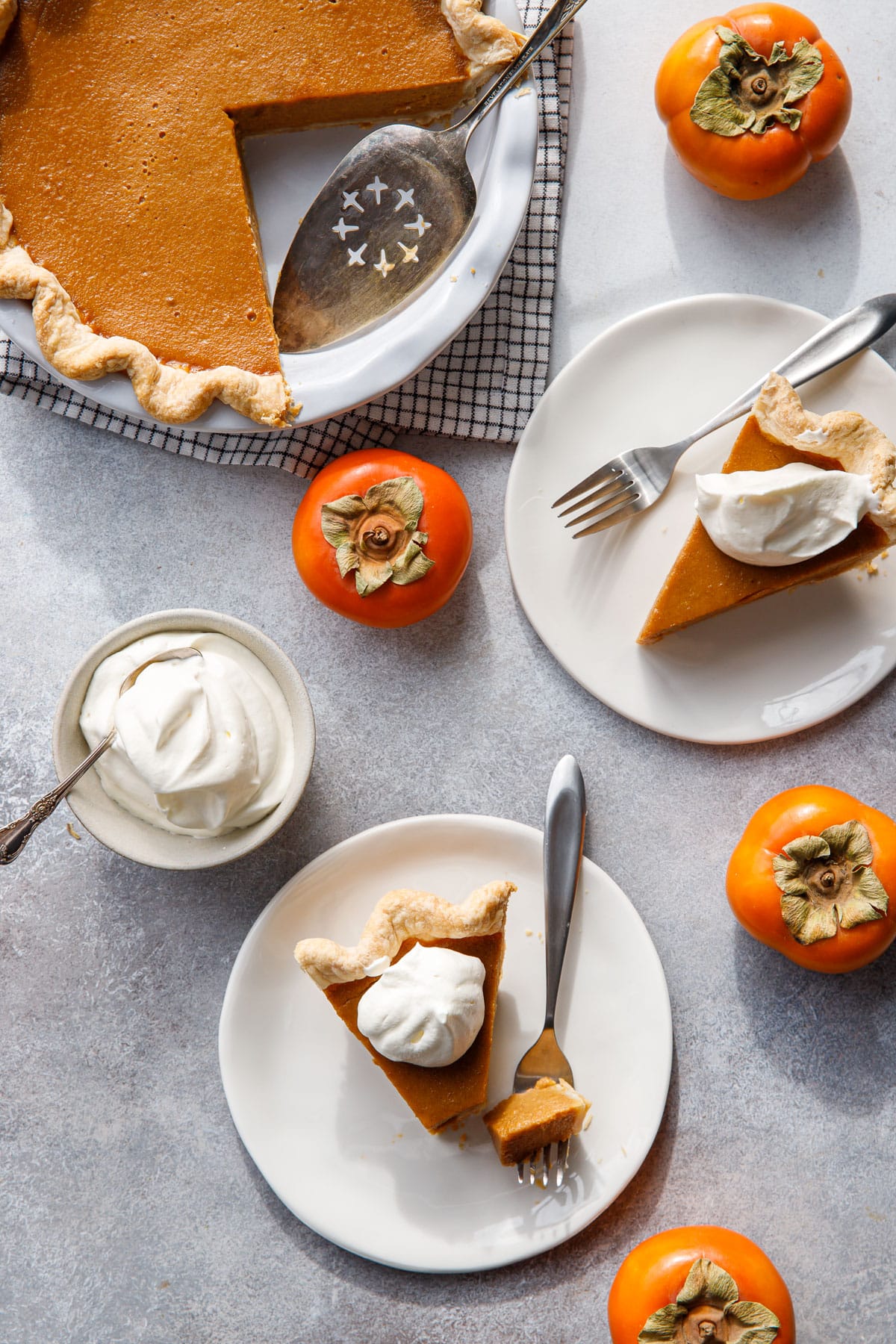 Types of Persimmons
There are two main kinds of persimmons that you'll find in the US: Fuyu and Hachiya, as well as wild, native persimmons in some parts of the US.
For this recipe I recommend using Fuyu persimmons; astringent varieties like Hachiya sometimes have unexpected, undesirable results when cooked (if/when I figure out the cause/solution of this I'll certainly update the recipe accordingly!)
Fuyu persimmons look like squat, orange tomatoes. Fuyu persimmons will be firm and almost apple-like in texture when they are undripe, and will soften into a sweeter texture as they ripen. I actually love using this kind of persimmon when they are still crisp, in recipes like these persimmon green beans and this winter persimmon salad. For this recipe you want them to be pretty soft (think ripe tomato or peach), as the flavor will be sweeter and fruitier, not to mention easier to puree.
Hachiya persimmons are the most common variety grown in Japan. Unlike Fuyus (which can be eaten unripe), these oblong, acorn-shaped fruits must be fully ripe before they can be eaten, otherwise they are unpleasantly astringent. When fully ripe, they will feel almost like a full water balloon… which, I know, sounds kind of gross (if you had a tomato that felt like that it would be entirely rotten), but trust me that that's the way they are supposed to be.
American persimmons are native to the Eastern/Southeastern US (which includes Tennessee, apparently, although I've never actually seen them growing or available at farmers markets here). Wild American persimmons are generally smaller in size and contain large, flat seeds. They will also work in this recipe, though you'll (obviously) need quite a few more of them to fill an entire pie.
To speed up ripening, place your persimmons in a paper bag with an apple or banana… though this will only do so much. If you plan to make this pie for Thanksgiving or another holiday, I recommend buying your persimmons at least a few weeks ahead of time. If they ripen early or you want to plan ahead, persimmons can also be frozen (whole or after they've been puréed).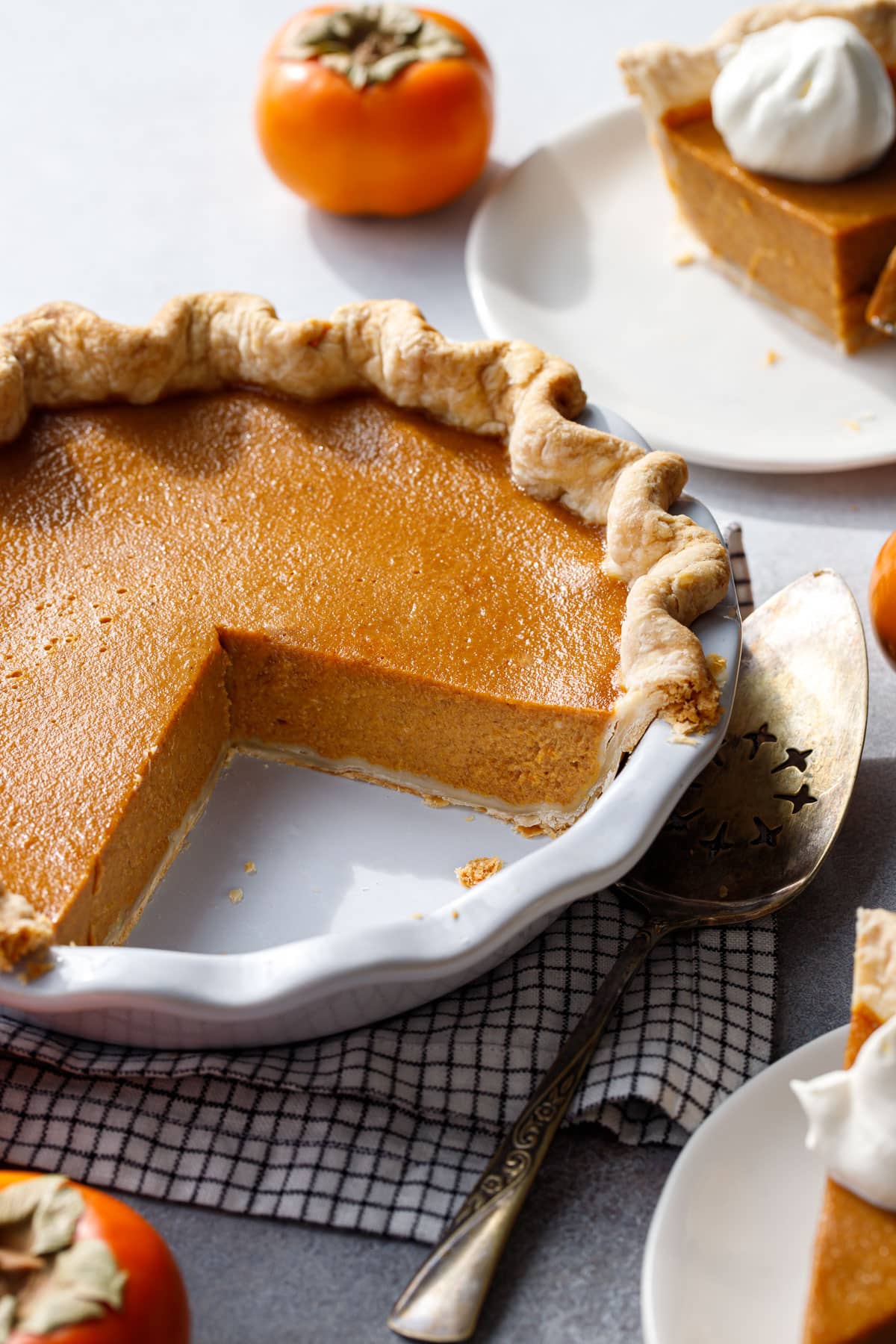 Preparing Persimmon Purée
To prepare your persimmons for this pie, you'll first need to remove the skins (and seeds, if there are any) and purée.
For fuyu persimmons, if they are still firm-ish you can peel them with a vegetable peeler. When they're soft it may be easier to cut out the core with a paring knife, then 'scoop' out the flesh with a spoon.
For hachiya persimmons, you'll definitely need to scoop these ones, as the inside fruit will be almost custardy in texture. You can also freeze ripe persimmons whole, which will make it easier to remove the skins. (If I have a couple of hachiya persimmons waiting to ripen, I'll freeze them as they ripen since they probably won't all ripen at the same rate.)
You will need 2 cups of fresh persimmon puree for this recipe, which is about 6 hachiya or 8 fuyus worth.
Once you have the 2 cups of puree, you will then reduce this to 1 1/2 cups on the stovetop to remove some of the excess moisture (since persimmon fruit contains more water than pumpkin, reducing it like this will prevent the final pie from having a watery texture).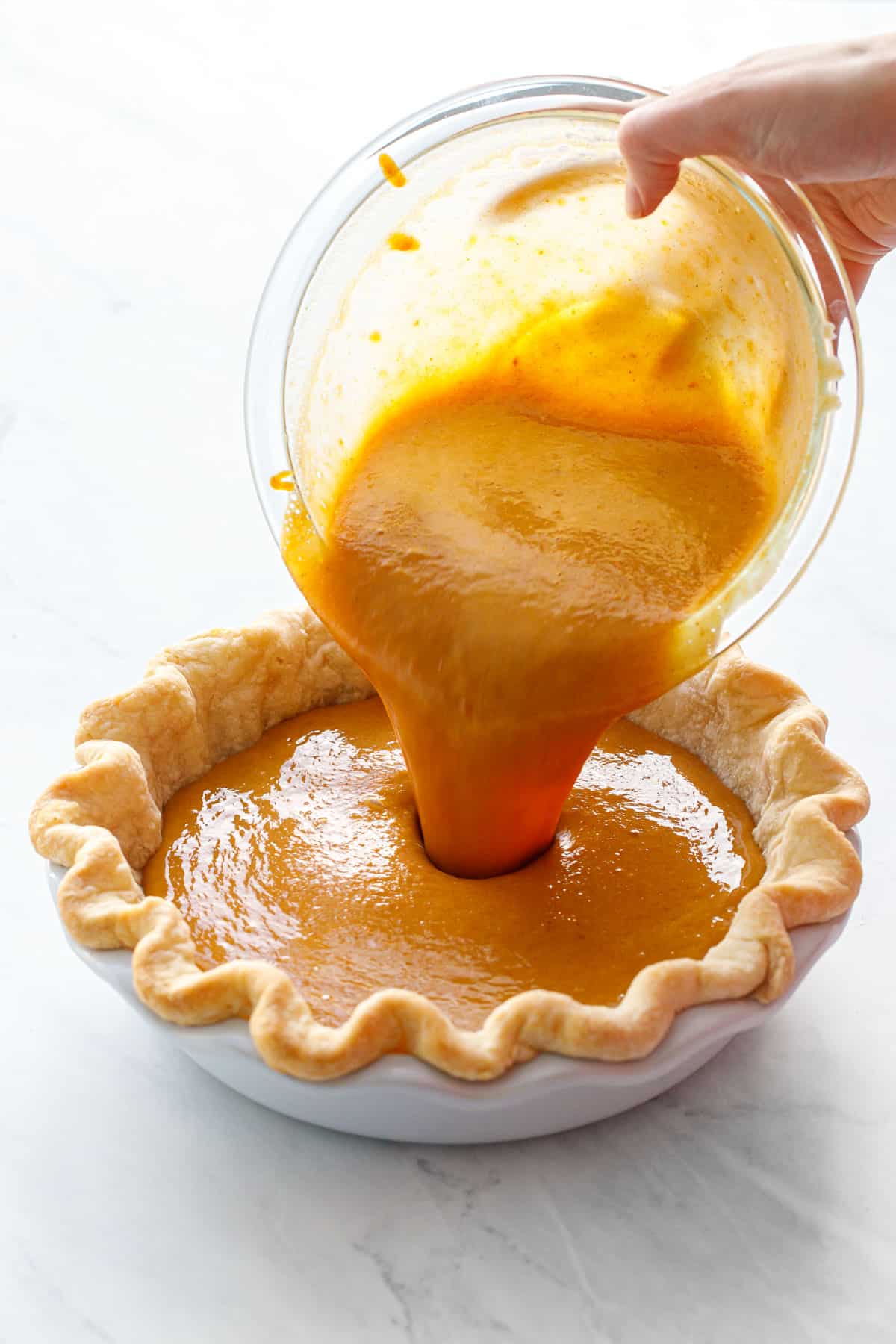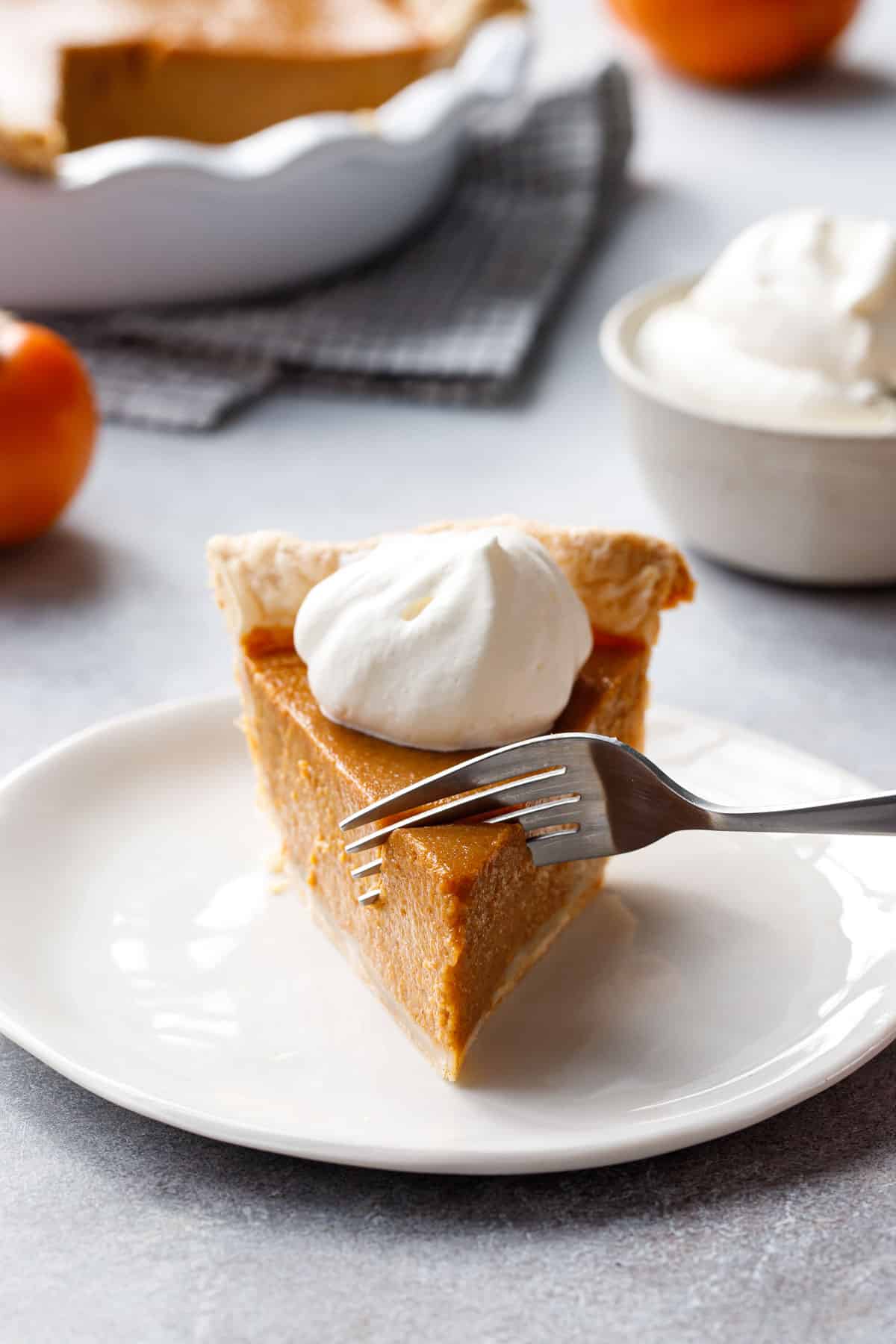 The pie crust recipe below was adapted from Laura's stand mixer pie crust, scaled since this pie just needs a single crust. I find this crust recipe to be a perfect balance of simplicity, workability, and flakiness. But you can certainly swap in a pre-made pie crust or your favorite pie crust recipe instead.
Par-baking Pie Crust
To prevent soggy bottomed pie crusts, par-baking, or pre-baking, is essential.
I recommend freezing your shaped pie crust for 15 to 30 minutes to firm it up, then lining it with a crumpled piece of parchment paper filled with weights. I personally hate pie weights, and prefer to use granulated sugar (a trick I learned from Bravetart), you can also use rice or beans.
Partially bake the pie crust with the parchment and weights (the weight will prevent the crust from shrinking or slumping), then remove the parchment and let it bake a few more minutes to dry out.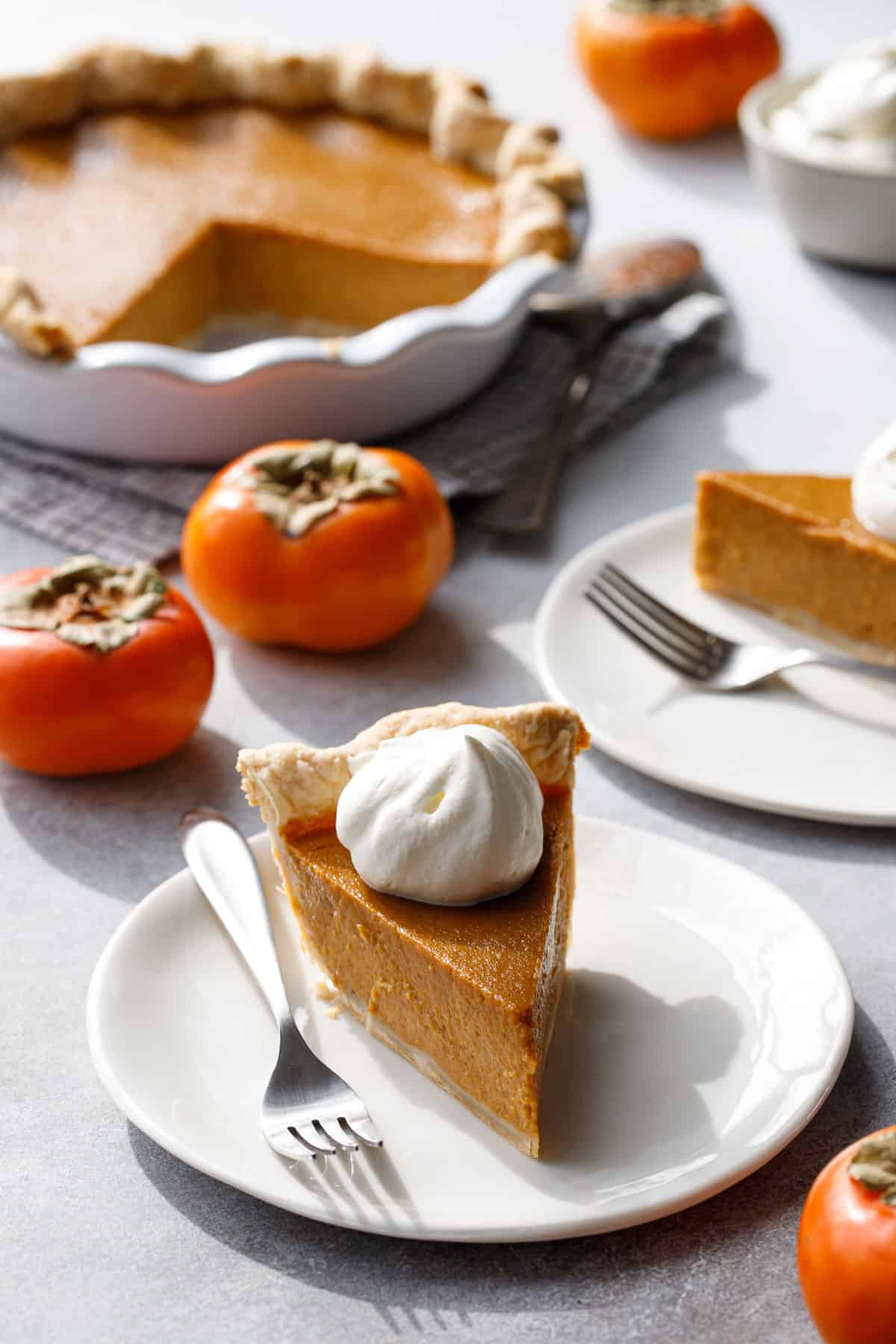 If you are looking for a perfect Christmas pie recipe, or a change from boring old pumpkin for Thanksgiving, this persimmon pie is just the ticket.
Serve with a generous dollop of freshly whipped cream or a scoop of vanilla bean ice cream. I've also seen some recipes served with a spiced pecan streusel on top, which would add a nice textural contrast to the creamy custard of the pie.
You can make this pie a day or so ahead of time, however much like pumpkin the longer it sits the more you risk a soggy bottom.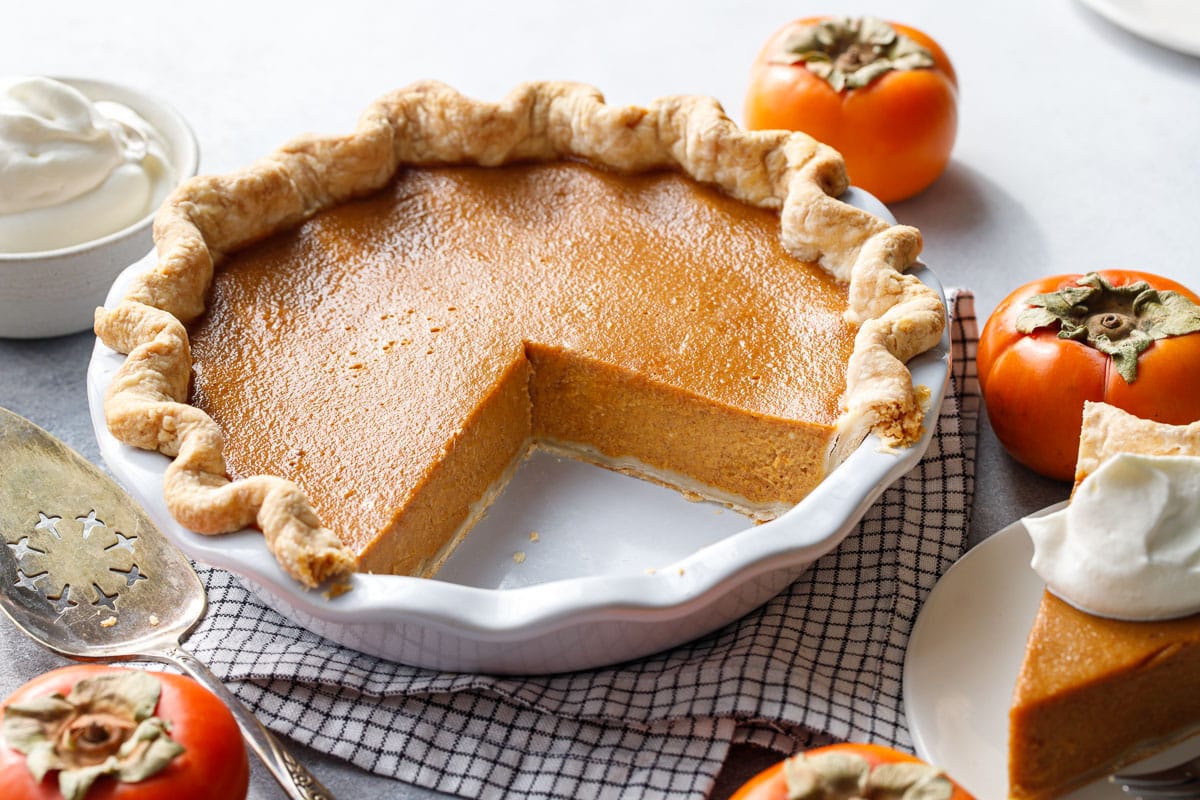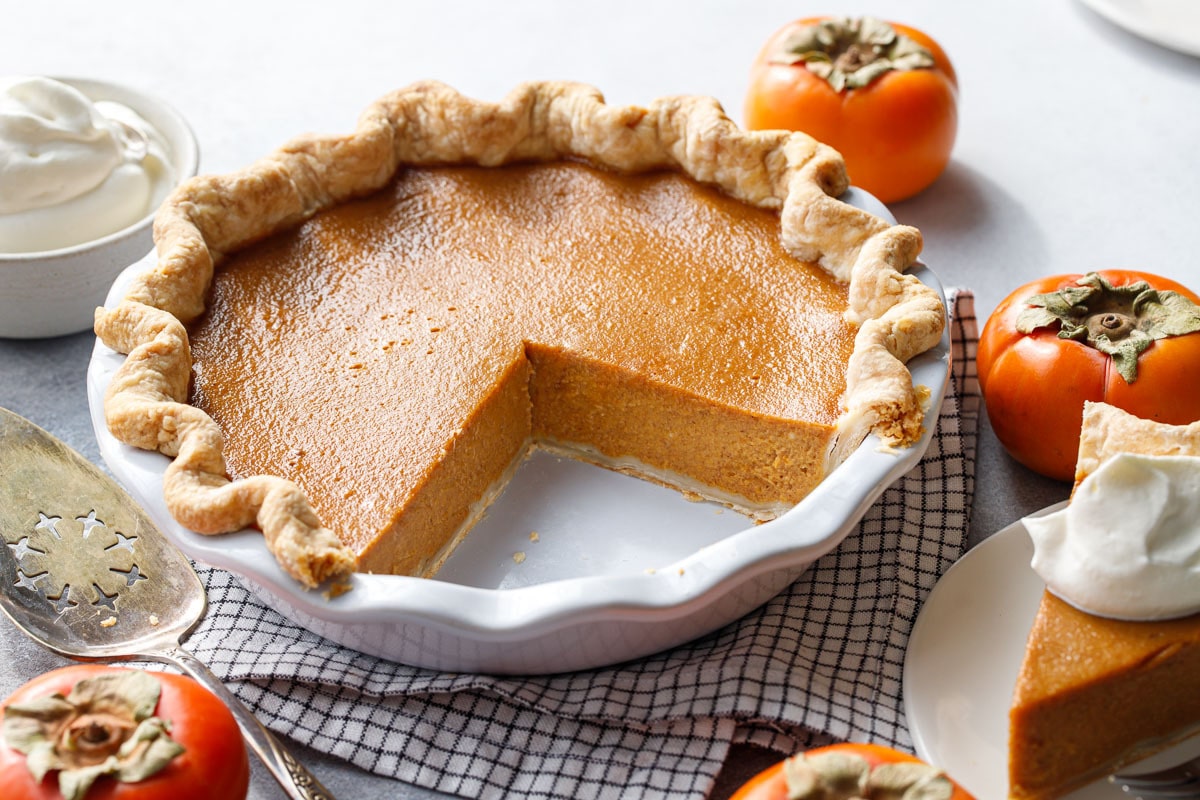 Persimmon Pie
Persimmon pie is smooth and creamy, lightly spiced with flavor notes of honey, pumpkin, and apricot. Serve with a dollop of freshly whipped cream for the perfect bite!
Ingredients
For Crust:
1½

cups

/

187

g

all-purpose flour

¼

teaspoon

fine sea salt

⅛

teaspoon

baking powder

½

cup

/

113

g

(1 stick) very cold unsalted butter

,

cut into cubes

1

teaspoon

apple cider vinegar

3 to 5

tablespoons

ice water

,

as needed
For Pie Filling:
8

large ripe Fuyu* persimmons

,

enough to make 2 cups of puree

¾

cup

/

192

g

evaporated milk

½

cup

/

105

g

packed light brown sugar

1

tablespoon

all-purpose flour

1½

teaspoons

ground cinnamon

½

teaspoon

ground ginger

½

teaspoon

fine sea salt

⅛

teaspoon

ground allspice

2

large eggs

1

large egg yolk

1

teaspoon

vanilla extract
Instructions
To prepare crust:
Place the flour, salt, and baking powder in the bowl of a stand mixer fitted with the paddle attachment. The colder the better for all the ingredients and tools.

With the mixer on low speed, slowly add the cold butter a few cubes at a time, until the butter breaks up into pea-sized crumbs (any larger chunks you can break up with your fingers).

Add the apple cider vinegar and one tablespoon of ice water at a time, mixing on low speed until it just barely comes together into a crumbly dough (you should be able to pinch a piece of dough and have it hold together). Knead the dough once or twice to form a ball, then form into a disc. Wrap tightly in plastic wrap and refrigerate for at least 1 hour or overnight.

Preheat your oven to 400 degrees F. Let the crust come to room temperature for 20 to 30 minutes (it should be still cool but pliable).

Roll out crust into a round large enough to fit into your pie pan with a 1-inch overhang. Gently transfer rolled out crust to pie pan, easing it into the pan so as not to stretch the dough. Trim any uneven edges so there is a nice even overhang around the entire pie.

Fold the overhang under itself, then crimp as desired. Refrigerate for at least 30 minutes or freeze for 15.

Line pie with a piece of crumpled parchment paper or foil, lightly draping over the crimped edges. Fill with granulated sugar to weight it down (pie weights work too, also dried rice or beans).

Bake crust for 15 minutes, then remove from oven and carefully lift out parchment with weights. Pop it back in the oven for another 5 to 10 minutes until the bottom dries out a bit and the edges just barely start to brown. Place on a wire rack and let cool while you prepare the filling.
For the Filling:
Reduce oven temperature to 350 degrees F.

Peel and core persimmons (or, if very ripe, scoop out the jelly-like flesh with a spoon). Discard seeds, if any, then place in a blender and pulse until smooth.

Transfer to a saucepan set over medium heat, bring to a gentle simmer and cook, stirring consistently (be careful as it will bubble and sputter), until puree has reduced to 1½ cups, about 15 minutes. This step can be done ahead of time, refrigerate reduced puree in an airtight container for up to 5 days, or freeze for up to a month.

Add evaporated milk, brown sugar, flour, salt and spices. Return to heat and warm until it just starts to bubble.

Whisk eggs and egg yolk in a bowl until smooth and uniform. Ladle in hot persimmon mixture, 1/4 cup or so at a time, whisking constantly to incorporate. Continue to ladle in hot persimmon mixture until about half has been incorporated and egg mixture is hot to the touch. Return entire mixture to saucepan and whisk until smooth, then pour into prepared crust.

Bake for 50 to 60 minutes or until edges are set and center is just slightly jiggly (if you want to be precise about it, the interior temperature will read 180-190 degrees F when the pie is done.

Remove from heat and let cool completely on a wire rack, then lightly cover and refrigerate until ready to serve, up to a day ahead of time (technically it can be made further ahead of time but the crust may get a little soft after a day or two).
Notes
*For this recipe I recommend using Fuyu persimmons. While fully-ripe Hachiyas should work in theory, they can sometimes have unexpected (and undesirable) results when cooked. I'm still trying to figure out a workaround for this variety, and will certainly update the recipe here when/if I do so.
All images and text ©
for Love & Olive Oil.
Did you make this recipe?
Let us know what you think! Leave a Review below or share a photo and tag me on Instagram with the hashtag #loveandoliveoil.