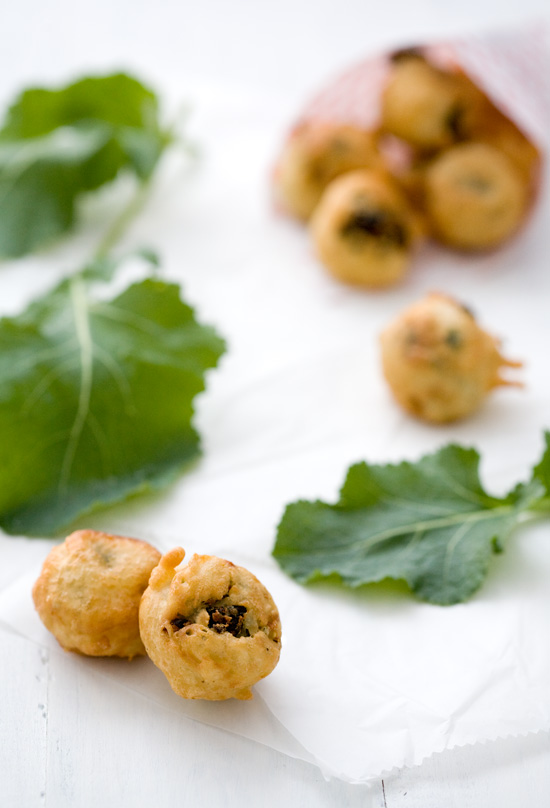 Our CSA goes well into the winter, with the last pickup of the season happening right before Christmas. But unlike the variety of the summer produce, winter is a bit more limited. Potatoes, sweet potatoes, squash, and greens. Lots and lots of greens. It's not abnormal to see signs saying take 10 handfuls of kale or 5 lbs of mustard greens in a single week's share. Not to mention all the arugula, mounts of mizuna, and bok choy the size of my torso (no joke. My exact words to Taylor upon seeing such a monstrosity: "We couldn't even fit that in our fridge if we tried!")
It was too much. Even a few handfuls is more than two people can eat in a week. We didn't even take our full share most of the time and we still had greens coming out of our ears.
And let's be honest, you can only have kale chips so many times in a week. We needed some new recipes. Creative ways to use the greens that were stuffed into every nook and cranny and drawer in our refrigerator and piled high, frozen in plastic bags in the freezer.
So while flipping through old issues of Bon Appetit, I stumbled across this recipe that I had dog-eared many months back but had never made (New Year's Resolution: go back through my skyscraper of food magazines and digitally bookmark all the gems I missed the first time around). A gem like this recipe, for garden beignets. And it called for a whopping 12 cups of assorted greens. Score!
A suggestion, as this isn't exactly a "quick and easy" recipe, is to take advantage of the fact that many of the components can be made ahead of time. Make the batter the night before. Make the filling too, and roll it into balls, then stash it in the fridge overnight. I know the recipe says 8 hours, but we chilled those puppies for 24 and nothing disastrous happened because of it. Frying them is tricky enough, but I'm not one to willingly spend over 3 hours in the kitchen for a single meal. Plan ahead. Believe me. You'll thank your yester-self.
While we were unable to track down the elusive "vinegar powder" called for in this recipe (although it does sound intriguing and I may have to order some for future use), a simple splash of malt vinegar was a suitable replacement.
Does the sheer volume of greenage offset the fact that these are deep fried? I'll support that logic.
Savory Winter Greens Beignets
Ingredients:
For Batter:
1 cup whole milk, warmed to 105°
1 teaspoon sugar
1 teaspoon active dry yeast
1 1/2 cups all-purpose flour
1 teaspoon kosher salt
2 large egg whites, room temperature
For Filling:
6 tablespoons olive oil
1 medium white onion (about 8 ounces), halved lengthwise, thinly sliced
8 ounces assorted winter greens (about 12 cups), such as kale, mustard greens, mizuna, or arugula
1 cup (2 ounces) finely grated Parmesan
1 teaspoon kosher salt plus more for seasoning
Vegetable oil (for frying)
1/4 cup vinegar powder*
1/2 cup all-purpose flour
Directions:
Place warm milk in a large bowl. Add sugar and yeast; whisk to dissolve sugar. Cover with a warm, damp kitchen towel and let stand at room temperature for 1 hour. Add flour and salt; whisk until smooth. Whisk egg whites in a medium bowl until frothy, about 1 minute. Add to batter and whisk until smooth.
Scrape down sides of bowl, allowing batter to pool at bottom. Cover bowl with a damp towel. Let stand at room temperature until batter begins to bubble, at least 1 hour and up to 2 hours. Stir. (Note: the batter can be made up to 8 hours ahead of time. Cover and refrigerate. Let batter stand at room temperature for 1 hour before using.)
Meanwhile, to prepare filling, heat oil in a large skillet over medium-low heat. Add onion and cook, stirring often, until softened but not browned, about 10 minutes. Working in batches, add greens to skillet and toss until wilted. When all greens have been added, cook, stirring frequently, until tender and mixture is almost dry, 4-5 minutes. Spread greens on a parchment paper-lined baking sheet and let cool completely.
Finely chop greens; transfer to a medium bowl. Stir in Parmesan and season with salt. Roll the seasoned greens into small balls, about 2 teaspoons each. Place on a rimmed baking sheet. Cover and chill for at least 1 hour. (Note: filling balls can be made up to 8 hours ahead. Keep refrigerated until ready to use.)
Just prior to serving, pour vegetable oil into a medium heavy pot to a depth of 2″. Heat oil to 360°. Combine vinegar powder and 1 teaspoon salt in a medium bowl. Set aside. Place flour in a medium bowl. Working in batches, roll vegetable balls in flour to lightly coat, then drop into batter, turning to coat evenly. Using 2 small spoons, lift balls from batter, allowing excess batter to return to bowl. Working in batches, fry beignets until golden brown, turning occasionally, about 2-3 minutes per batch. Using a slotted spoon, transfer to a paper towel-lined plate to drain. Roll hot beignets in vinegar-powder mixture and serve immediately.
*Note: Vinegar powder? Never heard of it. While it sounds intriguing and I'm sure is delicious, these beignets are just as good drizzled with a little bit of malt vinegar instead.
Did you make this recipe?
Let us know what you think!
Leave a Comment below or share a photo and tag me on Instagram with the hashtag #loveandoliveoil.